Uprooting 13 olive trees in Wadi Qana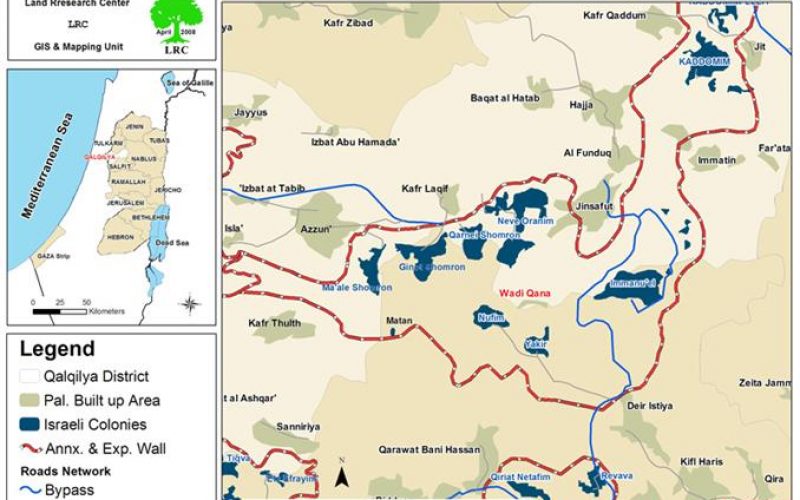 Violation: uprooting and cutting 13 olive trees (around 2 years old).
Date: April 21, 2010.
Violators: Karne Shomron colonists.
Victim: Qasim Omar.
Location: Wadi Qana is located to the north east of Deir Istya as is surrounded by the Palestinian villages of Jinsafut, 'Azzun (north), Senerya, Kafr thulth (west), Qarawat Bani Hassan (south), and Amatin (east). Its total area is more than ten thousand dunums (1 dunum = 1000 m2) and there are 11 water springs in the area. Most of the lands are planted with citrus and olives.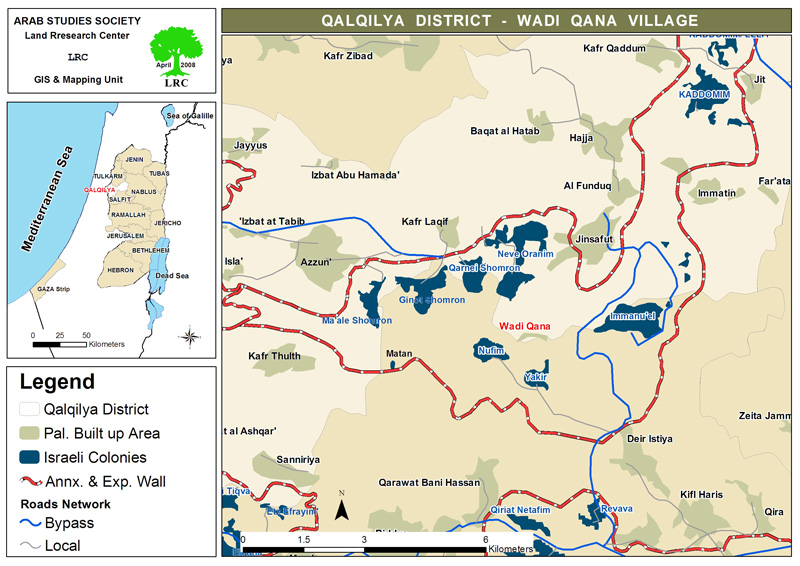 Omar's land has been set as a target for colonists for the second time this month:
The systematic sabotage of the Palestinian lands has been an unstoppable process. On April 8, 2010, the attack on Omar's land located near Karne Shomron was catastrophic. The colonists used different kinds of saws and axes to cut 15 olive trees. In addition, they sprayed a chemical substance that causes the death of the plant. However, the colonists did not stop there, on April 21, 2010; they launched another attack on Omar's land, cutting down the remaining 13 trees.
Picture 1+2+3: the remains of the olive trees
It seems that the colonists' systematic attacks which cover different areas in the West Bank are organized and coordinated. The colonists intend to spread fear among the Palestinians, especially during the olive picking season every year. The purpose of terrorizing Palestinians is to make them leave their lands.
Most of the colonists' herds that join such brutal efforts belong to extreme Jewish organizations. These radical communities have their minds filled with ideologies that urge them to torment, humiliate, and hurt the Palestinians. All the hostilities of the colonists are conducted under the protection of the Israeli Occupation Army which interferes whenever the Palestinians try to defend themselves.
The soldiers do not only defend the aggressors, but also help them to throw the Palestinians out of their lands and prevent them from gathering their crop. Ghassan Daghlas, in charge of Nablus villages Councils, stated to an LRC observer: 'The colonists around Nablus started formulating some sort of organized bandits; these bandits are of great danger on the Palestinian villagers.
The villages sited around the Israeli colonies of Baracha, Etmar, Yizhar, Kadumim, etc. are facing constant terror because of the colonists' attacks day and night, the attacks included torching residential and agricultural structures. The attacks included torching structures whether residential or agricultural. The estimated losses caused by the attacks are somewhere around 16 million US $ a year.'
Information on the Israeli colonies built in and around Wadi Qana:
No.

Colony

Establishment year

Built-up area (dunum)

Total area (dunum)

Population (2004)

1

Karne Shomron

1978

1351

7339

6170

2

Ma'ale Shomron

1980

216

1903

549

3

Yakir

1881

342

1364

960

4

Eamnuel

1982

328

1909

2585

5

Giv'at Shomron

1985

484

N.A

N.A

6

Nofim

1989

248

331

414

7

Nof Ornim

1991

153

N.A

N.A

Total

3122

1746

10678