The Israeli Occupation Forces Issue Stop-work Order against a Palestinian House in 'Azzun Al Shamaliya
Violation: Issuing a Stop-Work Order as a prelude to demolition.
Date: November 18, 2009.
Location: 'Azzun al Shamaliya.
Violators: The Construction and Organization Committee in the Israeli Occupation Civil Administration.
Victims: Mohammad Swedan.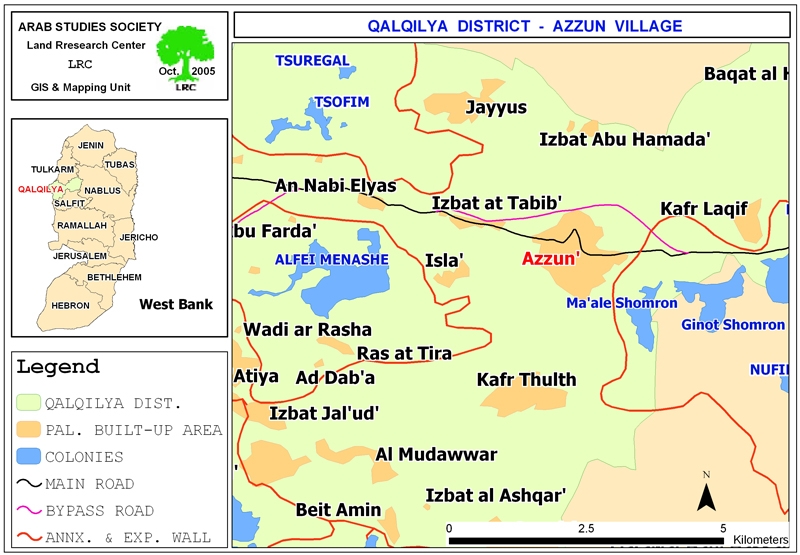 Details:
The Israeli Occupation forces have boosted its aggressions against the Palestinians construction and growth in areas classified 'C' according to Oslo Agreement. The Israeli Occupation Authorities aim is clearing these areas from its Palestinian residents; this is done concurrently with the acceleration of the colonies expansions especially in the Occupied City of Jerusalem.
It must be pointed that the Construction and Organization Committee in the Israeli Occupation Civil Administration has issued 18 notifications in northern West Bank, 13 in Rujeib, 4 in Kafr Qallil, and one in 'Azzun al Shamaliya. The notifications were issued against civilians buildings in areas classified 'C'.
On Wednesday, November 18, 2009, the Israeli Occupation Civil Administration issued stop-work order against Mohammad Swedan house. Mohammad was given till December 19, 2009, the date of the hearing, to start the required process of acquiring a construction permit.
Moreover, the committee took pictures of five other houses. It is believed that these houses will soon receive notifications. All these houses are situated in the north western part of the village, close to the by-pass Road 55.
During 2009, 13 stop-work orders were issued against residential and agricultural structures in 'Azzun 'Atma village. Table 1: Land Owners of the notified or pictured structures:
No

Victim

Family members

No. of children

Status

Area

(m2)

Comments

1

Mohammad Swedan

5

3

Under construction

120

Stop-work notification,


2

Jamal Sleiman

6

3

Under construction

140

3

'Azem Saleem

6

4

Inhabited

180

4

Rafiq Yasin

4

2

Inhabited

120

5

Naser Salamah

7

5

Inhabited

200

6

'Ikrema Yousuf

3

1

Inhabited

240

Total

31

18
Area and inhabitants:
The total area of 'Azzun al Shamaliya is about 24000 dunums. It is surrounded by the cities Qalqiliya and Habla from the west, Deir Istiya and Kafr Laqif from the east. The lands of 'Azzun extends to reach the 'Green line', more precisely an area called 'Azzun woods (Tabser) which the Israeli gave the name 'Ra'nana'. It must be pointed out that after 1948, only 9139 dunums out of 24000 remained under the name 'Azzun. The built up area in the village is about 1209 dunums.
'Azzun's population was about 9349 people in 2006. About 40% of the residents depend on farming and raising cattle in their living while 19% work in governmental and private organizations. The rest have private jobs as merchants or handy crafts. The unemployment rate in the village reaches up to 19% of the population.
'Azzun is a combination of number of villages; the main part is 'Azzun al shamaliya. Other parts include An Nabi Elyas, Asla, 'Izbat at Tabib, and Khirbet Barthota.
Prepared by
The Land Research Center
LRC