Part One: Out of 660 road barriers only 23 have been up lifted most of them for minor use
On the 16 of the last month the Israeli army announced that it began to remove 100 barriers in the West Bank in implementation of the decisions of the political level in Israel claiming that the target barriers are mainly earth mounds.
An Israeli military spokesperson said the removal of these barriers would take some days and the process has to be completed before Eid Al Fetter ( the feast of the slaughtering) in November.
The spokesperson claimed that this decision came as "a continuation of the Israeli government's efforts to improve the economic situation for the Palestinians of the West Bank while maintaining the operational flexibility of the Israeli army and security apparatuses".
He went on to say that "this decision is an implementation of the improvements that were initiated by Ehud Barrak, the minister of defense, based on security evaluations done by the commander of the central leadership of the Israeli army and by the chief of staff, Jabi Ashkenazi".
Is this what has been done?
After having a number of field trips by LRC field researchers it was found that only 23 barriers as followed:
1.
19 in Hebron governorate along roads number 60 and 35;
2.
2 in Bethlehem governorate;
3.
1 in Haris village, Salfit;
4.
1 in Azzun as Shamaliya, Qalqiliya.
Out of this big fuss the Palestinians were allowed to use only seven roads at the time they are prohibited from using the most vital roads whose opening facilitates their movement to a great extent and whose number is about 637. Is this the Barrak's improvements made after nine years of torment and closure?! No real impact has been noticed on the life of Palestinians as a result of the "generous Israeli improvements".
One Palestinian affected by these barriers compared the Israeli "improvements" to a mountain's birth to a mouse", adding that "Barrak offers use only misleading media bubbles and thousands of bombs against Gaza". All of the removed barriers, except seven, lead to arid land or to agricultural fields and they shouldn't have been closed in the first place. The Israeli move is meaningless in compare to the Palestinians' daily suffering at the Israeli checkpoints.
To support what are we saying, table one offers detailed information and photographs about the removed barriers:
Is it necessary to have these barriers?!
Table 1: Barriers recently removed in Hebron governorate on roads 35, 60 and 317
#

Location

Barrier type

Nearby colony

Areas connected by barrier

Notes

From

To

1

Khirbet Hasaka

Earth mound

None

Hasaka

Bir Mahjar

It is located three meters from Road No.35

2

Bir Nahjar-Farsh Al Hawa

Iron gate

None

Idhna

Farsh Al Hawa-Bir Mahjar

Connecting between Hebron and road No.35

3

Farsh Al Hawa

Earth mound

Before Telem colony's Military camp

Arid land affiliated to Hebron

Road No. 35

4

Farsh Al Hawa

Earth mound

Before Telem colony

Arid land affiliated to Hebron

Road No. 35

This barrier is only few meters from the one mentioned in point three

5

Farsh Al Hawa

Earth mound

Before Telem colony

Arid land affiliated to Hebron

Road No. 35

This barrier is only few meters from the one mentioned in point four

6

Tayba-Tarqumiya

Earth mound

Before Telem colony

Arid land affiliated to Tarqumiya

Road No. 35

Not used by Palestinians

7

Suba Junction

Earth mound

Telem and Idora colonies

Suba and the land to the north east of Idhna

Road No. 35

Next to Suba gate which is opened during daily work hours only

8

Zaghayer quarter

Earth mound

None

Zaghayer quarter

Road No. 35

A minor entrance that leads to some houses and barley used

9

Halhul bridge

Iron gate

Military watch tower

Halhul

Hebron

Vital road that can be re-closed at any time by soldiers manning the nearby watch tower

10

Ar Ramah quarter

Earth mound

None

Land to the north of the living quarter

Road No. 35

Dirt road linking between Ar Ramah quarter and Halhul and Road No. 35

11

Hahul-Wadi Qabun

Earth mound

None

Wadi Qabun quarter in Halhul

Road No. 35

Opposite Barrier mentioned in point ten separated by Road No. 35

12

Qayzon-Hebron

Earth mound

None

Qayzon agricultural land

Road No. 35

13

Bani Nai'm

Earth mound

Kiriyat Arba'

Wadi Al Juz Land west of Bani Na'im

Road No.60

An uneven dirt road connecting between arid land

14

Al Hijra

Earth mound

Hagai

Al Hijra south land

Road No.60

15

Wadi ash Shajna

Earth mound

None

Wadi ash Shajna land

Road No.60

A dirt road leading to arid land

16

Karma

Earth mound

Otne'il

Khirbet Basim

Road No.60

17

Wadi Qabun

Earth mound

None

Agricultural land

Road No.60

Leads to agricultural land

18

Wadi Qabun

Earth mound

None

Agricultural land

Road No.60

Leads to agricultural land

19

Ar Radeem land

Earth mound

Shema and nearby outpost

Ar Radeem land

Road 317

It connects a Radeem with as Samu' town and is only used by one family and there is a nearby open road in better condition
Source: LRC field work on 17.10.2009
Table 2: Barriers recently removed in Bethlehem governorate
#

Location

Barrier type

Nearby colony

Areas connected by barrier

Notes

From

To

1

Artas

Earth mound

Efrata

Artas

Road No. 60

2

Talita

Earth mound

None

Talita

Beti Jala

Once removed the street was paved
Source: LRC field work on 20.10.2009
Table 3: Barriers recently removed in Salfit and Qalqiliya governorates
#

Location

Barrier type

Nearby colony

Areas connected by barrier

Notes

From

To

1

Haris

Earth mound

Revava

Haris

Road No. 505

2

Azzun ash Shamaliya

Earth mound

Ma'ale Shomron

Azzun ash Shamaliya

Road No. 55
Source: LRC field work on 20.10.2009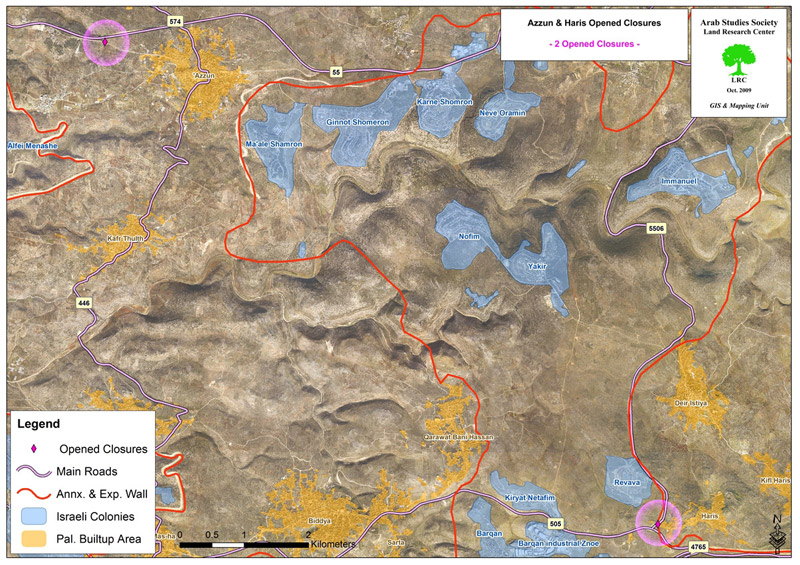 Map 4