New settlers attack on Al Baqa'a neighborhood
Violation: leveling of tens of thousands meters of Palestinian lands and the confiscation of water pipes.
Date: October 29, 2009
Objective: Damaging the agricultural sector by any mean.
Location: Al Baqa'a Neighborhood – east of Hebron.
Violators: Israeli Settlers alongside Israeli civil administration employees.
Victims: The Jabers.
Details:
Thursday, October 29, 2009, occupation authorities leveled about 10000 m2 from the lands of Al Baqa'a neighborhood to the east of Hebron city and confiscated irrigation networks pipes. Moreover, Israeli soldiers and settlers attacked some of the locals including 7 women leaving them with bruises in different parts of their bodies.
Residents of Al Baqa'a stated that three Israeli bulldozers, occupation army soldiers, number of settlers, and a number of civil administration employees attacked the neighborhood and started confiscating the pipes distributed between the plants, causing a lot of damage.
Picture 1+2: Mohammad Mustafa Jaber plants are about to drought without the irrigation system.
They added that the soldiers beat the farmers who tried to protect their crops using rifles and truncheons. 10 people were injured and moved later to Hebron State Hospital for treatment.
Radina Jaber stated that a female soldier beat her with a truncheon and bruising her before she was moved to Hebron State Hospital in order to receive treatment.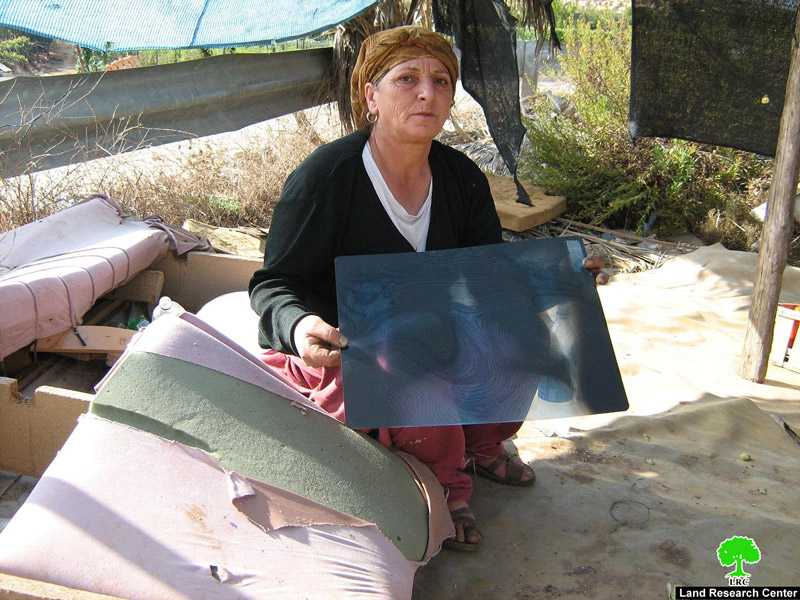 Picture 3: injured Radina Jaber.
Mrs. Jaber, who has spoken to LRC about the suffering of Al Baqa'a residents a week prior to this attack, added: 'the suffering of the residents is increasing on daily basis; the soldiers and settlers attacking and fighting Palestinian farmers in an attempt to preventing them from growing plants which are the main source of income for these people.
In addition to Mrs. Jaber, other people were injured including:
4.
Amena Abd Aljawwad Jaber
5.
Kawkab Abd Aljawwad Jaber
Furthermore, soldiers attempted to arrest Yaha Sa'eed Ja
Pictures 4+5: sabotaged water pipes.
Not only did the abusers beat the residents and confiscated their properties, but also they leveled about 10000 m2 of Mohammad Mustafa Jaber agricultural lands. The bulldozers destroyed all the stone barriers, irrigation pool, and confiscated water pipes that were used to irrigate 17000 m2 that were used for growing different types of vegetables.
Pictures 6+7+8+9: harm caused by leveling of lands.
Additionally, the occupation forces confiscated irrigation pipes that were distributed among 5000 m2 vineyard that belongs to 'Ata Jaber.
Picture 10+11: The damage caused by the arbitrary removal of irrigation pipes.
It must be mentioned that the attacks on Al Baqa'a lands and residents have increased recently which raises the question, do they intend to make the Israeli Army officer who said that he wants to Al Baqa'a ' a desolate desert' come true??!!!