Khirbit Al Hadidiya and the survival battle
Violation: evacuation notices issued for houses in Khirbit Al Hadidiya.
Violators: Israeli Occupation Army.
Victims: nomads in Khirbit Al Hadidiya.
Date: late September, 2009
Violation:
On late September, 2009, the Israeli army central command in the dents area issued a military notice forcing the demolition of two dwellings belonging to two nomad families who live in Khirbit Al Hadidiya east of Tubas and that's through demolition of their houses. Table 1: information about the establishments that are to be leveled.
Owner

Information about the establishment

Area (m2)

Abdul Raheem Mohammad Basharat

Residential

8

Mustafa Odeh Basharat

Residential+ cattle

48

Total Area

56
Before the current demolishing warnings, an earlier warning was issued during August claiming that the area is a military zone.
The demolitions are part of an organized Israeli army policy aiming to clear the area from its Palestinian residents and put it under the settlements control. The last evacuation notices are part of a series of 25 notices issued during the last two years. All the buildings in Khirbit Al Hadidiya are now under threats of being leveled at any moment. Israeli army has applied martial acts in an attempt to evacuate the residents for the forth time claiming that the residents are considered a menace for the residents of Bega'ut, Roi, and Hemdat settlements near Tubas.
People of Khirbit Al Hadidiya had nothing to do but to object to the Israeli Supreme Court which ruled for assigning 91000 m2 designing them for the use of Palestinians. The sentence was not respected by the Israeli army who carried on issuing evacuation notices and threatening the locals to destroy their simple houses and tents. However, nomads of Khirbit Al Hadidiya endured the Israeli army abuses by moving from one place to another, ending up in Sahel Al Beqea' after consecutive destructions of their houses.
People from Khirbit Al Hadidiya, Khirbet ar Ras al Ahmar, and other places in the area, have seen nothing but ill-treatment from the Israeli army who chase the shepherds, confiscate their cattle, shot at them, arrest them, fine them, prevent them from reaching the shepherd fields, and forbade them from water supplying. The last record of these actions was the confiscation of a tractor belonged to Najeh Odeh Al Ka'abna (53 years) from Sahel Al Beqea' on the ground of entering a military zone near Roi settlement.
Khirbit Al Hadidiya:
It is considered part of Thaher Al Maleh area located 33 km east Tubas. Moreover, its total population is about 200 people who depend on agriculture and livestock in their living. Most of the residents are nomads descending from Bisharat and Odeh families from Tammun, they resided in Sahel Al Beqea' the dents for planting and growing cattle just like any other nomad assemblage in the area that used to belong to Palestinians.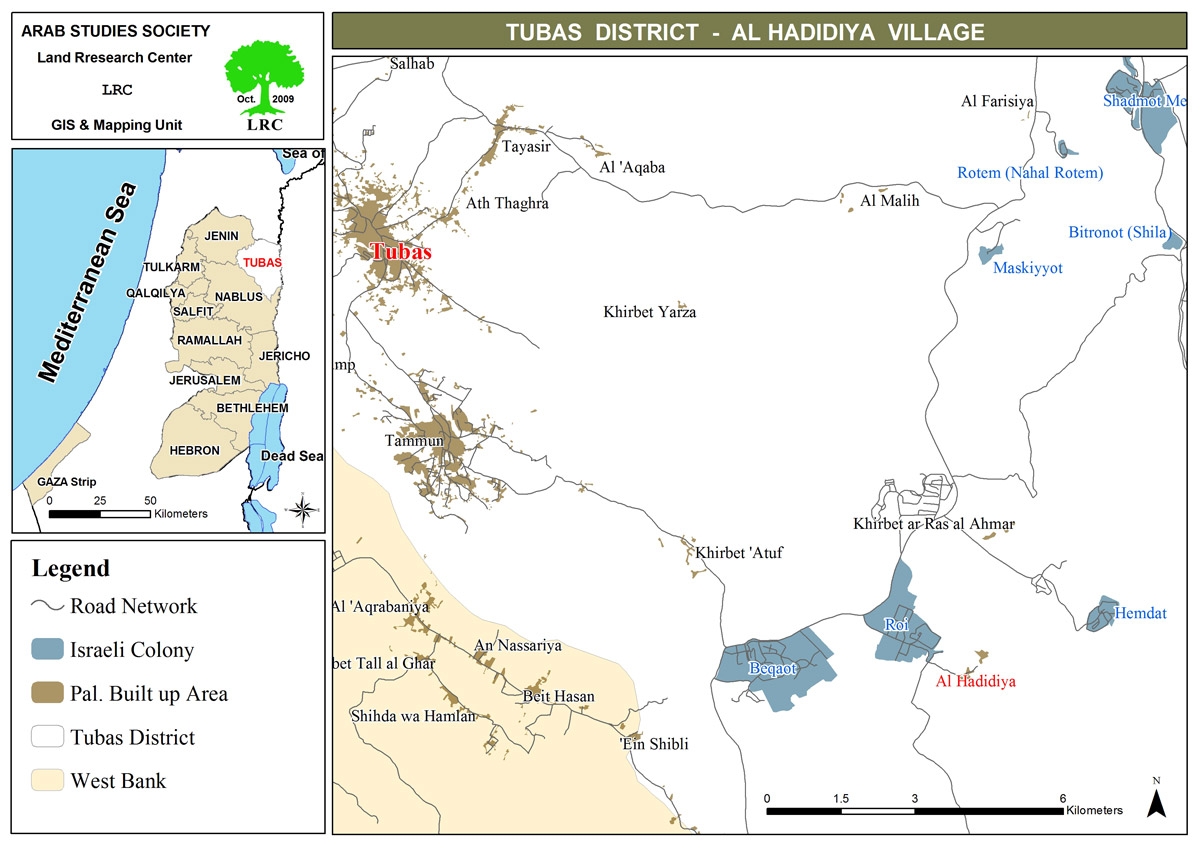 Sahel Al Beqea' is surrounded by different Israeli colonies, Roi and Bega'ut from the west and Hemdat from the east. The following table provides extra information on settlements in the area.
Table 2: settlements surrounding Khirbit Al Hadidiya

No.

Name

Established

Area

Population

1

Roi

1976

1572

120

2

Bega'ut

1972

2352

200

3

Hemdat

1980

316

150

Total

4240

470
Source: GIS unit- LRC
Prepared by:
The Land Research Center
LRC