Under the pretext of building in zone C
"Halt of construction orders against 17 Palestinian houses and barracks in Salim village "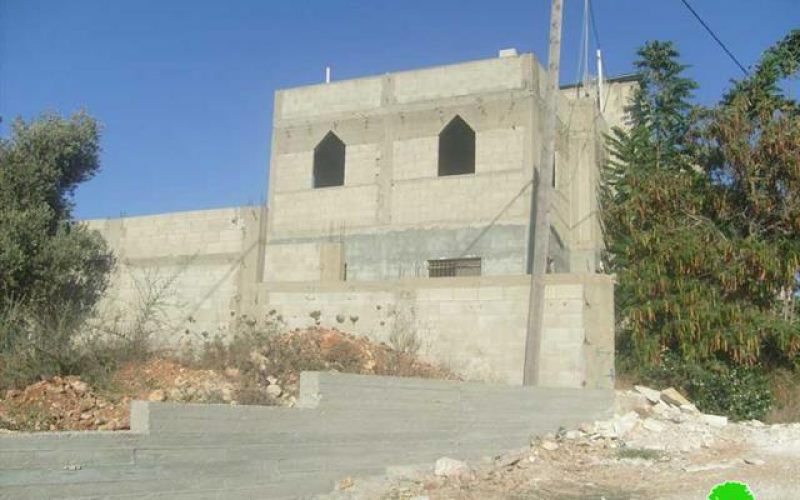 On 10 August, 2009, the infrastructure officer of the so-called Israeli civil administration in the West Bank handed over 10 halt of construction orders to house and barrack owners in Salim village in Nablus governorate under the pretext of building without permission in zone C by Oslo agreement's classification ( under total Israeli security and civic affairs).
The notified structures are either located at the village boundary or 20 meters out of it. The Israeli occupation authorities gave the owners only 30 days to get a building permission, a mission seems impossible given the complicated and lengthy Israeli procedures in this regard. The Beit Eil military court will hold a session on September 10, 2009 to view the measures that will have been taken by the owners themselves and decide accordingly. See Table 1:-
Table 1: Notified structures by owner's name, number of housing units, area, number of family members and building stages
#

Owner's name

#

housing units

Area in M2

#

Family members

Building stage

#

photo

1

Adeeb Mustafa Hussein

2

180

7

Under construction

2

Rateeb Mustafa Hussein

1

80

2

Ready for habitat

3

Ratib Mustafa Hussein

1

140

6

Under construction

4

Nuweir Ahmad Salama

1

120

1

Under construction

5

Tahseen Hilmi Karkari

2

160

9

Inhabited

6

Radi Saber Ishtiya

1

100

1

Under construction

7

Ribhi Abdul Rahim Ishtiya

1

120

1

Inhabited

8

Khalid Hamid Daood Ishtiya

1

140

7

Under construction

9

Ra'id Wadi' Ishtiya

1

70

5

Under construction

10

Abdul Ghaffar Sai'd Abu Salha

1

110

5

Inhabited

11

Jamil Mohammed Ishtiya

2

140

8

Inhabited

12

Abdul Khaliq Abdullah Odeh

1

90

3

Ready for habitation

13

Khalil Husni Ishtiya

2

128

4

Ready for habitat ( including 5 stores)

Total

21

1852

85
Source: LRC field work
Table 2: Notified barracks by owner's name, number, area family members, type and building stage
#

Owner's name

No. of houses

Area in M2

# of fam.mem

Type

Building stage

1

Hussein Hasan Jabbor

1

60

4

Sheep barrack

Complete

2

Fathi Salim Dahbor

1

74

6

Sheep barrack

Complete

3

Mu'az Abdullah Karkari

1

60

7

Sheep barrack

Complete

4

Ez Eddin Yusif Hamdan

1

80

9

Poultry barrack

Complete

Total

4

274

26
Source: LRC field work
Background to Salim village
It is located 3.5 km east of Nablus city bordered in the north west by Deir Al Hatab village, in the south by Beit Furik, in the west by Rujib and in the east by Beit Dajan and the Ghor region. The village's total land area is 10793 dunums including 803 as built up area. Its population toll by the end of 2007 was 5062.
The village lost 500 dunums from its land for the construction of Ellon Moreh colony in 1979. Currently, the colony's municipal area is 2000 of which 419 dunums built up mostly confiscated form the surrounding villages of Salim, as mentioned above, Azmut and Deir Al Hatab By the end of 2007 the colony's population toll reached 1322. See Map 1
Colonial road building
In 1996, the Israeli occupation authorities built a bypass road at the width of 20 meters to link the colony with the main road number 60. The bypass encircles the village of Salim from three directions: south, east and north. As a result, about 6000 dunums of agricultural and grazing zones from Salim and the nearby villages have been separated behind it causing real obstacles for future village expansion and development as well as harming farming and animal husbandry in the area. This situation is worsened by the settler violence who continuously attack farmers and deprive them access to their land, especially, during the months of October and November when olive harvest is picked. Even, last year, the Elon Moreh settlers dared to confiscate the olive harvest from its owners under the sight of Israeli soldiers who made no interference.
Colonial out post erection
In 1996, and in response to Ariel Sharon's open call on settlers to occupy the West Bank hilltops before loosing them to Palestinians in negotiations a group of settlers from Elon Moreh set up a new colonial outpost in Salim village land to the east of the mother colony. Nowadays, the outpost is comprised of 2 caravans ( mobile homes), 2 sheep barracks, one water tank, electric generator and watch tower. Recently, the settlers took over ninety dunums owned by the following Palestinian families:
1. The family of Najib Salman and his brothers ( 40 dunums)
2. The family of Mohammed Nader and his brothers ( 20 dunums)
3. The family of Mohammed Mustafa and his brothers ( 30 dunums)
The erection of this outpost has led to the loss of about 2000 dunums of Salim's land, 70% of which is cultivated with wheat and barley and the remaining 30% with long lived olive trees.
Trench digging
As part of its tactics to quell the Intifada and suffocate the village from the economic, social and human point of view the Israeli occupation army dug up a 2 km long, 4 m deep and 4 m wide trench around the village. Only one gate was left for the use of the village inhabitants manned 24 hours by the Israeli army. Very often, the gate remains closed for use. Also, the digging of the trench caused the destruction of dozens of dunums of fertile land and about 200 long lived olive trees were uprooted in the place and some of them were stolen and transferred to Israel for re-plantation in public squares as a means of beatification.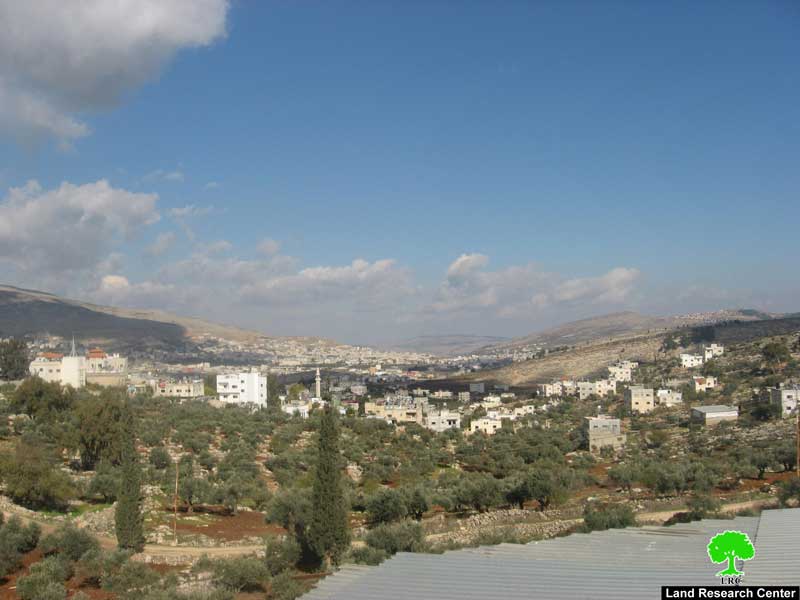 Photo 7: a general view of Salim village and Elon Moreh colony in distance
[1] GIS unit at LRC
[2] Palestinian Central Bureau of Statistics
[3] Foundation for Middle East Peace.
[4] ibid
[5] Salim's village local council
Prepared by:
The Land Research Center
LRC