Israeli Settlers massively uproot Olive trees in Al Khader Village west of Bethlehem city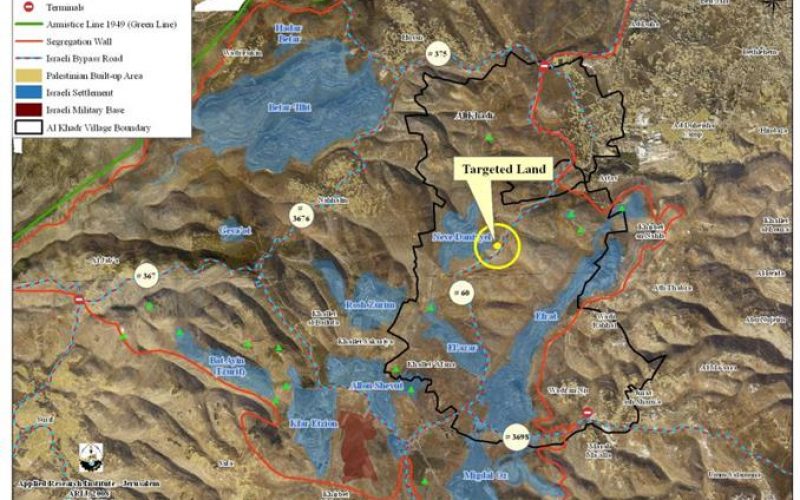 On August 3, 2009, Israeli settlers from the Illegal Israeli settlement Neve Daniel within the Gush Etzion settlements bloc, went under the protection of the Israeli Army and stormed Ras Salah Area in Al Khader town west of Bethlehem Governorate and uprooted 30 Olive trees from a Palestinian agriculture land in the Area.
The targeted land and trees are owned by 3 local residents from Al Khader village: Mr. Mohammad Shihadeh, Mr. Riziq Shihadeh and Mr. Nasri Shihadeh and located between the Israeli settlement Neve Daniel and the Israeli controlled bypass roads #60. The targeted area Ras Salah is already consumed by the illegal settlers where Neve Daniel stands today and the settlers act indicate their intention to grab what is left of that area to annex it to the illegal settlement. See Map of targeted area
Al Khader as a town has lost much of its lands for the Israeli settlements activities (settlements, bypass roads, outposts, military posts, etc), most of which agricultural lands. In fact, based on the part-section of the Israeli plan set for the Segregation WallAl Khader, the town is set to lose approximately 90% of its land behind the Segregation Wall, which translate that the town's built-up area will be located east of the Segregation Wall route while the agricultural lands will be mostly located west of the Segregation Wall route right between the Wall and the 1949 Armistice line (the green line).
Al Khader is one of the villages of Bethlehem Governorate, located some 4.5 kilometers west of Bethlehem city, with an altitude of 880 meters above sea level. It is bordered by Bethlehem city from the east, Husan and Battir villages from the west and northwest, Al Doha and Beit Jala cities from the north and northeast, and Al Duheisha camp and Artas villages at its southern side.
The urban area of the village spread on 601 dunums of land, about 3% of the village's total land area (20090 dunums) and is a home to 9258 inhabitants (PCBS 2008), most of who tended to work in Agriculture after loosing their jobs in the construction field inside Israel following the second Intifada of September 2000.
It is worth mentioning that on June 30, 2009, the Israeli Occupation Army handed over 13 Palestinian families in Al Khader village west of Bethlehem city halt-of-construction warnings notifying them that their houses and agriculture wells will be demolished under the pretext of lacking of proper authorization.
To Conclude
Just like many other Palestinian villages and communities, Al Khader village became a "permissible target" to the Israeli Army and the Israeli settlers of the Illegal Israeli settlements of the West Bank, where they can enter whenever they wish seizing, demolishing, leveling, confiscating the Palestinian residents properties, which f anything is no less than grave breaches of the International law rules and conventions mainly:
Uprooting of Olive trees violates the trade policies of the Paris protocols of 1954 which calls for 'free access for Palestinian goods to the Israeli market and vice versa.' The curfews and the uprooting are a clear violation of this clear security.

Article 147 of the Fourth Geneva Convention indicated that: Extensive destruction and appropriation of property not justified by military necessity and carried out unlawfully and wantonly. Is a grave breach of the Convention.

In addition, the uprooting and the closures are a clear violation of Article 23 of The Hague Convention Art. 23 of the Hague Convention of 1907 also provides: In addition to the prohibitions provided by special Conventions, it is especially forbidden to destroy or seize the enemy's property, unless such destruction or seizure be imperatively demanded by the necessities of war;
Prepared by