Under the pretext of State Property
"The Israeli Occupation Authorities confiscate land in Nahhalin village"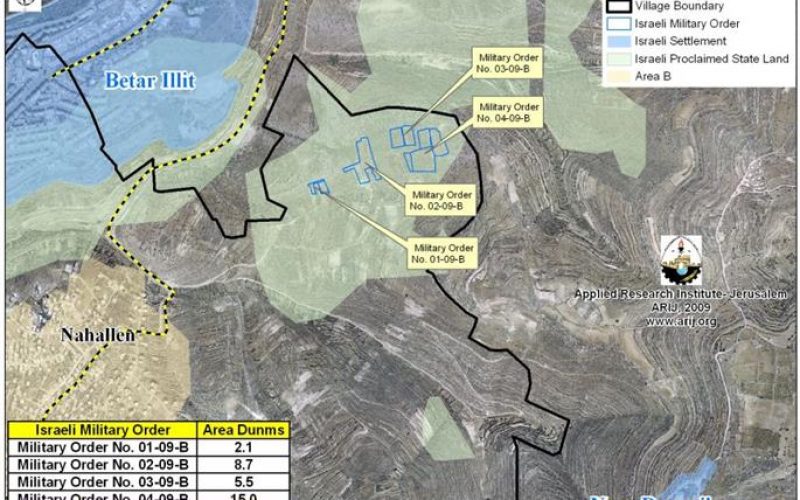 On January 28, 2009, The Israeli Occupation Authorities handed out citizens of Nahhalin village southwest of Bethlehem city four new military orders to evacuate lands under the pretext that the targeted locations are "State Lands". The military order states:-
Israeli Defense Forces
Civil Administration of Judea and Samaria
The Custodian of State property & Israel Land Authority of Judea and Samaria
Order Concerning State Property (Judea & Samaria) (No. 59-1967)
According to my jurisdictions as stated in Article 2, of Order Concerning State Property (Judea & Samaria) (No. 59-1967) I announce by that the mentioned lands in the appendix are state property.
The orders hold numbers 484 (1/09), 485 (2/09) , 486 (3/09) & 487 (4/09) and command land owners to evacuate a total land area of 31.2 dunums of Nahhalin village land which are all located to the east of the Israeli bypass road number 3676. Table 1 gives details of the Israeli Military Orders.
Table 1: Details of Israeli MilitaryOrders

Village

Israeli Military Order No.

Area of confiscated land (Dunums)

No.

Nahhalin

(1/09) 484

2.1

1

Nahhalin

(2/09) 485

8.7

2

Nahhalin

(3/09) 486

5.5

3

Nahhalin

487 (4/09)

15

4

31.2

Total
Source: ARIJ GIS Unit 2009
The orders also give Palestinian Land owners a period of 45 days (ends March 13, 2009), starting from the issuance date of the military orders, to oppose the military orders to the objection committee (the only authority entitled to question the declaration of lands classified as ''State Lands'') at the Israeli Ofer Military Camp (under the Israeli Civil Administration) located in Ramallah Governorate.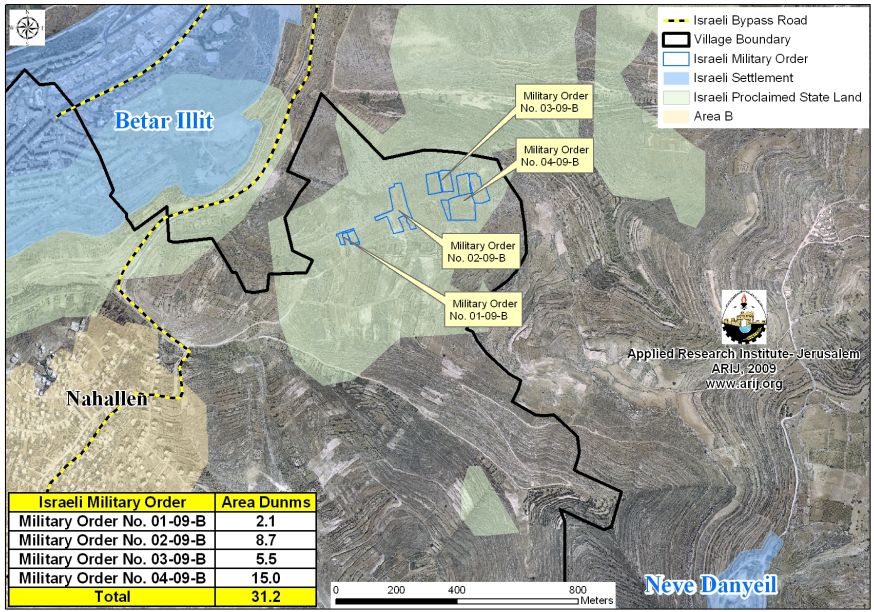 Israeli Military Orders allowing the Israeli Civil Administration to Confiscate Privately Owned Land & Property
Israeli Military Order #59 (1967?) – establishes the Israeli Military-appointed position of 'Custodian of Government Property' to take control of land owned by the Jordanian Government. Also, allows the 'Custodian of Absentee Property' to appropriate land from individuals or groups by declaring it 'Public Land' or 'State Land', the latter defines as land that was owned or managed by, or had a partner who was an enemy body or citizen of an enemy country during or after the 1967 war (amended by M.O.1091).
Acquisition by Declaring 'State Land'
When Israel occupied the West Bank in 1967, only one third of the land was registered to the people while the remaining two thirds of land ownership was proven by a Turkish issued Taboo (certificate of ownership) and an official British certificate/ registration. Purchase and/ or registrations of land made under Jordanian law prior to 1967 are also valid deed of land ownership. Fundamentally, the Ottoman land code (law) continue to govern the land holdings in the West Bank even with amendments passed during the Jordanian rule and the Israeli military orders issued since the 1967 occupation.
Previously Issued Military Order under the pretext 'State Land'.
During the past 4 years, Israel has issued many orders to confiscate lands in Nahhalin village under the same pretext. Table 2 below lists the Israeli military orders that were issued since March of 2005:-
Table 2: Israeli Military Orders in Nahhalin village under the pretext of 'StateProperty'
Military OrderNo.
IssueDate
Pretext

0187

3/2/2005

State Land

0191

3/2/2005

State Land

0183

3/21/2005

State Land

0184

3/21/2005

State Land

0190

3/21/2005

State Land

0177

3/22/2005

State Land

0178

3/22/2005

State Land

0179

3/22/2005

State Land

0180

3/22/2005

State Land

0182

3/24/2005

State Land

0185

3/24/2005

State Land

0188

3/24/2005

State Land

0192

3/24/2005

State Land

0194

3/24/2005

State Land

0199

3/24/2005

State Land

0200

3/24/2005

State Land

0147

4/17/2005

State Land

0431

5/4/2005

State Land

64-05

9/4/2007

State Land

0224

11/29/2007

State Land

0225

11/29/2007

State Land

37/05

9/17/2008

State Land

08-1 (0478)

12/15/2008

State Land

08-2 (0479)

12/15/2008

State Land

08-3 (0480)

12/15/2008

State Land
Source: Israeli Military Orders Database – 2009
A Glance about Nahhalin Village
Located southwest of Bethlehem city and sits on an area of 17250dunums, out of which, 496 dunums (2.9% of the total village area) makes the built-up area of the village. According to Oslo Agreement of 1995, signed between the PLO (Palestinian Liberation Organization) and Israel, 1132 dunums (7%) of Nahalin's total area were classified as Area B where the Palestinian Authority has administrative jurisdictions over civil and administrative issues, while Israel maintains control over security. The remaining area of Nahalin's village, 16118 dunums (93%) went under area C classification where Israel enjoys absolute control.
Table 3: Classification of Land in NahhalinVillage
Classification
Area (Dunums)
Percent ofTotal Village Area
Area A

0

0

Area B

1132

7

Area C

16118

93

TotalArea

17250

100

Source: ARIJ GIS & RS Unit 2009
It should be noted that the vast majority of the population in Nahhalin village live in Area B, which as mentioned earlier constitutes approximately 7% of the total area of the village, while C Area where the bulk of Nahalin's land is located with minimum population and a large number of Israeli settlers living in six Israeli settlements and occupying 17% of Nahalin's lands. See Table 4:-
Table 4: Israeli Settlements established on Lands of NahhalinVillage
Date ofEstablishment
Area Occupiedfrom Village Boundary
SettlementName
Geva'ot
135
1984

Betar Illit

688

1985

Rosh Tzurim

889

1969

Alon Shevut

589

1971

Kfar Etzion

583

1967

Beit 'Ayn

104

1989

Total

2988
Source: ARIJ GIS & RS Unit 2009
Prepared by:
The Applied Research Institute – Jerusalem