A New Wave of Stop Work Orders In Al Beqa' Neighborhood East of the City of Hebron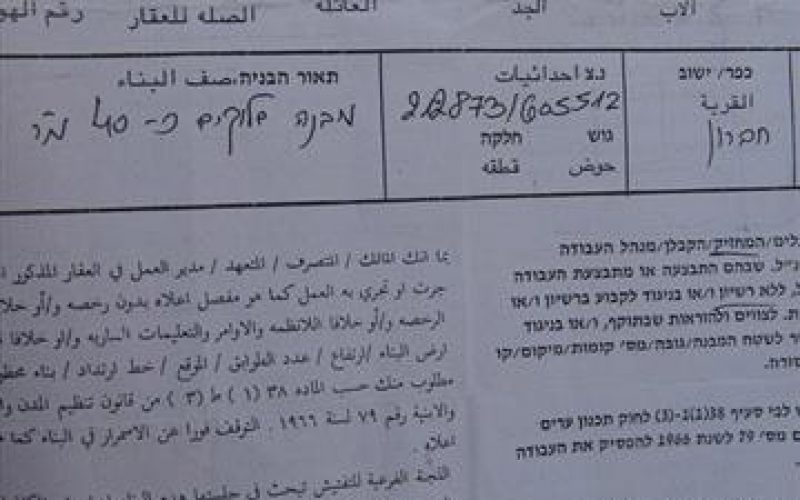 Israeli occupation forces issued and distributed Stop Work Orders against houses and water pools in Al Beqa' neighborhood in the City of Hebron. House owners indicated that representatives of the so-called 'Civil Administration' accompanied by occupation soldiers came to the neighborhood and handed out the Orders against the said structures.
Photos A to C: Examples of the Stop Work Orders
The owners also mentioned that occupation authorities informed some of them verbally that their houses will be demolished next week, as indicated by a captain in the 'Civil Administration.'
The soldiers came back on March 3rd, 2009 and took photographs of all the structures against which the orders were issued. Also, they have summoned the owners of the affected houses, took their personal details and then left without giving any further explanation. The residents of the neighborhood strongly believe that the main goal behind the Orders is to evict and transfer the Palestinian population in an effort to takeover their lands for future expansion of the nearby colonies of Kiryat Arba and Kharsina.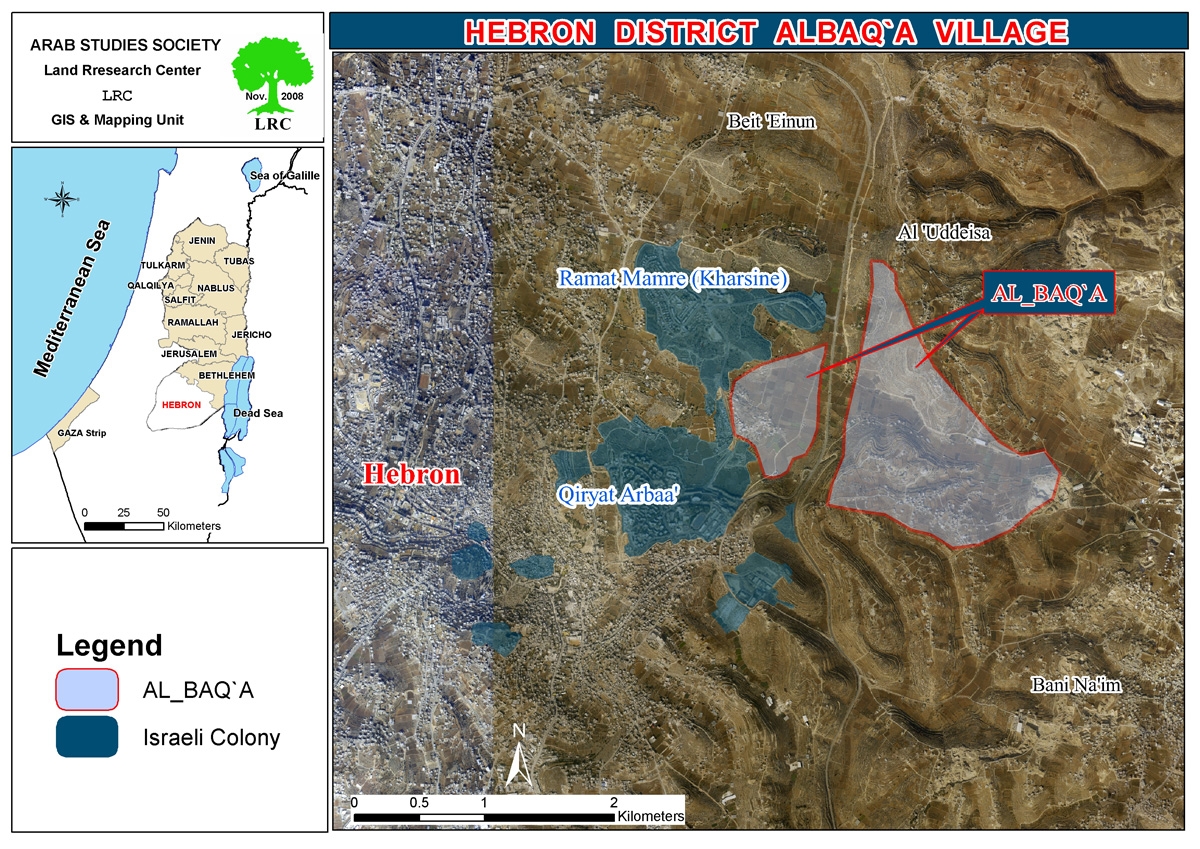 The Stop Work Orders are seen, as such, as another attempt to fight the Palestinian farmer in his source of income in an effort to force him out of his land.
It is worthy to note here that Israeli occupation forces have already demolished a number of structures in the neighborhood in 2004 which prompted humanitarian organizations to rebuild some of these houses. Yet, even these new houses received Stop Work Orders and are currently under the threat of being demolished. Additional information in this regard can be found at the following link:
The Colony of Kharsina Expands on the Expense of the City of Hebron
.
The Stop Work Orders were issued against 13 houses (inhabited and otherwise) whose owners are currently haunted by the threat of being expelled and left homeless. The following table lists the essential information regarding those houses targeted by demolition:
No.

Name of Owner

No. of Houses

Area in m2

No. of Family Members

Date of Construction

Status of Houses

Picture No.

1

Fadel Saleem Jaber

1

50

9

2009

Under construction

2

Faraj Ibrahim Jaber

1

60

5

2008

Ready to be inhabited

3

Zeid Ibrahim Jaber

1

70

5

1995

Inhabited

4

Hani Salim Fadel Jaber

1

60

5

2008

Inhabited

5

Imad Mohammad Bader Jaber

1

40

6

2007

Inhabited

7

Hasan Bader Jaber

1

80

13

2007

Inhabited

10

Azmi Jaber

1

100

14

2006

Under construction

12

Bilal Jaber

1

80

5

2006

Inhabited

14

Fayez Jaber

1

40

6

2006

Inhabited

15

Fadi Jaber

1

40

10

2006

Inhabited

16

Azzam Jaber

3

500

15

1994

Inhabited

TOTAL

13

1120

93
In terms of the pools, there were 9 water pools targeted for demolition. About 300 Palestinians benefit currently from these pools in accordance with the following table:
Owners Name

No. of Structures

No. of Family Members

Area in m2

Type of Structure

Status of Structure

Notes

Pic. No.

Hasan Bader Jaber

1

13

180

Water pool

Under construction

Used for irrigation

Badawi Areef Jabari

1

50

150

Water pool

Used

Used for irrigation

Nader Abdel Al

Azis Jaber

1

50

120

Water pool

Used

Demolished in 2006 and later re-built

Azmi Jaber

1

60

100

Water pool

Under construction

Used for irrigation

Sa�eed Jaber

1

50

150

Water pool

Used

Used for irrigation

Azzam Jaber

1

30

120

Water pool

Used

Used for irrigation

Azzam Jaber

1

15

30

Water well

Used

Used for irrigation

Nader Abdel Aziz Jaber

1

8

40

Water well

Used

Used for water collection

Azzam Jaber

1

15

50

Warehouse

Used

Shop

TOTAL

9

291

890