14000 Palestinian Jerusalemites stand to lose their residency rights
Israel activate measures to manipulate Jerusalem's Demography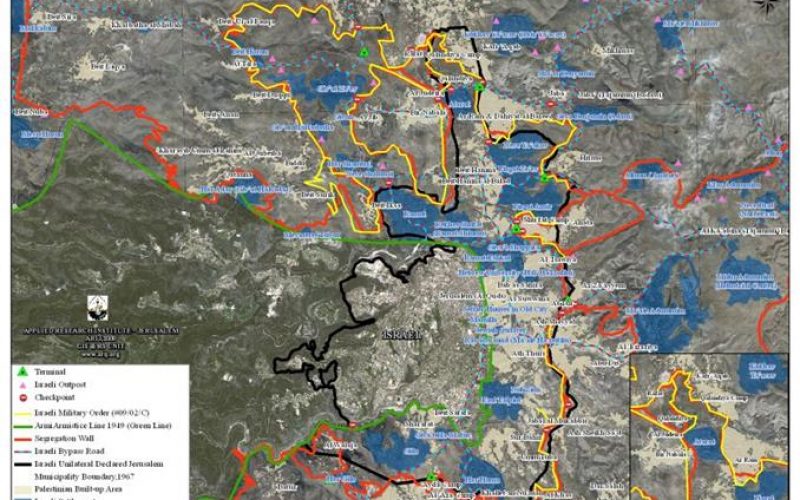 On January 5, 2009, the Israeli Army issued a military order holding number (02/09/S) to the close of 'Jabal As- Soumoud' area in Dahiet Al-Barid neighborhood in Ar-Ram north of the city of Jerusalem, where no body may enter to areas beyond the Segregation Wall, and toward Jerusalem unless holding a special Israeli permits issued by the Israeli Civil Administration. More than that, access to Jerusalem for Palestinians with Jerusalem ID cards will be restricted and regulated through Israeli terminals rigged around the City boundary; even more, on the Segregation Wall circling the city and consequently delineate its new boundaries. See map below: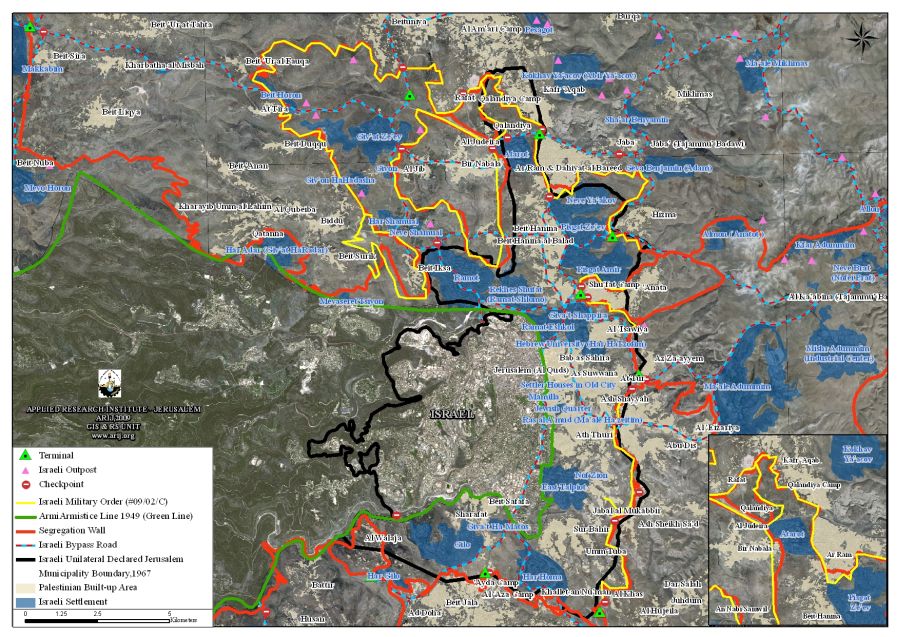 The Segregation Plan in Jerusalem
The Israeli Apartheid Segregation Wall in Jerusalem start off at the village of Beit 'Anan northwest of the occupied city where it embraces Har Adar Illegal Israeli settlement, then it continues north to compass Giv'at Ze'ev settlements' bloc, after which it resumes eastwards to encompass Ma'ale Adumim settlements' bloc, then it stretches toward the south cutting through several Palestinian communities until it reaches the northern parts of Bethlehem Governorate.
The Israeli Segregation Wall in East Jerusalem had is set to confine the future development of the Palestinian localities in the city and dramatically hit them , harder than others, and Dahiet Al –Barid is an example of the most affected localities by the Apartheid Wall , where more than 14,000 Palestinian Jerusalemites holding Jerusalem residency cards will be totally isolated by the wall and their only access to Jerusalem is to travel to Ramallah to pass Qalandiya Terminal after the go through security check. Accordingly, it is unlikely that the Israeli municipality of Jerusalem and the Israeli government will continue to render services to holders of Jerusalem residency cards (Palestinians) living out side of Jerusalem. The dilemma of the residents living in Dahiet Al–Barid is that they will no longer receive services from the Israeli municipality of Jerusalem nor Ar-ram council will be allowed to provide them with services unless they coordinate with the Israeli side; simply because the area is under "closed military area" status.
To Conclude,
Israel continues to adopt in a systematic manner long-term policy to get rid of thousands of the Palestinian Jerusalemites, starting with those living out side of the current Israeli defined borders of Jerusalem, and later of those living outside of Segregation Wall surrounding Jerusalem, which will ultimately redefine illegally for the second time the boundaries of Jerusalem; thus manipulating the demographic balance of the occupied city.
The Israeli military orders that are applied to confiscate and close the Palestinian lands under security pretexts are a clear violation of the International law rules and conventions such as,
Article 147 of the Fourth Geneva Convention indicated that: Extensive destruction and appropriation of property not justified by military necessity and carried out unlawfully and wantonly, is a grave breach of the Convention.

Art. 23 of the Hague Convention of 1907 also provides: In addition to the prohibitions provided by special Conventions, it is especially forbidden to destroy or seize the enemy's property, unless such destruction or seizure be imperatively demanded by the necessities of war;

Also the Universal Declaration of Human Rights adopted and proclaimed by General Assembly resolution 217 A (III) of, December 10, 1948, Article 17 reads: 'No one shall be arbitrarily deprived of his property.' Which means it bans Israel from destroying or confiscating the property of the Palestinians at any case.

Article 13 of the Universal Declaration of Human Rights states also that: Everyone has the right to freedom of movement and residence within the borders of each state.'
Prepared by:
The Applied Research Institute – Jerusalem