"The Israeli De-Palastinization of Jerusalem"
The Israel Municipality of Jerusalem issues Administrative Demolition Orders for 40 Palestinian houses in the Eastern Part of Jerusalem City
When Israel occupied the Eastern part of Jerusalem during the 1967 war, steps were taken to restrict and confine the Palestinian existence there, which aims to tightening on the Palestinian Jerusalemites and building the Illegal Israeli settlements, demolishing Palestinian houses, and confiscating as much as possible of the Palestinian-owned lands for the interest of the Israeli colonial and expansionist plans. Accordingly, the Israeli authorities demolished thousands of Palestinian houses in the past 4+ decades of occupation of the city and thousands more awaiting demolishing orders to go into effect in the city.
40 Administrative Demolition Orders
On February 16, 2010, the Israeli Municipality of Jerusalem issued administrative demolition orders for 4 buildings of 40 apartments under the pretext of lacking building permits.
The first targeted five-story building located in Beit Hanina neighborhood has 8 apartments and was built in the year 2000 and licensed by the Israeli authorities, but the Municipality claims that the owner of the building did not issue the proper authorization for some annexations for the building and therefore the license was cancelled!
On February 16, 2010, the Palestinian owners of a three buildings in al –Ashqareyyah area in Beit Hanina neighborhood received an administrative demolition orders for their buildings which includes 32 apartments accommodating more than 150 residents, under the pretext of lacking building permits.
In the same day, inspectors of the Israel Municipality of Jerusalem handed five owners of commercial stores in Bab Al-'Amoud area in East Jerusalem, administrative orders to evacuate their stores in order to demolish them under the pretext of lacking proper authorization.
The owners of the five stores had received the first demolition orders in 22/7/2009, and later on the owners of the stores had submitted a petition to the Israeli Supreme Court which rejected their petition on 19/8/2009, and in this case the stores will be demolished at anytime.
It is worth mentioning that the Israeli Municipality of Jerusalem had decided to close Bab Al-'Amoud area for two years starting from April 2010 in order to develop the area, which means that all of the commercial stores owned by dozens of Palestinian Jerusalemites have to close their stores during this period thus lose their source of income.
Confiscation of Private Palestinian land in Al Sheikh Jarrah
On February 17, 2010, the Israeli Municipality of Jerusalem revealed its intention to confiscate a Private-owned Palestinian land in Al Sheikh Jarrah neighborhood in East Jerusalem owned by the local resident Mr. Kamel 'Ubeidat. The Municipality also provided that the land will be use to construct a public parking in the area to be used by the Israeli settlers and visitors of Shim'on Seddik Shrine.
And in a new Israeli escalation against the Palestinian Jerusalemites, the Mayor of the Israeli Municipality of Jerusalem "Nir Barakat" called on his staff to coordinate between the Municipality and the Israeli Police for a new campaign to demolish dozens of the Palestinian houses in Al Bustan area in Silwan neighborhood. According to the data of the Municipality there are 657 Palestinian houses in Silwan are lacking of building permits and classified by the Municipality as "Illegal" , and as a result they will be demolished at anytime. See Map 1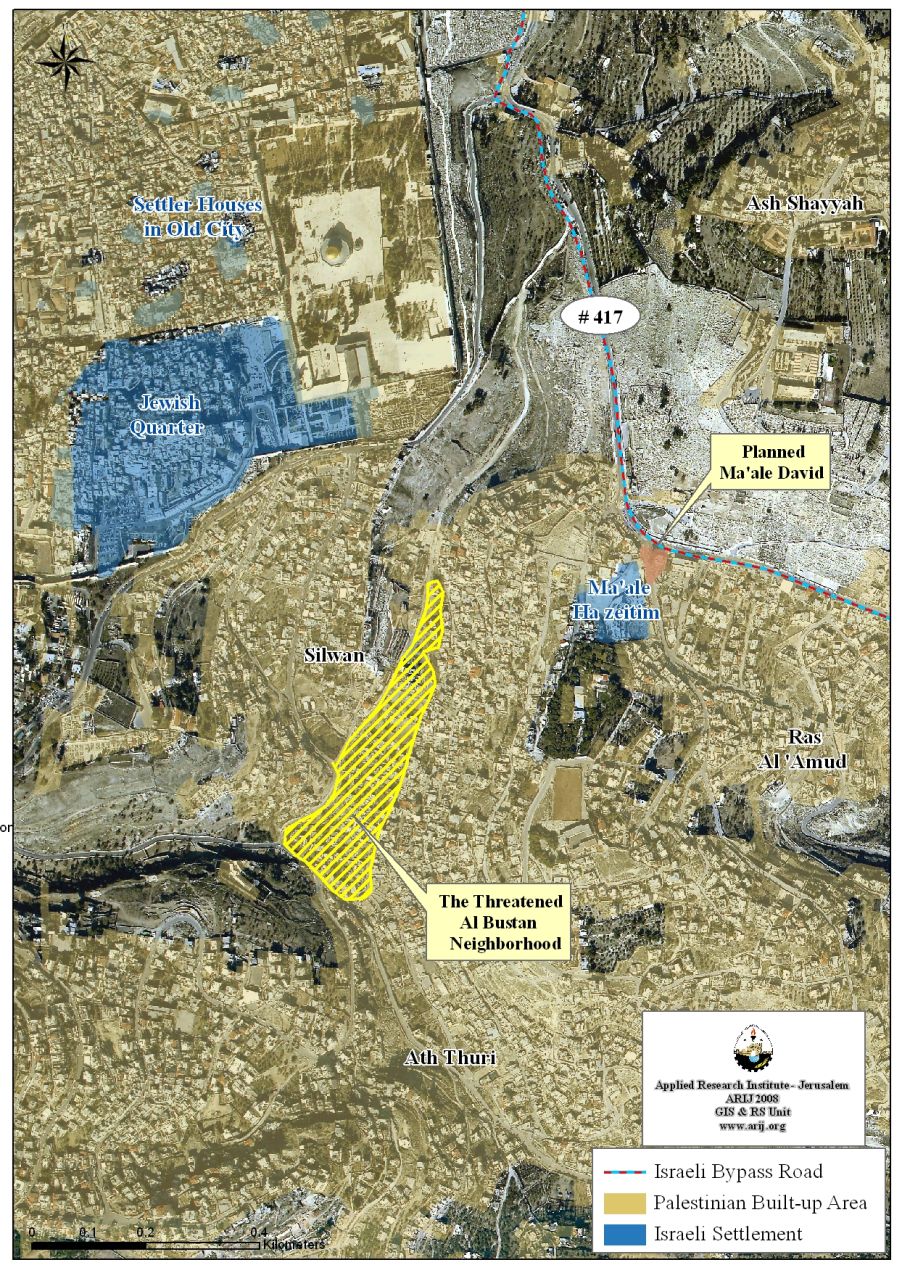 Map 1: The targeted Al Bustan Area
Legal & International Status
Article 147 of the Fourth Geneva Convention indicated that: Extensive destruction and appropriation of property not justified by military necessity and carried out unlawfully and wantonly. is a grave breach of the Convention.

Art. 23 of the Hague Convention of 1907 also provides: In addition to the prohibitions provided by special Conventions, it is especially forbidden to destroy or seize the enemy's property, unless such destruction or seizure be imperatively demanded by the necessities of war;

Under the Universal Declaration of Human Rights Adopted and proclaimed by General Assembly resolution 217 A (III) of, December 10, 1948, Article 17 reads: 'No one shall be arbitrarily deprived of his property.' Which means it bans Israel from destroying or confiscating the property of the Palestinians at any case.

Article 33 of the Forth Geneva Convention prohibits collective punishment, and land leveling and property destruction carried out by Israeli forces are collective punishments. The article states: 'No protected person may be punished for an offence he or she has not personally committed. Collective penalties and likewise all measures of intimidation or of terrorism are prohibited."

Article 53 of the same convention provides that 'any destruction by the Occupying power of real or personal property belonging individually or collectively to private persons, or to the State, or other public authorities or social or cooperative organizations is prohibited, except where such destruction is rendered absolutely necessary by military operations.'
:::::::::::::__
[s1] Silwan families: Israel serves 8 new demolition ordershttp://www.maannews.net/eng/ViewDetails.aspx?ID=263972
Prepared by
The Applied Research Institute – Jerusalem
ARIJ