The Demolition of 26 Structures in Arab Al Muleihat East of Dier Dibwan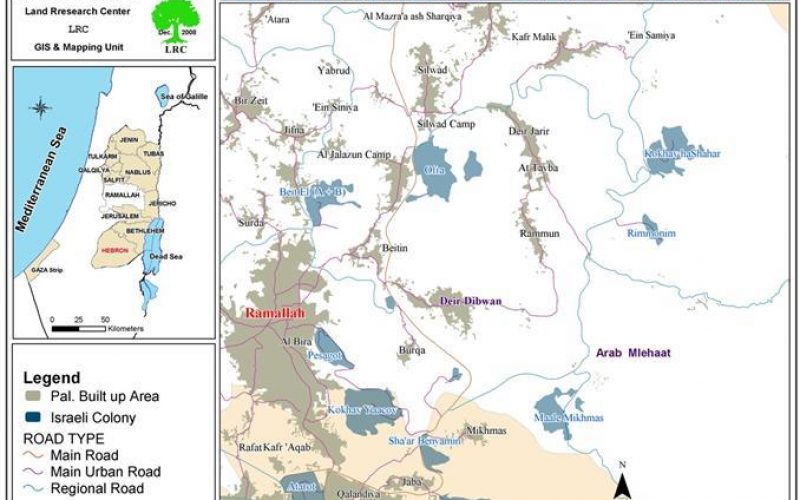 Arab Al Muleihat tribe is a Palestinian community located east of the village of Dier Dibwan in an area known as Magahyer Al Dier in the governorate of Ramallah. It is considered the second largest gathering for Arab Al Muliehat in the West Bank. The largest gathering is located in Al Mua'arrajat area in the Jordan Valley. The population of the gathering in Ramallah is about 750 Palestinians living in 250 households. They live in tents and tin shacks as they depend on herding as the main and only source of income. The tribe has been living in this location for the past 35 years. See Map 1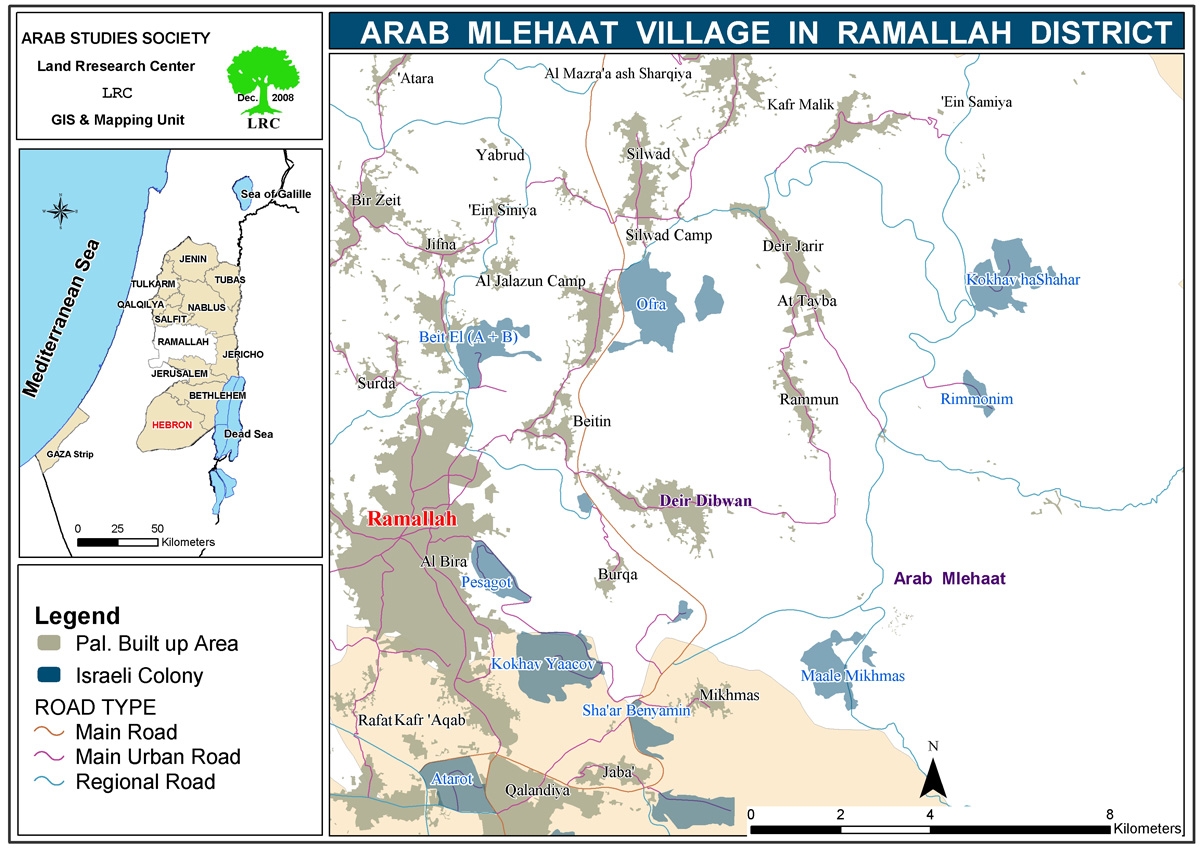 The community targeted since the early 1980's:
Since the beginning of the 1980's Israeli occupation forces has paid a number of visits to the living quarter of the tribe which used to reside in Al Araqa area 7 kilometers east of the current location. The community was forced to leave its original residence place as occupation forces claimed that it was designed to be used for military purposes. These forces chose the current location for the tribe to reside in and ever since then the tribe was living there with no objection from the occupation forces which established a school and provided the community with its own water pipeline.
However, in September 2008 the so-called Israeli "Civil Administration" came to the tribe and submitted a number of demolition orders to its residents. The orders stipulated that the demolition is planned to take place within 30 days. The owners of the targeted shelters filed a legal petition against the demolition via the office of the member of the Palestinian Legislative Council, Mr. Hatem Abdel Qader. So far, according to the lawyer Hasan Muleihat, no official reply has been provided by the relevant Israeli occupation authorities.
Yet, the ghost of demolition was always present; on the morning of Thursday October 30th, 2008 no prior warning was given to the residents before they saw Israeli bulldozers, accompanied by a large protection force, demolish their structures. Human and animal shelters were razed before even giving the residents the chance to remove their belongings. The demolished structures included 26 bruxes used to shelter them and their animals. On the same day, the International Committee of the Red Cross (ICRC) provided 5 tents for 5 homeless families in the community. The other homeless families were hosted by other families in the community.
The following table lists the demolished structures, its owners and other relevant information:
Name

Type of Structure

Area (in m2)

Family Members Affected

Family Members Displaced

Year Built

Ali Suleiman Musa Suleiman

Living premises + sheep brux

108

7

1950

Atta Suleiman Ibrahim

Living premises

72

10

1961

Musa Suleiman Muas Sueliman

Living premises

90

10

N/A

Yousef Ahamd Ali Ka'abna

Living premises

108

3

N/A

Ismaeil Khaled

Living premises

108

10

1968

Mohammad Khamis Ka'abna

Living premises

90

12

N/A

Mohammad Suleiman Muleihat

Living premises

72

5

1954

Dawood Awwad Suleiman Muleihat

Living premises

108

5

1977

Suleiman Awwad Suleiman Muleihat

Animal brux

108

10

10

1974

Ibrahim Attallah Suleiman Mulihat

Living premises

108

4

1976

Mohammad Suleiman Ibrahim Mulihat

Living premises + animal shelter

90

10

1964

Abdel Latif Attalah Suleiman Mulihat

Living premises

108

4

1980

Mohammad Ali Suleiman Mulihat

Living premises

108

4

1983

Awwad Suleiman Musa Mulihat

Living premises + sheep brux

108

10

1952

Jibreel Sueliman Mulihat

Living premises + sheep brux

108

5

1954

Attallah Suleiman Mulihat

Living premises + sheep brux

108

8

1954

Suleiman Atallah Suleiman Mulihat

Living premises + sheep brux

108

Single

1990

Hussein Attallah Suleiman Mulihat

Living premises

108

4

N/A

Ahmad Mohammad Irheiman Mulihat

Living premises

108

5

1977

Ibrahim Mohammad Irheiman Mulihat

Living premises + sheep brux

108

12

N/A

Mahmoud Mohammad Irheiman Mulihat

Living premises + sheep brux

108

4

N/A

Mohammad Ahmad Ali Ka'abana

Living premises + sheep brux

108

8

1974

Jibreel Awwad Suleiman Mulihat

Living premises + sheep brux

108

6

1979

Ahmad Awwad Suleiman Mulihat

Living premises + sheep brux

108

5

1978

Mahmoud Suleiman Ibrahim Mulihat

Living premises + sheep brux

108

8

N/A

Suleiman Atta Suleiman

Living premises + sheep brux

108

4

1980

TOTAL

2682

7

166
Photo 1 to Photo 4: Arab Al Muleihat
Prepared by:
The Land Research Center
LRC