New Palestinian houses threatened of Demolition by the Israeli Occupation Authorities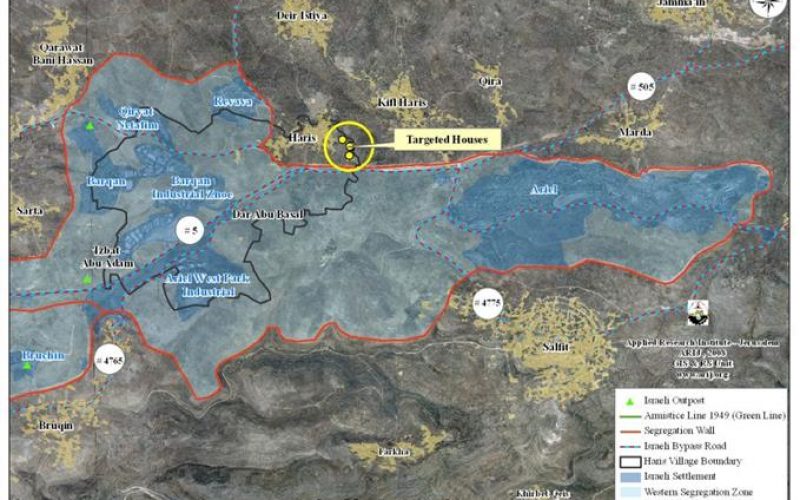 On November 17, 2008, the Israeli Civil Administration and the Israeli Ministry of Planning and Construction handed out residents of Harris village northwest of Salfit city military warnings to halt the construction of Six Palestinian structures in the village conducted under the pretext of lacking valid building permits. The threatened houses are located in an area classified as "Area C "according to the Oslo II Interim Agreement of 1995, which completely puts what classifies as areas "C" under full Israeli control. Table 1 below gives details of the targeted Palestinian houses and their owners in Harris village.
Table 1: Houses threatened of demolition in Harris village

No.

Owners

Area/ M²

No. of
floors

No. of dwellers

1.

Nizam Hassan Odeh

100

1

5

2.

Ma'zouz Farid Hussein Hassan Jaber

260

2

12

3.

Hassan Hussein Hassan Jaber

180

1

10

4.

Hassan Yousef Hassan Al Suf

310

1

12

5.

Omar Hussein Hassan Jaber

200

1

12

6.

Fuad Yousef Hassan Al Suf

480

2

13

Total

1530

8

64
Source: Harris village council- Salfit 2008
Location and Physical Characteristics of Harris village
Harris village is located 5 kilometres to the northwest of Salfit city and houses a total population of 3427 (Palestinian Central Bureau of Statistics – PCBS, 2007). Deir Istya village sets north of Harris, Kifl Harris, and Qira villages from the east, Qarawat Bani Zeid from the west, and a cluster of Israeli settlements (Barqan, Revava, Barqan Industrial Zone, Qiryat Netafim, and Ariel West Park Industrial) from the south.
Harris village spreads over an area of 8370 dunums of land, of which 260 dunums (3% of the total village area) constitute the built-up area. Earlier before the eruption of the second Intifada in September 2000, considerable portion of the working force of the Palestinian villagers of Harris depended on working inside Israel beyond the 1949 Armistice Line (the Green Line) for their income; but after the eruption of the second Intifada erupted, most Palestinian villagers lost their work and turned to work in the agricultural sector, which became their main source of income.
During the years of Israeli Occupation, the Israeli Army managed to confiscate 3097 dunums of Harris village to establish five Israeli settlements on lands privately owned by Palestinians in the village. The five settlements are among 26 other settlements' forming what is called 'Ariel settlements' bloc, which was established in 1978 and spreads over 120 Km² of lands of several Palestinian villages' lands: Harris, Salfit, Marda, Iskaka, Qarawert Bani Hasan, Bruqin, and Sarta. See Table 2
Table 2: Israeli Settlements bordering Harris village

Settlement

Date of establishment

Pop
2007

Area/
Dunums

Area confiscated from the village

Barqan

1981

1300

649

304

Revava

1991

827

399

78

Barqan Industrial Zone

1981

—

1417

1417

Qiryat Netafim

1982

438

386

188

Ariel West Park Industrial

NA

—

1728

1110

Total

2565

4579

3097
Source: ARIJ GIS Database 2008
The Segregation Wall grabs land from Harris village
In the year 2003, the Israeli Occupation Army and under security claims, sanctioned the construction of the Segregation Wall around Ariel settlements bloc in Salfit governorate, which in turn led to the confiscation and razing of thousands of dunums of lands and the uprooting of hundreds of fruitful trees (mostly Olives) from the Palestinian villages surrounding the settlements' bloc.
Today, the wall runs for 2 kilometers on lands of Harris village and isolates behind its path about 7550 Dunums (90% of the village total land area); of which, 1880 dunums (22.5%) of the village total agricultural land area), 2616 dunums (31.3%) are open spaces and forests and the rest is the area of the five Israeli settlements established on Harris's village. See Table 3 for more details
Table 3: the Land Use/Land Cover of Harris village lands

Land classification of Harris village lands

LULC of Harris's village lands

LULC of the area isolated west of the Segregation Wall

% of land isolated from Harris's village total land area

Agricultural land

2436

1880

22.5%

Open spaces with little or no vegetation

2639

2616

31.3%

Palestinian Built-up Area

260

19

0.3%

Israeli settlement

3035

3035

36.3%

Total

8370

7550

90%
Source: ARIJ Data base 2008
House Demolition Policy Violates International law
The Israeli Occupation Authorities justify the demolishing of Palestinian houses mostly by security needs or for lacking of valid building permits. The result is that Palestinian families are displaced and left homeless. On the other hand, thousands of housing units in Israeli settlements in the West Bank are being licensed by the various Israeli authorities such as the Ministry of Housing and construction, and the Israeli civil Administration, even though blatantly violates all international law and the human conventions.
Article 49 of the Hague Conventions of 1907 states that 'Individual or mass forcible transfers, as well as deportations of protected persons from occupied territory to the territory of the Occupying Power or to that of any other country, occupied or not, are prohibited, regardless of their motive. … The Occupying Power shall not deport or transfer parts of its own civilian population into the territory it occupies.'

Article 53 of the Fourth Geneva Convention states that: 'any destruction by the Occupying Power of real or personal property belonging individually or collectively to private persons, or to the State, or to other public authorities, or to social or cooperative organizations, is prohibited, except where such destruction is rendered absolutely necessary by military operations.'

Also Article 33 of the fourth Geneva Convention stipulates that: 'No protected person may be punished for an offense he or she has not personally committed,' and 'collective penalties and likewise all measures of intimidation or of terrorism are prohibited.'
Prepared by
The Applied Research Institute – Jerusalem