New House Demolition Order in Aboud Village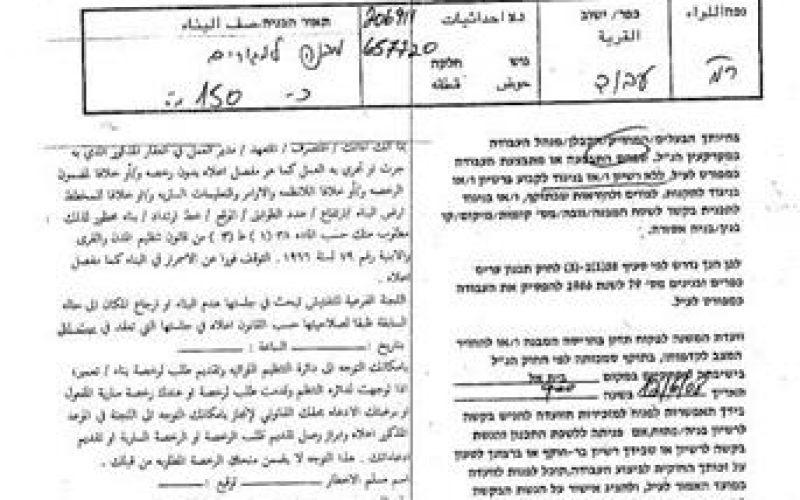 'Aboud' village, located 30 kilometers north of Ramallah is well known with its welcoming natural diversity, it has a total population of 2758 inhabitants (PCBS 2008).
On May 29, 2008, The Israeli Occupation Army issued an order 'halt of construction' (Picture #1) to Abu Hussein family house, served under the pretext of being built without proper licensing documents due to its location in area 'C' where Israel has complete control. The house sets in within cluster of Palestinian houses and none of them has been served with similar order. The Israeli order comes as part of an Israeli active campaign in the West Bank, where hundreds of similar and relevant orders (threat of demolishing) were issued since the December 2007 until November 2008.
The following table 1, and chart 1 shows the number of demolishing threats issued by the Israeli Army in area "C" and its distribution across the West bank governorates.
Table 1: Threats to Palestinian houses located in Area C
| | |
| --- | --- |
| Palestinian Governorate | # of House Demolition Threats |
| Bethlehem | 23 |
| Jerusalem | 142 |
| Ramallah | 3 |
| Salfit | 9 |
| Tulkarem | 6 |
| Qalqilyia | 26 |
| Jericho | 3 |
| Jenin | 9 |
| Hebron | 76 |
| Tubas | 81 |
| Nablus | 29 |
| Total | 407 |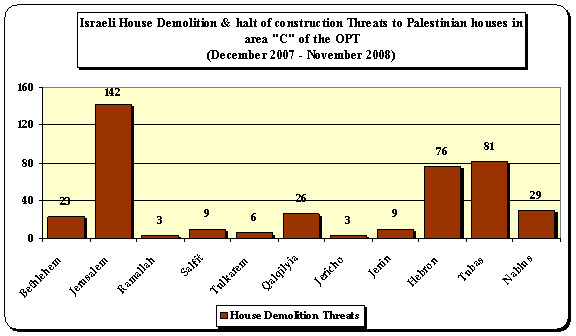 Land Classification of 'Aboud' Village:
In the Oslo II Interim Agreement of September 1995 between the Palestinian National Authority and Israel, the Palestinian areas were categorized into three areas (A, B, and C) which aimed at a phased withdrawal of the Israeli military forces from these areas until the accomplishment of a final status agreement.
Area (A): constitute the areas where Palestinians have complete autonomy, which include administrative and security issues and covered the main cities of the West Bank, except for Hebron. (Area 'A' comprises 17.7% – (1,004,805 Dunums) of the total West Bank Area)

Area (B): Palestinians have full control over the civil responsibilities and Israel continues to have overriding responsibility for security. (Area 'B' comprises 18.3% (1,035,375 Dunums) of the total West Bank area)

Area (C): Palestinians have responsibility for civil life such as economics, health, and education; however, Israel retains full control over security and administration related to territory. (Area 'C' comprises 61% – (3,456,442 Dunums) of the total West Bank area)
'Aboud' Village boundary sets on 14928 Dunums of land, which according to the Oslo II Interim Agreement was classified into Areas B and C.
The Israeli segregation wall, will cause Aboud village to Loss a total of 3509 Dunums (23.5%) of its land, which include the land confiscated to establish Biet Arye Settlement (401 Dunums) and Offarim Settlement (203 Dunums). (See Map 1)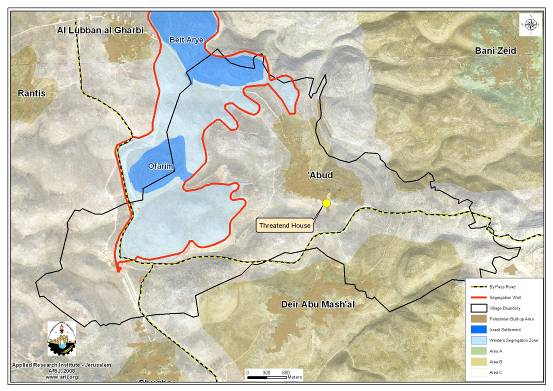 To Conclude:
The Israeli civil administration has been keen to facilitate building permits for Palestinian housing in area 'C' and that is part of its overall policy to maintain the rural Palestinian areas undeveloped, sparsely populated and simultaneously allows Israeli settlements' construction with extreme facilities. The Israeli Army continues to use the "security pretext" to force its control over areas of their jurisdiction (area C) according to the Israeli Central Bureau of Statistics, 18,472 housing units were constructed in Israeli settlements since from 2000 until September 2007. At the same period of time, 4993 demolition orders were issued against Palestinian constructions in area "C" opposite to 2900 demolishing orders against illegal construction in the Israeli settlements, however, 1,663 (33%) of the demolishing orders were carried out against Palestinian structure in opposed to 199 (7%) in Israeli settlements in the same period of time.
Israel continues to violate Palestinians rights and breach international laws and treaties as the right to existence, freedom of movement, and housing. Article 49 of the Fourth Geneva Convention of 1949 clearly states that 'The occupying power shall not deport or transfer parts of its own population into the territories it occupies'. Also Article 53 of the Fourth Geneva Convention clear that: 'any destruction by the Occupying Power of real or personal property belonging individually or collectively to private persons, or to the State, or to other public authorities, or to social or cooperative organizations, is prohibited, except where such destruction is rendered absolutely necessary by military operations.' The appropriation and destruction of Palestinian land is an especially serious violation of the Fourth Geneva Convention, Article 147 of which clearly prohibits, ''extensive destruction and appropriation of property, not justified by military necessity and carried out unlawfully and wantonly.''))
Prepared by:
The Applied Research Institute – Jerusalem