Israeli Occupation Forces Issue Stop Work Orders in the Village of Al Aqaba
On the 27th of November, 2008 the so-called Israeli "Civil Administration" issued Stop Work orders against 4 Palestinian structures (3 houses and an agricultural road) in the village of Aqaba east of the City of Tubas. The Orders were issued under the pretext that the structures were built in Area C without having the appropriate permits. The following table lists the information related to the threatened structures:
Name of Structure Owner

Housing Units

No. of Order

Area (in m2)

Status of Structure

Saleh Mohammad Saleh Abdel Kareem

5

143032

110

Under construction

Jameel Ahmad Jameel Subuh

1

120

Under construction

Salem Abdel Baset Salem Jaber

1

100

Under construction

9 Kilometer agricultural road

Construction completed

TOTAL

7

330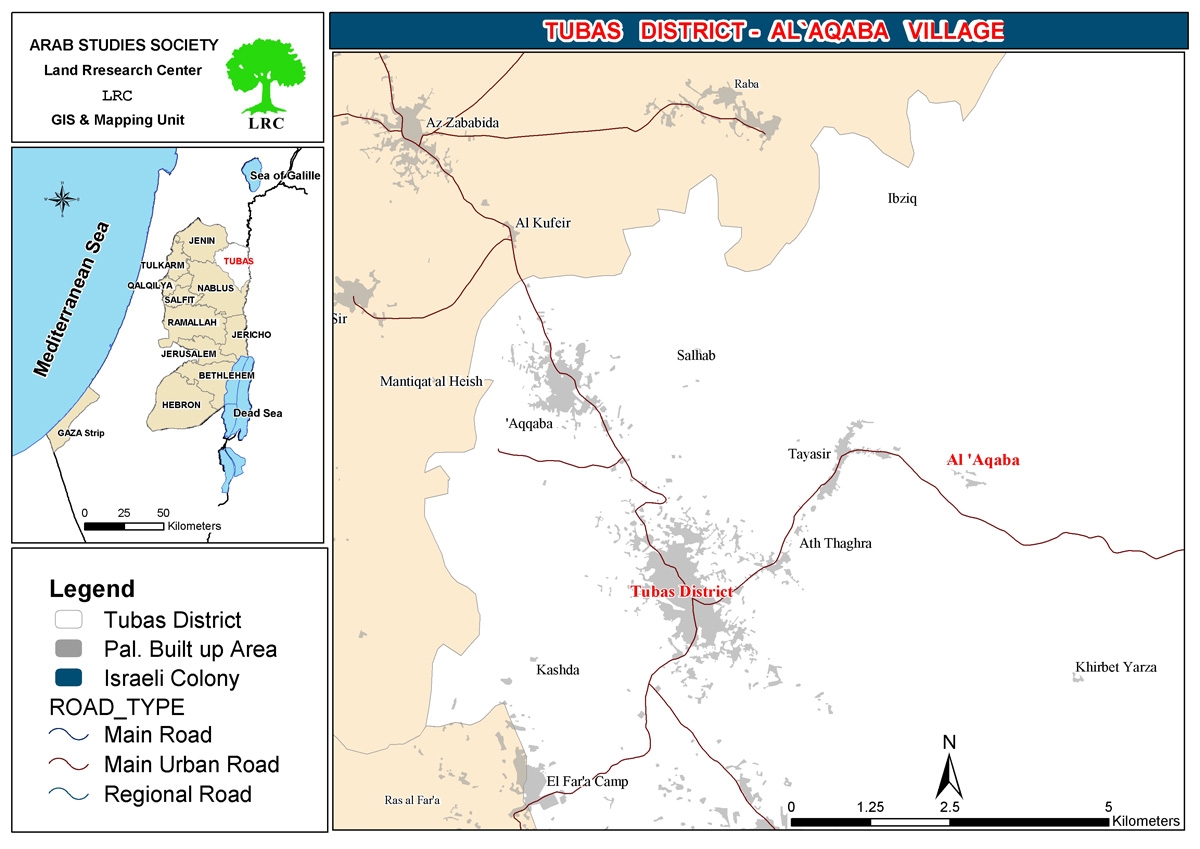 It is worth pointing out that the agricultural road mentioned above was established in 2007 to function as a connection ring between the villages of Al Aqaba and Tayaseer. Its length is 9 kilometers.
The "Administration" gave the owners of the structures until the 4th of December to file with the relevant occupational authorities an appeal to freeze the Orders and to work on getting the necessary permits issued. The new Orders raise the number of Stop Work orders in the village to 39 since the beginning of the current Intifada in the year 2000. Demolitions of 4 structures in the village were carried out by the Israeli occupation forces in the past.
It is worth pointing out that during the first quarter of 2007 Israeli occupation authorities allowed Palestinian construction in 3% of the actual area of the village (total area = 3,000 dunums). The 3% were part of a suggested Master Plan the occupational authorities were proposing at that time. However, the new Stop Work orders form an evidence of the non-seriousness of occupation authorities when it comes to allowing Palestinian building especially in light of the fact all of the new threatened buildings are located within the proposed 3% area.
Al Aqaba: General Information:
The village of Al Aqaba is located in the northern parts of the Jordan Valley in Tubas Governorate at a distance of 7 kilometers east of the city of Tubas. The City of Tubas and the village of Tayaseer are located west of the village while the Jordan River and the Jordan Ridge are located east of it. The village of Tammoun is located south of Al Aqaba while the villages of Bardala and Ein Al Bayda are located north of it.
The population of the village is about 300. A number of clans live in the village including Subaih, Abu Muhsain, Deek and Jaber. About 98% of the work force in the village works in agriculture and the herding fields. The village is considered one of the poorest in the West Bank as it basically has no basic infrastructure and no services.
:::::::::::_
[1] Information provided by the village council.
Prepared by:
The Land Research Center
LRC