Israeli Occupation Forces Threaten 27 Palestinians in the Northern Jordan Valley of Becoming Homeless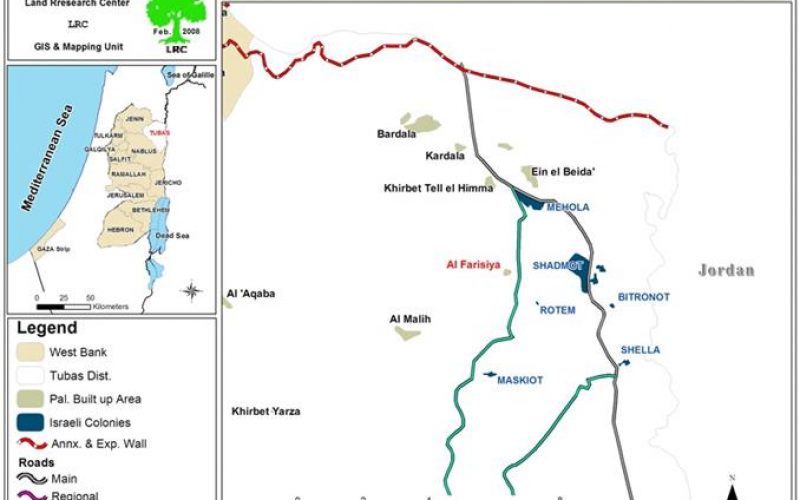 On May 19th, 2008, the Israeli occupation forces submitted demolition orders against three Palestinian families in khirbet Al Farisiya, located north of the Jordan Valley. The area, in its entirety, is classified as closed military area following the 1967 war when Israel occupied the West Bank and the Gaza Strip; and therefore all Palestinian building must be approved by the Israeli occupation Authorities. No permits have been issued by the Israeli authorities to allow Palestinians to build in the region.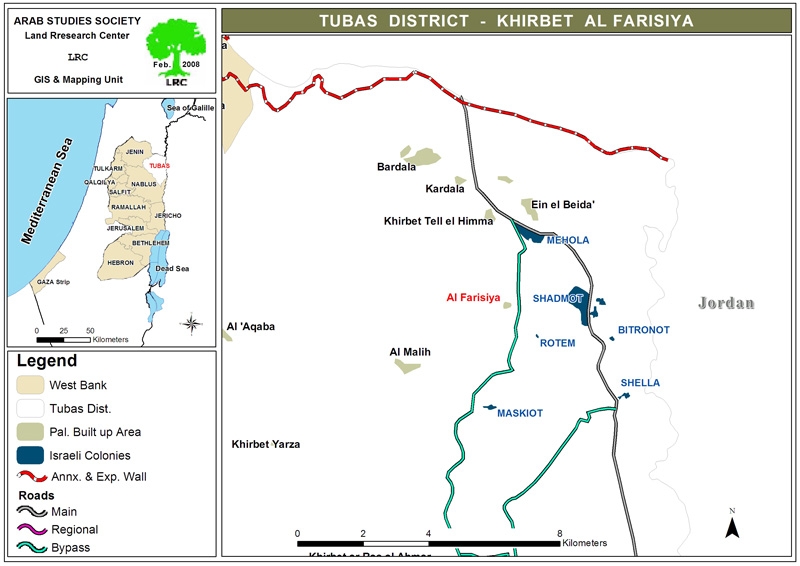 All of the housing structures in Al Farisiya are shacks made out of tin and zinco. They can be classified as agricultural houses rather than residential ones. Occupation forces are threatening to demolish these houses without giving any attention to the fate of the 27 people who consider these houses as homes.
On March 8th, 2008 the occupation forces raided khirbet of Al Farisiya and destroyed the water network which transports water from the natural springs to lands. This act has caused massive losses to the residents of Al Farisiya as farming is a major source of income for them. However, this was not the first time that Israeli occupation forces carryout destruction and havoc in the khirbet as they have continuously destroyed water networks and dried up water springs in Wadi Al Maleh as well as prevented Palestinians from using and accessing their lands on a continuous basis.
The main goal of this campaign is to force Palestinians out of the region as a prelude to further settlement expansion. Such a campaign is carried out in collaboration and synchronization with the Israeli settlers who are carrying out daily attacks against Palestinian farmers in the form of denying them access to their lands, chasing Palestinian shepherds as well as physically beating them and stealing their belongings. The following table lists the targeted "houses" and their owners:
Name

No. of Family Members

The Threatened Building

Fa'eq Ahmad Abdel Rahman Subeih

15

A zinco house with an area of 90 m2.

A 35-m2 warehouse used for the storage of agricultural medicines.

A 20-m2 tin shack

Jaser Saeed Saleh Daraghma

10

A 65-m2 tin shack house.

Isma'eel Jamil Dhababat

2

A temporary shelter for farmers used during the farming season.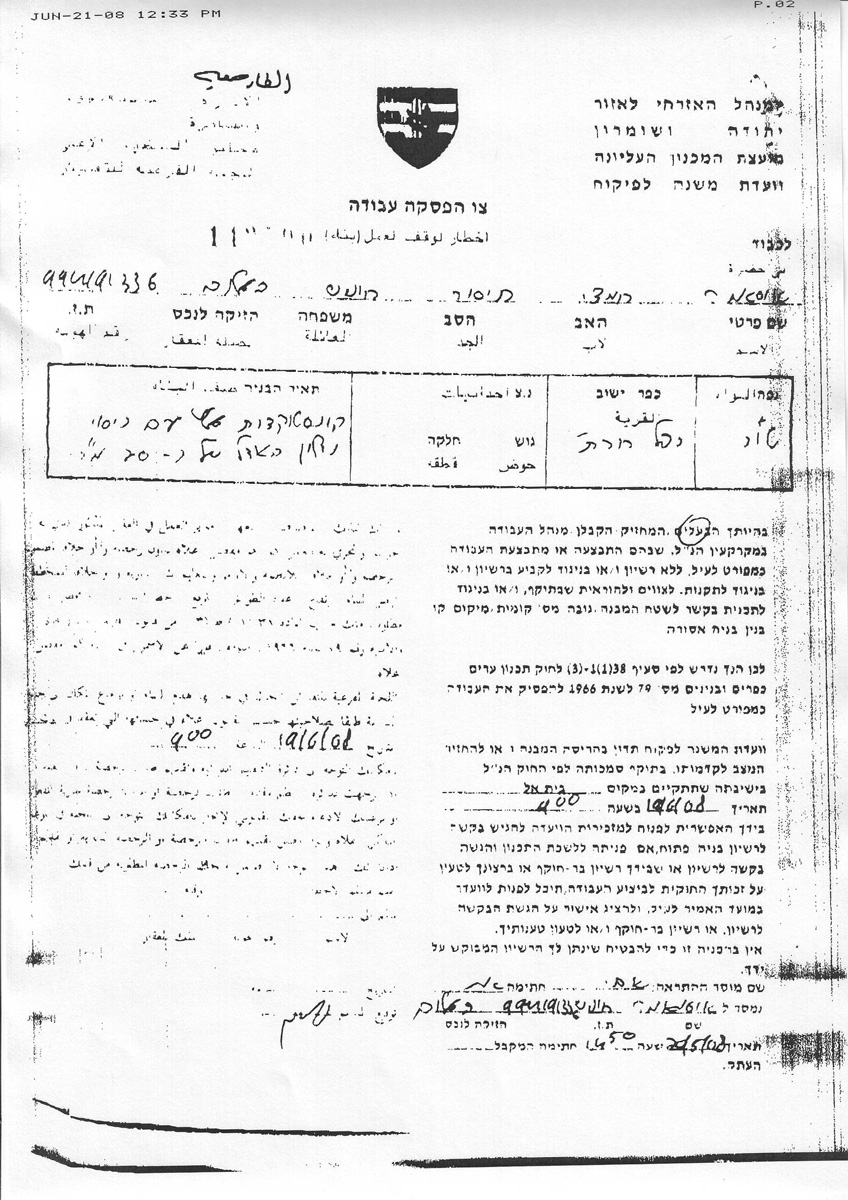 Photo 1: Copy of the Demolition Order
Al Farisiya Background:
The residents of Al Farisiya are traced back to the clans of the cities of Tubas and Tammoun including the clans of Bisharat, Dhababat and Daraghma. The population of the khirbet before the year 1967 was more than a thousand. They depend primarily on agriculture and herding as the main sources of income especially that the area was very well-known for its natural water resources and fertility of soil.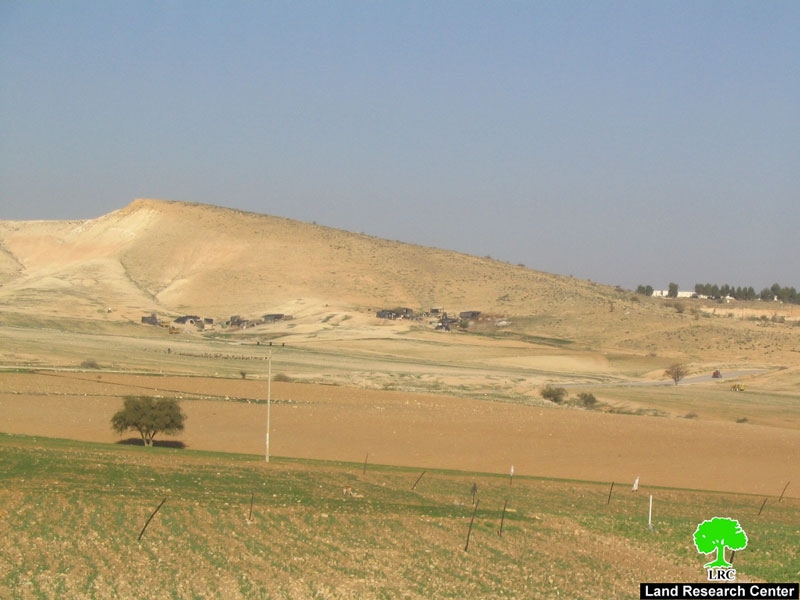 photo 2: An Overview of Khirbet Al Farisiya
Prepared by:
The Land Research Center
LRC