Settlers celebrate Israel's 60 years of Independence by constructing a new Jewish community on lands of Beit Sahour city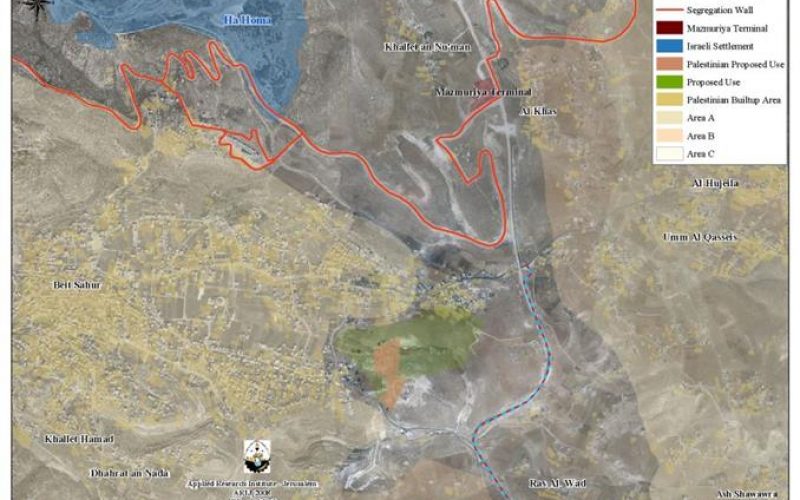 Celebrating Israel's 60th Independence Day, a group of Israeli right-wing activists proclaimed their intentions to construct a new Israeli town on the remains of the evacuated Israeli military base 'Ush Ghrab' or as the Israeli Army called it in Hebrew 'Shdema' located east of Beit Sahour city. The military base was evacuated by the Israeli Army in April 27, 2006 but the location remained within the Israeli Army's jurisdiction as it was located within area 'C'. See MAP 1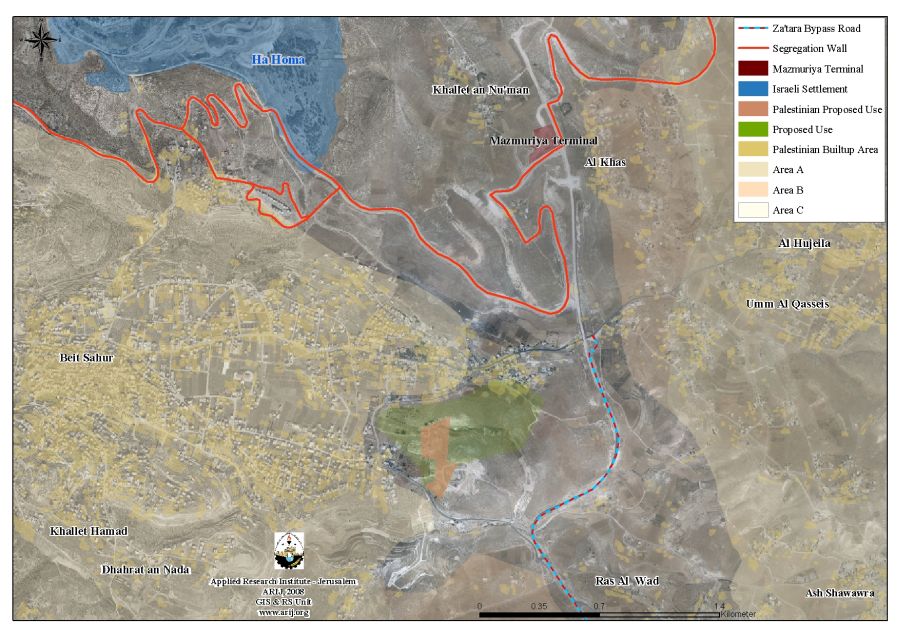 Soon after the Israeli evacuation of the military base, the Municipality of Beit Sahour and in corporation with local institutions and with the support of the United States Agency for International Development (USAID) prepared several numbers of rehabilitated projects on 55 dunums of lands in the targeted area, which is located within Area C (Area under full Israeli control). Beit Sahour municipality managed to acquire licenses from the Israeli Civil Administration to start building hospital, recreational center, youth club, environmental & cultural centers and parking lot. In fact, this is the second time the Israeli activists have announced their plans to construct in Ush Ghrab area as in April 2008, the settlers marched towards the targeted site in an attempt to establish new outpost at the time the Israeli occupation bulldozers razed vast areas of lands under the pretext of constructing new dumping site.
The activists are planning to construct the new Israeli community as soon as possible to prevent any Palestinian schemes in the area, which according to the Israeli claims would cause threat to the Israeli settlers passing from Tekoa', Nikodim and Gush Etzion settlements to Jerusalem city and visa versa through the Israeli bypass road east of the targeted area. See Map 2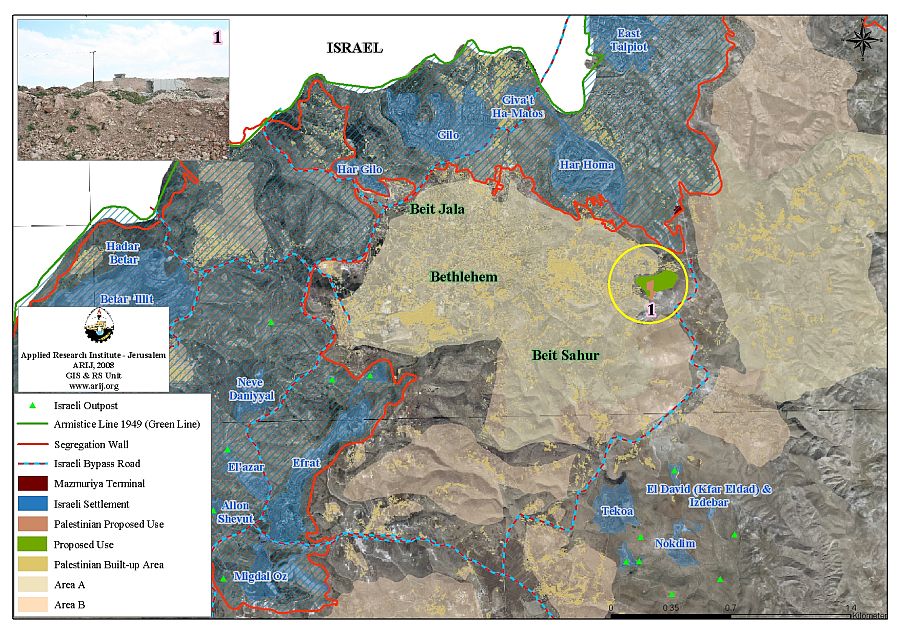 More Jewish Construction in the heart of Silwan in Jerusalem
In another incident, Jerusalem municipality has begun the process of approving a plan for a new housing complex, including a synagogue, in the heart of Silwan town, to the south of the Old City of Jerusalem. The plan which is submitted by the right-wing Elad association has 10 apartments building, kindergarten classrooms, a library and underground parking for 100 cars. Elad association claims that the land where the complex is to be built on; belongs to the Israeli Land Administration (ILA); and is located 200 meters from the Old City walls and according to the Israeli daily newspaper Haaretz; the plan received an approval from the Israeli municipality of Jerusalem in last January 21, 2008.
The Israeli source came on the process to which the procedures of right to utilization is manipulated as in the case of the targeted land in Silwan where the Jewish National Fund illegally assumed control of the Palestinian lands in East Jerusalem and placed it under the control of the Israel Lands Administration (ILA) who in its turn sanctioned its use to Elad association. The Israeli activities in the occupied Palestinian Territory particularly in Jerusalem city is part of an overall Israeli plan that aims to claim sovereignty over the city.
Following the Israeli occupation of the West Bank (including Eastern Jerusalem) and the Gaza Strip in 1967, Israel managed to establish a series of Israeli settlements mainly in Jerusalem city and the surrounding areas in a way to emphasize the Israeli existence in the occupied territory; particularly in East Jerusalem, which has greatly contributed in changing the geographic area and a threat to the demography.
Prepared by
The Applied Research Institute – Jerusalem