New Israeli Terminal on lands of Ni'lin Village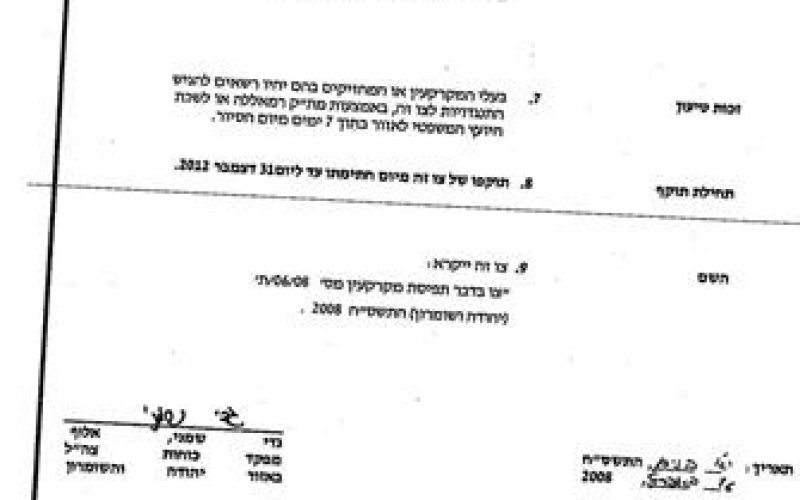 On April 16, 2008, the Israeli Chief Commander of the West Bank Jad Shemny Alof handed out residents of Ni'lin village west of Ramallah governorate; a military order holding # (06/08/T) informing them that 18.9 dunums of their lands will be confiscated to construct what is called 'Qiryat Sefer" terminal. Lands stated for confiscation order lie in Bloc 9 in the areas of Al Jourus, 'Aqabat Beir Rein and Batin Al Jaher. According to the analysis done by the Geographical Information Unit (GIS) at ARIJ, the military order will confiscate 61 dunums of lands from the village, which contradicts what the Israeli Army's confiscation order of 18.9 dunums. See copy of military order
Why building new terminal on the lands of Ni'lin
According to the Israeli military order, the confiscation is to establish a terminal for 'Qiryat Sefer" within Modi'n Illit settlements' bloc. However, the military order does not state the function of the terminal to be. Based on analysis of satellite images of the area in question, two distinct locations were designated as a potential industrial zone area and an agricultural area, both of which depend on Palestinian workers for operation. In view of that, the terminal will function to control Palestinian workers entrance and exit behind the Segregation wall and to the industrial zone and the agricultural zone there. See map 1.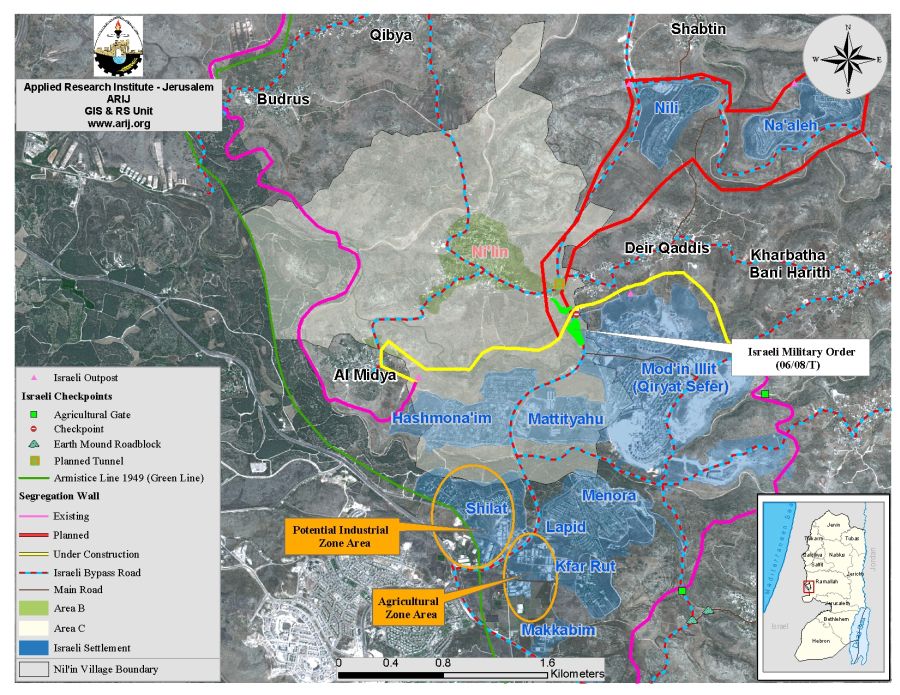 Ni'lin village: Location & Population
Ni'lin is a Palestinian village located about 18 kilometers to the west of Ramallah city. The village boundary spreads on 14794 dunums of lands and is the home to 4751 inhabitants (Palestinian Central Bureau of Statistics, 2007) most of whom work in agriculture after loosing their jobs inside Israel following the eruption of the second Intifada in September 2000.
The village is surrounded by the Palestinian villages of Deir Qiddes and Kharbatha Bani Harith from the east, Al Midya and the Armistice line (Green Line from the West, Qibya and Budrus from the north) from the south side of the village Modi'n Illit settlements' bloc. According to Oslo II Interim Agreement signed between the Israeli Government and the Palestinian National Authority in 1995, Ni'lin village was classified into the following jurisdictions as in table 1.
| | | |
| --- | --- | --- |
| Area | Area in Dunums | % |
| Area A | 0 | 0 |
| Area B | 988 | 6.7 |
| Area C | 13806 | 93.3 |
| Total | 14794 | 100 |
Source: Geo-Informatics Department Database – ARIJ 2008
Ni'lin village following the 1967 Israeli Occupation
Following the 1967 Israeli Occupation of the West Bank and the Gaza Strip, the Israeli Government successively confiscated vast areas of lands to construct settlements, construct bypass roads and build military bases. Ni'lin village was one of many Palestinian villages in the West Bank that witnessed the Israeli violations, hence, Modi'in 'Illit settlements bloc exist today.
On March 7, 2008, the Israeli minister of defense, Ehud Barak, issued an order to turn Modi'in 'Illit settlements bloc to a municipality. Modi'in 'Illit was established in 1991, 8 kilometers to the northwest of Jerusalem city. It is now known as Modi'in 'Illit settlement bloc containing five settlements with more than 40,000 Israeli settlers, which makes it one of the largest of settlements bloc in the occupied Palestinian Territory. Table 2 shows the Israeli settlements surrounding Ni'lin village.
Table 2: Modi'in 'Illit settlements bloc surrounding Ni'lin village

Settlement Name

Date of Establishment

Population 2006

Area/ Dunum

Area of settlements inside Village Boundary/ Dunum

Hashmona'im

1985

2400

1050

934

Mattityahu

1980

1400

683

661

Menora

1998

1804

759

20

Shilat

1977

376

978

74

Modi'in Illit (Qiryat Sefer)

1991

34500

3973

274

Total

40480

7443

1963
Source: Geo-Informatics Department Database – ARIJ 2008
The Israeli Segregation Plan in Ni'lin Village
According to the Israeli Segregation Wall route in the vicinity area running 8.7 kilometers near Ni'lin village; some 5883 Dunums (40% of Ni'lin's lands) will be lost behind the Segregation Wall. Table 3 shows the status of the Segregation Wall in Ni'lin area and table 4 shows the land Use/Land Cover (LULC) of the area isolated. See Table 3
Table 3: Status of the Segregation Wall running on Ni'lin land

2.7 Km

Existing Sections

2.9 Km

Planned Sections

3.1 Km

Under Construction

8.7 Km

Total Length
Source: Geo-Informatics Department Database – ARIJ 2008
Table4
Land classification

Land Use/ Land Cover

LULC of Ni'lin village boundary

LULC of area isolated by the Wall &%

Agricultural lands

5487

1059 (19%)

Forests and non- Vegetation areas

1898

1838 (97%)

Forests & Open spaces

4774

1009 (21%)

Artificial landscape

12

0

Palestinian Built-up area

660

14 (2%)

Israeli settlement

1963

1963 (100%)

Total

14794

5883
Source: Geo-Informatics Department Database – ARIJ 2008
Areas Definition in Oslo II Interim Agreement of September 1995
Area A: The Israeli army has pulled out fully and Palestinians hold all responsibilities for internal security and Public order.

Area B: The Palestinians have responsibility for civil life such as economics, health, and education; while, Israel retains full control over security and administration related to the territory.

Area B: Palestinians have full control over the civil administration and Israel continues to have overriding responsibility for security.
Prepared by
The Applied Research Institute – Jerusalem