Alert on Ush Ghrab; East of Beit Sahour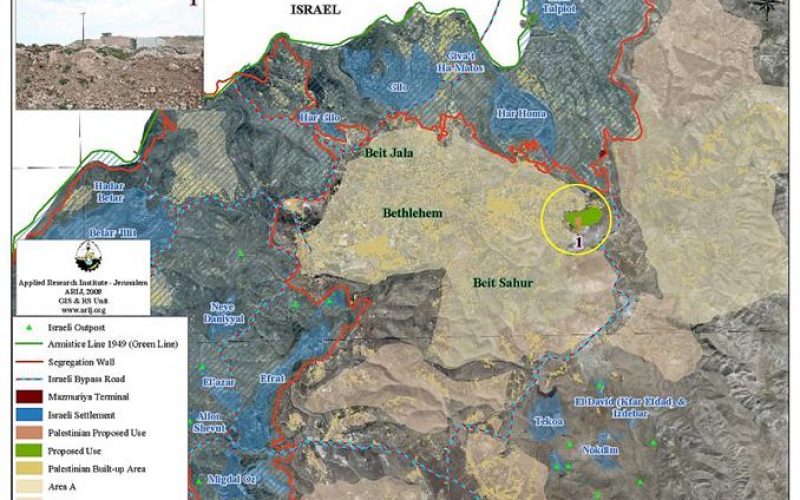 Alert on Ush Ghrab; East of Beit Sahour
Follow up to the case study published earlier on ARIJ website sighting the Israeli settlers' plan regarding the Ush Ghrab location east of Beit Sahour, the Israeli settlers raided the targeted site on May 15, 2008 under the protection of the Israeli Army to declare their possession of the Ush Ghrab location to establish a settlement there. Dozens of settlers arrived at the site early in the morning with the Israeli Army who declared the Ush Ghrab area as a closed military location denying any Palestinians access to the threatened site and placed a mobile caravan. The entrance to the targeted location is now not permitted and a military post is rigged at the top of the road leading to the site.
Background on the targeted site Ush Ghrab
Soon after the Israeli Army evacuation of the military base in Ush Ghrab (April 27, 2006), the Municipality of Beit Sahour in corporation with local institutions and with support from the United States Agency for International Development (USAID) prepared set of projects on 55 dunums in the targeted area, which is located within Area C (Area under full Israeli control) to regenerate into that dead spot. Beit Sahour municipality managed to get hold of licenses from the Israeli Civil Administration to start building hospital, recreational center, youth club, environmental & cultural center and parking lot. However, Israeli settlers from surrounding Israeli settlements have declared repeatedly that they will not allow the Israeli Army to handover the Ush Ghrab site to the Palestinian and they are preparing plans to establish a settlement there. Last months (April 2008), the settlers marched towards the targeted site in an attempt to establish new outpost at the time the Israeli occupation bulldozers razed vast areas of lands under the pretext of constructing new dumping site. See Map 1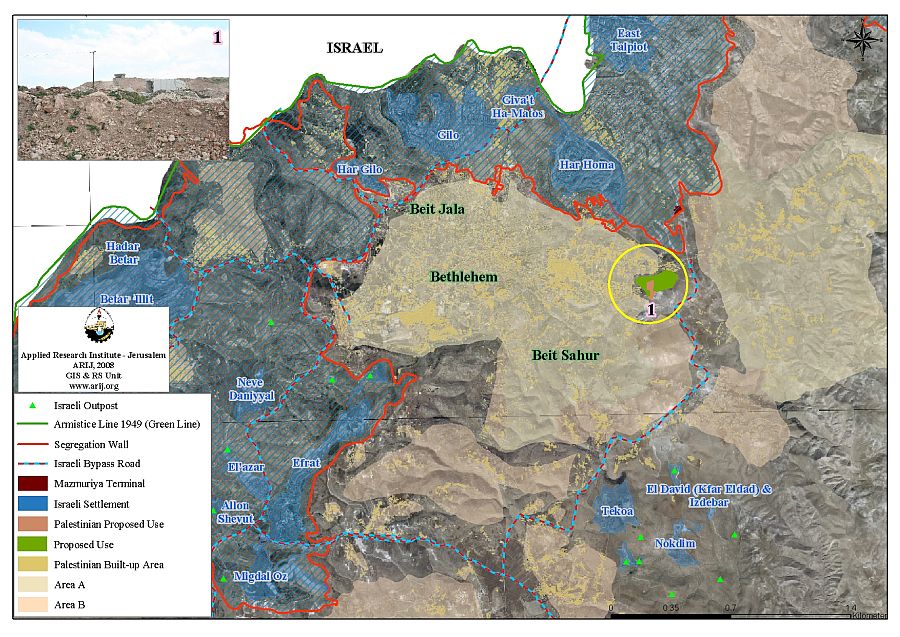 The Israeli-Jewish- right wing settlers aim to construct new Israeli community as soon as possible to prevent the Palestinian to utilize the land, which according to the Israeli settlers' claims it would cause threat to them while driving on the nearby bypass road leading to Tekoa', Nikodim and Gush Etzion settlements from Jerusalem city and visa versa. The following are some picture captured during the Israeli settlers' raid on Ush Ghrab site; May 15, 2008.
Related Cases:-
Prepared by
The Applied Research Institute – Jerusalem