A new Jewish neighborhood in Ras Amoud Neighborhood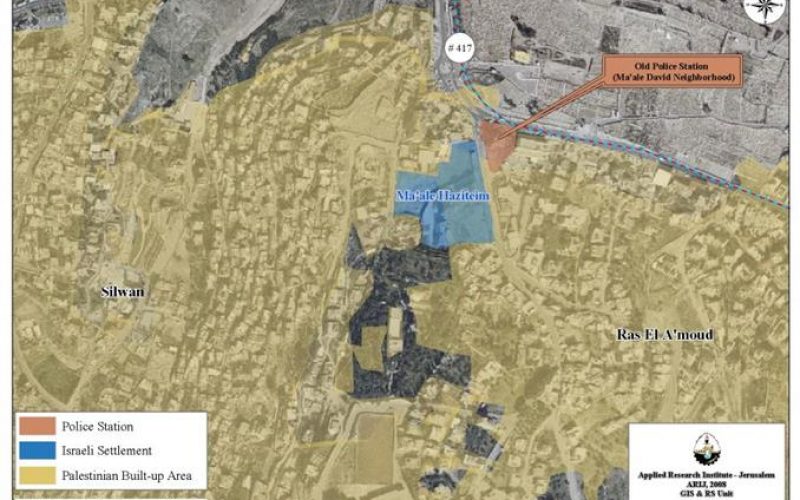 The Israeli-Jewish settlers did not wait long to carryout the colonization plan in the Palestinian neighborhood of Ras Amoud in the occupied East Jerusalem City after the Israeli regional committee in Jerusalem city endorsed the construction of a new (Jewish) neighborhood there. on the 28th of April 2008, A group of Jewish settlers from 'Redeeming Jerusalem' committee coercively took residency in the former building of the Police Station in Ras Al 'Amoud neighborhood after the Israeli police vacated the building and moved into the new Police headquarter in the controversial E1 area in Ma'ale Adumim settlement bloc. The neighborhood will comprise of 110 housing units over 10 dunums of vacated land in addition to 6 Israeli societies and public organizations. The site of the old police station will be the nucleus of a new Israeli settlement in Ras Al 'Amoud area called 'Ma'ale David.' See Map 1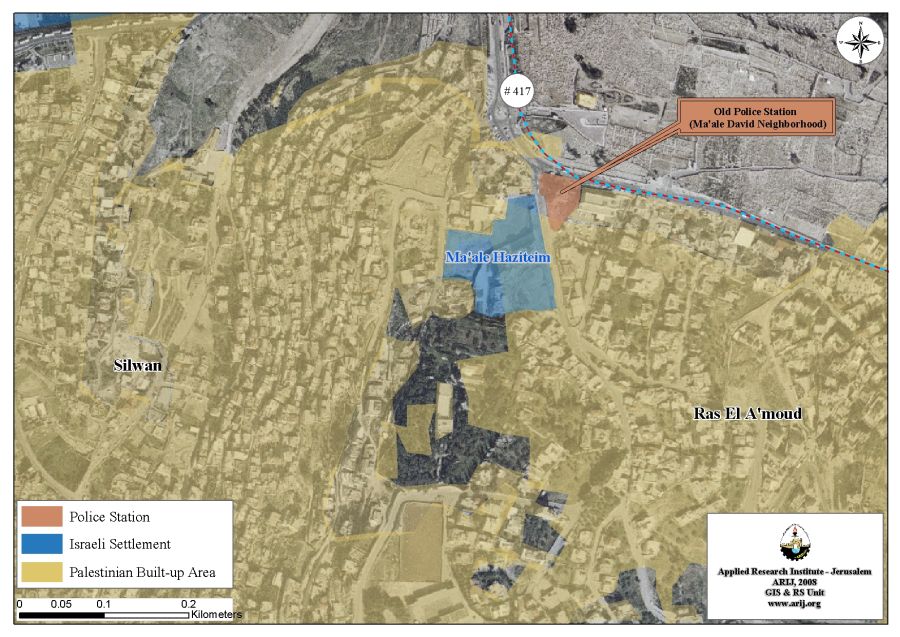 The E1 Police Station
Israel began constructing the new police headquarter in E1 area on the 14th of March 2006 area on 30 dunums of land, with a total cost of USD 10 million. See Map 2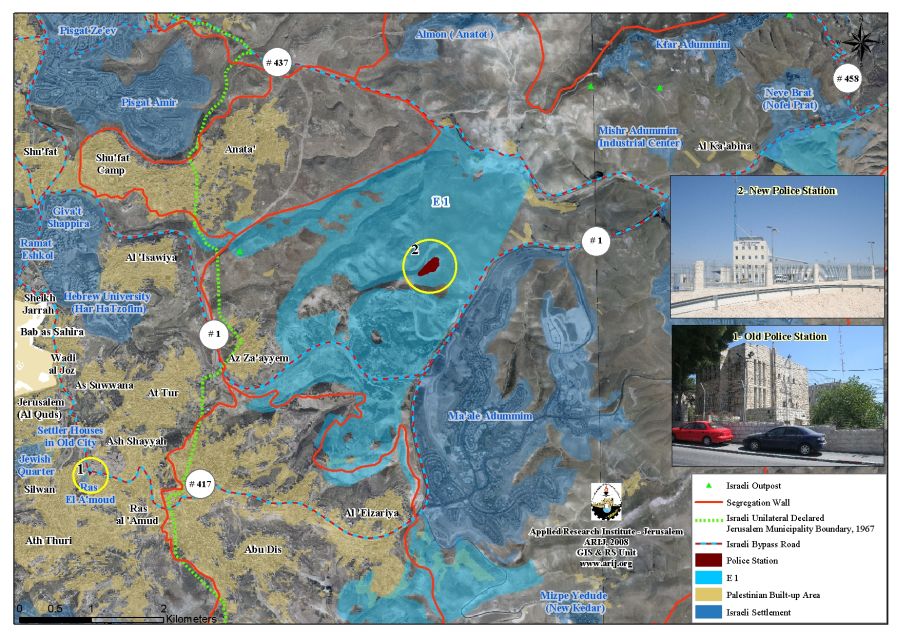 The construction was based on an 'exchange deal' between the Israeli right-wing association 'Bukharan Community Committee' and the former Israel Police commissioner in Jerusalem city Moshe Karadi. The exchange deal was signed in July 2005 and stipulated that the Committee will build the new Judea and Samaria District Police building in the E1 area between Jerusalem and Ma`ale Adumim settlements bloc.; in return, the Committee will get hold of the former police building, located in Ras al 'Amoud neighborhood, which was established on a piece of land that was expropriated under the pretext of "public needs" some years ago by the Israeli occupation municipality of Jerusalem. According to another agreement between the Bukharan Committee and Israel Land Administration (ILA) the land shall no longer be allotted for "public needs" but assigned for residential purposes … Jewish residential that is, which is always the case in similar incidents.
What is more, is that such residential complexes (Jewish settlers' complexes) are authorized to exceed the regulation of building codes in East Jerusalem, which are strictly carried out when a Palestinian apply for a building permit. Accordingly, the rarely "lucky" Palestinians who receive building permits in East Jerusalem are allowed to carry out construction on 25 to maximum 35% of the building lot, however, for the Jewish settlers in the same location the construction is almost comprehensive and beyond that such as the Jewish planned neighborhood in Ras Amoud, which exceeds 120% of the land. Such discriminatory procedure is one of many adopted within the building system controlled by the Israeli municipality of Jerusalem.
To conclude
Upon the occupation and annexation of East Jerusalem in June 1967, Israel has unilaterally and illegally claimed Jerusalem "unified" as the 'eternal capital of the state of Israel' and have total sovereignty over the Palestinian people and land. It started undertaking a series of geopolitical actions in the Palestinian areas aiming at assimilating the entire Holy City, forcing the Jewish presence in the city through the construction of new settlements calling them "neighborhoods", restraining all forms of Palestinian development to dilute the Palestinian population and at the same time, separate Jerusalem from the rest of the West Bank in terms of legal, procedural status and now physically with the construction of the Segregation Wall. These goals were achieved through well-studied planned strategies that imposed restrictions and regulations that prohibited expansion and development of the Palestinian communities and supported the extensive expansion of the Israeli settlements.
Prepared by
The Applied Research Institute – Jerusalem