Area "C" and the Dilemma of Issuing Building Permits for the Palestinian there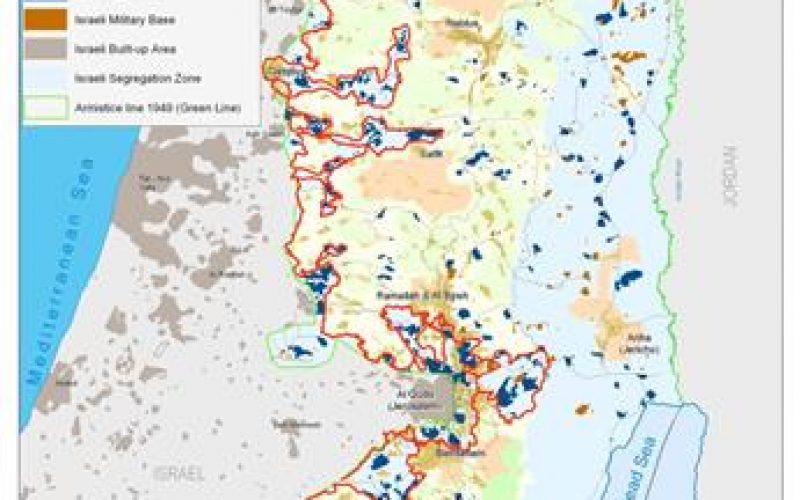 Background
Throughout the course of the Israeli occupation of the Palestinian territory, the Israeli Army carried out a systematic campaign of demolishing Palestinians' houses in the occupied West Bank, with particular emphasis on East Jerusalem and Gaza Strip. After the signing of Oslo II Agreement between Israel and the Palestinian Liberation Organization (PLO) in the year 1995, Israel, had escalated its campaign against the Palestinian houses, especially those located in Area "C" (according to Oslo Agreement under full Israeli control) under the pretext of lacking building permits.
Following the eruption of the second Palestinian Intifada (Al Aqsa Intifada) in September 2000, the Israeli intensified its demolition campaign against the Palestinians' houses and reached unprecedented levels, where 4076 Palestinian houses had been demolished by the Israeli army bulldozers 1255 (31%) of which under the pretext of lacking building permits (located in area C). See Table 1
| | | | | |
| --- | --- | --- | --- | --- |
| Year | No. Houses demolished in Area "C" | No. Houses Threatened to be demolished in Area "C" | House Demolished | Houses Threatened to be Demolished |
| 2000 | 0 | 2 | 1 | 2 |
| 2001 | 41 | 117 | 82 | 267 |
| 2002 | 153 | 351 | 352 | 489 |
| 2003 | 469 | 293 | 1364 | 841 |
| 2004 | 318 | 244 | 1581 | 564 |
| 2005 | 87 | 228 | 191 | 1259 |
| 2006 | 104 | 170 | 337 | 251 |
| 2007 | 83 | 179 | 168 | 395 |
| TOTAL | 1255 | 1584 | 4076 | 4068 |
Source: ARIJ Monthly Reports – 2000 to 2008
The Dilemma of Building in Area C
According to the Interim agreement (OSLO II of the year 1995), the Palestinian territory was divided into areas A, B and C. In Area A, the Palestinian Authority had complete autonomy over administrative and security issues; where in area B, the Palestinians had civil responsibilities; while in Area C, Israel had full control over this area which constitutes 61% from the total West Bank area. Table 2 below clarifies the land classification according to Oslo Accords:
West Bank Land Classification –
OSLO II – 1995

Area
in Dunums

Area in
km Square

% from the
West Bank Area

Area A

1,004,812

1,005

18

Area B

1,035,460

1,035

18.3

Area C

3,456,440

3,456

61.7

Natural Reserve Area

164,548

165

3

Total area for West Bank

5,660,792

5,661

100

Israeli Build Up Area(in dunums) in Area C

Israeli Settlements

188,435

Israeli Outposts

248

Military Bases

45,822

TOTAL

234,505

Palestinian Build Up Area

54,513
Source: ARIJ GIS Database – 2008
At the same time that Israel escalated its demolishing campaign of Palestinian houses, the Israeli authorities intensified the illegal building in the Israeli settlements and outposts throughout the Palestinian occupied territory, particularly in East Jerusalem. Furthermore, the Israeli Civil Administration had imposed burdensome requirements on the Palestinians asking for building permits to build in their lands, but even that was not enough thus they had no choice but to build without the building permits. See Table 3: Palestinian Villages located in Area C
| | | |
| --- | --- | --- |
| Governorate | No. Localities in Area C | Population |
| Bethlehem | 14 | 5,547 |
| Hebron | 48 | 11,732 |
| Jenin | 22 | 6,094 |
| Jericho | 5 | 5,877 |
| Jerusalem | 30 | 32,304 |
| Nablus | 14 | 26,966 |
| Qalqiliya | 12 | 3,373 |
| Ramallah | 7 | 10,435 |
| Salfit | 6 | 5,914 |
| Tubas | 10 | 1,207 |
| Tulkarem | 8 | 16,630 |
| TOTAL | 176 | 126,079 |
Source: ARIJ GIS Databse – 2008
Hagit Ofran of the Israeli organization 'Peace Now" stated that during the period from 2000 until September 2007 the Israeli Civil Administration denied more than 94% of requests submitted by Palestinians for building permits. in fact, only 91 construction permits were granted to Palestinians, while in the same time period 18,472 housing units were constructed in the settlements (According to the Israeli Central Bureau of Statistics, completed construction in the Settlements from 2000 till September 2007)
Moreover, 4,993 demolition orders were issued against Palestinian construction, while 2900 against illegal construction in the settlements, however, 1,663 (33%) Palestinian buildings were demolished in this time period, as opposed to 199 (7%) in the settlements.
Over the years of its occupation of the Palestinian land, Israel had demolished thousands of the Palestinian houses in the occupied territory, justified its actions by security and administrative pretexts, but the fact is that Israel had carried out its campaign to the interest of its own in order to:
1. Annex the land to build the Illegal Israeli Apartheid Segregation Wall.
2. Kick the Palestinians out of their lands to facilitate the annexation of their lands to the interest of building and expanding the Illegal Israeli settlements and their outposts.
3. Construct the Israeli bypass roads grid, which is mainly founded to facilitate the movement of the Israeli settlers and military forces protecting the settlements. Houses lying alongside an existing or planned bypass road are designated for demolition.
4. Remove the Palestinians from areas adjacent to the Illegal Israeli settlements.
5. Control the lands in this area in order to prevent the transfer of these lands to the Palestinians and to keep them out of any future final agreement between the Israelis and the Palestinians. See Table 4
Table 4: Land Use Lnad Cover of Area C
Land Use Land Cover of Area C

Area in Dunums

Agricultural Lands

1732614

Artificial Surfaces

12838

Urban Fabric

Israeli Settlements

188435

Israeli Military Bases

45822

Israeli Outposts

248

Palestinian Built- Up Area

54586

289091

Forests and Open Spaces

1412570

Water Bodies

1161

Segregation Wall

8168

Total

3456442
Land Use /Land Cover for Area C in the West Bank
The Palestinian residents of the villages and communities located in Area C are suffering from the absence of planning schemes to meet their needs, the lack of permits to build on their land, and the refusal of the Israeli Civil Administration to grant them building permits, and always under the threat of demolishing for building without permit or for just being there in an area declared by they Israeli Army as "closed military area." Israel on the other hand have the bulldozers to deliver the answer to Palestinians who dare to defy the Israeli Army rules and build on their land in Area C, where they must undergo a prolonged, complicated, and expensive procedure which generally results in denial of the application. See Map 1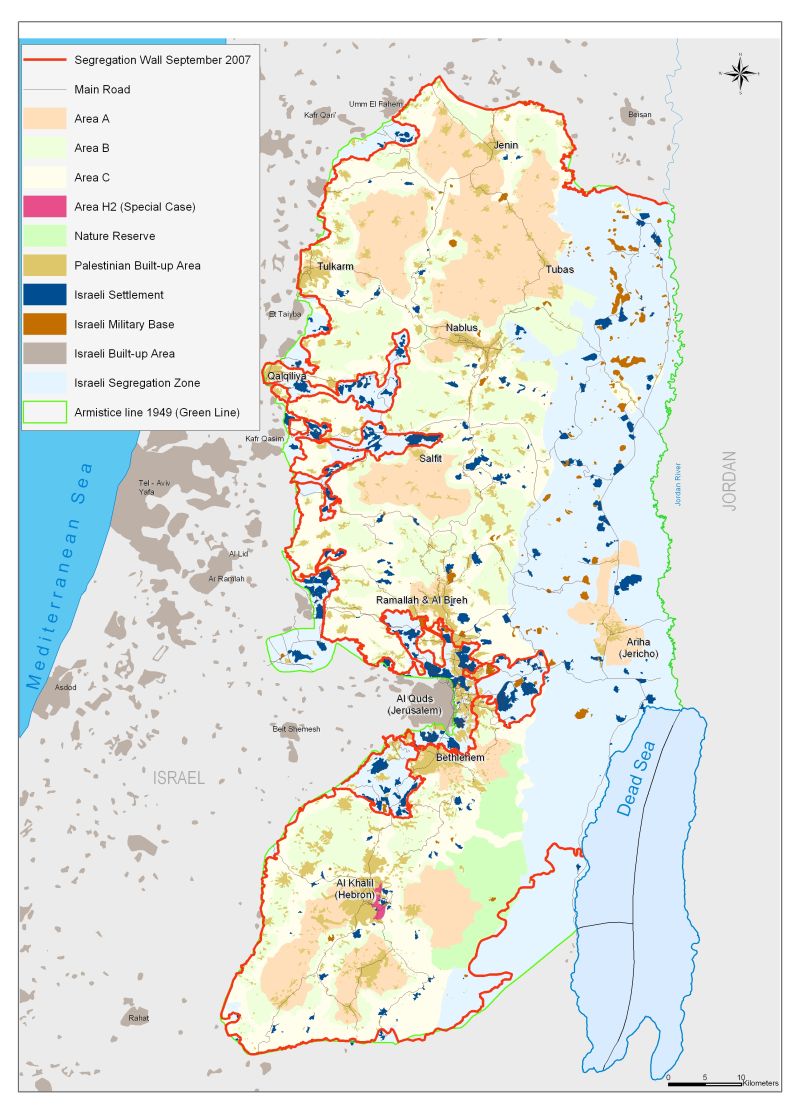 The Israeli occupation authorities preceded the Oslo agreement in 1993 with the announcement of planning schemes for all the Palestinian cities, towns and villages in the West Bank in which it unilaterally drew up the borders of the built up areas for each Palestinian residential area based upon Israeli needs and foreseen plans. Subsequently, this confined the Palestinians' future development plans within areas A & B, while the remaining lands classified Area C continue to be under total Israeli control security and civic likewise, keeping all options for future expansion plans set for existing colonies and establishing new ones as in the case of Jinsafut in Nablus governorate, which is surrounded by colonies like many other Palestinian towns and villages.
Legal & International Status
Israel continues to demolish Palestinians' houses in large numbers under false and illegal justifications to serve their end purpose, to uproot and to drive out as many Palestinians from their homes and lands to build more Illegal Israeli settlements, outposts, bypass roads, military bases. The Israeli Segregation Wall is the tool that Israel is using to set its eastern borders for the first time it was declared a state, more than that the Wall intended to deplete the isolated Palestinian communities and lands from the Palestinians using all possible methods starting with movement restriction, minpulating access permits and access time in and out of the isolated zone, which will be mostly unbearable for sick individuals and tough on people accessing their work locations, or student going to schools and universities.
According to Oslo Agreement, redeployments from Area C and transfer of internal security responsibility to the Palestinian Police in Areas B and C will be carried out in three phases, each to take place after an interval of six months, to be completed 18 months after the inauguration of the Palestinian Council in 1996, except for the issues of permanent status negotiations and of Israel's overall responsibility for Israelis and borders. However, Israel did not to its commitment, or refused to so at least until it carryout its own agenda starting with settlements expansion, building the Segregation Wall, and most importantly fortifies its grip over, or shall we say around Jerusalem.
Under the International law rules and conventions, the Israeli occupation is prohibited from demolishing and seizing the Palestinian houses and properties:
Article 147 of the Fourth Geneva Convention indicated that: Extensive destruction and appropriation of property not justified by military necessity and carried out unlawfully and wantonly. is a grave breach of the Convention.

Also Article 53 of the same convention provides that 'any destruction by the Occupying power of real or personal property belonging individually or collectively to private persons, or to the State, or other public authorities or social or cooperative organizations is prohibited, except where such destruction is rendered absolutely necessary by military operations

Article 23 of the Hague Convention of 1907 also provide: In addition to the prohibitions provided by special Conventions, it is especially forbidden to destroy or seize the enemy's property, unless such destruction or seizure be imperatively demanded by the necessities of war;

Moreover, the Universal Declaration of Human Rights adopted and proclaimed by General Assembly resolution 217 A (III) of, December 10, 1948, Article 17 reads: 'No one shall be arbitrarily deprived of his property.' Which means it bans Israel from destroying or confiscating the property of the Palestinians at any case.
Finally, the International Convention on the Elimination of All Forms of Racial Discrimination (1965) Article 5 provides that 'States' Parties undertake to prohibit and eliminate racial discrimination in all of its forms and to guarantee the right of everyone, without distinction as to race, color, or national or ethnic origin, to equality before the law, notably in the enjoyment of the following rights: … (e) in particular … (iii) the right to housing'.
Prepared by
The Applied Reserach Institute – Jerusalem