Israeli war of forced eviction and ethnic cleansing continued
More halt- construction notifications issued against Khirbet at Tawil, Aqraba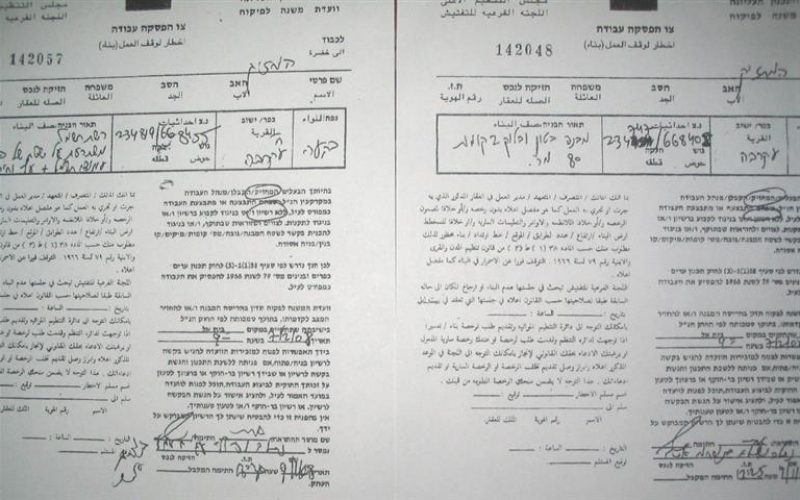 On November 11th, 2008, the Israeli planning and construction personnel affiliated to the so-called civil administration distributed 18 notifications ordering an immediate halt of the construction of a number of houses and agricultural structures in Khirbet at Tawil to the east of Aqraba town in Nablus governorate.
The Israeli personnel arrived at dawn with heavy army escort . Amongst the threatened structures are the only Khirbet mosque, health centre and electric power station which was provided by the Belgian government.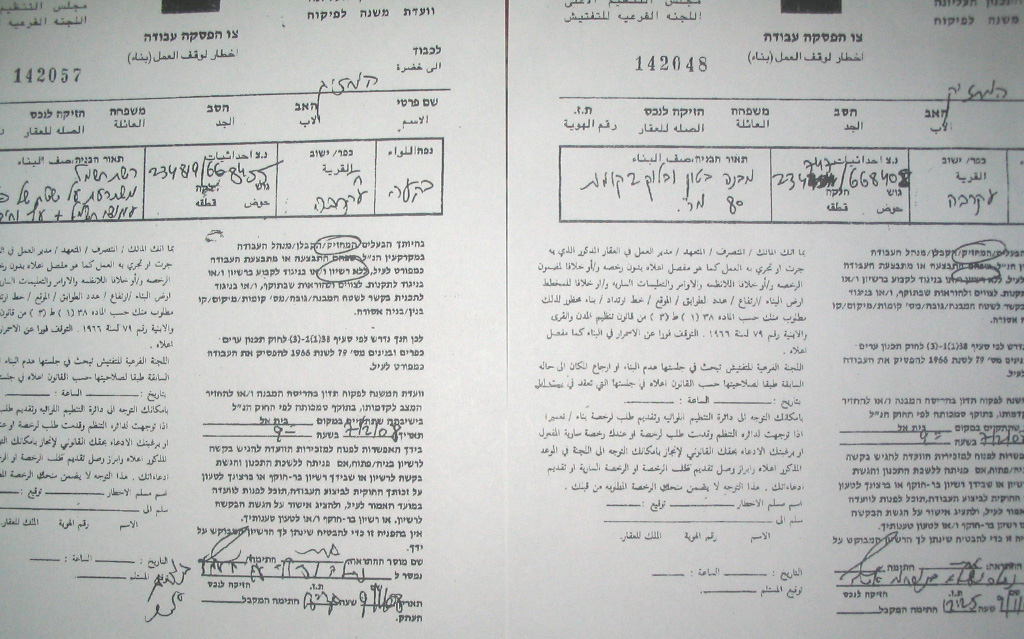 ( photo 1: a copy of the halt- construction notification distributed in Khirbet at Tawil)
The halt-construction notifications were issued under the pretext that the targeted structures are located in zone C and lack building permissions from the Israeli side. However, this development is part of Israel's on going policy of forced eviction and ethnic cleansing, especially, in the Ghor region and the eastern slopes of the West Bank overlooking the Ghor region.
The notifications set up a court session at Beit Eil on February 7th, 2008 to discuss the cases. Owners were asked to bring with them land registrations to be issued in their names (inheritance restriction) which, in light of the time given, is considered an impossible task as most land pieces are registered in the names of their all heirs. In addition, the occupation authorities asked each owner to bring four photographic pictures for every notified structure as well as surveying maps. These demands are viewed as impossible to obtain within the given time period and, accordingly, the occupation authorities will go ahead in the demolition procedures as intentionally planned.
In an interview with LRC field worker, Mr. Usama Anas Bani Fadel, 64 years old who owns a barrack for animal rearing, said the following: ' The halt- construction notifications are a hazard bell which threatens our very existence on this land as the barrack I own is the only source of income for my 11-memebr family of whom 3 are students. The demolition of my barrack will lead to total eviction and dismissal of my family from this particular area and will push many others to follow suit. I urge all peace loving people to intervene with this matter'.
(Photos 2 & 3: Mr. Usama's threatened barrack in Khirbet at Tawil)
Table 1: List of owners' names and description of the threatened structure
| | | | |
| --- | --- | --- | --- |
| No. | Name | Age | Description of structure |
| 1 | Maher Anas Bani Fadel | 56 | Barrack |
| 2 | Usama Anas Bani Fadel | 64 | Barrack |
| 3 | Sidqi Saleh Bani Fadel | 68 | A one floor house |
| 4 | Mohammed Sidqi Bani Fadel | 26 | Barrack |
| 5 | Akef Wasif Bani Fadel | 43 | Barrack |
| 6 | Attiya Fahmi Bani Fadel | 49 | A two floor house |
| 7 | Mohammed Khader Bani Fadel | 73 | Barrack |
| 8 | Fath Allah Yusif Bani Miniya | 35 | A two floor house |
| 9 | Anwar Sidqi Saleh Bani Fadel | 44 | Barrack |
| 10 | Yusif Naser Allah Bani Fadel | 56 | Barrack |
| 11 | Zahi Hussein Bani Jaber | 49 | Barrack |
| 12 | Samer Hueein Bani Jaber | 27 | Barrack |
| 13 | Radwan Isa Bani Miniya | 65 | Barrack |
| 14 | Samih Ahmad Bani Miniya | 42 | A one floor house |
| 15 | Jamil Ghazi Bani Fadel | 74 | Barrack |
| 16 | | | Khirbet at Tawil mosque |
| 17 | | | Health centre |
| 18 | | | Electric power station |
A glimpse at Khirbet at Tawil
It is affiliated to the town of Aqraba in Nablus governorate and located in its eastern land part overlooking the Ghor region. It has the total population of 1500. A number of ancient khirbets from the Roman and Islamic eras are located in its vicinity, including Tel Al Khashaba, Khirbet Maras at Tin and Khirbet Al Orqan. Old cisterns and wells are spread all over the agricultural lands related to Khirbet at Tawil as a sign of long human existence.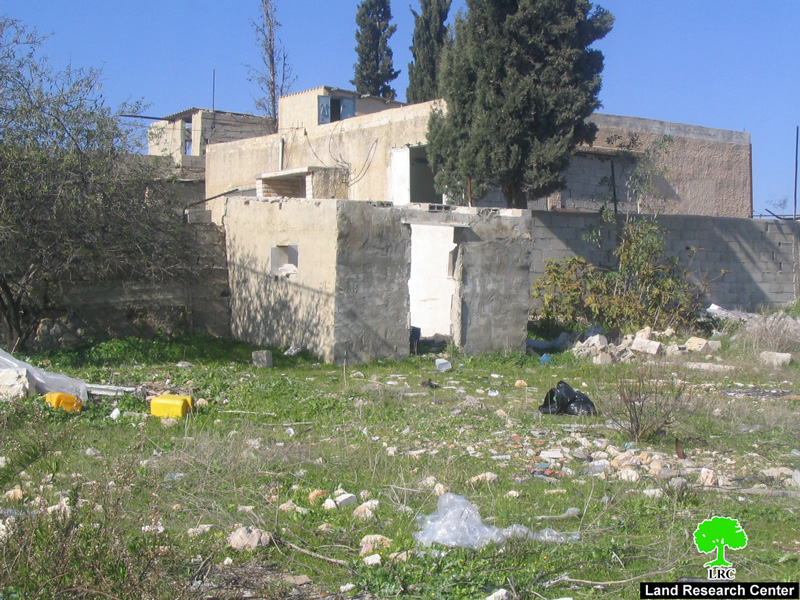 ( Photo 4: pre- 1967 house in the village)
Around 50000 dunums of agricultural and grazing land are related to the Khirbet at Tawil and Aqraba town. A small portion of this land is classified as zone B ( under Palestinian civic affairs and Israeli security) while the bigger portion is classified as zone C ( under total Israeli civic and security affairs) according to Olso agreements. Three colonies are built on this land as follows:,
Table 2: Israeli colonies by name, year of foundation, municipal and built up area and population
Colony name

Year of foundation

Municipal boundaries

Built up area

Population

Jettit

1973

1607

113

191

Ma'ale Efrayem

1970

4257

521

1423

Itimar

1984

6936

253

651

Total

12800

887

2265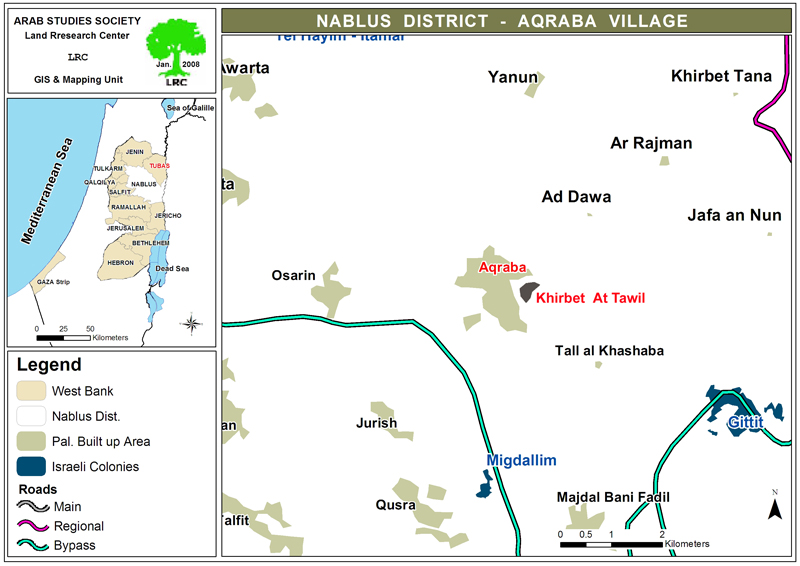 (map 1: colonies in Nablus governorate)
Out of the aforementioned land area, there are about ten thousand dunums of flat agricultural land and twenty thousand dunums of grazing land which are currently under the threat of confiscation at the hands of the occupation authorities. The Israeli measures in this respect encompass the limitation of Palestinian access in to these areas through dismissing farmers and shepherds, demolishing homes, barracks, withdrawing IDs and destroying crops.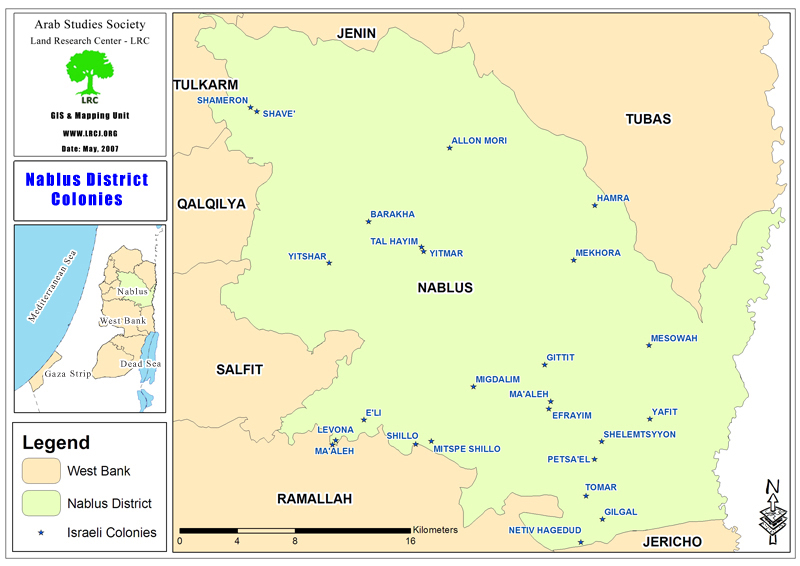 (map 2: Aqraba village)
The Khirbet at Tawil land is known for its fertility as it is cultivated with cereals and ground seasonal crops. Also, it is used as grazing fields for more than 30 000 heads of sheep and goats as well as 1500 head of cows. Therefore, this area is vital for securing the West Bank food basket.
Prepared by
The Land Research Center
LRC