New Military Orders to Halt Construction of Seven Palestinian Houses in the Village of Deir Ballut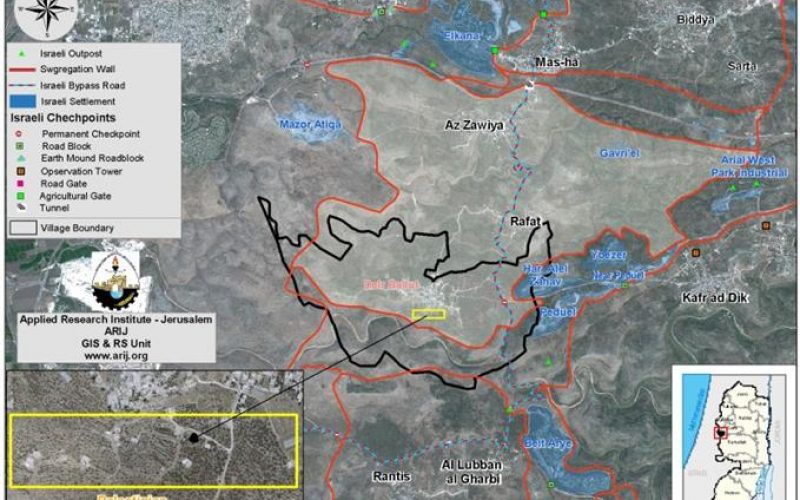 Introduction:-
Deir Ballut village is located about 15 km west of the city of Salfit and about 3 km east from the 1949 Armistice Line (Green Line). The village spread on a total land area of 11,020 dunums, out of which 396 dunums is the built-up area. Most of the village's lands is devoted to agriculture use and is planted with vines, olives, almonds, and citrus trees. Most of the Palestinian families in the village have agricultural lands, which they farm as a source of income.
However, under the Israeli Segregation Wall plan, the village of Deir Ballut, along with the villages of Rafat and Al Zawiya, will be trapped in an enclave by the wall. These three villages fall within one of the enclaves created by the Segregation Wall, where Palestinian communities are surrounded by Israeli Wall or fence and are no longer able to access the main cities or and other area without going through an Israeli controlled gate. In the case of Deir Ballut, the village is trapped within the 32.1 km of known as the Israeli Ariel settlements' Bloc, where the Segregation Wall will surround the three villages (pop.10,771, PCBS 2006) from all directions, and isolates nearly 27,000 dunums of their land.
Furthermore, Deir Ballut has already lost some of its lands for the establishment of two Israeli settlements, Pedu'el and Har Alei Zahav east of the village. Both settlements cut off 237 dunums, about 2% of the village's total area and are a home to 1100 Israeli Settlers. See table 1
Settlement Name

Date of Establishment

Area of Settlement

Area occupied from Deir Ballut Village

Population
(2006)

Pedu'el

1984

539

20

1100

Har Alei Zahav

1983

488

217

450

Total

1027

237

1550
ARIJ GIS Databse 2006
What is happening now?
Military Orders to Halt Construction in the Village of Deir Ballut:
On June 27, 2007, the Israeli Army notified Palestinian residents in Deir Ballut to stop the construction on seven Palestinian houses in the village. The pretext used there is no other than 'building without a license.' The owners, who received military warnings, were Suleiman Mohammad Ibrahim 'Abed Allah (140 m2), Suleiman 'Abed Al Hammed 'Abed Allah (50 m2), Mohammad Ibrahim 'Abed Al Razeq (100 m2), Zoohriya 'Abed 'Abed Al Razeq (140 m2), Sa'ed Deeb Salem Kheir ( 140 m2), Haytham 'Ali 'Abed Al Rahman 'Abed Allah (120 m 2) and Hekmat Hussein 'Ali 'Abed Allah (140 m2). [Map 1]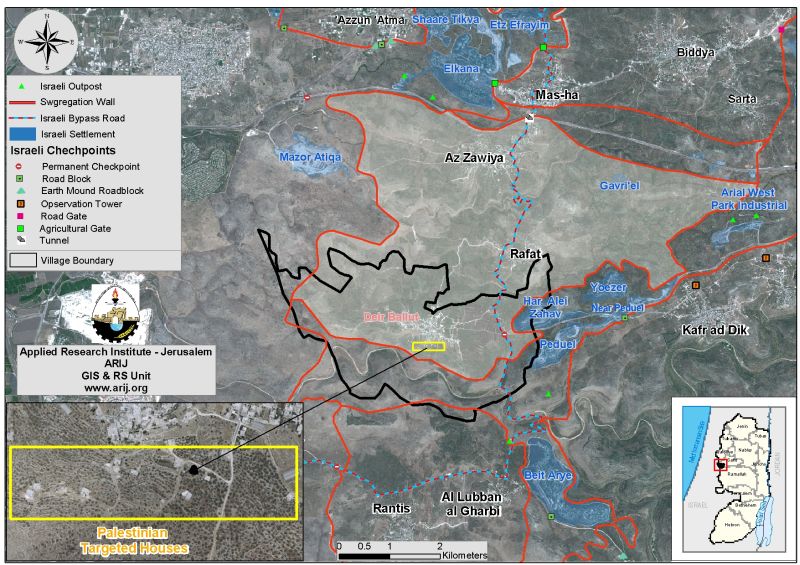 The threatened houses are located too close to the path of the Segregation Wall, about 200 to 300 m away from it. Owners of the threatened houses were given a period of 30 days from the issuance date of these military warnings in order to put forward their objections at the Israeli civil administration of Beit El in Ramallah. The owners of the threatened houses along with Deir Ballut's village council filed injunctions against the Israeli Army's military demolition orders, but were put-off until late August for review. As a result, these military orders are pending court decisions but the owners and the village council fear that the Israeli bulldozers will not wait for the court ruling and will demolish their homes, something that happened many time before ay many Palestinian villages with similar cases.
Previous Notifications and Demolitions in Deir Ballut:
Between 2003 and 2005, residents of Deir Ballut received six military orders to halt construction on several structures: five Palestinian homes, a school, and a factory in the village. The pretext was the same one used is no other than 'building without license.'
Building Licenses in Deir Ballut Village
Prior to the time when the Palestinian Authority assumed control over some territory, building Licenses in Deir Ballut and the rest of West Bank localities, were obtained from the Israeli civil administration, at least until the Oslo Accords in 1995, status has changed in areas where Palestinians have full control (Areas 'A'), otherwise they would still need to get approval from the Israeli Army.. After 1995 and the classification of the West Bank into A, B and C areas, residents of Deir Ballut as in other areas started to acquire building licenses from the village council, except those whose lands are located within areas classified as 'C' (areas under the full Israeli administrative control) must continue to acquire the building license from the Israeli civil administration where their permits are most often refused because they don't fulfill the Israeli conditions to obtain a building permit.
Is it legal for Israel to Demolish Palestinian Houses?
Israel's policy on house demolition is based on section 119 of the Emergency Defense Regulations of 1945 that grants the Israeli army the authority to demolish any house of individuals directly involved in acts of violence. The vast majority of incidents, though, are not due to violence which makes this a distinct case of collective punishment.
Israeli Defense Emergency Regulations
Reg. 119 – House Demolition or Sealing ,Destruction of crops: empowers the government/military to destroy or seal private homes or destroy other private property without trial or formal charges.
The aforementioned policy violates two distinct articles of the Fourth Geneva Convention which clearly render any destruction of property as illegal under international law, unless this act is crucial for military purposes. The Fourth Geneva Convention also utterly renounces any form of collective punishments.
The Fourth Geneva Convention
(August 12, 1949): CONVENTION (IV) RELATIVE TO THE PROTECTION OF CIVILIAN PERSONS IN TIME OF WAR
– Article 33: No protected person may be punished for an offence he or she has not personally committed. Collective penalties and likewise all measures of intimidation or of terrorism are prohibited.
– Article 53: Any destruction by the Occupying Power of real or personal property belonging individually or collectively to private persons, or to the State, or to other public authorities, or to social or cooperative organizations, is prohibited, except where such destruction is rendered absolutely necessary by military operations.
Related Case Studies
Kfar Ad Dik and Deir Ballut in Salfit Governorate Receive New Land Confiscation Order. January 10 ,2007
Prepared by
The Applied Research Institute – Jerusalem (ARIJ)