Beit Iba checkpoint re-expanded and fortified despite Israeli words of "peace" and closure lifting
As part of tightening the grip over the West Bank the Israeli occupation army started few days ago to expand and fortify the Beit Iba military checkpoint at the north western entrance to Nablus city in the north of the West Bank. The ongoing expansion works are taking place over an area of 45 dunums confiscated from its owners for the purpose of establishing checking grounds for coming and leaving vehicles in a step aiming at changing the current checkpoint to make it look like an international crossing terminal. This policy has been applied over most military checkpoints in the West Bank to increase the fragmentation of the West Bank and consolidate the Israeli military grip over its major cities, particularly, Nablus. See Map 1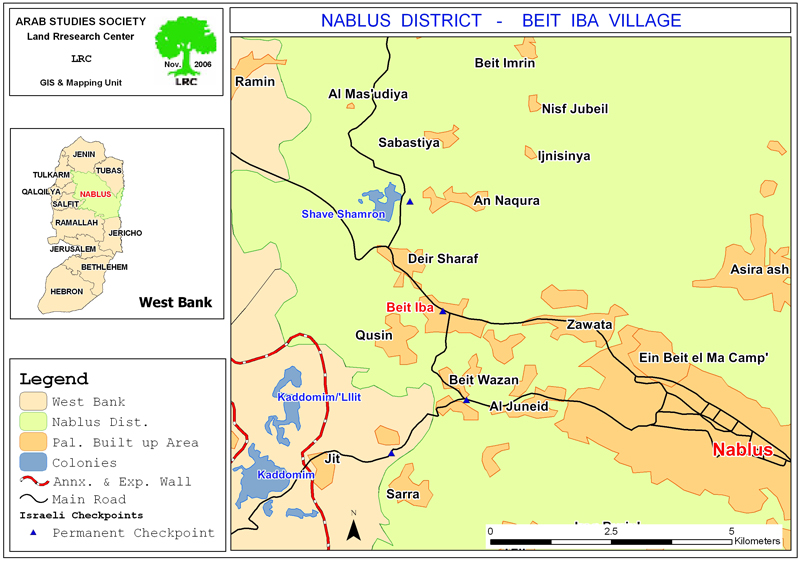 Introduction to Beit Iba checkpoint
The Beit Iba checkpoint is located on the main road linking between the city of Nablus and the northern and western governorates of Jenin, Tulkarem and Qalqiliya. It stood about 4 km to the north west of the city on the land of Beit Iba and Deir Sharaf villages, close to the junction leading to Jenin governorate in the north of the West Bank. Immediately after the outbreak of the Intifada in the year 2000 the Israeli army closed all the roads to Nablus, including this road with earth mounds, rocks and cement blocks. In August, 2003, the army established a permanent checkpoints at this location. In 2005, the army carried out the first enlargement phase of this checkpoint equipping it with watch towers, magnetic gates, rolling gates, surveillance cameras and car parks.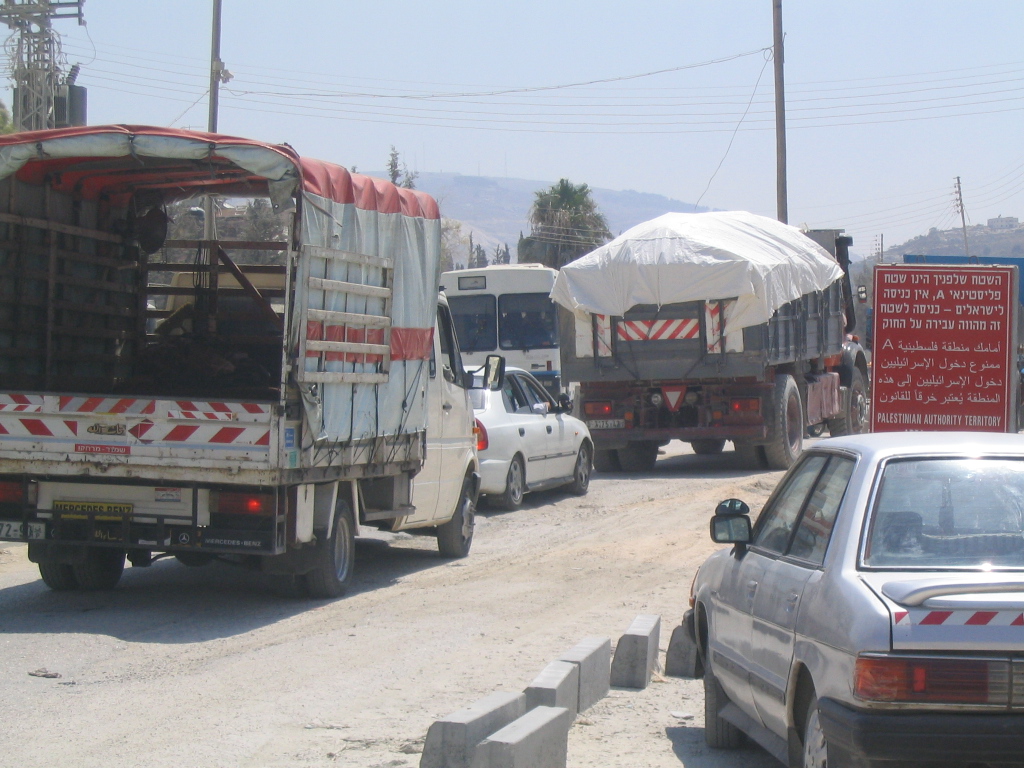 (Photo 1: traffic jam at Beit Iba checkpoint)
Closure of Nablus city and governorate
It is worth mentioning that the occupation authorities has set up about 600 checkpoints of different types in various parts of the West Bank since the beginning of the current uprising in the year 2000. This policy of closure has resulted in disastrous human, economic, health, and educational impacts on Palestinian citizens of the occupied West Bank. The city of Nablus, in particular, has taken the brunt of this repressive Israeli policy, that is, it has lost its historic status as the economic capital of the West Bank due to the following checkpoints and successive Israeli military incursions:
Table 1: Permanent Israeli military checkpoints ( international- like crossing terminals – Nablus governorate
| | | | | |
| --- | --- | --- | --- | --- |
| No. | Checkpoint name | Location | Date of est. | Description |
| 1 | Hawwara | Hawwara plain south of the city | 2000 | Pedestrian pathway, watch towers, detention rooms, electronic checking, car gates. |
| 2 | 'Awarta | 'Awarta junction south of the city | 2000 | Commercial passage for trucks |
| 3 | Beit Furik | Entrance to Beit Furik village south east of the city | 2001 | Similar to Hawara but only for the citizens of Beit Furik and Beit Dajan |
| 4 | Beit Iba | Entrance to Beit Iba north west of the city | 2000 | Similar to Hawara checkpoint |
| 5 | Al Bathan | Wadi Al Bathan east of the city | 2006 | watch towers, car checking gates, Nablus gate the Jordan valley |
| 6 | Al Hamra | Farush Beit Dajan east of the city | 2001 | Similar to Hawara checkpoint |
| 7 | Ma'ale Efrayim | Ma'ale Efrayim junction east of 'Aqraba | 2001 | Car checking lanes, watch towers, passage restricted to holders of valid permits |
| 8 | Za'tara ( Tabuh) | Za'atra junction south of the city | 2000 | Watch towers, car checking lanes, no pedestrians, main gate to northern governorates of Nablus, Tubas Jenin, Tulkarem and Qalqiliya |
| 9 | Asira ash Shamaliya | Entrance to Asira ash Shamaliay north of the city | 2005 | Watch tower, Iron gate, no pedestrians, currently closed, |
| 10 | Al Juneid Checkpoint | Jit village Junction west of the city | 2005 | Watch tower towers, Nablus gate to Qalqiliay and Tulkarem |
Source: Field Work and GIS unit at LRC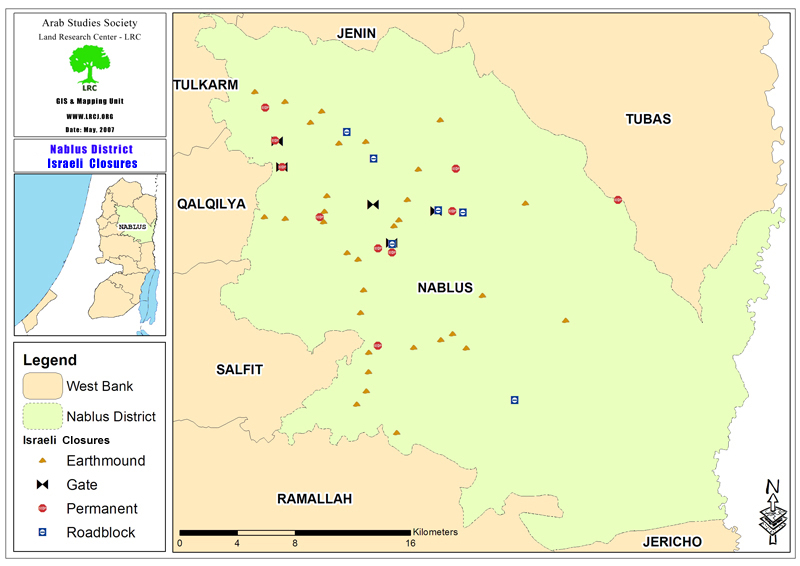 Map 2
Table 2: Roads blocked with earth mounds and iron gates in Nablus governorate
No.

Road

Location

Description

Notes

1

Nablus- Qalqiliya

Juneid village

Iron gate

Under constant army supervision

2

Nablus- Jenin

Shavei Shomron

Cement blocks

Entrance to Shavei shomron colony

3

Nablus – Asira Ash Shamaliya

Al Ma'ajin

Earth mounds, trenches

Blocking access to Beit Amin, Asira ash Shamaliya,

Ijnisinya. Nisf Jubeil & Yasid

4

Nablus- Beit Dajan

Near the stone quarry

Earth mounds

Closed in 2000

5

Beit Furik- Ghor

Al Mafraq

Iron gate

Closed in 2002

6

'Aqraba – Nablus

'Awarta, 'Aqraba

Stone mounds

Totally closed and traffic turned to Trans Samaria highway and Za'tara checkpoint

7

'Awarta – Nablus

Hawara military camp

Cement blocks

Totally closed and traffic turne4d to Hawara and Hawara checkpoint
Source: Field Work and GIS unit at LRC
Background to Nablus city
Nablus city with its 160 000 inhabitants is the largest city in the West Bank. It is situated between and on the slopes of two mountains: Ibal (940 m.) above sea level, and Jerzim (881 m.). It is located 69 km. north of Jerusalem and 42 km. east of the Mediterranean Sea. It is rich in archaeological and historical sites: Tell Balata, Jacob's well, a Roman theater, and the Jewish Samaritan Community. Jacob's well is marked by a church built over the site in the fifth century and maintained ever since. See Map 3
The city of Nablus has historically boasted itself as the commercial and business center of Palestine. It dates back some 4,500 years. However, Nablus' economy, cultural heritage, and population have come under attack during the past six and half years of Israeli military attacks. It has become synonymous with nightly invasions, targeted assassinations, home demolitions, roadblocks, curfews, severe damage to the city's basic infrastructure, demolition of multiple factories and other acts of occupation violence. Its Old City walls have acquired a new layer of history in the political graffiti and martyr posters honoring the scores of mostly young men who were killed in Israeli attacks.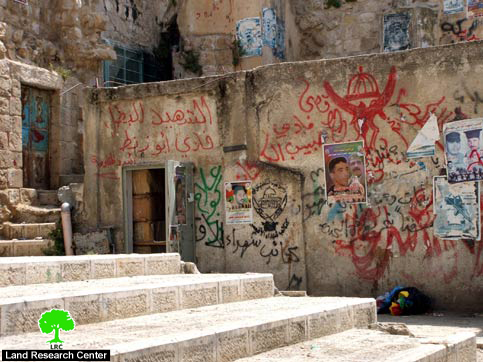 (Photo 2: Nablus old city- a wall full of graffiti and martyrs posters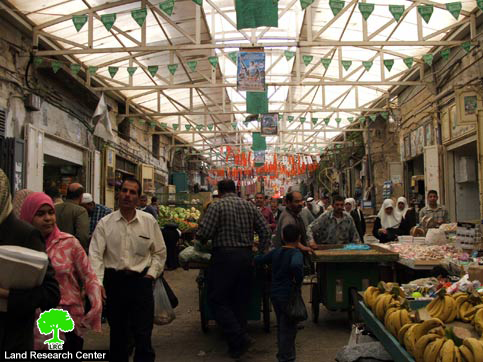 (Photo 3: Nablus old city- a prosperous market before the Intifada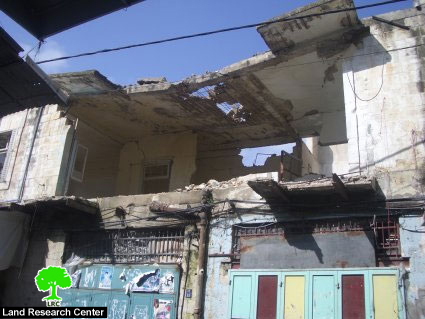 (Photo 4: Nablus old city- a flat damaged by Israeli bombardment)
Impacts of Beit Iba checkpoint on Palestinian general life
1. The detention and delay of people for long hours of whom are elderly, children, women, sick and students. According to the statistics of the Palestinian ministry of health, quite many people died at this checkpoint, either inside ambulances or in private cars whilst en route to hospitals in the city .
2. The detention of commercial, private and international humanitarian vehicles and forcing them to get passing permits from the Israeli military before coming to the checkpoint.
3. Very often, Israeli soldiers manning the checkpoint resort to inhumane practices such as slowing the checking procedures or indefinitely stopping the whole process for whatever reason.
4. The Israeli occupation army decided last September to close the checkpoint every day at 7:30 PM under baseless security claims, increasing the suffering of local people and putting more obstacles on the way of Palestinian trade and merchandise in and out of the city. In other words, the city has become a big prison that is closed every evening.
(Photo 5 & Photo 6: current expansion works at Beit Iba checkpoints)
Colonists and colonies in Nablus governorate
There are 14 colonies in Nablus governorate whose total population in the year 2005 mounted to 11232 occupying a total area of 31514.14 dunums ( 31.5 km2) including the built up area and municipal boundaries. This figures represents 3.6% of the total land area of Nablus governorate. See Map 4
Table 3 : Israeli colonies in Nablus governorate
No.

Colony name

Date of Est.

2005

population

Built up and Municipal Area

Dunum

Distance from green line Km

Principal Palestinian nearby locality

1

Elon Moreh

1979

1212

2419

22

Deir al Hatab, Salim and Azmut

2

Yzihar

1983

590

1492

16

Burin, Madama & Asira al Qibliya

3

Bracha

1982

1094

520

23.2

Burin & Kafr Qalil

4

Shavei Shomron

1977

606

936

13.3

Deir Sharaf & Sabastiya

5

Itamar

1984

651

7189

28

Yanun, 'Awarta, Rujib & Beit Furik

6

Mekhora

1973

120

682

26.4

Beit Furik

7

Ma'ale Efrayim

1970

1423

4778

34.4

Majdal Bani Fadel

8

Gittit

1973

191

1720

37

'Aqraba 7 Majdal Bani Fadel

9

Kfar Tapuach

1978

648

570

24

Yasuf

10

Migdalim

1984

150

361

32.7

Qusra & Jurish

11

Hamra

1971

132

3879

22.5

Beit Dajan

12

Eli

1984

2420

3206

23.5

As Sawiya

13

Shilo

1979

1945

3758

27.1

Turmus'ayya

14

Rehalim Shilo

1991

50

4.14

20

Yitma

Total

11232

31514.14

350.1
Source: Field Work and GIS unit at LRC
& Foundation For Middle East Peace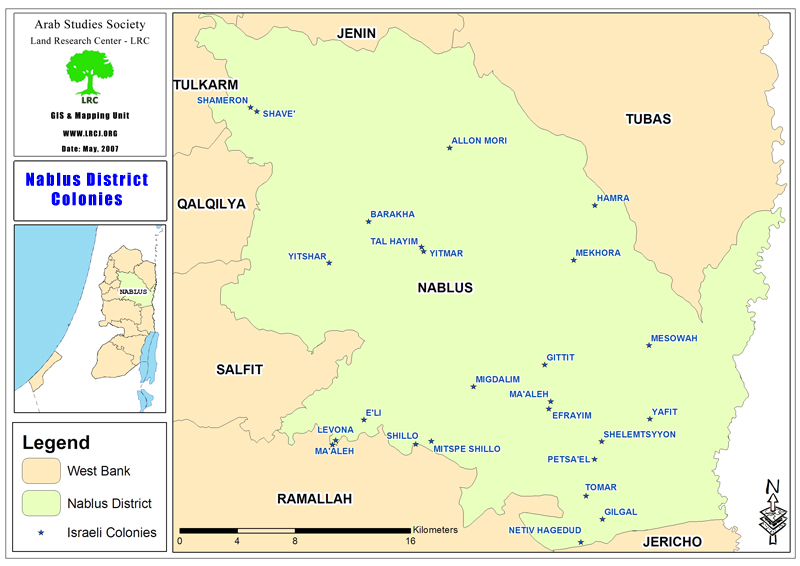 Prepared by
The Land Research Center
LRC