Series of Israeli Military orders to amend on the Route of the Israeli Segregation Wall in Tulkarem& Jenin Governorates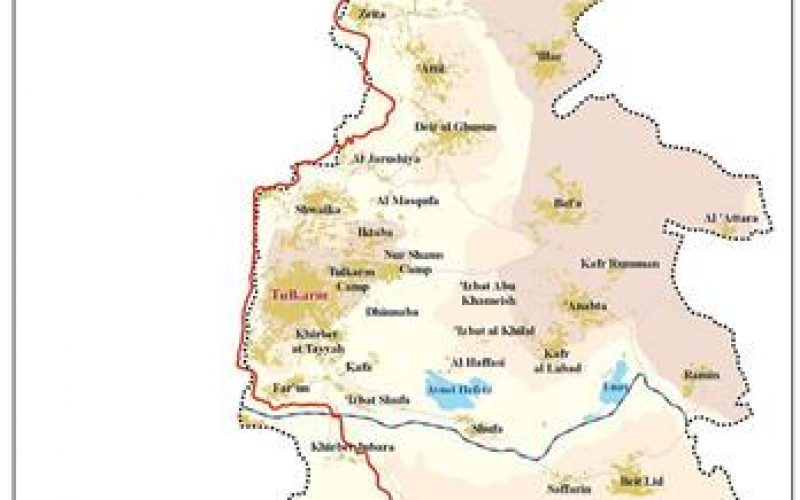 Dozens of Palestinian landowners in the two Palestinian Governorates of Tulkarem and Jenin received an 'extensions' to previously issued Israeli military orders notifying them that the period of the original military orders of their lands had expired and therefore a new amendment military orders had been issued. The original Israeli military orders were issued in the years 2002 and 2003. See Table (1)
Table 1: Amendments to previously issued Military Order
| | | | | | |
| --- | --- | --- | --- | --- | --- |
| Original Military Order | Expiration Date | Extended Military Order | Expiration Date | Locality | District |
| 20/02/T | 31/12/2005 | 20/02/T | 31/12/2008 | | Tulkarem |
| 21/02/T | 31/12/2005 | 21/02/T | 31/12/2008 | | Tulkarem |
| 23/02/T | 31/12/2005 | 23/02/T | 31/12/2008 | | Tulkarem |
| 24/02/T | 31/12/2005 | 24/02/T | 31/12/2008 | | Tulkarem |
| 57/03/T | 31/12/2005 | 57/03/T | 31/12/2008 | | Tulkarem |
| 12/02/T | 31/12/2005 | 12/02/T | 31/12/2010 | Rumana ,Fahme, 'Aneen | Jenin |
| 26/03/T | 31/12/2005 | 26/03/T | 31/12/2010 | | Jenin |
| 28/03/T | 31/12/2005 | 28/03/T | 31/12/2010 | Faqu'a , 'Arabouna , Al Mazar | Jenin |
The military orders in question were issued during the years 2002 and 2003, to confiscate thousands of dunums of private Palestinian lands across the occupied Palestinian Territory including Tulkarem and Jenin Governments to build the Israeli Segregation Wall. See Maps 1 & 2 Below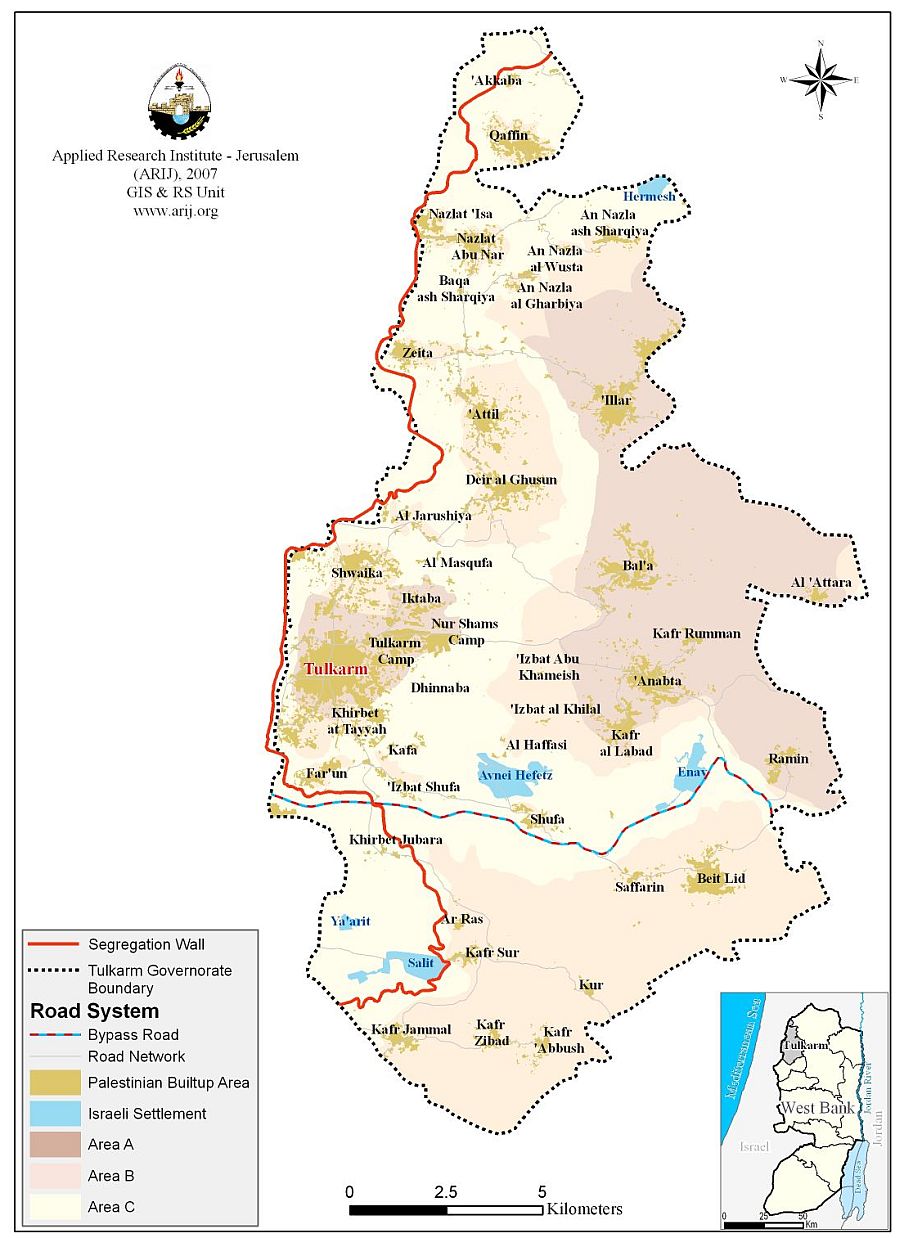 Map of Tulkarem Governorate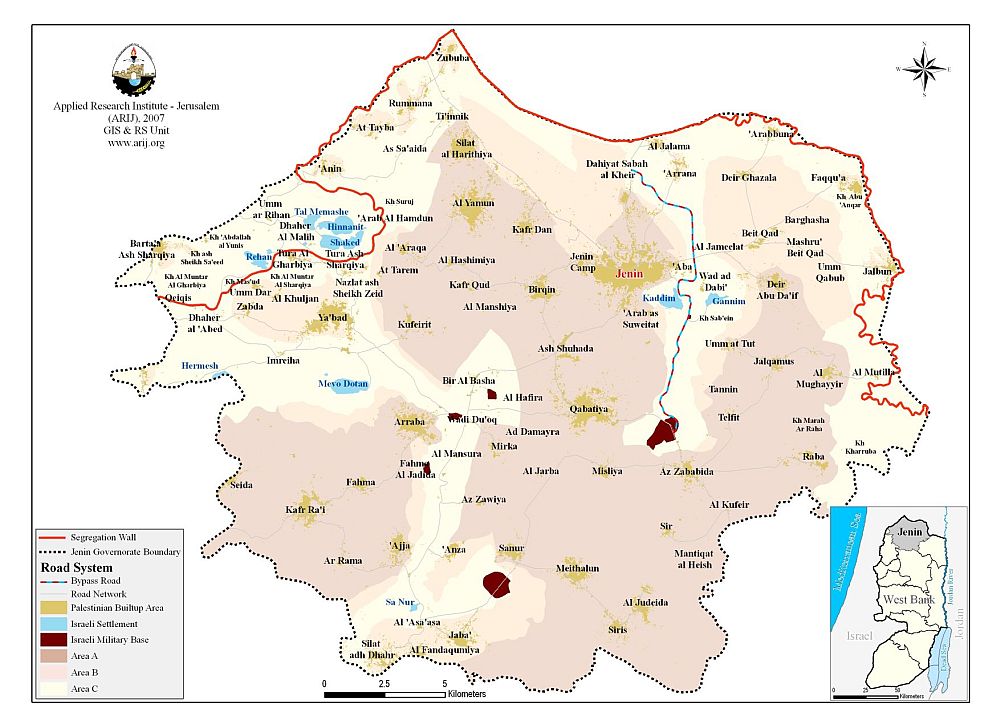 Map of Jenin Governorate
Apparently, Israel attempt to legalize its work regarding the Segregation Wall in the Occupied Palestinian territory by pertaining it as preventive measures according to their claim, at least until the time of the new extension date come to an end, at which time the construction work on the entire Segregation Wall will be complete and that when Israel will define its political borders for the first time since its establishment in 1948. Several Israeli officials, including the Israeli secretary of state Livini has repeatedly said about the Segregation Wall and its function that it will exceed its claimed security purpose to serve as a permanent border for the state of Israel.
Table (2): Total Wall length and isolated lands in Tulkarem & Jenin Governorates
| | | |
| --- | --- | --- |
| Governorate | Total Segregation Wall Length- (Km) | Isolated Lands Behind the Wall – (Dunum) |
| Tulkarem | 40 | 19,959 |
| Jenin | 70 | 32,400 |
The Israeli Apartheid Segregation Wall violates numerous human rights laws, of which: the right to property, the right to work, the right to an adequate standard of living and the right of freedom of movement,
It becomes clear that the Israeli decision to build the Apartheid Segregation Wall in the Palestinian Territory was a step toward the expansion of the Israeli borders and settlements, not as they claim to achieve peace and security to the Israeli people.
The appropriation and destruction of Palestinian land is an especially serious violation of the Fourth Geneva Convention, Article 147 of which clearly prohibits,''extensive destruction and appropriation of property, not justified by military necessity and carried out unlawfully and wantonly.'' Violations of Articles of the Fourth Geneva Convention constitute grave breaches of the Convention and should be prosecuted as War Crimes.
Also The Hague Regulations expressly forbids an occupying power 'to destroy or seize the enemy's property, unless such destruction or seizure is imperatively demanded by the necessities of war' (Article 23).
Prepared by
The Applied Research Institute – Jerusalem
ARIJ