New Israeli military road on lands of Kafr Qaddum village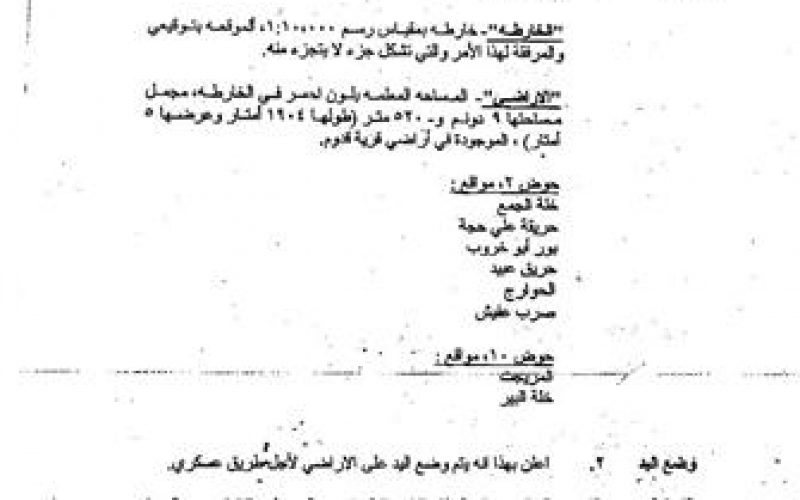 On May 7, 2007, the Israeli Army handed out the village council in Kafr Qaddum in Qalqiliya governorate a military order holding number (15/07/T) stating the Israeli Army's intent to confiscate 9 dunums and 520 meters of the village's lands located within Blocs 2 and 10 in Khalet AL Jam', Hareqet 'Ali Haja, Bour Abu Kharoub, Hareq 'Abed, AL Hawarij, Serb 'Afesh, Al Mraget and Khalet Al Beir areas. The military order was issued by the Israeli Chief Commander Yaer Nave to construct a two kilometers road to serve military purposes, also to connect two Israeli settlements with each other (Giv'at HaMerkaziz and Kedumim) located inside the Ariel settlements bloc. The proposed road will link with the bypass roads network in Ariel settlements bloc and consequently to Israel. The land area stated in the Israeli military order already falls within Kafr Qaddum's isolated lands (7.118 kilometers) by the Segregation Wall (still in planning stage). See copy of military order
According to the Oslo II Interim Agreement signed in September 1995 between the Palestinian Liberation Organization (PLO) and Israel, 7994 dunums (7.9, 4 Km²) of Kafr Qaddum's land were classified as Area B (Areas under Palestinian civil administration but Israel continued to have an overriding control on security), while 10950 dunums (10.95 Km²) were classified as Area C (Areas under full Israeli Control).
Kafr Qaddum village lies 17 kilometers to the northeast of Qalqiliya city. The village is the home of 3493 inhabitants (According to the PCBS 2006) and has a total area of 18944 Dunums, of which, the village's built-up area comprises 463 dunums. See Map of the village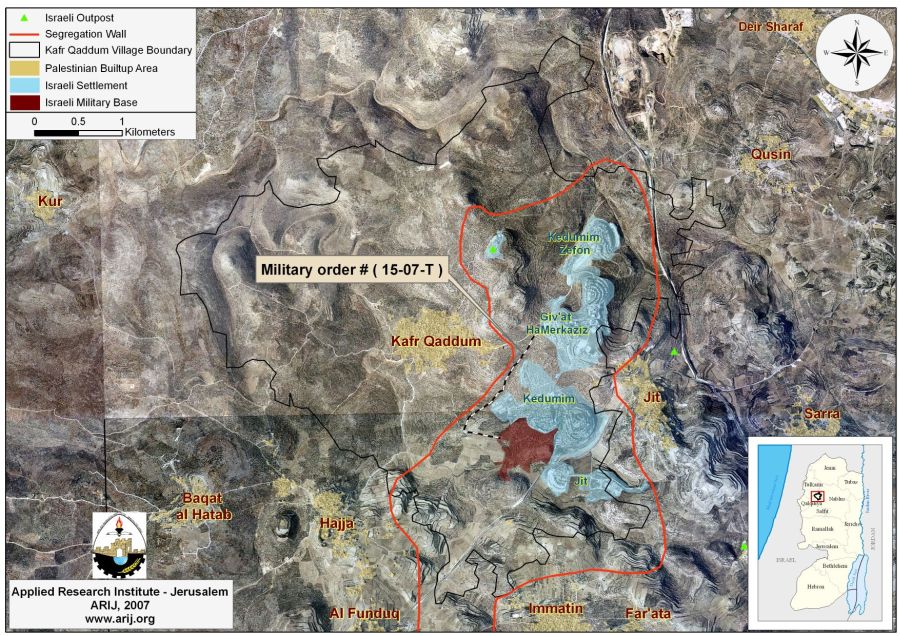 Kafr Qaddum and the Israeli settlements
Kafr Qaddum village is one of many Palestinian villages that witnessed the construction of the Israeli settlements on thier lands. Four illegal Israeli settlements (Jit, Kedumim Zefon, Kedumim and Giv'at HaMerkaziz) and one outpost were constructed on the lands of the Kafr Qaddum comprising an area of 1784 dunums of lands and accommodating 3010 Israeli settlers.
After the Israeli occupation of the Palestinian Territory in 1967, Israel confiscated vast areas of Palestinian lands and constructed hundreds of housing units to settle Israeli settlers. Since then, 207 Israeli settlements occupying an area of 188, 04 Km² were constructed throughout the West Bank. Over the years, the Israeli governments have worked to link the settlements with each other and consequently with Israel by creating a network of bypass roads throughout the West Bank territory that stretches today a length of 795 Km.
Kafr Qaddum and the Segregation Wall
The Segregation Wall in Kafr Qaddum village is planned to extend a length of 7.118 Kilometers and will isolate a total of 7898 dunums of village's lands behind its route, most of which are Agricultural. According to the Segregation Wall route, 41.6% (7898 dunums) of Kfar Qaddum's lands will be isolated, of which 36.9% of the Agricultural land, 32% of the forests and open spaces will be entirely isolated behind the Wall and the local villagers are no longer able to access it. Table 2 below shows the land classification inside the village boundary and the land isolated behind the Wall. See Table 1
Table 1: Land Use Land Cover of Kafr Qaddum Village
Land Use Land Cover Classification

LULC inside Kafr Qaddum Village Boundary

LULC of the area isolated by the Israeli Segregation Wall

Percentage of Isolated lands from Total village area

Agricultural Lands
11699
4320
36.9%
Forests and Open Spaces
4713
1509
32%

Palestinian Built-up area

475

12

2.5%

Israeli settlement

1784

1784

100%

Israeli Military Base

273

273

100%

Total

18944

7898

41.6%
Source: ARIJ database- GIS, 2007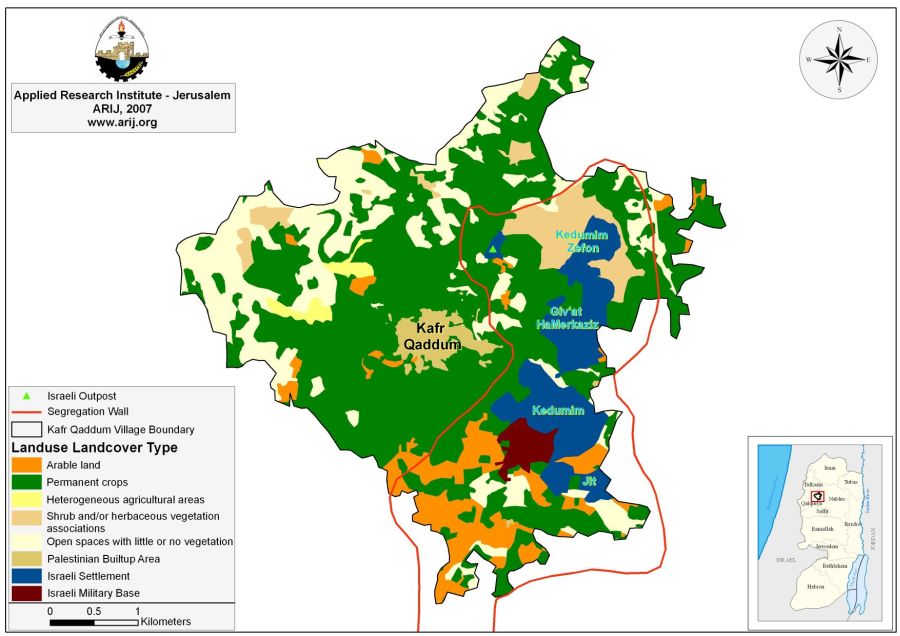 See Map of land use/ Land cover Of Kafr Qaddum Village
Prepared by
The Applied Research Institute – Jerusalem
ARIJ