Nablus Governorate and the nightmare of the Israeli checkpoints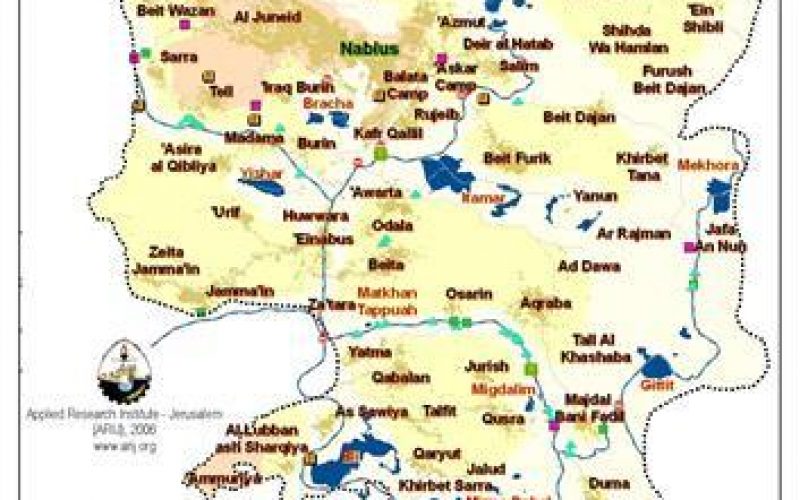 ''Everyone lawfully within the territory of a State shall, within that territory, have the right
to liberty of movement and freedom to choose his residence.' The International Covenant on Civil and Political Rights (ICCPR), Article 12.
Following the Israeli occupation of the Palestinian Territory in 1967, checkpoints, became a control tool used by the Israeli Army in the West Bank and the Gaza Strip to ensure a tigh and solid grip on the people's movement. These checkpoints divided the Palestinian cities and towns into cantons and made it very difficult for Palestinian citizens to move and to maintain a normal life.
Since the eruption of the second Intifada on September 2000, the Israeli government worked very intensively to expand and reinforce hundreds of Israeli checkpoints throughout the Palestinian Territory. The following Table gives number of checkpoints, roadblocks, Earth mounds, tunnels, Road gates and towers in the Palestinian governorates.
Table 1: Number of checkpoints, roadblocks, Earth mounds, tunnels,
Road gates and towers throughout the West Bank
Governorate

Earth mound

Road
Gate

Planned Tunnel

Chkpts

Road
Block

Tunnel

Observation Tower

Agricultural gate

Hebron

123

18

3

8

16

1

11

0

Jerusalem

13

2

0

8

4

2

0

0

Jericho

4

0

0

5

2

0

4

0

Bethlehem

15

3

2

6

2

7

8

0

Jenin

0

3

0

3

0

0

5

10

Nablus

40

7

4

9

7

0

7

1

Qalqiliya

2

1

0

1

2

1

1

15

Ramallah

20

11

1

5

15

6

9

0

Salfit

8

2

1

3

2

5

3

1

Tubas

0

1

0

2

0

0

0

1

Tulkarm

11

1

0

2

3

1

2

11

Total

236

49

11

52

53

23

50

39
Source: ARIJ Database, 2006
The Israeli Occupation Forces imposed significantly harsh restrictions on the movement of Palestinians living in the West Bank particularly in the northern governorates (Qalqiliya, Jenin, Tulkarm, Nablus and Tubas, which severely affected the Palestinian movements, businesses, education and health. Nablus governorate is the center life governorate of the West Bank northern part and the Israeli have made sure to block all kinds of routes leading to Nablus with all sorts of obstacles, making sure that the only way leading to Nablus is through roads under the Israeli Army control.
Nablus governorate
Nablus governorate is located to the north of the West Bank and has a total area of 613582 Dunums (613.5 Km2). The governorate is the home to 336,380 Palestinian inhabitants (PCBS 2006).
Nablus is the second largest Governorate in the Palestinian Territory. According to the Oslo II Interim Agreement signed in September 1995 between the Palestinian Liberation Organization (PLO) and Israel, 116597 dunums (116.597 Km²) of the Governorate were classified as Area A (19%) (Areas under Palestinian control), 239869 dunums (239.869 Km²) were classified as Area B (39%) (Areas under Palestinian civil administration but Israel continued to have an overriding control on security), while 257116 dunums (257.116 Km²) were classified as Area C (42%) (Areas under full Israeli Control).
Since the Israeli occupation of Nablus governorate, 13 illegal Israeli settlements with a total population of 9133 Israeli settlers were established on an area of 15255 dunums of lands. Table 2 below shows the Israeli settlements surrounding Nablus governorate with the number of settlers in each settlement.
Table 2: Israeli settlements surrounding Nablus governorate
Settlement

Date of establishment

Area in dunums

Population 2004

Matkhan Tappuah

1978

31

593

Yizhar

1983

785

534

Migdalim

1984

159

151

Eli

1984

3195

2308

Homesh

1980

1050

181

Allon Moreh

1979

1396

1152

Itamar

1984

2993

600

Gittit

1973

1058

161

Shilo

1978

1364

1825

Mizpe Rahel (Shvut Rahel)

1992

1045

0

Mekhora

1973

925

119

Bracha

1982

602

970

Shave Shomron

1977

580

539

Total

15255

9133
Source: ARIJ Database 2006 & B'tselem Population Projection 2004
Israeli checkpoints surrounding Nablus governorate
With the outbreak of the second Intifada, Nablus governorate was particularly targeted by the Israeli Army and even though all the Palestinian governorate were placed under tight control, the situation in Nablus governorate was particularly crucial as it is going under siege now for the fifth year in a row. This stringent siege on Nablus governorate has severely affected the lives of the residents on various levels. Below are the main Israeli checkpoints surrounding Nablus governorate.
1. Huwwara checkpoint
Huwwara checkpoint is located 4 kilometers south of Nablus and is considered one of the most restricted checkpoints in the West Bank. Palestinians traveling through this checkpoint usually face the daily restriction on movements as no men between the ages of 16 and 35 are allowed to cross under any circumstances.
Procedures on Huwwara checkpoint became similar to a border crossing controlled by the Israeli Army. Palestinians can only access this checkpoint during a specific period; during the day, from 6:00- 8:00 A.M and in the afternoon from 15:00- 18:00 P.M. These restrictions make it difficult for Palestinians to reach their destinations, to access hospitals, schools and universities, etc. other than that the Palestinian crossing the checkpoint are regularly dealing with the Israeli soldiers moody behavior as people often get attacked, humiliated, beaten and assaulted, which makes getting held for hours under the Sun or rain at the checkpoints; a good day for any individual as long as they pass through without getting physically abused.
2. Za'tara checkpoint
Za'tara checkpoint is about 11 kilometers south of Nablus city; situated on bypass road # 60. This Israeli checkpoint has been established on the expense of the Palestinian lands of Huwwara and Iskaka villages. Za'tara checkpoint is the gateway between the northern Palestinian governorates Jenin, and Tulkarm with Nablus, and thus to the southern governorates of Ramallah, Jerusalem, Bethlehem and Hebron. It also links the western governorates of Qalqiliya and Salfit and the eastern governorates of tubas and Jericho in the Jordan valley area.
3. Beit Iba checkpoint
Beit Iba checkpoint is located 8.5 kilometers to the northwest of Nablus city; it lies between the two villages of Beit Iba and Deir Sharaf. This checkpoint is considered the only direct road to the governorates of Qalqiliya and Tulkarm. Beit Iba checkpointopens daily from 05:00 Am until 17:30 PM. It is worth mentioning that men between the ages of 16 to 30 are not allowed to cross the checkpoint unless they have special permit from the Israeli civil administration.
4. Beit Furik checkpoint
About 3.5 kilometers to the east of Nablus city, sets the Israeli checkpoint of Beit Furik. This checkpoint controls the movement of five Palestinian villages trapped in two separate enclaves. One enclave includes two villages, Beit Furik and Beit Dajan and the other includes Salem, Deir El Hatab and Azmut villages. An Israeli road cuts through the two enclaves, which lead to the Israeli settlement Allon Moreh. It is worth pointing out that Palestinians are prohibited from accessing this road; as it is only used by the Israeli settlers of Allon Moreh and Itamar.
5. 'Asera Ash Shamaliya checkpoint
The checkpoint of 'Asera Ash Shamaliya is located 5 kilometers northwest of Nablus city. This checkpoint is designated to pedestrians and vehicles are incapable to cross through because of the several earth mounds layers set up by the Israeli Army.
6. 'Awarta checkpoint
'Awarta checkpoint lies 3.5 kilometers south of Nablus city and about one kilometer from Huwwara checkpoint. This checkpoint is used for moving goods in and out of the city. 'Awarta checkpoint opens daily between 6 A.M and 6 P.M where a number of loads; estimated between 170-200 trucks move daily across the checkpoint in both directions.
7. Shave Shomron checkpoint
Shave Shomron checkpoint, is the only access way between Nablus and Jenin governorate. It lies 10.5 kilometers northwest of Nablus city, and its use is restricted to Palestinians holding special permits from the Israeli civil administration.
8. At Tur checkpoint
At Tur checkpoint is 2 kilometers southwest of Nablus and is connecting the Samaritan district of Jerzim with the Nablus city. This checkpoint opens only for Samaritans and occasionally opens for vehicles.
9. Ma'ale Efrayim checkpoint
This checkpoint is located 16.5 kilometers southeast of Nablus. It connects Jericho governorate with Nablus. It is worth mentioning that this checkpoint is among the most difficult checkpoints for the Palestinians to access in the Nablus area. See map of checpoints in Nablus Governorate.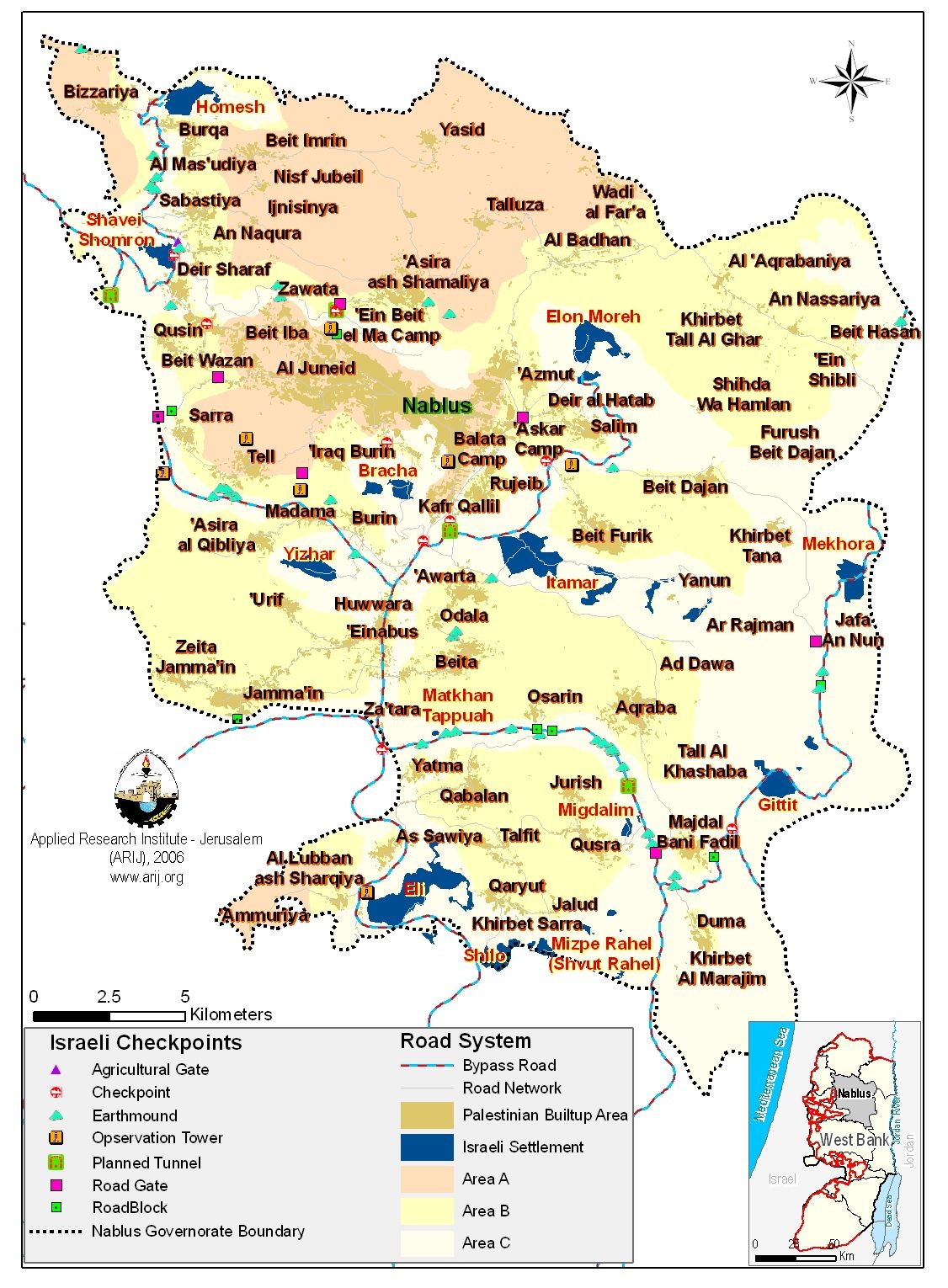 Prepared by
The Applied Research Institute – Jerusalem
ARIJ