Israeli Bulldozers on the Move " Beit Jala & Al-Walaja feels the Cold Iron Israeli Whip "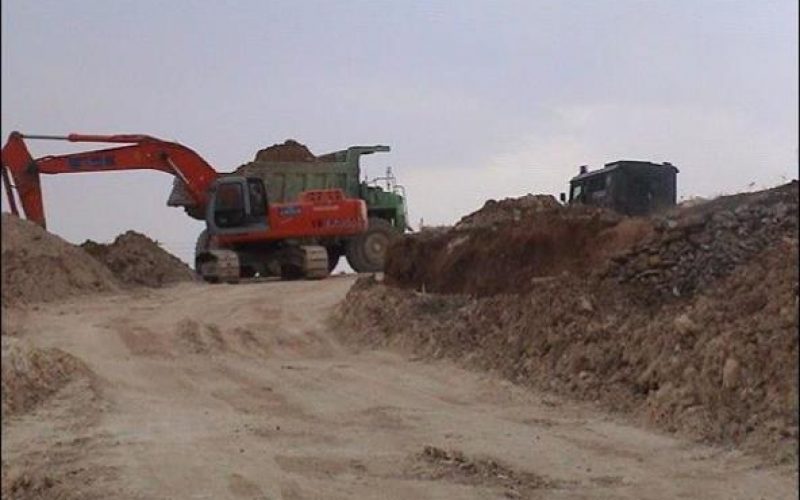 In the sequence chapter of the Israeli Segregation Wall in Bethlehem Governorate, the Israeli forces commenced work at the northwestern part of Beit Jala; laying down infrastructure for a section of 2.73 Km of Segregation Wall. See Photo 1 & Photo 2
Beit Jala city has been going under heavy Israeli measures since November 2002 when the Israeli forces installed 1.1 Km of security fence and watch towers along the northern parts of the city. A series of military orders were issued by the Israeli authorities at favor of constructing the so-called Segregation Wall on the lands of Beit Jala and sometimes incorporating other areas such as Al Walaja village (as military order # (44/03/T) which was issued on July 3rd, 2003, by the Israeli Chief Commander of Judea and Samaria stipulating the confiscation of 23.8 dunums of lands from Al Walaja and Beit Jala at a width of 8 meters and a length of 2979). See Photo 3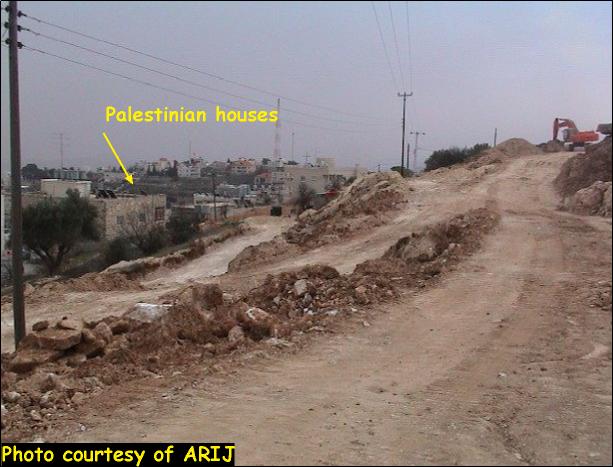 Many other Israeli military orders were handed to the residents to construct the other sections of the Segregation Wall route in Beit Jala. See Map of Military orders.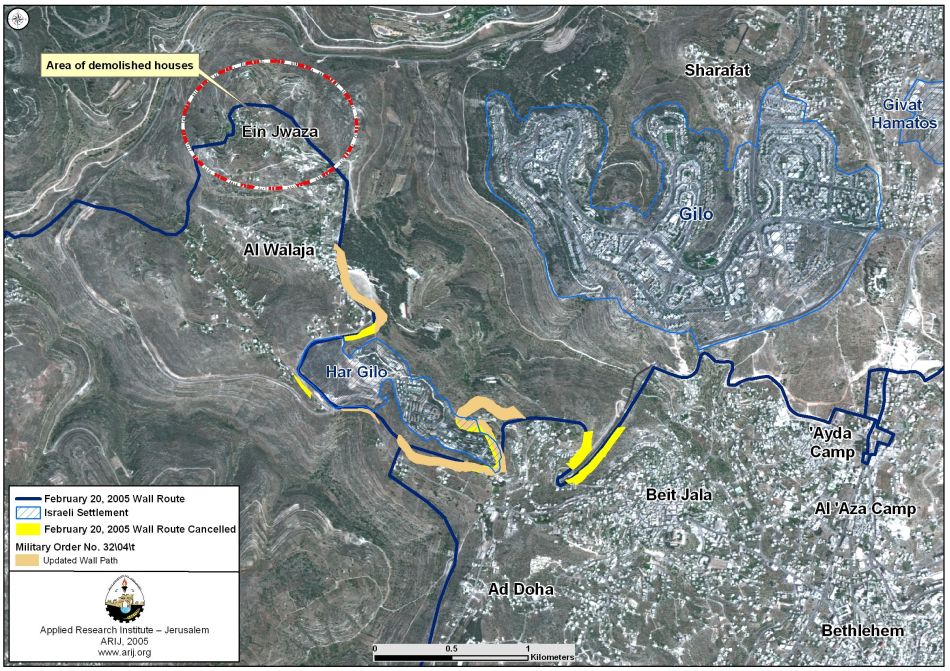 Today, Beit Jala city faces serious danger due to the razing of lands and construction activities taking place in the northwestern part of the city according to military order # (32/04/T) which was issued on March 25, 2004, and was amended on April, 19, 2004. The military order stipulates the confiscation of 120 dunums of lands to construct 2.73 Km of the Segregation Wall. This section of the Wall indicated in the military order intends to close off the northwestern part of Beit Jala city and creates a Wall separating the city from its lands, which also include the Israeli settlement of Har Gilo which was constructed on the city's land. It is worth mentioning that the new changes of the military order # (32/04/T) indicates cancelled sections of the original order near the bypass road 60 (around the tunnel section) but still no new route is given for this section. In addition other changes took place also at the Wall section located in the northwestern lands of the city.
Israeli Military Orders in Beit Jala and Al-Walaja
Al Walaja village is about 4 Km to the northwest of Bethlehem city and it is the home of 1644 inhabitants (PCBS, 2005). The village has been a target of the Israeli plans of land grapping, house demolition, Wall construction … etc.
123 dunums of lands have been confiscated from the village to build the Israeli settlements of Gilo and Har Gilo which were established in 1971 and 1972 respectively.
Furthermore, a series of military orders were issued to confiscate lands in Al Walaja either for expansion activities or for constructing the Segregation Wall. In July 2003 and March 2004, as was mentioned previously the Israeli authorities issued two military orders to confiscate 295.6 dunums of lands in Al Walaja and Beit Jala. The Israeli authorities came later with another military order holding number (75/05/T) which was issued on March 22, 2005, and intends to confiscate 9 dunums and 200 meters of lands in Block 2 in the areas of Al Rewaset and Al Basa from the lands of Beit Jala and in Block 3 in Al Serj area from Al Walaja.
Recent violations in Al Walaja village
As a continuation of the Israeli repressive actions in Al Walaja village, more than 20 Israeli bulldozers accompanied by the Israeli occupation forces (IOF) staged into 'Ein Jwaza area in Al Walaja and demolished the two- storey house of 'Ali Salem Abu Reziq under the pretext of ''building without permits''. See Photo 3 & Photo 4
Since the outbreak of the second Intifada, the IOF demolished more than twenty four houses in the village, particularly in 'Ein Jwaza area, under the same pretext. Table one below shows a number of demolished houses during the past five years.
Table 1: Number of houses demolished during the second Intifada between the periods of 2000-2005
| | | |
| --- | --- | --- |
| No. | Owner | Number of houses |
| 1. | Salim Muhammad Abu El Teen | One house |
| 2. | Mahmmoud Muhammad Al A'raj | Two- storey building |
| 3. | Maher Muhammad Radwan | One house |
| 4. | Musa 'Eid El Sheik | Three- storey building |
| 5. | Walid 'Ata Rabah | One house |
| 6. | Nasr Abu Atin | Three- storey building |
| 7. | Muhammad Abu Atin | Three- storey building |
| 8. | Nabil 'Ali Abu Atin | One house |
| 9. | Dr. Omar Radwan | Two- storey building |
| 10. | Mahmoud Abu Khiara | Two- storey building |
| 11. | Hattim Zakariya Mahmoud El A'raj | Two- storey building |
| 12. | Jamal Barghouth, | One house |
| 13. | Salim 'Ali Abu Reziq | One house |
| 14. | Samer Jubran | One house |
Source: ARIJ Data base
* Each two- storey building is counted as two houses as two families live in each floor.
Ever since the Israeli governorate started constructing the Segregation Wall in the Palestinian Territory, they knocked down huge number of houses and displaced hundreds of families. This Israeli policy breaches International Laws and the Fourth Geneva Convention, Article 53: (August 12, 1949): CONVENTION (IV) RELATIVE TO THE PROTECTION OF CIVILIAN PERSONS IN TIME OF WAR
– Article 53: Any destruction by the Occupying Power of real or personal property belonging individually or collectively to private persons, or to the State, or to other public authorities, or to social or cooperative organizations, is prohibited, except where such destruction is rendered absolutely necessary by military operations.
Prepared by
The Applied Research Institute – Jerusalem
ARIJ