Nablus governorate: the land of Israeli checkpoints !!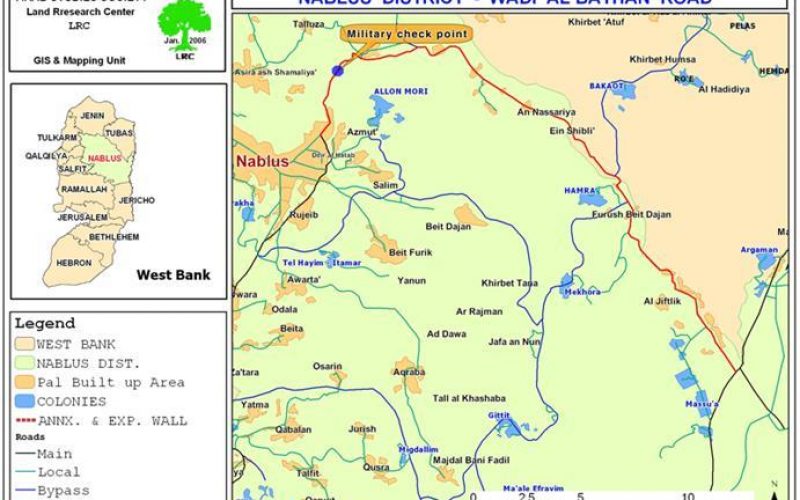 Since the beginning of the second Intifada in September 2000, Nablus city has been cut off from the rest of the West Bank proper by Israeli military barricades, checkpoints and road blocks. Amongst these are the following permanent checkpoints:
1. Hawara checkpoint located on road number 60 that goes to Ramallah south;
2. Beit Iba checkpoint that goes to the cities of Jenin, Tulkarem and Qalqiliay.
In addition, the Israeli army bulldozers cut off the main road between Nablus and Jordan valley which travels through Wadi Al Bathan by digging deep trenches in it. This road, also, connects Nablus with Tubas governorate. See Map 1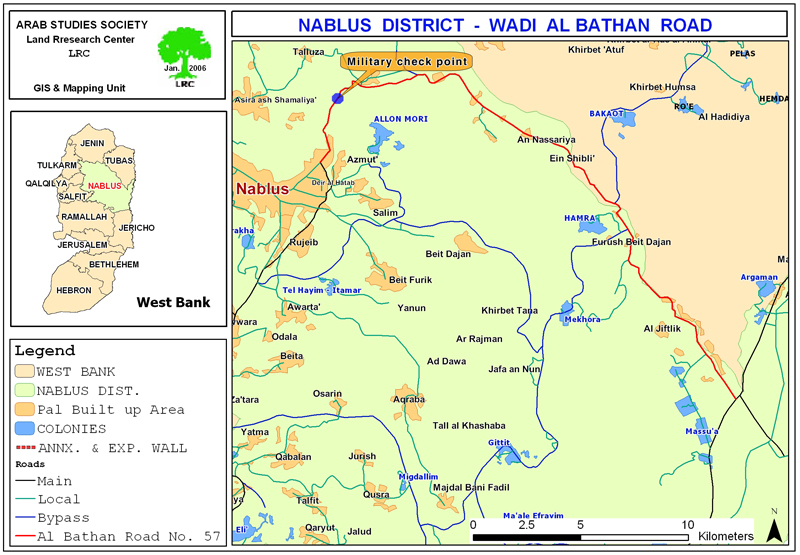 Map 1: the vital Wadi Al Bathan – Jordan valley road number 57
Map prepared by LRC
Few months ago, the Israeli army reopened this road for Palestinian traffic after five years of total closure and became the only passage way between the northern governorates of Tubas and Jenin and Nablus.
However, from the beginning of last December the Israeli army set up a permanent military checkpoint on this road comprised of an armored personnel carrier and a military jeep. Several other ' flying – sporadic ' checkpoints were set up between now and then on various local roads in the area hindering and blockading Palestinian movement in and out of the region. See Photo 1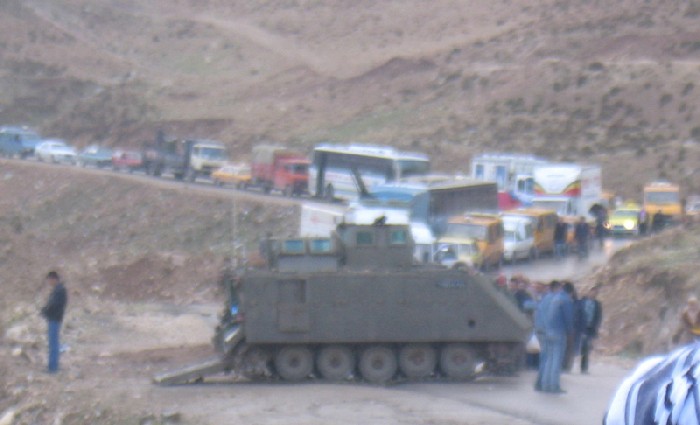 Photo 1: an Israeli armored personnel carrier blocking the
road between Nablus and Wadi Al Bathan
Photo courtesy of LRC
The following is a list of Israeli permanent and sporadic checkpoints in Wadi Al Bathan region north east of the city of Nablus:
1. The permanent checkpoint on Wadi Al Bathan â?? Nablus road number 57 (As Sairafi checkpoint) which is the worst of all;
2. The sporadic checkpoint between Wadi Al Bathan- Wadi Al Fara'a road number 57 ( Bir Khalet Asinan) checkpoint;
3. The sporadic checkpoint between Wadi Al Bathan and Taluza (Khalet Az Zahab) junction checkpoint;
4. The sporadic checkpoint between Tabas and Aqaba;
5. The sporadic checkpoint between Taluza and Asira Ashamaliya.
Impact on Palestinians
1. Separating the city of Nablus from the rest of other cities in the region such as Tubas and Jenin;
2. Creating big traffic jams at these checkpoints;
3. Inaccessibility to work places;
4. Insulting, beating and detaining youth for many hours;
5. Paralyzing economic and social life in the area;
6. Hindering the provision of agricultural products from the Jordan valley to Nablus city- Jordan valley is considered the food basket for the West Bank.
7. Increasing the feeling of depression and frustration amongst Palestinians.
Prepared by
The Land Research Center
LRC