Al 'Auja village between the Jaws of the Israeli Occupation !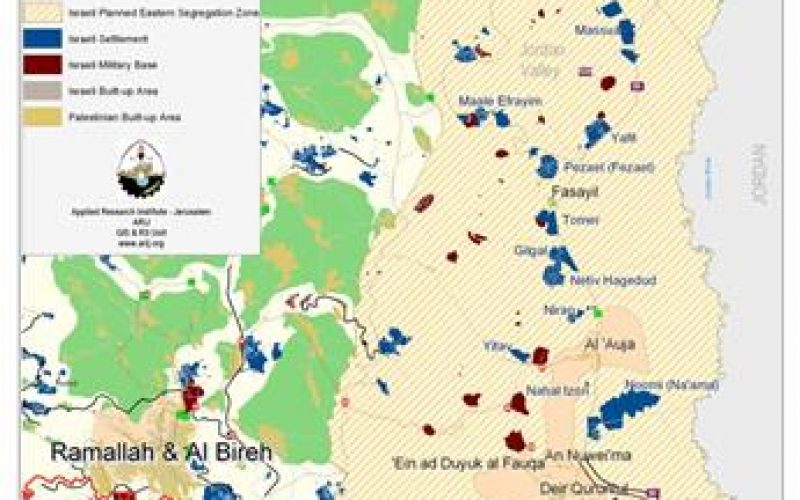 Al 'Auja village
Al 'Auja village is located 10 Kilometers to the northeast of Jericho city. It has a total area of 107,905 dunums; the built-up area comprises 832 dunums and is 230 meters below sea level. Al 'Auja is the home of 4119 inhabitants and it is surrounded by the Israeli settlements of Gilgal, Ni'ran, Noomi (Na'ama), Netiv Hagedud, Yitav and Nahal tzori. After the 1967 war, the Israeli authorities has erected a security zone alongside the Jordan Valley from the north reaching the Dead Sea and as a result about 30,147 dunums of Al 'Auja lands are classified as closed military area where the Palestinians are not allowed to enter. These areas are segregated by erecting a fence along the Jordan River. See Map 1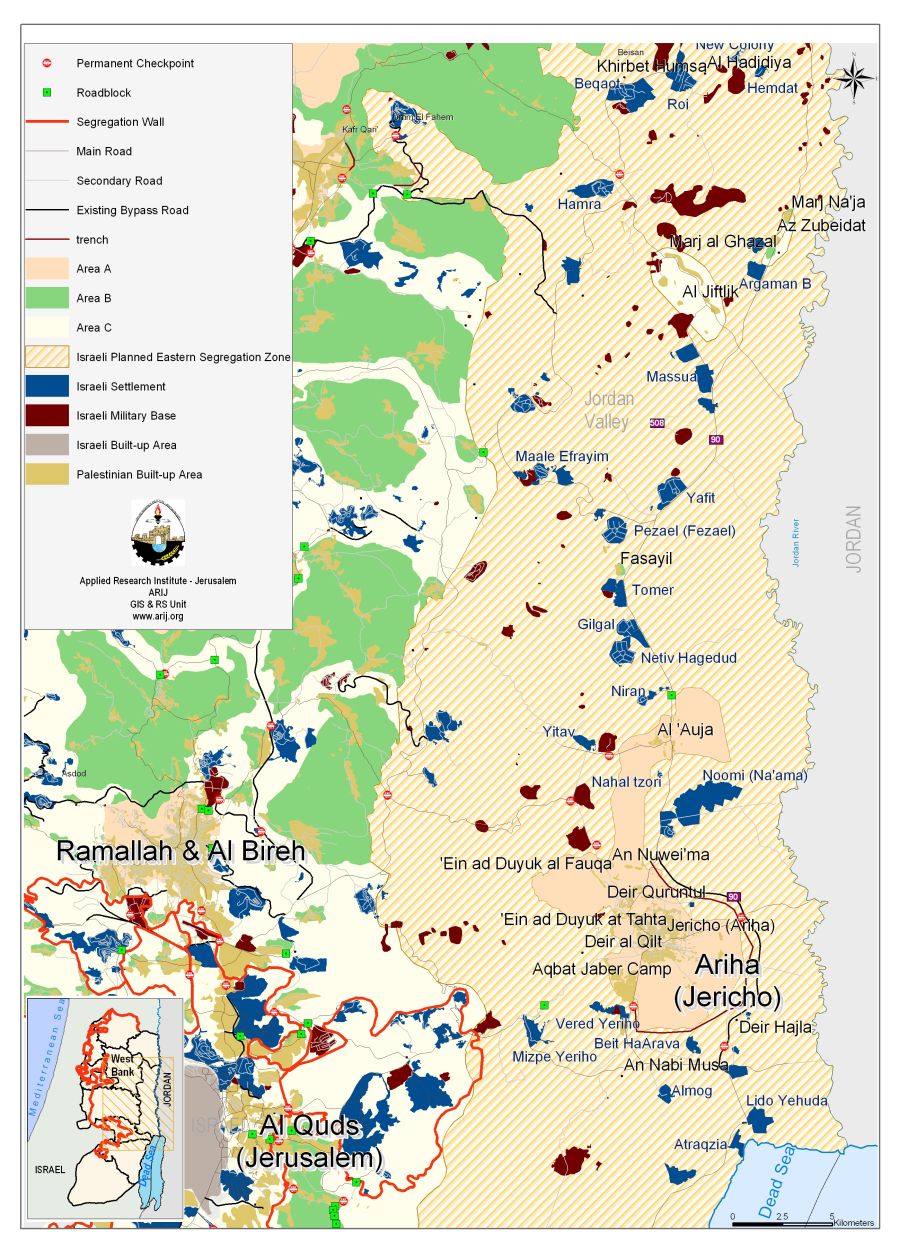 Israeli occupation practices in Al Auja
During the past year the Israeli assaults on the village have escalated. The Israeli Chief Commander Yaer Neve Alof handed Al 'Auja village a series of military orders among which the military order No. T/142/05 (P1, P2 & P3) which was handed to the village council on August 7, 2005, stipulating the confiscation of 10 dunums of lands at favor of transferring and solidifying the existing No'im checkpoint to the bypass road near Yitav junction west of Al Auja. The lands threatened of confiscation are located within Blocks 26 & 43, Parcels 6,11,5 and 1. Palestinians traveling from Jericho to Al Auja and vice versa have to pass by this checkpoint, so that the Israeli military forces would tighten their control over the area.
Furthermore, on September 16th, 2005, the Israeli authorities issued another military order holding the number T/205/05 (P1, P2 & P3) to confiscate 3 dunums and 200 meters of lands located in Block 47, Parcel 2 at favor of constructing the new Ya'eli watch point in the area. See annex I for the scanned military orders.
In continuation of the Israeli violations in Al 'Auja, the Israeli Chief of State and absentee lands Yossi Sigal issued on December 29, 2005, a new military order under number 59 of the year 1967 (order concerning state property, see P1 & P2) to take over 1.194 dunums of lands located within Block 32, Parcel 1 and classify them as a state land. This land lies within a cultivated field, See Map 2.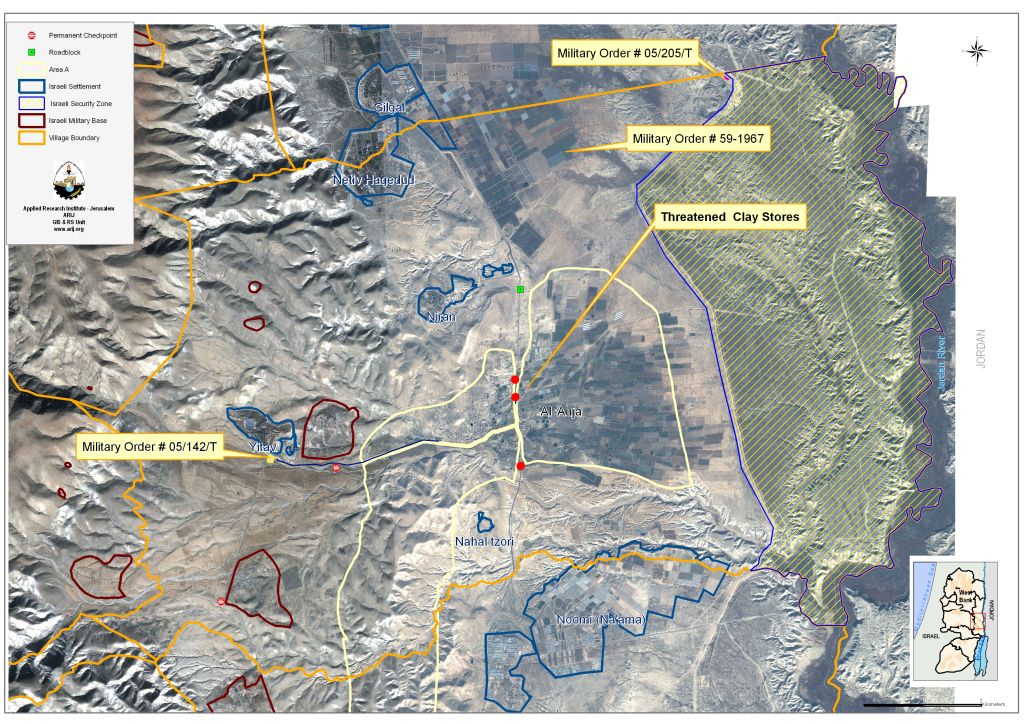 The Israeli violations didn't stop at confiscating lands and demolition activities in Al 'Auja village, but extended to creating a buffer zone that reach to 12.5 meters on both sides of road 90 where the local Palestinians are prevented from displaying their products. and in Al 'Auja village, but extended to creating a buffer zone that reach to 12.5 meters on both sides of road 90 where the local Palestinians are prevented from displaying their products.
Lately in January 2006, the Israeli forces informed the owners of the clay stores, gas station and other commercial stores located on both sides of Road # 90 to close their stores for at least two weeks as a collective punishment for displaying their products for sale on both sides of the road. See Photo 1, Photo 2 & Photo 3
Table 1 below lists the owners of the commercial stores.
Table1: Palestinian owners of the commercial stores
| | |
| --- | --- |
| No. | Palestinian owners |
| 1. | Naser 'Atta Shehada Romanin |
| 2. | Rami Naser 'Atta Romanin |
| 3. | Jum'a Ahmad Suleiman Frejat |
| 4. | Fayez Ahmad Salim Ma'ale |
| 5. | Mazen Ahamd Ibrahim Frejat |
| 6. | Hussein Muhammad Hassan Ma'aydeh |
| 7. | Fahed Muhammad Hussein 'Atiyat |
| 8. | Faysal Hussein Salameh Najoum |
| 9. | Yasser 'Abed El Rahman Sa'ed Najoum |
| 10. | Salah 'Abed El Rahman 'Abed Allah Frejat |
| 11. | Ibrahim Ahmad I'shebat |
| 12. | Imad Suleiman Muhammad 'Atiyat |
| 13. | Osama Mefleh Rashid Sawaftah |
| 14. | Fathi Yousef 'Itefat |
| 15. | Musa Hussein Musa 'Itefat |
| 16. | Ayoub Muhammad Suleiman Najoum |
| 17. | Faris T'aymeh Ka'abneh |
| 18. | Hamza Bader Khalil Tarwa |
| 19. | Suleiman Issa Hussein Romanin |
Source: Al 'Auja village council – 2005
See Map 3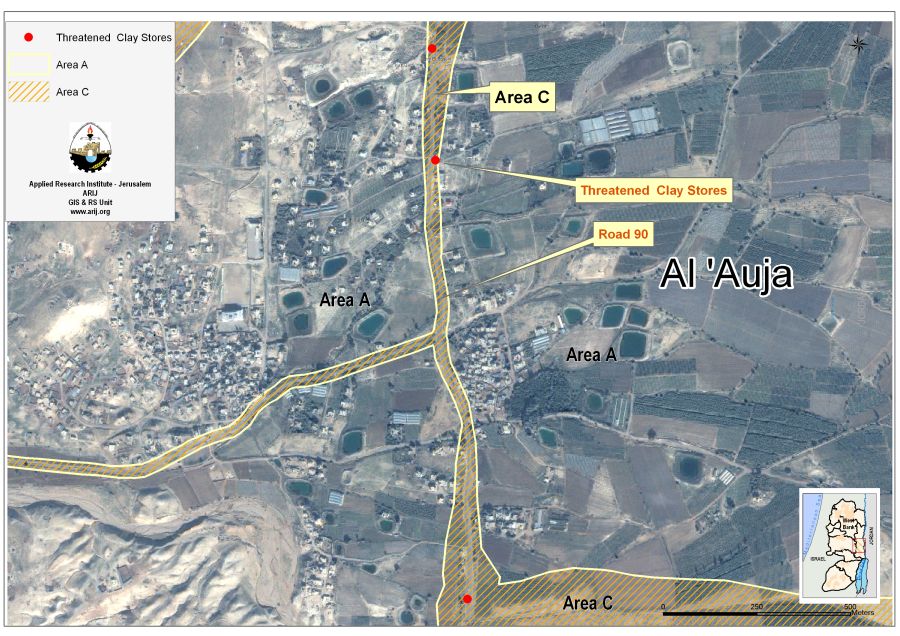 Al 'Auja village and Road #90
Road number 90 cuts through the West Bank from the southeast and runs north along the western shores of the Dead Sea and continues along the Jordan valley. The road bypasses Jericho city from the east and cuts through Al Auja village. Jericho and Al Auja were connected by a road going north from Jericho city and connects with road number 90, this local road was closed by the Israeli military by large blocks. Thus people traveling between Jericho and Al Auja are compelled to take longer routs and pass by Israeli checkpoints. Moreover, Al Auja village is divided into tree parts separated by Road 90 and the road that links road 90 with Yitav settlements, thus making any viable development of the village impossible and separating the agricultural lands from the village center.
Road # 90 is the main road used by the Israeli settlers living along the Jordan valley area and is classified as Area C 'under the full Israeli control' (according to Oslo II – Declaration of Principals). The road has a length of 116 Kilometers in the West Bank, and according to B'Tselem report 'Forbidden Roads' it was classified as a 'partially prohibited road' on which Palestinians are allowed to travel only if they have special movement permits. This permit is called 'Special Movement Permit' at internal Checkpoints in the West Bank' (Lein, 2004). After the outbreak of the second Intifada in September 2000, Israel reduced the Palestinian access to all roads going through the Palestinian Territory, and that made the Palestinian movement very restricted as most of the time Palestinians face risks, vehicle confiscation or detention.
Jericho hand over
Jericho was the first city in the West Bank to be handed over to the Palestinian National Authority according to Oslo I agreement which was signed on May 4, 1994. Al Auja village was also handed to the Palestinians according to the same agreement.
In an initiative to resurrect the peace process, a Palestinian – Israeli summit was held in Sharm Al-Sheikh on February 8, 2005, at favor of re-handing Jericho among other four Palestinian cities to the Palestinian National Authority. The Palestinians and Israelis could not agree on the scope of withdrawal as the Israelis were only willing to withdraw from the inner city areas and maintain control over the checkpoints surrounding those inner cities. The meeting held after, between the Palestinian and Israeli security officials on February 15, 2005, reached no positive results as the Israeli security officials refused to remove the checkpoints located between Al 'Auja village and Jericho city, although both areas are classified as area A according to Oslo II.
Moreover, Jericho city is now surrounded by a trench and is sealed off by the Israeli troops. The Israelis built a 15 km long trench around the city that besiege it from the eastern and southern sides as the trench is constructed along road 90 and totally isolates Jericho from its hinterlands and from the other neighboring villages.
The Israeli settlements surrounding Al 'Auja
Al 'Auja is bounded by the illegal Israeli settlements of Gilgal, Ni'ran, Noomi (Na'ama), Netiv Hagedud, Yitav and Nahal Tzori. Israel confiscated more than 2686 dunums of agricultural lands from the village at favor of constructing the settlements. Table 2 below lists the Israeli settlements bounding Al 'Auja village.
Table 2: TheIsraeli settlements bounding Al 'Auja village
| | | |
| --- | --- | --- |
| Outpost | Date of establishment | Area in Dunums |
| Gilgal | 1970 | 166.5 |
| Ni'ran | 1981 | 421.7 |
| Noomi (Na'ama) | 1979 | 347.5 |
| Netiv Hagedud | 1975 | 769.1 |
| Yitav | 1970 | 481.9 |
| Nahal tzori | 1981 | 50.3 |
Source: ARIJ GIS Data base-2005
Land Use/ Land Cover in Al 'Auja village
According to ARIJ database, 11,065 dunums (11.065 km2) of Al 'Auja's lands are agricultural lands, of which 7,526 dunums (7.526 km2) are arable lands, 3,470 dunums (3.47 Km2) are permanent crops which mainly consist of Vegetables and Citrus, and 68.76 dunums (0.07 km2) are plastic houses. 73.39% of Al Auja�?�¢??s lands are open spaces with little or no vegetation. Table 3 below illustrates the land classification inside the village boundary of Al 'Auja.
Table 3: land classification inside the village boundary
Land classification

Land Use Land Cover (LULC)

Total Area in dunums

Percentage from Al Auja village

Agricultural areas

11,065

10.25%

Water bodies

24

0.02%

Artificial Surfaces

16

0.01%

Open spaces with little or no vegetation

79187

73.39%

Forests and semi-natural areas

12,904

11.96%

Israeli Military Base

1,647

1.53%

Israeli Settlement

2,231

2.07%

Palestinian Built-up Area

832

0.77%

Total village lands

107906

100%
Source: ARIJ Data base- GIS-2002
Annex I
Annex II
MILITARY ORDER Number: 59
Passed on July 31st, 1967
'This defines 'state property' as any property which prior to 7 June 1967 belonged to: 1. a hostile state. 2. Any arbitration body connected with a hostile state. Property can be both movable and immovable and includes such items as money, bank accounts, vehicles, transportation equipment, quarries and mining areas etc. This places all state property in the hands of the Custodian of Public Property. This official has the jurisdiction to negotiate contracts, manage, maintain, develop or otherwise dispose of the property in whichever way he deems necessary. The Israeli official-in-charge also has the right to appoint supervisors to manage the state property and may transfer all his jurisdiction to them, with the exception of the power to appoint supervisors. Severe punishments are to be inflicted on any person attempting to keep control over any state property. Article 5 states that 'every transaction made in good faith between the Custodian and another person concerning property which the Custodian considered, at the time of making the transaction, to be state property, shall not be cancelled and shall continue to be binding even if it is proven that the property in question was not state property at the time when the transaction was made'.
Amended By:
Military Order 116, This adds the phrase 'in general to a certain type of property or to a particular property' to article 1 and adds ' to whoever steals state property' to article 6.

Military Order 199, This replaces the term 'Military Commander' with 'Area Commander.'

Military Order 214, This specifies that nothing contained in Military Order 59 will reduce the jurisdiction of the Military Commander or his delegate to confiscate government chattels that could be used for military operations.

Military Order 247, This adds new clauses concerning methods of using government monies.

Military Order 364, This expands the definition of 'state property' to include any property whose owner is unable to prove before a military committee (according to the rules of evidence which they determine) to be his private property.

Military Order 1007, 'Any person occupying state property without permission will be prosecuted'.

Military Order 1091, 'State property' is now interpreted as including any property subject to an expropriation order. It is defined as: 1. 'Property that on the date of occupation or afterwards was registered in the name of an enemy state, or any organization or company linked or controlled directly or indirectly by a hostile state'. 2. 'Land that has been confiscated in the public interest in accordance with legislation or security legislation through or for one of the sectors/ authorities of the Israeli military forces which is not necessarily local'. 3.' All property which belongs to individuals who have requested that the official authorities administer and manage their properties, and which the official has consented to administer.'

Military Order 1308�?�¢?? (Israeli Military Order manager).
References:
Israel Law Resource Center, (n.d.). Israeli military order manager. Retrieved Jan. 19, 2006, from Israeli Military Orders List Web site: http://www.israellawresourcecenter.org/cgi-bin/browse.py?sectionname=laws&action=view&item=1.
Prepared by
The Applied Research Institute – Jerusalem
ARIJ