Confiscation of more lands for military uses in Brugin village.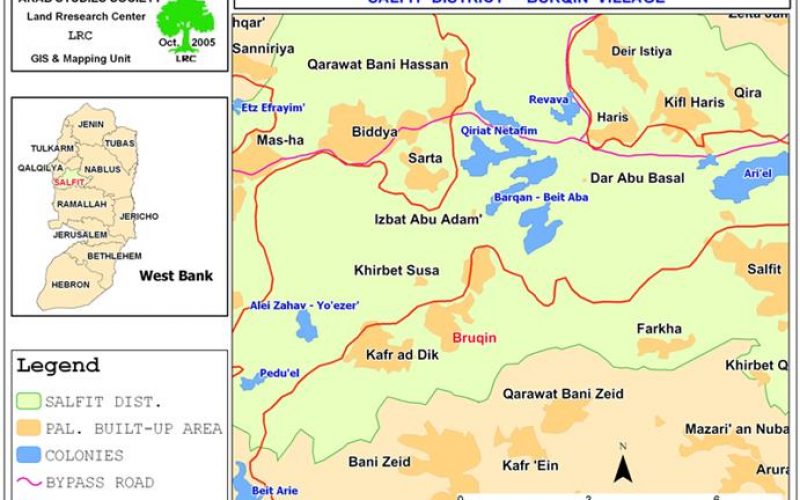 Bruqin village is located 12 km to the west of Salfit city. It has a population of about 4000 inhabitants of whom 80% were working inside Israel before the outbreak of the second Intifada in September 2000. Today, about 65% of the population works in agriculture after loosing their jobs inside Israel. The village is considered amongst the most agricultural villages in the district of Salfit because of its fertile lands.
Bruqin's total area is 13237 dunums, out of which, 1336 dunums are occupied by the built up area; while the rest of the lands, are classified as agricultural and grazing fields. See map 1: location of Bruqin village.
New land confiscation order
In September 2005, the Israeli army issued a new military order stipulating the confiscation of 23.5 dunums from Bruqin lands. The targeted lands are fertile agricultural plots located in Khirbet Al Fakhakheir, basin 2, at the northern entrance of the village. The lands are owned by brothers Ahmad and Mohammed Abdul Rahman, 'Ata Ahmad and others. The Israeli army declared that the confiscation was done for military and security purposes aiming at establishing a military observation point (military watch tower) over Bruqin lands. See photo 1: copy of the new military order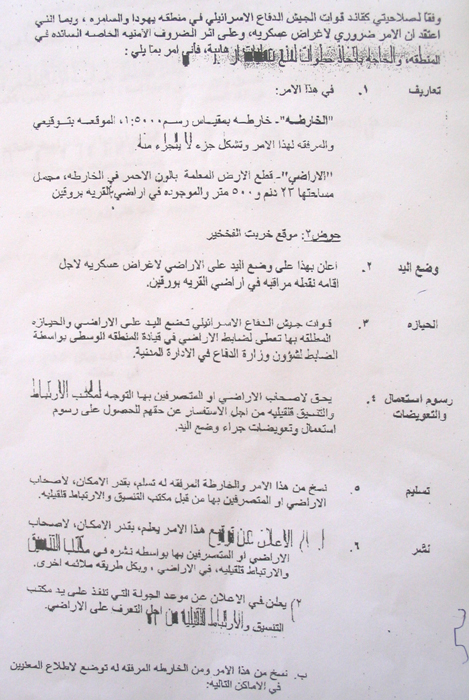 Bruqin village, throughout the previous years, has been exposed to a continuous wide scale campaign of land confiscation and colonial expansion where a number of Israeli settlements were built or expanded on the village's lands, mostly after the signing of Oslo agreements in the year 1993. Amongst those settlements is the settlement of Barqan in the northeastern side of the village (established in the year 1981 and currently houses a population of 1215 in the year 200 – source Foundation for Middle East peace). In addition, the Israeli occupation authorities built a constructed a number of bypass roads around the village at the expense of lands confiscated from the village. According to Bruqin's village council, almost two third of the village's land is currently in the grip of the Israeli occupation authorities.
Impacts of the new military order
Once the military tower is erected, the following impacts are expected:
1. Obstructing the movement of village's citizens in and out of the village; thus depriving them their right to access their fields, especially at the Olive Harvest Season.
2. Creating a state of terror and fear as the targeted piece of land where the tower is expected to be installed is located only 400 meters from the village's residential area.
It is worth mentioning that the village residents and village council have strongly objected the aforementioned confiscation order to the Israeli Military Objection Committee at Beit Eil, but, yet, no avail.
Prepared by
The Land Research Center
LRC