Settlement expansion and loss of Wadi Fukin's land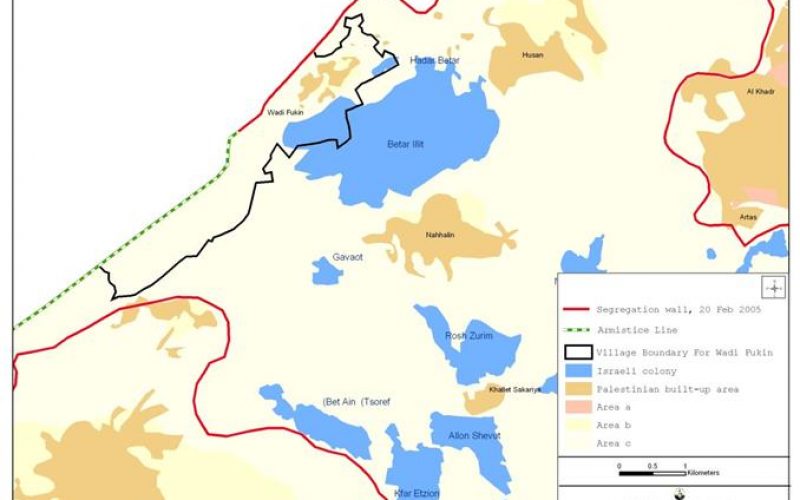 Background:-
Wadi Fukin village is located in one of the most greenly parts of Bethlehem Governorate and lies 8 km to its west. The village is also approximate by 0.5 km from the Armistice Line (the Green Line: the Internationally recognized border between Palestine and Israel). Today, the village of Wadi Fukin has approximately 881 residents (PCBS 2005), where seven major clans known as Sukkar, 'Atiya, Al Hroub, Mfreh, 'Asaf and Al 'Aqra' occupy the 201 dunums (0.201 Km2) built-up area.
The village is a blossoming place famous for its agricultural products such as Grapes, fruits, Almond and Olive Oil. Such products play a crucial role in the economy of the village. The semi Mountainous lands of Wadi Fukin also provided the villagers with good grazing areas and open spaces to utilize. In addition, the village has a variety of social facilities detailed in Table (1) below:-
Table (1); The number of social facilities in Wadi Fukin village 2005.

1-Schools

1 elementary school (300 Students)

2-Kinder gardens

1 kinder garden (50 students)

3- Pharmacies

1

4- Sport Clubs

1

5- Mosques

1

6- Associations!) & charities

2

7- Clinics

1

8- Factories

1 Stone Factory

9- Bus stations

1

10- Village councils

1

11- Highway Streets

1
Source: Wadi Fukin Village Council.
The Israeli settlements neighboring Wadi Fukin village
Today, two illegal Israeli settlements: Hadar Betar to the east and Betar Illit to the southeast are neighboring the Palestinian village of Wadi Fukin. The two settlements were established on lands originally owned by Palestinians and continued to expand throughout the years to finally occupy about 12% of the village's total area (4.35 km2). Table (2) below shows details of the expansion rate of both settlements throughout the period of 1996 and 2003.
Table (2): The Expansion rate of Hadar Betar and Betar Illit settlements during the period of 1991 & 2001.
NAME

District

Year of Establishment

Area

Area

Area 1996

Area

2001

2000

(dunum)

1991

dunum)

(dunum)

( dunum)

Hadar Betar

Bethlehem

1978

74

74

37

20

Betar Illit

Bethlehem

1985

3202

3145

1390

430

TOTAL

3276

3219

1429

450
Source: ARIJ GIS Database 2004
Close by on the other side of the 1949 Armistice line there is the Israeli town of Mevo Betar. The close location of Hadar Betar and Betar Illit to the 1949 Armistice Line and their proximity to the Israeli town Mevo Betar on the other side of the line make these settlements likely targets for formal annexation to Israel in the future.
Settlers' violations against Palestinians of Wadi Fukin:-
Settlers living in Betar Illit and Hadar Betar settlements often behave violently with the Palestinians of Wadi Fukin village and the nearby Palestinian villages. Sometimes settlers would hinder villagers from utilizing their lands that are located in the vicinity of both settlements' area, uproot their trees, or even destroy the field crops by pumping deliberately the wastewater coming out of the settlements into the cultivated land of the village. Such attacks caused tremendous economic losses and health problems to the inhabitants of Wadi Fukin. The reason behind such actions is the purpose of colonization, mainly settlements' expansions. See map of location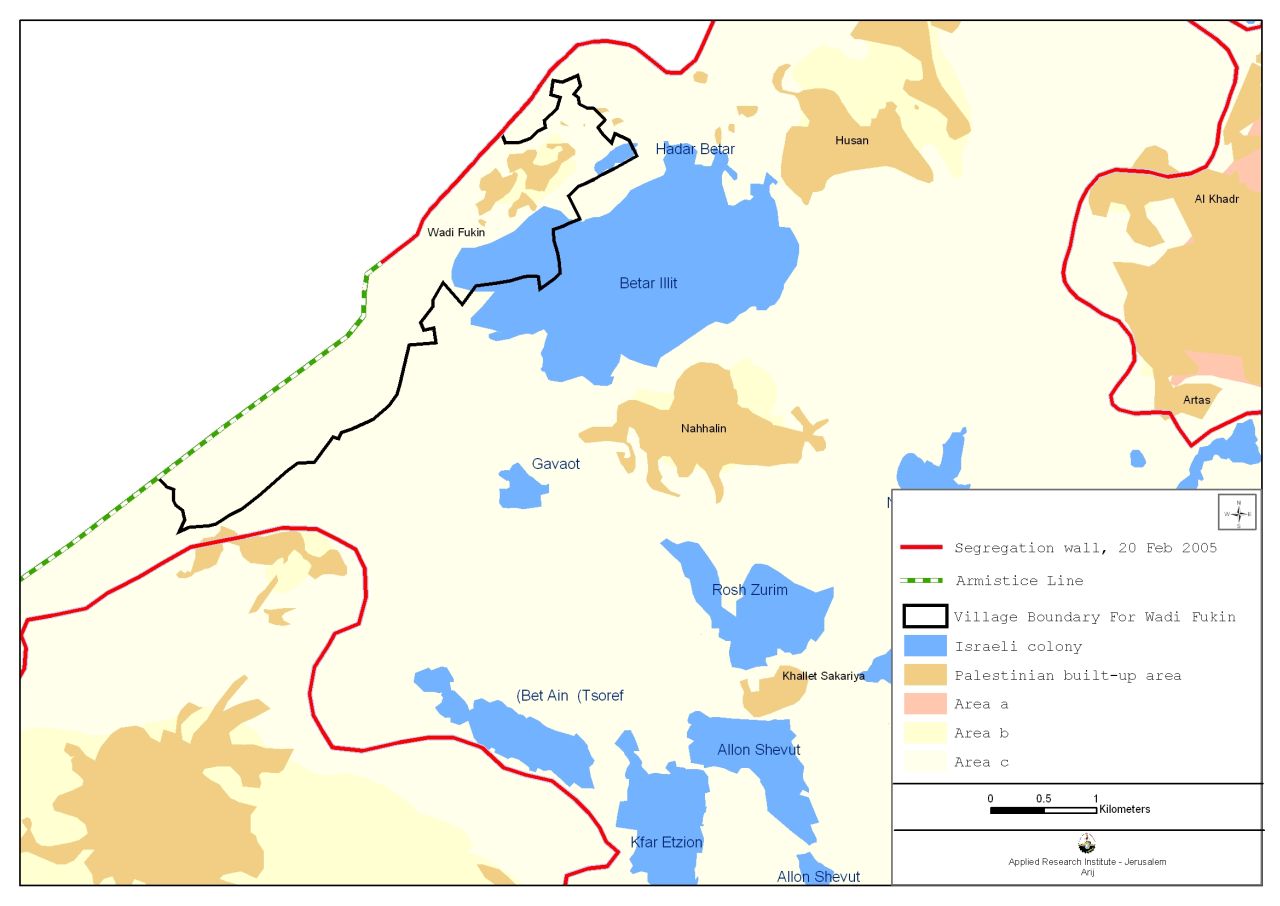 Source: GIS Data Base 2005
Settlements part of Gush Etzion Bloc:–
Both Hadar Betar and Betar Illit are those settlements in the Etzion Bloc of settlements, which carry out constant expansion to their built-up area and housing units throughout the years. The Gush Etzion Bloc is one of five Israeli settlement Blocs located in the West Bank (Qiryat Arba', Gush Etzion, Ma'ale Adumim, Modi'n & Ariel) that the Israeli government declared to maintain under its control.
This bloc consists of 12 settlements built on lands confiscated from Palestinians and spreads nearly over the entire western area of Bethlehem Governorate. The distribution of the Gush Etzion settlements cuts off the Palestinian communities of Wad Fukin, Battier, Husan, Nahhalin, & Al-Jab'a from each other and from the city of Bethlehem. See Table (3) below and map of Etzion Bloc.
Table (3): Israeli settlements included within the Gush Etzion Bloc.
| | | | |
| --- | --- | --- | --- |
| | Settlementname | Area in Dunums | Year of Establishment |
| 1. | Kfar Etzion | 903 | 1967 |
| 2. | Rosh Tzurim | 882 | 1969 |
| 3. | Alon Shevut | 817 | 1971 |
| 4. | Elazar | 470 | 1975 |
| 5. | Hadar Betar | 58 | 1978 |
| 6. | Efrat | 2133 | 1979 |
| 7. | Neve Daniel | 567 | 1982 |
| 8. | Geva'ot | 134 | 1984 |
| 9. | Betar Illit | 4188 | 1990 |
| 10. | Beit 'Ayin | 390 | 1989 |
| 11. | far Etzion Military Base | 100 | 1976 |
| 12. | Migdal Oz | 1078 | 1977 |
| Total | | 11720 | |
Source: GIS Database 2005
The bypass system intersecting Wadi Fukin village:-
The network of bypass roads in Bethlehem Governorate occupies an area of 19 Km2 (3.1% of the Governorate's total area (608 Km2) and contributes much in reshaping the topography of the governorate to befit the Israeli policies.
Today, a 6 kilometers bypass road numbered by 375 dissects Wadi Fukin lands and separates it from the neighboring Palestinian villages: Battir, Husan and Al Khader. This bypass road stretches from the northeast of Wadi Fukin (Armistice Line), passes along Betar Illit and Hadar Betar settlements to finally intersect with bypass road 60 in the east (the main north-south artery of the West Bank). The bypass road is guarded by the Israeli Police who often control the movement of Palestinians using it.
The Israeli Segregation Wall affecting Wadi Fukin
The Israeli segregation wall plan was subjected to several changes since its inception in June 2002. The preminilary suggested the confiscation of 18% (1024 Km2) of the West Bank, at the same time stretching 734 km along the Western portions of the West Bank. The wall map was later updated in June 2004 to confiscate 11.7 % (633 Km2) of the West Bank area while shifting parts of the Wall to the Armistice Line and the exclusion of a number of secondary walls.
Bethlehem Governorate, and according to June 2004 wall map, was threatened to lose vast areas of its agricultural lands due to its proximity to Jerusalem and the existance of Israeli settlements which are mostly concentrated in the western rural areas of the Governorate such as Battir, Husan, Al Khader, Nahalin, Al Jab'a and Wadi Fukin. According to June 2004 wall map, Battir and Husan villages were to become entrapped in one ghetto, Nahalin in another Ghetto, Al Jab'a to be included within Hebron Ghetto, cutting it off from Bethlehem Governorate while leaving Wadi Fukin out of the Ghetto but annexing it to Israel. See Map 2 below: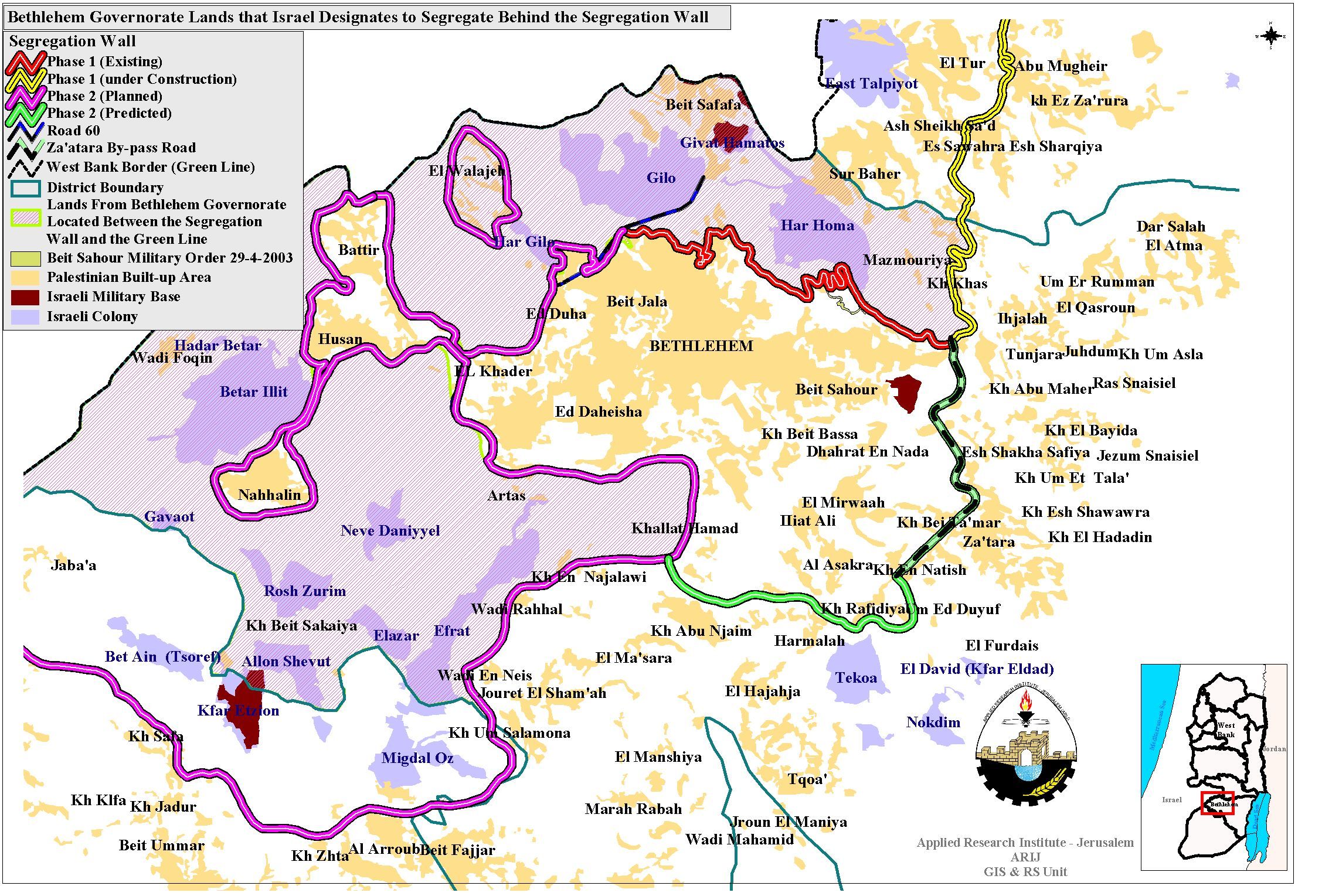 Map 2: Updated wall map of June 2004
Source: ARIJ GIS Database 2004
The Israeli Government endorsed another 'updated wall route' on February 20, 2005, which suggested a change in wall path in the center and southern Palestinian areas, mainly those close to Jerusalem city. The update included 10% (565 Km2) of the West Bank's area, and stretching 653 km along the western portions of the West Bank.
Bethlehem Governorate also witnessed a change in that the new wall route will no longer put Bethlehem western villages such as Battir, Husan, Nahalin and Wadi Fukin in separate ghettos; rather, entrapped in a big ghetto with a single exit to Bethlehem area. See Map below and Table 4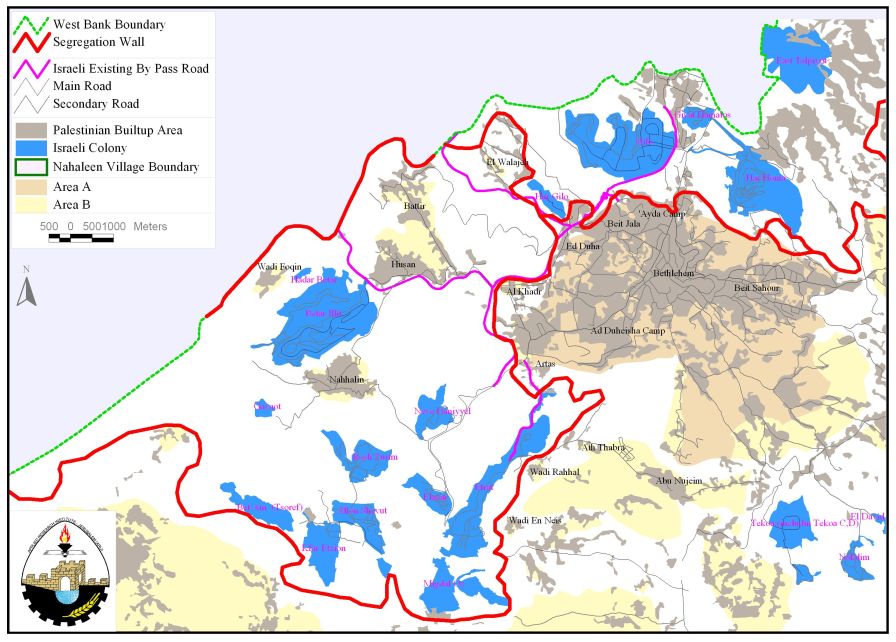 Update wall map of Februray 20, 2005
For more information, click here
Source: GIS Database 2005
Table (4): Land Use Land Cover of Beit Fukin
| | | |
| --- | --- | --- |
| | Land Use/Land Cover inside the main wall and within the West Bnak Boundary | Land Use/Land cover between the Armistice Line and the Wall. |
| land area | 3206 | 1039 |
| Israeli settlements area | 20 | 31 |
| | 3226 | 1070 |
Source: ARIJ GIS Database 2005
New military orders in Wadi Fukin
On March 17, 2005, the Israeli occupation forces handed out the residents of Wadi Fukin 12 military orders stating the seizure of 885 dunums of agricultural lands cultivated with Grapes, Almonds and Olive trees; additionally, the residents were handed out other military orders to demolish 7 water wells and walls, uproot several Olive, Almonds and Vine trees. Table (7) below show details of the military orders given to villagers of Wadi Fukin, giving two examples: one is about the military orders given to Wadi Fukin villagers about their lands, second is about the military orders given to Wadi Fukin villagers their Rainwater harvesting systems.
Table (5); Israeli military orders handed out to Wadi Fukin villagers (March 17, 2005).

Evacuation orders for agricultural lands

Number of orders

Y

X

0129

208396

622137

0129

20870

62272

0129

208315

62228

0128

208369

622350

0128

208520

622246

0128

208380

622060

0127

208645

621967

0127

208219

622013

0127

208360

621950

0126

207904

621412

0126

207877

621357

0126

207931

621522

Work prevention orders for the rainwater harvesting system.

Number of orders

Y

X

121651

208367

621958

121650

208209

621804

121653

208409

622245

121652

208365

622079

121654

208402

622131

121655

208419

622263

140309

2101428

62431
According to Wadi Fukin Village Council, the military orders will confiscate, in addition to lands, 13 Rainy-water systems, one water well and six water springs (Al Quds, Al Bald, Al Tena, Um Deek, Al Fuwara and Al Siddeeq). The well and the water springs discharge about 90,000 m3 yearly and are used for drinking, husbandry and irrigation purposes.
Villagers of Wadi Fukin fear that if these military orders are implemented, they will no longer be able to access their lands, water wells and springs which in turn would lead to agricultural and economic losses since Wadi Fukin Village depends much on agriculture. Vegetables and crops will be disposed because of water shortage and the unavailability of irrigation systems.
Conclusions:-
Israel's Segregation wall is a policy of annexation of Palestinian land. It added tremendous hardship for the Palestinian people and added significant impacts on their lives. Concerning the agriculture sector, the Palestinians lost their lands and natural resources due to wall constructions and settlements' expansions; such actions caused great consequences and challenges on the Palestinian economy.
Israel continues to violate its obligations as an occupying power under international law to ensure that the rights of the Palestinian population can be met.
The International Covenant on Economic, Social and Cultural Rights (ICESCR) – Food (ICESCR, art. 11): The States Parties to the present Covenant recognize the right of everyone to an adequate standard of living for himself and his family, including adequate food, clothing and housing, and to the continuous improvement of living conditions. The States Parties will take appropriate steps to ensure the realization of this right, recognizing to this effect the essential importance of international co-operation based on free consent.

The International Covenant on Civil and Political Rights (ICCPR) – Property (ICCPR, article 1): All peoples have the right of self-determination. By virtue of that right they freely determine their political status and freely pursue their economic, social and cultural development.
References:
Wadi Fukin Village Council .

ARIJ GIS Database 2005/2005.

The International Covenant on Civil and Political Rights (ICCPR) – (Article 1 & Article 11).
Related Links:-
Prepared by:
The Applied Research Institute – Jerusalem