Enlargement of Enav colony under security claims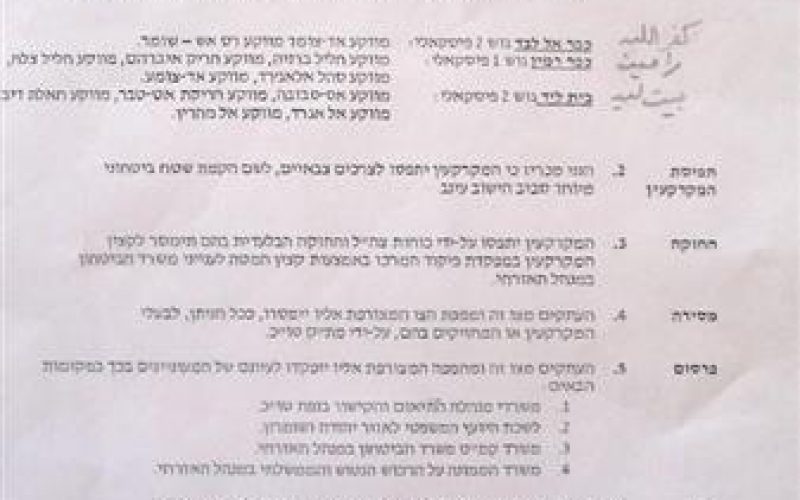 The Israeli military issued a new land confiscation order against the lands of the Palestinian villages of Beit Lid, Kafr al Labad and Ramin in Tulkarem governorate. The order which was issued on April 9th, 2005, carries the number of T/68/05 and stipulates the confiscation of 134.7 dunums of lands under the pretext of constructing a new ' security fence' around the settlement of Enav.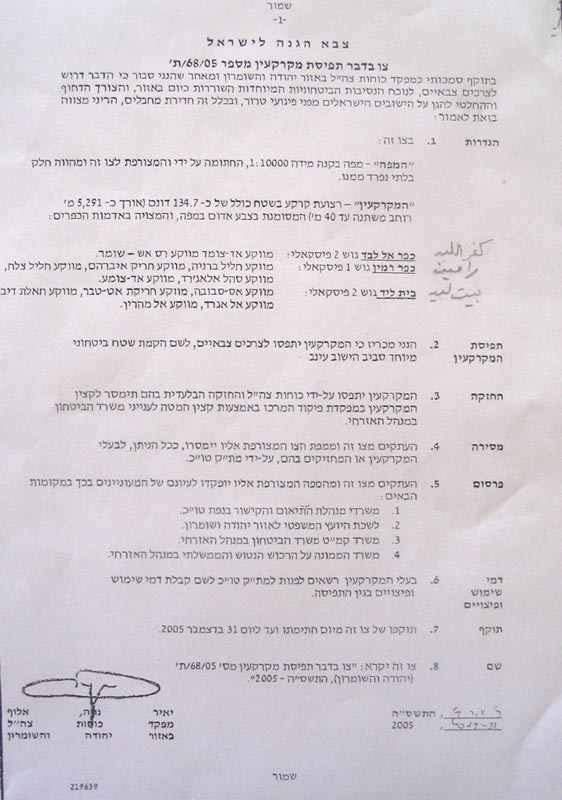 Photo1: Copy of military order
The settlement of Enav
The settlement of Enav was established in 1981 over lands confiscated from Beit Lid, Kafr al Labad and Ramin villages. In 2003, Enav had the population of 473 settlers according to the Foundation For Middle East Peace. The three villages are located to the southeast of Tulkarem city and have a total population of about 11000.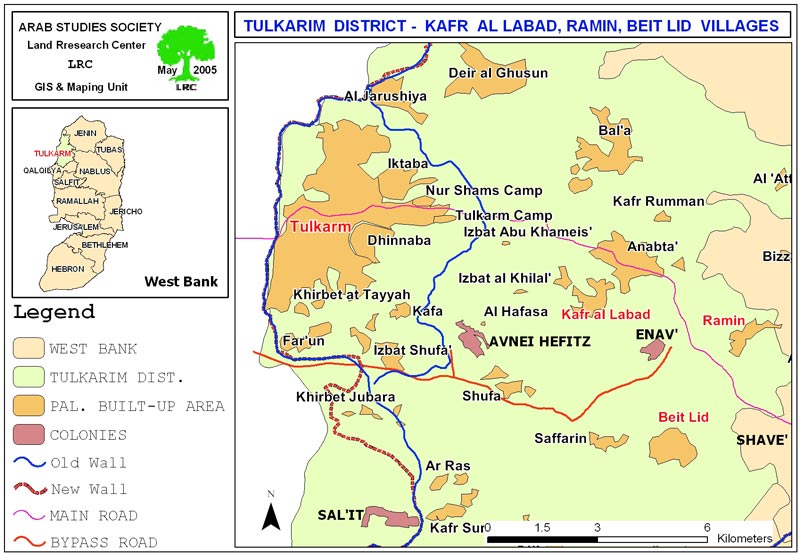 Map 1: Location map
Analysis of Military order:-
According to the military order, the proposed 'security fence will have a maximum width of 40 meters and a length of 5291 meters. The 134.7 dunums, expected to be confiscated according to the military order, will be devastated under the path of the fence. In addition to this, the following agricultural areas will be trapped between the old fence and newly planned fence:
1. 600 dunums northwest of Beit Lid;
2. 500 dunums south of Kafr al Labad;
3. 100 dunums southwest of Ramin
It is worth mentioning that ever since its establishment, the settlement has been surrounded with a 39;security fence' and there is no need for another one. Therefore, the real aim behind this confiscation is the enlargement of the above mentioned settlement at the expense of Palestinian lands and under the pretexts of safeguarding the settlements security (a pretext often used as a cover for colonial expansion in the West Bank and Gaza Strip). The construction of this fence will, also, lead to the uprooting of at least 3000 long-lived olive trees under the path of the fence.
Conclusion:-
The settlement of Enav is located in the middle of the three aforementioned Palestinian villages; therefore, the proposed fence will cut any geographical contiguity between them. Furthermore, the main Tulkarem- Nablus road will be cut off by this fence which, consequently, will be separated between the city of Tulkarem and its eastern environs, including the governorate of Nablus.
The affected Palestinian land owners and farmers presented legal cases to Israeli courts against these latest land confiscation orders through lawyer Fathi Shubaita, but have got no response yet.
Security fenceas known to the Israeli Government.
Prepared by
The Land Research Center
LRC