Israel Isolates the Northeastern Sector of the West Bank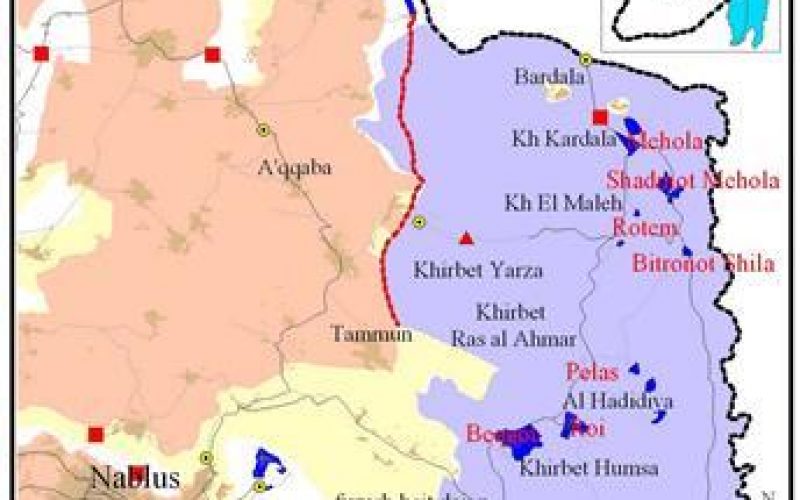 The Israeli Army closed-off the northeastern zone of the West Bank for no apparent reason and declared it as ''Military Zone'' where no one can enter or leave the area without proper authorization from the Israeli authorities.
The Israeli Army closed two ''Iron gates'' that are set on the road among 15 Palestinian rural communities along the northeastern sector of the West Bank and the nearby central cities: Tubas, Jenin, Nablus & Jericho. The targeted zone include also 10 illegal Israeli settlements whose only purpose is to drive the Palestinians out of their houses and lands as they are not living up to their facade as farmers. The following table shows the Palestinian localities and the Israeli settlements that exist in the area.
Table of Palestinian communities and illegal Israeli settlement located in the northeastern sector of occupied West Bank

Palestinian Locality

Population

Israeli Settlement

Population

1

Bardaleh

1579

1

Mehola

367

2

Ein Al-Bida

1072

2

Roi

129

3

Kardaleh

166

3

Hamra

167

4

Aqqaba

6005

4

Beqout

155

5

Farasiehieh

212

5

Sidamot Mehola

445

6

Hadidieh

187

6

Hemdat

92

7

Malleh

209

8

Frush Beit Dajan

1165

9

Khirbit Ras Al-Ahmar

67

10

Khirbit Tal Himia

96

11

Khirbit Al-Kharoubeh

37

12

Ibziq

48

13

Khirbit Al-Humsah

31

14

Daher Al-Malleh

211

15

Khirbit Yarza

34

Total

12019

Total

1355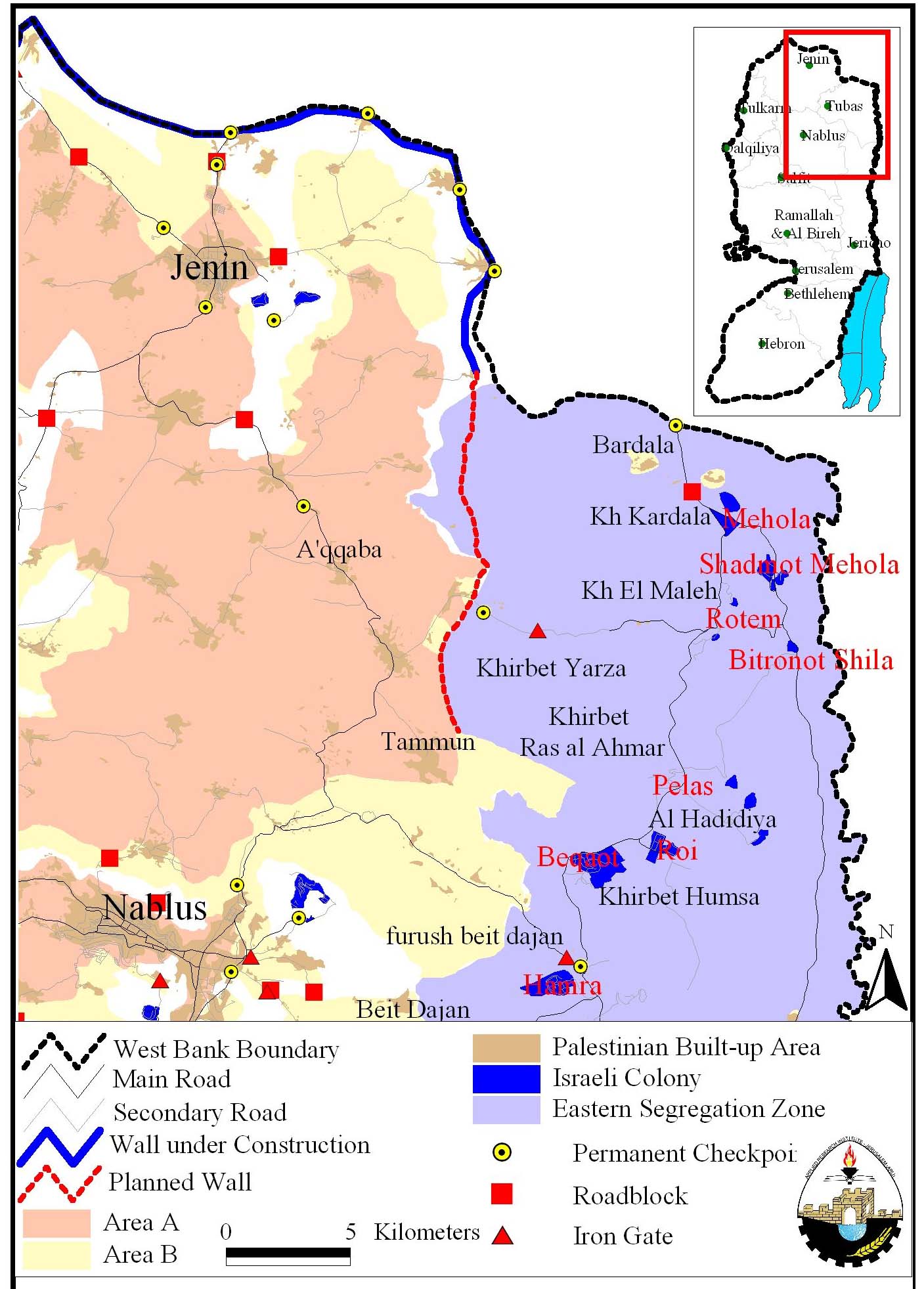 Despite the Israeli decision to close the northeastern sector of the West Bank came out unprovoked, it indicates Israel's intention to carry on with the ''Eastern Segregation Wall'' which extends east of Jenin district along the Jordan valley to the south of the West Bank. The estimated length of the Eastern Segregation Wall is 205 Km and the Israeli Army already completed the Work on 40 Km north of the West Bank from Jenin governorate to the area recently declared as an Israeli military zone.
The area that falls under the threat of 'annexation' at the targeted sector of the West Bank is estimated at 30,000+ Dunums (12,000 Acers) of land owned by the 11076 Palestinians living there. The area also include 6 illegal Israeli settlements accommodating 1355 Israeli settlers in addition to more than 30 Israeli military bases scattered randomly and extensively in the targeted area.
Israel's objective is to steal more Palestinian lands prior to a peace agreement with the Palestinians; besides, it is desperately attempting to push out the Palestinians from their lands under the threat of annexation by the internationally pronounced illegal Segregation Wall that Israel plans to build along the eastern border of occupied West Bank allegedly for security reasons.
Prepared by:
The Applied Research Institute – Jerusalem