Apartheid Resurrected !!! Israel seeks Palestinian land without Palestinians!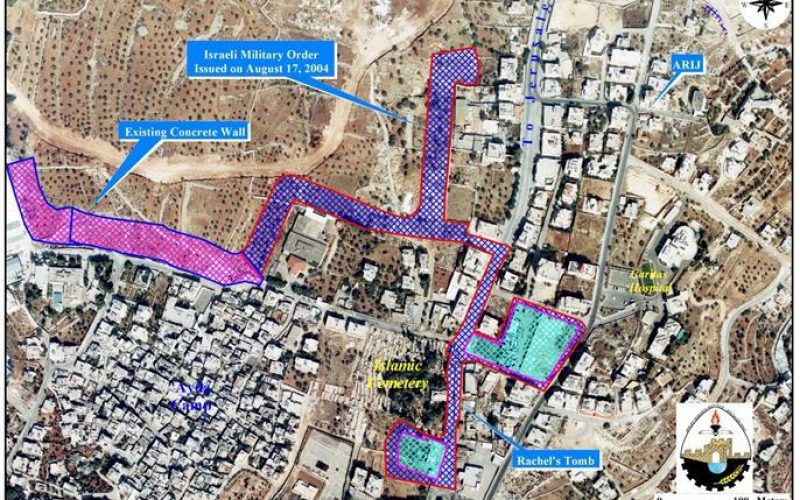 Friday, August 27, 2004, the Israeli Army handed out Palestinian residents living at the northern entrance of Bethlehem – Rachel Tomb Area- a second amendment to previously issued military order holding number 03/14/T to seize land area (26.5 dunums) within the vicinity of the Tomb to build the Segregation Wall. The new amendment came as a final compromise from the Israeli Army in this area as the new route of the Segregation Wall will disengage Palestinian houses situated in the threatened area from being integrated within the Segregation Wall. See location map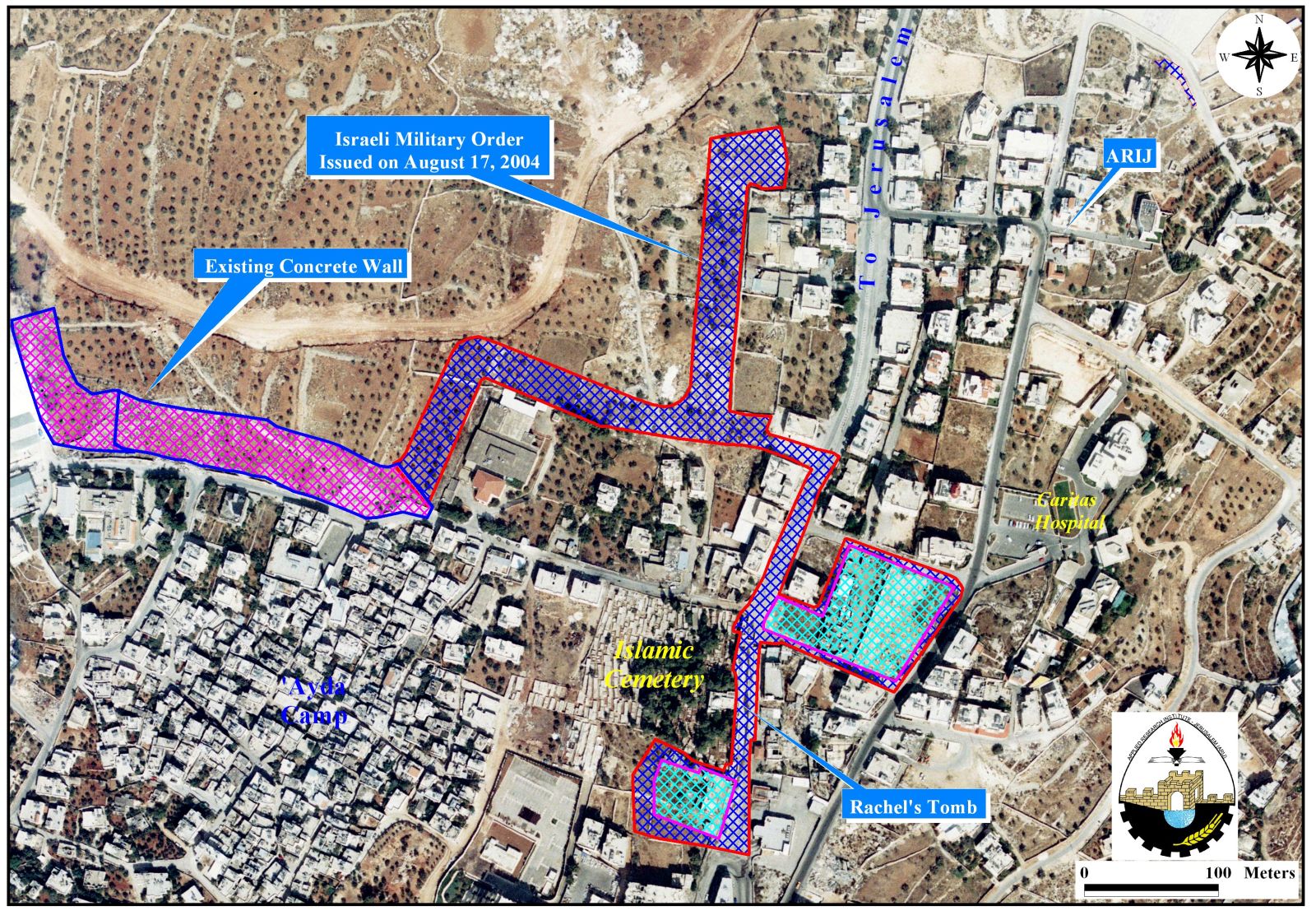 The Israeli stood down in this affair as a result of the exerted pressure applied by the Palestinian residents living in that area; mainly exemplified by an organized campaign that included (1) filing a legal case against the Israeli Ministry of Defense at the Israeli Supreme Court of Justice regarding its plans to build the Segregation Wall in Rachel's Tomb area, (2) intense media campaign illustrating the devastating effects of the Segregation Wall & finally (3) the milestone decision of the International Court of Justice (ICJ) which denounced the Israeli Segregation Wall in the occupied Palestinian territories and called for its abolition.
Conversely, the Israeli decision to reroute the Segregation Wall at Rachel's Tomb area for the second time was not at all an upshot of pressure, as the new changes reflect and emphasize Israel's Apartheid policy practiced against the Palestinian residents of the Occupied territories for the past 37 years of Israeli Occupation. The latest version of the Israeli Segregation Wall at Rachel's Tomb area virtually takes out all that is Palestinian from the area which Israel plans to annex once the Segregation Wall is completed. Furthermore, the only reason to make Israel exclude all the Palestinian houses from the area threatened for confiscation is that the former always intended to annex the ''Palestinian free'' land.
However, even with the new Israeli routing of the Segregation Wall that excludes Palestinian inhabitants, the new plans barricade many Palestinian residences and stores in the area from the main road forcing them to open new and costly alternative accesses to reach their houses and stores, which consequently will suffer depreciation in their value.
In other words, Israel did not really back down with regard to building the Segregation Wall and confiscating of Palestinian lands; it just preferred to do so without having to deal with Palestinians; only with whatever lands they own. The route of the Segregation Wall will maintain its original routing that closes-off the main entrance of Bethlehem and Segregates thousands of cultivated (olive trees) Palestinian lands behind it; thus denying their Palestinian owners access to these lands.
Related Links
Prepared by:
The Applied Research Institute – Jerusalem