The wall constructions south of Jerusalem and the strangulation of Beit Jala town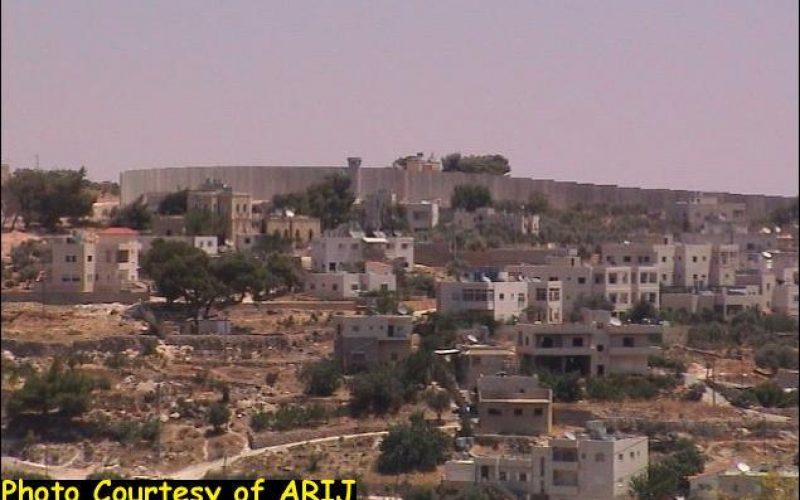 Despite the ICJ decision on July 9, 2004 regarding the illegal construction of a Wall through the West Bank, Israel is intensifying its unilateral actions in the Occupied Palestinian territories and continues to construct the Segregation Wall.
Israeli Prime Minister Ariel Sharon's policy of disengagement and separation is being put into effect in an ever accelerating pace, especially after the Defense Minister's call -Shaoul Mofaz- last Friday (July 28, 2004) to start the construction of the 3rd phase of the Wall south of Jerusalem city, from Beit Jala to Hebron. The construction of the wall will further continue the formation of Bethlehem enclave. Bethlehem is currently surrounded by 15 km of Segregation Wall with an Israeli approved plan of an additional 35 km of wall that was recently put under construction. See Photo of Wall in Bethlehem Governorate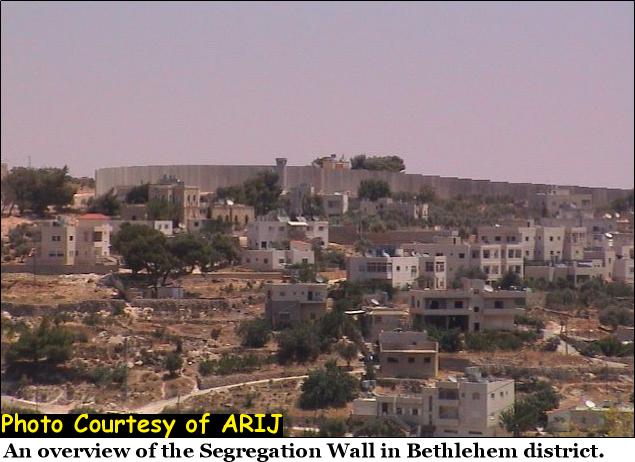 The Israeli unilateral plan of Segregation is recently being implemented on the expense of Bethlehem district lands. A total of 7000 hectares (70 km2) will be cut-off behind this Wall from Bethlehem district and annexed to Israel. The wall will slay all the fertile lands located at the northern, western and southern parts of Bethlehem district. The total length of the Segregation Wall in Bethlehem is planned to be 50 Kilometers (31.2 Miles) with a width of 68 meters as buffer zone. This zone consists of Pyramids of barbed wires, trenches, military roads and a dirt path at both sides of the buffer zone, a 5 meters high electrified concrete wall and metal fence supplied with electronic sensors and Surveillance cameras in the middle.
The Israeli Occupation Forces (IOF) handed out citizens of Beit Jala on the 19th of April, 2004, military order n0 04/32/T declaring the confiscation of more lands to construct the wall. See Map of military order as provided by the Israeli government.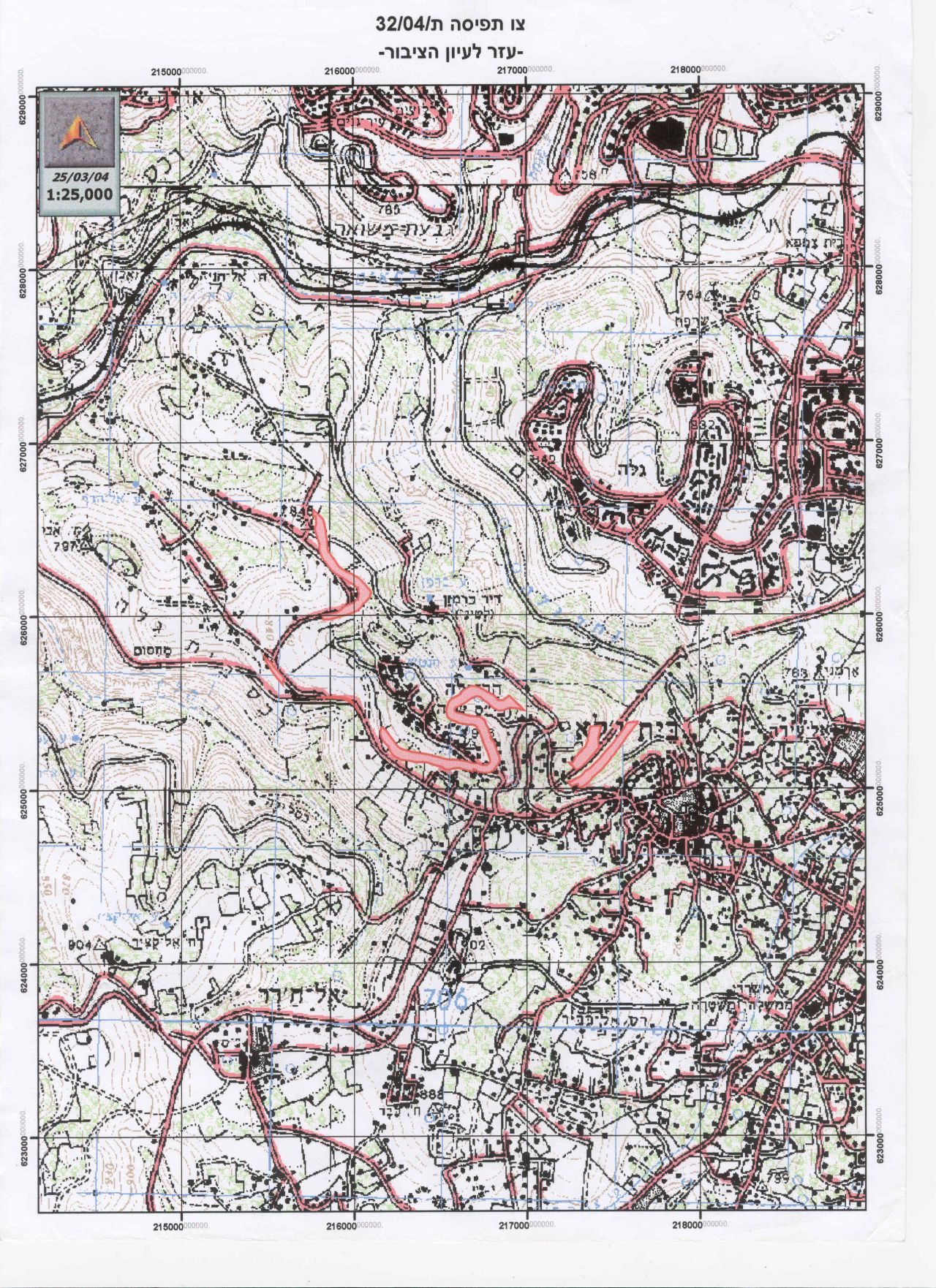 This order has been put into effect and the wall is now under construction since August 1, 2004. Its implementation will actually result in the seizure of 345 dunums of land (86 acres) from Beit Jala and Al Walaja residents upon which the Segregation Wall will be built to continue the construction of a ghetto composed of sections of Built up areas of Bethlehem city and its surrounding urban neighborhoods which include Beit Jala. See map of military order. of military order.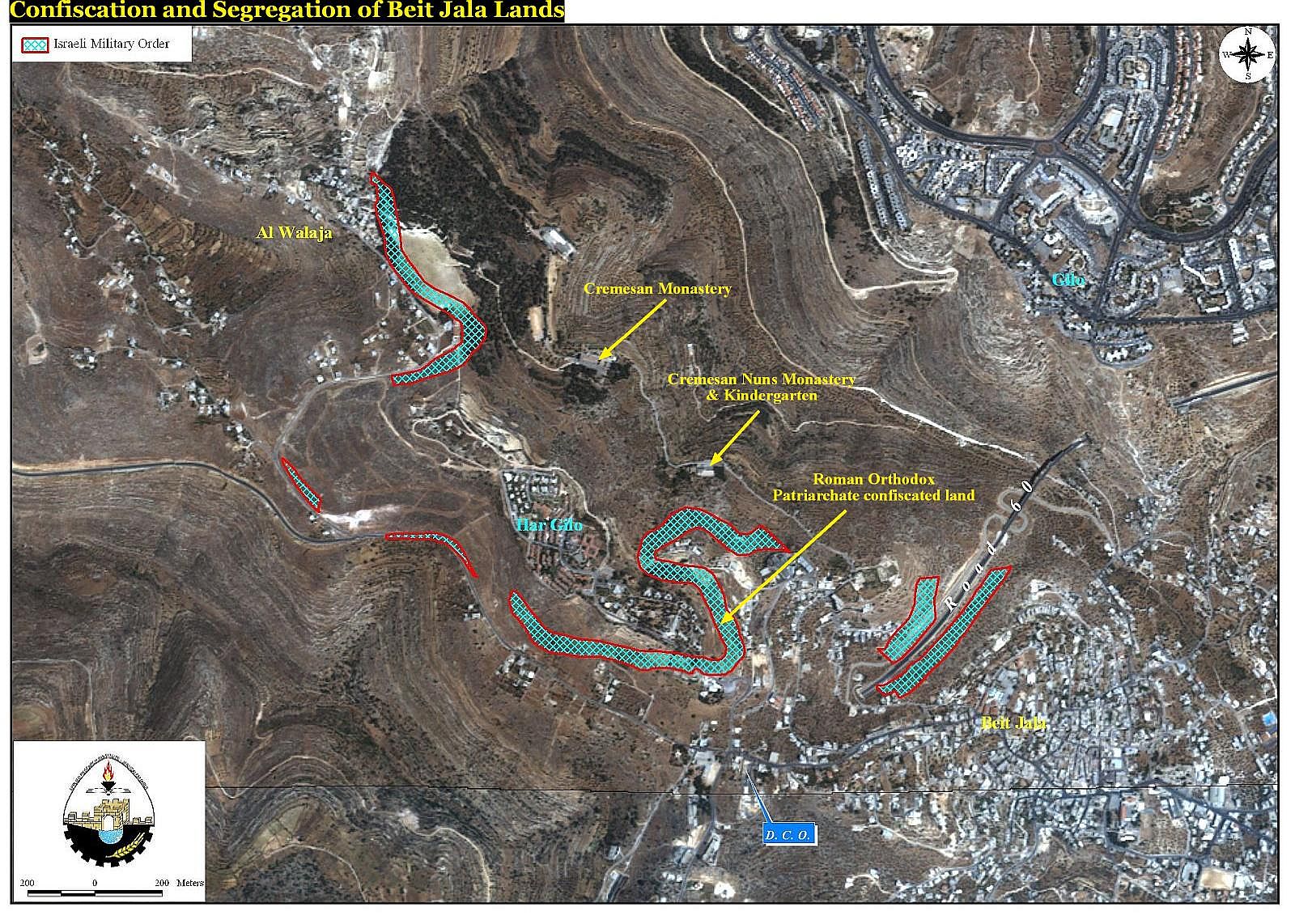 According to the Israeli military order, six separate sections of the approved plan of the Segregation Wall are now under construction which will separate Beit Jala town from its agricultural lands that extend to west of Beit Jala. The Segregation Wall will further enclosure Beit Jala town and Al-Walaja village leaving Har Gilo settlement, located in Al Ras area (top hill of Beit Jala),free for Israeli expansion. The lands that will be cut-off from Beit-Jala town are located behind the wall and have an area of 3040 dunums (760 acres) out of 7300 dunums (1825 acres) from Beit Jala town lands; those lands constitute the most fertile agricultural lands of Beit Jala and are planted with olive, apricot and many other fruitful trees. So far, over 500 olive trees were cut and more than 20 trees were uprooted belong to Palestinian families from Beit Jala, of which the following were known: Abu 'Amsha, Al Hadweh, Khamis, Abu 'Awad, 'Awad and Abu 'Eid . See photo 1, Photo 2 and Photo 3., and .
The confiscated and segregated lands are located inside the Occupied West Bank territory with an average distance of 2 Kilometers from the 1949 armistice (Green Line), and an average distance of 920 meters from Jerusalem (illegal) municipality borders defined by Israel following the 1967 war. The Confiscation order means that Israel is yet annexing another 1564 dunums (391 acres) of Palestinian Land to expand the Israeli defined Jerusalem Municipality borders. See Photo 4 and Photo 5 and
The agricultural lands to be segregated are major source of income for Beit Jala citizens; in addition, they include the only remaining forest (Cremisan forest) located west of Bethlehem city, which is considered the only recreational site in the area where many citizens go to during weekends or holidays. The plan, if completely implemented, it will severely destroy the environment in the area and leave it unsustainable for future generations. The Wall will swallow the left open spaces and strangulate the Palestinian built-up areas and leave Beit Jala without any possibility for future urban expansion or development. See Photo 6 & Photo 7 &
This situation will directly lead to an alarming level of population densities in the urban areas, numerous urban stress and more social problems. Israel's implementation of the Segregation Wall plan in Bethlehem Governorate amounts to indirect forceful ethnic cleansing by making the living conditions completely unbearable and unsustainable, and will contribute in more Palestinian migration from the Holy city of Bethlehem. This unilateral and illegal annexation of major portions of occupied Bethlehem district as defined by the 1949 armistice line represents a serious threat to the Palestinian existence in Bethlehem.
Furthermore, the new annexation comes in contradiction with the ICJ decision and a clear violation of International laws and UN Resolutions concerning land grab measures and wall construction presented in the following series of resolutions ( 242 (1067) of 22 November, 1967, 267 (1969) of 3 July, 1969, 298 (1971) of 25 September, 1971,446 (1979) of 22 March, 1979, 452 (1979) of 20 July, 1979, 465 (1980) of 1 March, 1980, 476 (1989) of 30 June 1980, 478 (1980) of 20 August, 1980, 904 (1994) of 18 March, 1994, 1073 (1996) of 28 September, 1996, and 1397 (2002) of 12 March, 2002). The Wall is a collective punishment and a human right violation. If the government of Israel to build a wall, it has to build it on the 1949 Armistice Line borders (Green Line) and not on Palestinian lands.
Related articles:-
Prepared by:
The Applied Research Institute – Jerusalem