The Palestinian Village Artas Falls in the Vortex of the Segregation Wall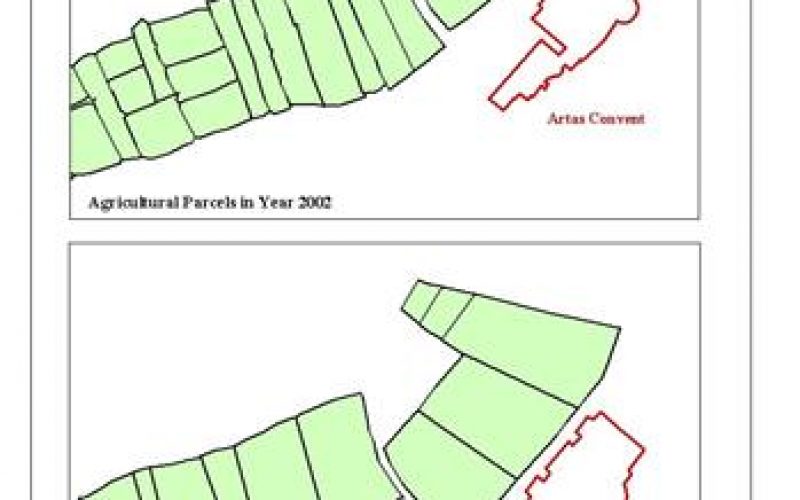 Artas village is an agricultural community situated 2.5 miles at the southwest entrance of Bethlehem district with a population of 3000 people, most of whom are farmers. The Word Artas comes from the Latin word ''Hortus'' which means the ''Civic Garden'', a name earned for the many streams located within the green valley spread over 1076 acre that constitute the village area. See Map of agricultural parcels during 1918-2002
The village built-up area spread over 7.6% of the village area (81acres) and bordered by lands from Bethlehem, Beit Jala & Al-khader towns. An appointed village council by the Ministry of Local Affairs; runs the village daily activities and other operational and public services offered to the resident's of Artas.
Prior the British Mandate ruling era over Palestine (1920-1948) the area of Artas village included 3463 acre until the year 1933 when the boundaries of the village diminished and redrawn to its current standing (1076 acres)
Israeli Land Confiscation in Artas Village:-
Following the 1967 war, the wheels of Israel colonization plans for the West Bank were in motion as the Israeli occupation seized great areas of Artas lands, most of which fell beyond the new village boundaries to establish Kfar Etzion settlement. See Geopolitical map of Artas Village
The settlement is a part of a greater Israeli scheme set to control the southwestern terrains of Bethlehem district known as the Gush Etzion Israeli settlements Bloc; a part of Israel plan to create a Greater Metropolitan Jerusalem. See map of Jerusalem Envelope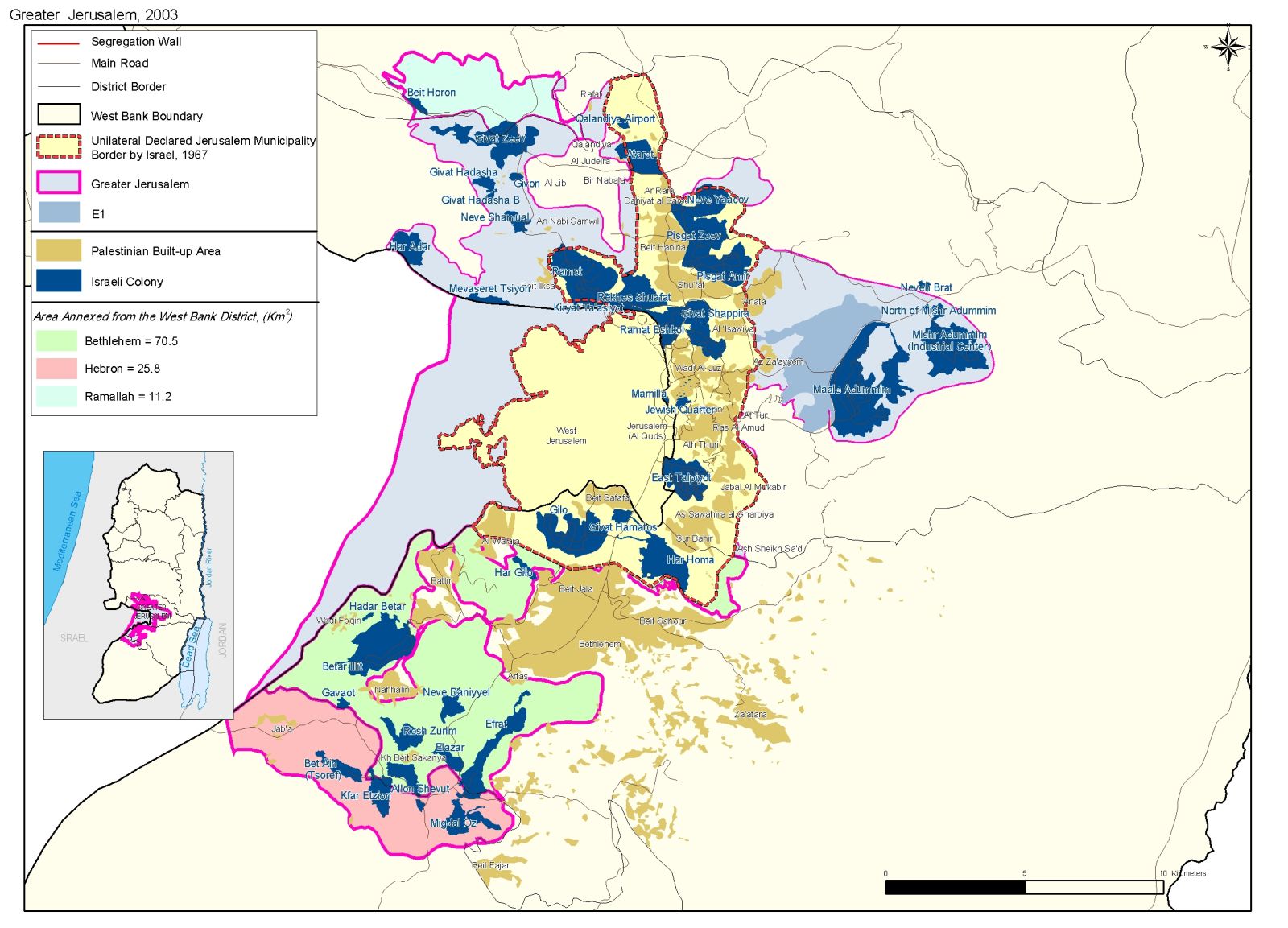 The following table shows Israeli land confiscation from Artas village over various periods.
Date

Type of Confiscation

Area Confiscated

Purpose

January 9, 1991

Military Order # 8/91

30 acre

Declared State Land

March 12,1991

Military Order # 16/91

183 acre

Declared State Land

March 14, 1991

Military Order # 17/91

358 acre

Declared State Land

1991

———————

2.5 acre

Bypass Road # 60

2002

———————

25 acre

Military Site

Total

———————-

598.5 acre

———

1 Acre = 4 Dunums
Later on, the government of Israel designated 53 acres of the land confiscated for the expansion of Efrat settlement (est. 1979) south of Artas village.
Artas Lands Chopped by the Israeli Segregation Wall
It became an inevitable fact, that Artas village will have the same faith like many Palestinian villages allover the West Bank that clashed path with the snaking Israeli Segregation Wall, which according to projection will cut through the village lands along 4 Km.
Recently, on July 12, 2004, assigned surveyors by the Israeli Army mapped out the path where the Segregation Wall is intended to penetrate Artas and thus isolates an additional land area of 121 acres. Consequently; the Segregation Wall will detach 719.5 acres of Artas lands including the 598.5 acres. This will leave Artas village in control of 356.5 acres including the 81 acres built-up area.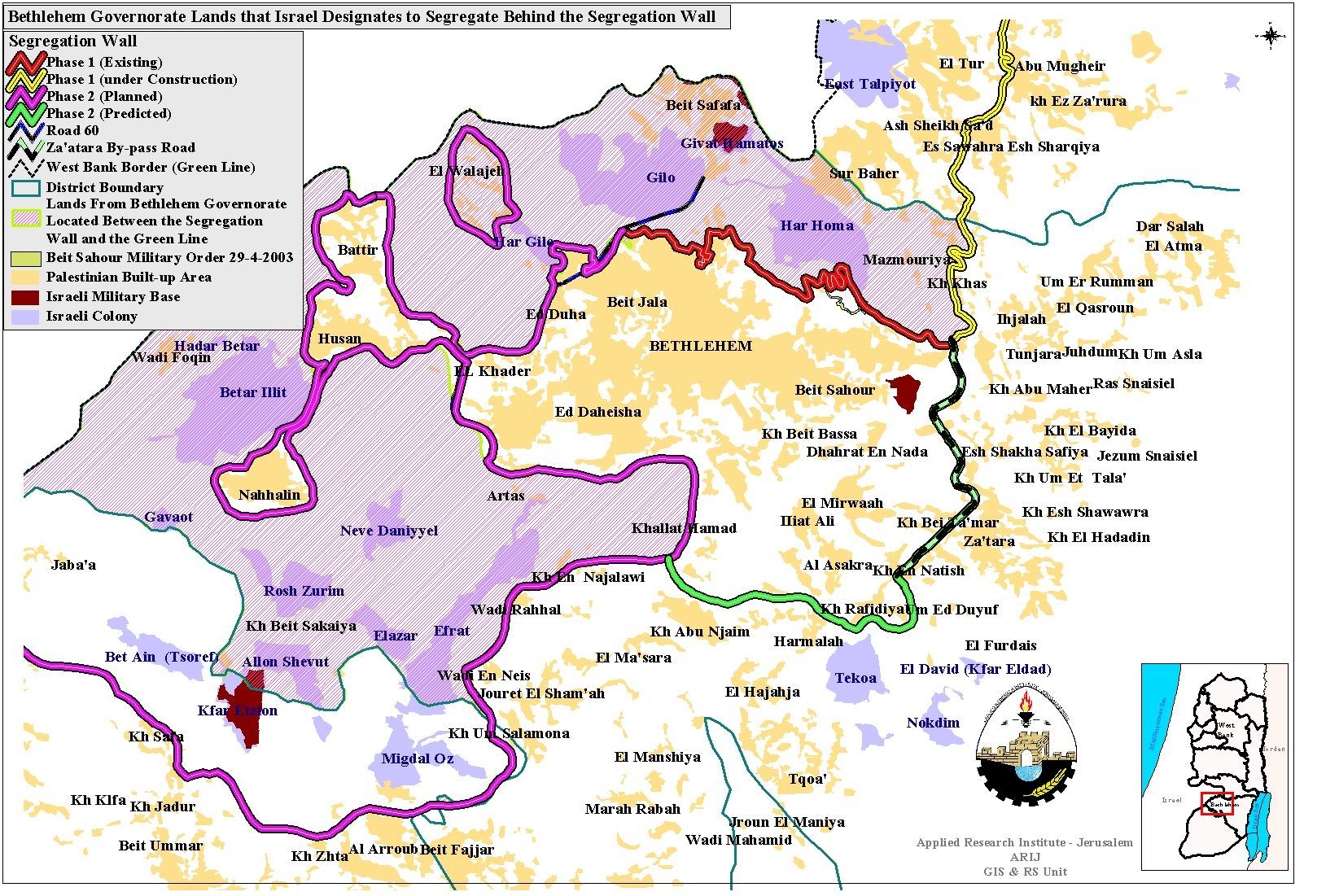 See Map of Segregation Wall in Bethlehem governorate (Artas included)
Moreover, the Israeli Segregation Wall will allow the Israeli colonists to continue their work to create road link from road # 60 crossing the western rural lands of Bethlehem district to the eastern rural area of the district to connect with Za'atra bypass road that links Israeli settlements southeast of Bethlehem with Jerusalem as a part of the Israeli Jerusalem Envelope plan. See Map of trans-Etzion
Prepared by:
The Applied Research Institute – Jerusalem