People of the caves targeted by the Israeli occupation forces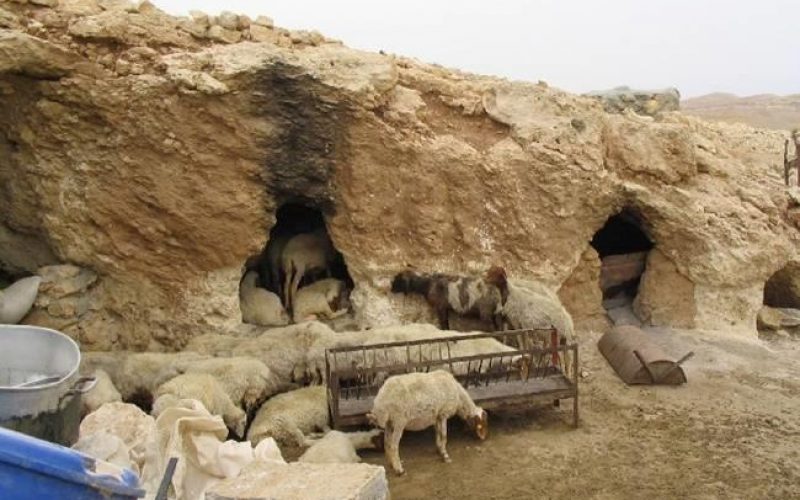 Introduction
For thousands of years, Palestinian peasants and shepherds lived in many cave villages scattered in the area located southeast of Yatta city in Hebron and close to the borders of Beer Sheva'. People of the caves inherited the land from their ancestors and settled in it with their sheep and cattle, depending on local resources as means of livelihood for themselves and their animals.
Following the 1967 war, those people started to loose parts of their lands for the construction of Israeli settlements. Many Israeli military camps and settlements were built on their lands and vast areas of open-spaces were also declared as closed military zones. See Photo 1 & Photo 2
Taban- Yatta- Hebron: two caves: one for the family and the other for sheep. Photos courtesy of LRC
The above mentioned Israeli developments have forced people to leave the area. However, many others are still living there despite the prevailing harsh conditions. Currently, a total of 3000 people are spread over 15 locations and lack infrastructure. Administratively speaking, they are affiliated to Hebron governorate, and recently their villages became a member of the Micro-regional Planning Committee (MRPC) based in Yatta town. See Photo 3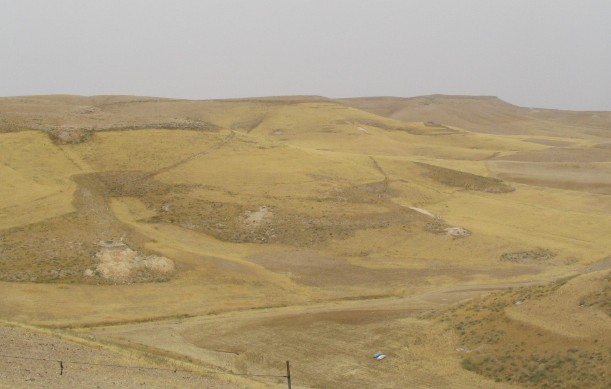 Majaz- Yatta- Hebron: Fields cultivated with Barley to sustain cattle. Photo courtesy of LRC
At the beginning of March 1999, the Israeli occupation authorities forcibly dismissed about 800 people form their dwellings in that area. However, the evacuated people appealed to the Israeli high court which issued a decision on the 27th of March 1999 calling for an immediate return of all the dismissed people to their lands, caves and dwellings. Ever since, those people have been subjected to continuous harassments committed at the hands of the Israeli army and settlers.
Two weeks ago, the Israeli army, together with representatives from the so-called civil administration office, organized a field visit to these locations attended by the High Court's general prosecutor; in addition to a number of lawyers amongst of whom was Sholmo Laker as well as representatives from different Israeli human rights organizations. During the visit, a meeting was held in Jenba village at which the Israeli army officers threatened local inhabitants of dismissal if they refused to accept the army' deal of giving them alternative pieces of land located between the settlement of Susiya and the Palestinian town of Samu'. The army representatives explained that about 300 dunums have been allocated for this purpose and the local inhabitants should accept this 'generous offer'.
Representative of local people, Haj Issa Abu Raba'i ,who was present at the meeting flatly refused this plan saying that the Israeli army 'does't own the land and, accordingly, had no right to give it to us'. Haj Abu Raba'i confirmed that the local inhabitants obtain all papers of ownership, including the Turkish Taboo (land registration and ownership). Having heard this, the Israeli army officers threatened the inhabitants of this area with a new Philadelphi-referring to the military operation that took place in Rafah about a month ago. See table 1
Table 1: Threatened Palestinian villages by name, household number, population and kind of existence
| | | | | |
| --- | --- | --- | --- | --- |
| Village No. | Village name | No. of household | Pop. | Kind of existence |
| 1 | Jenba | 36 | 216 | Permanent |
| 2 | Taban | 17 | 95 | Permanent |
| 3 | Fkheet | 11 | 68 | Permanent |
| 4 | Majaz | 18 | 90 | Permanent |
| 5 | Mirkez | 9 | 42 | Permanent |
| 6 | Halaweh | 5 | 52 | Permanent |
| 7 | Isfey Tihta | 15 | 81 | Permanent |
| 8 | Isfey Foqa | 17 | 109 | Permanent |
| 9 | Magaer Al Abeed | 8 | 47 | Permanent |
| | Total | 136 | 800 | |
Jenba- Yatta- Hebron: two general views of the village can be seen above, Photos courtesy of LRC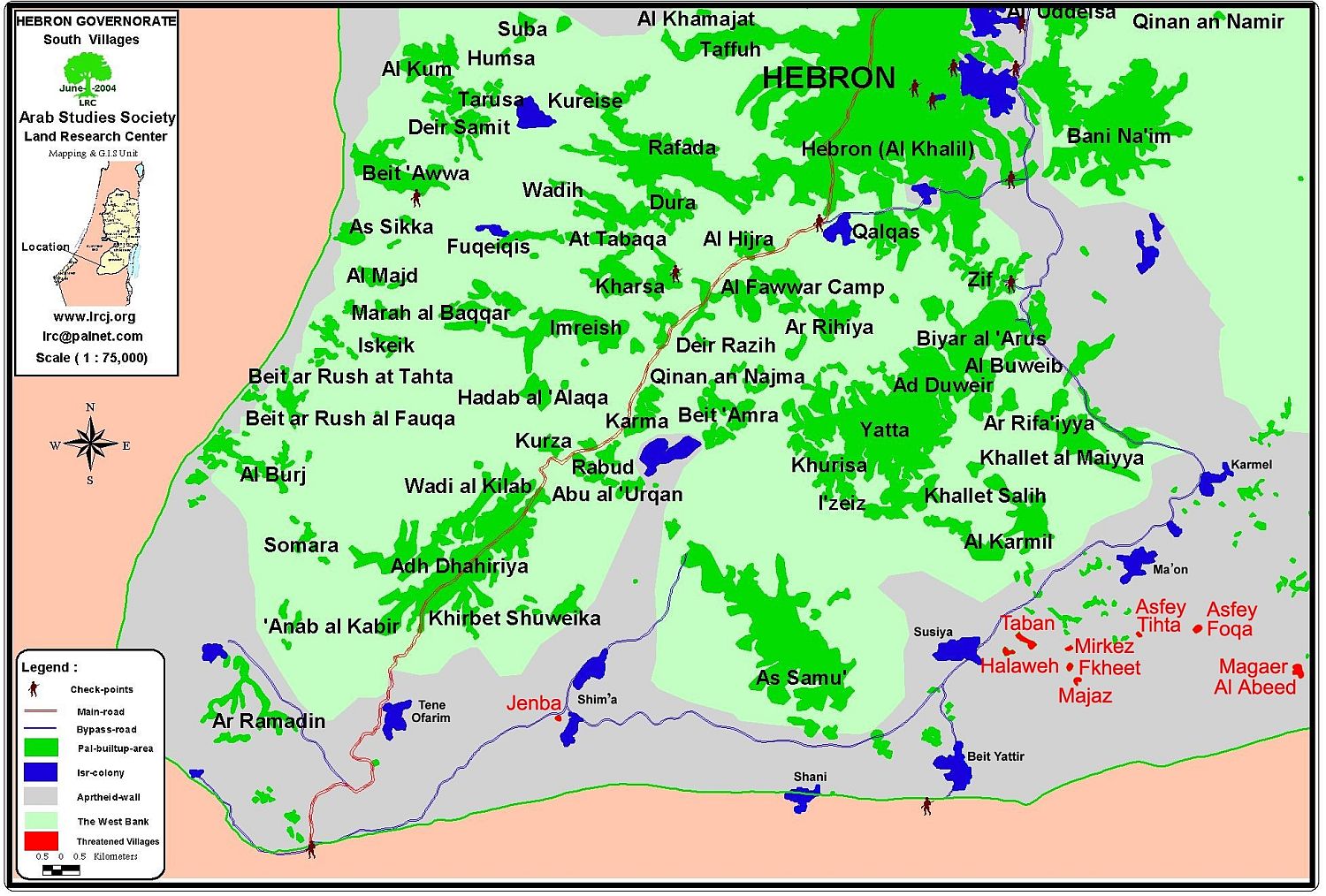 Locations of the threatened villages south east of Yatta- Hebron governorate. Photo Courtesy of LRC
Israeli settlements in the area
There are seven Israeli settlements built on lands confiscated form people of the caves and the nearby Palestinian lands from Yatta town and from Hebron city. Another two random (illegal) outposts exist in the area and were established in 1996 after the Israeli prime minister Ariel Sharon called upon Israeli settlers to occupy hilltops and put caravans atop before ' losing them to Palestinians in negotiations' in an effort to expand the existing Israeli settlements and force new facts on the ground. The total number of settlers living in this area is about 3000 ( see map above).).
Most of the Israeli settlers who live in these settlements are militants and extremist in their attitudes towards Palestinians. Most of them belong to the far right of the Israeli political spectrum. They have committed a number of violations against indigenous Palestinians living in the caves. In fact, a number of Palestinians have been killed and wounded at the hands of those settlers during the past years of occupation. In addition, successive attacks were carried out by those settlers against Palestinian properties targeting crops, trees and livestock. They have made the life of the Palestinians living in this area unbearable. See table 2
Table 2: Israeli settlements and outposts by location and population
No.

Settlement

Outpost

Location (vis-a-vie Hebron City)

2001 Population Census

1.

Tene ( Ma'ale Omarim)

Southwestern

561

2.

Shim'a

Southwestern

296

3.

Shani

South

483

4.

Beit Yattir

South

422

5.

Ashal

Few kilometers to the north of Beit Yattir

10

6.

Ma'on Farm

1.0 kilometers to the east of Ma'on south of Hebron

5

7.

Suseya

Southeastern

482

8.

Ma'on

Southeastern

283

9.

Karmel

Southeastern

246

TOTAL

2788
On going violations:
The Israeli occupation forces represented by the Planning and Construction Department of the so-called Civil Administration office in the West Bank and Gaza Strip demolished on April 29, 2004 nine newly built toilets (water circles) in the following areas under the pretext of un-licensing: see table 3
Table 3: Newly built toilets demolished by the Israeli occupation forces
village name

Owner's name

No. of Fam. Mem affected

Construction cost in NIS

Funder

Implementer

Isfey Foqa

1. Hassan Abu Ali – shared with his married son ( two nucleus families)

16

4800, including cesspool

DIFID

Environmental Resource management

( ERM)

2. Dina Musa Abu Ali

9

4800, including cesspool

DIFID

ERM

Taban

3. Ahamd Shahda Hamamda

8

4800, including cesspool

DIFID

ERM

4. Mohammed Ahmad Hamamda- shared with his married son ( two nucleus families)- Tent also destroyed.

17

4800, including cesspool

DIFID

ERM

5. Yusif Mohammed Hamamda

8

4800, including cesspool

DIFID

ERM

6. Mohammed Hamid Hamamda- shared with his married son ( two nucleus families) -Tent also destroyed.

18

4800, including cesspool

DIFID

ERM

Al Mufagra

7. Saddam Badawi Abu Jaber

11

4800, including cesspool

DIFID

ERM

8. Ali Abu Jaber

13

4800, including cesspool

DIFID

ERM

100

38400
The demolition process was carried out without prior notification from the Israeli side.
Isfey Foqa: demolished toilets, Photos courtesy of LRC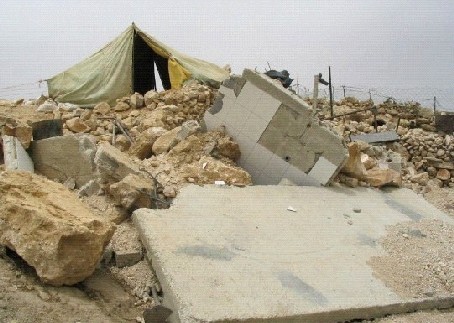 Taban: the ruins of a demolished toilet and animal sheds; Photos courtesy of LRC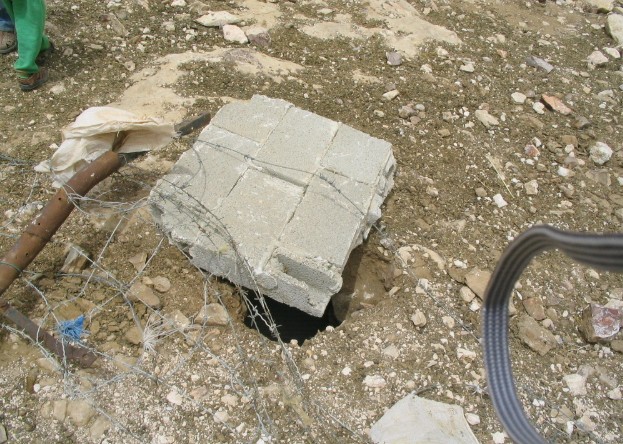 Fkheet- Yatta- Hebron: a hole made by an Israeli large hammer in the ceiling of one of the caves lived by the people. Photos courtesy of LRC
Prepared by
The Land Research Center
LRC