Settlements expanding in and around East Jerusalem for the year 2004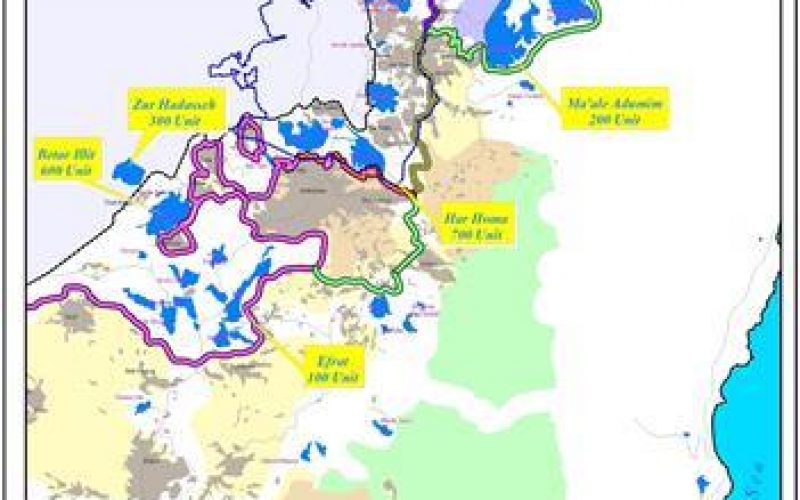 Following the 1967, War, Israel occupied the West Bank including East Jerusalem and Gaza Strip. Israel also started its progressive policy of Israelization in occupied east Jerusalem after the 1967 war and expanded its borders from 6.5 km² to 71 km2 to cover more Palestinian areas and thus; changing the demographic Character of the city to accommodate more Jewish settlers.
Currently more than 435,000 Israeli settlers live illegally in the West Bank and the Gaza Strip, out of which 7.000 reside in Gaza and 200,000 in East Jerusalem.
Today Israel is in complete control of Jerusalem city, yet most of the property and real estate still legally belongs to the indigenous Palestinians who have been living continuously in Jerusalem for centuries. Israel intensified its colonial development program after 1967 to involve the construction of new housing and associated infrastructures in the unilaterally annexed and expanded territory of occupied East Jerusalem.
Recently, and as revealed by the Israeli weekly newspaper ''yerushalaim'', the ministry of Housing and Construction issued tenders for building 2414 new colonial housing units in and around East Jerusalem, in addition to other 156 new housing units in Qiryat Arba settlement in Hebron. (Al Quds daily newspaper 3/4/2004)
settlements to be expanded are listed in the following table:
Table 1: List of settlements to be expanded as revealed by Israeli resources
| | | | |
| --- | --- | --- | --- |
| settlement name | Establishment date * | Population ** | Housing Units to be added *** |
| Giv'at Zeev | 1977 | 10,700 | 180 |
| Har Homa | 1997 | – | 700 |
| Ma'aleh Adumim | 1975 | 26,500 | 200 |
| Zur Hadasa | | | 300 |
| Betar Illit | 1989 | 20,200 | 600 |
| Efrat | 1979 | 6,800 | 100 |
| Adam | 1983 | 1,600 | 130 |
| Other settlement(s) | – | – | 204 |
| Total | | | 2414 |
Source: –
* ARIJ- GIS Data Base 2003
** Israeli Central Bureau of Statistics 2002
***Al Quds daily newspaper & the Israeli weekly newspaper ''yerushalaim''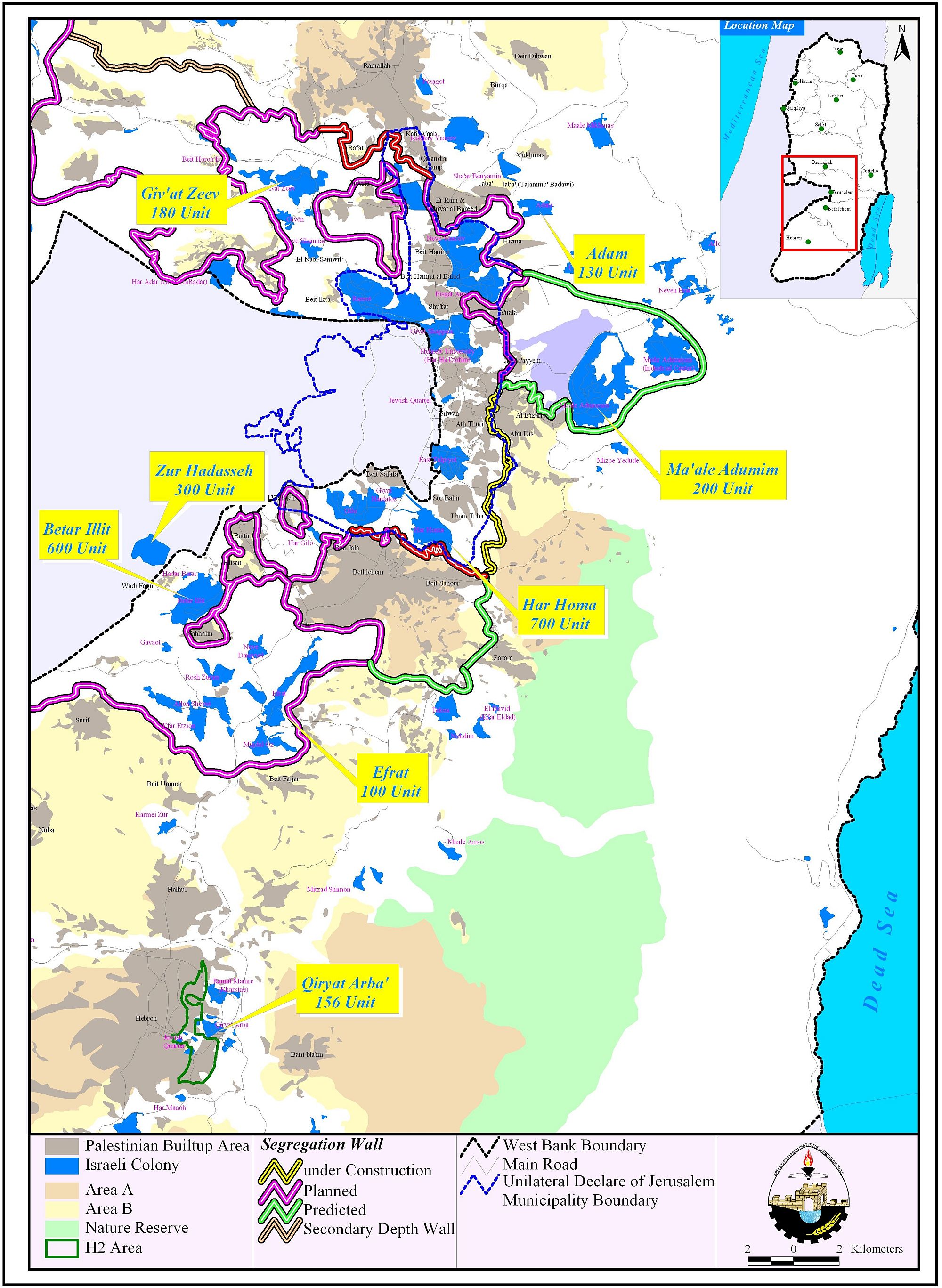 The above table shows that Har Homa and Betar Illit settlements will be the most important locations on which a massive expansion will take place. Har Homa settlement is designed to contain 6500 housing units as planned by the Israeli Ministry of Housing and headed by Mafdal extremist Efi Eitam. Gilo and Har Homa settlements are to have their dors opened for each other; thus, totally disconnecting Bethlehem governorate from East Jerusalem through a ring block to the north of Bethlehem.
Betar Illit settlement which is part of the so-called ''Gush Etzion'' block is located southwest of East Jerusalem and is built on lands belonging to the western rural areas of Bethlehem district. The settlement is ranked among the Ultra-Orthodox settlements in the West Bank with a majority of Russian Jews.
The policy of fattening the Israeli settlements in and around East Jerusalem is not halted as the Israeli Government is adopting more tenders to expand settlements, it makes the issue of Jerusalem nonnegotiable with the Palestinians and at the same time suffocating and cutting all possibilities to release East Jerusalem.
The enlargement of these settlements coincides with Sharon's plan imposed on the international community concerning the annexation of six (6) settlement blocks to Israel.
The blocks planned by the current Israeli Government to be retained are: Ariel, Giva't Zeev, Ma'ale Adumim, Gush Etzion, Qiryat Arba' and Hebron Jewish Qaurter. See table below for further details.
#

Israeli Settlement Bloc

Population

Date of Establishment

District

Type

1

Ariel

18,000

1978

Nablus

Urban

2

Giva't Zeev

12,700

1977

Jerusalem

Urban

3

Ma'ale Adumim

30,000

1975

Jerusalem

Urban

4

Gush Etzion

40,100

1967

Bethlehem

Agricultural

5

Qiryat Arba

6,700

1968

Hebron

Urban

6

Hebron ''Jewish Quarter''

550

1967

Hebron

Urban

Total

108,050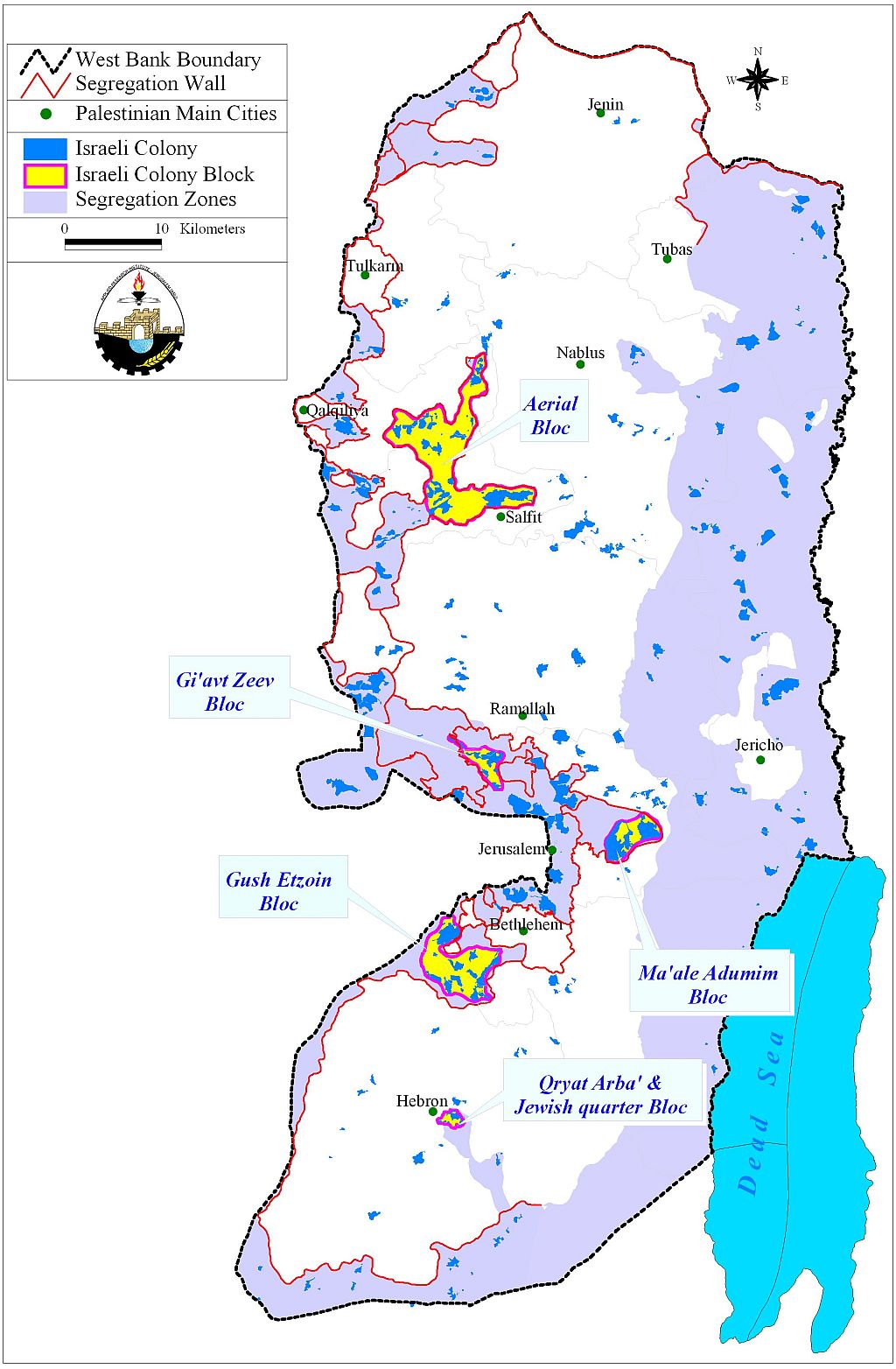 The Government of Israel continued to follow a policy that aimed at annexing more Palestinian lands in violation of its obligation under the Fourth Geneva Convention and UN resolution 446 (1979) relating to settlements in the Arab territories occupied since 1967, including Jerusalem which determines that ' all measures taken by Israel to change the physical character, demographic composition, institutional structure or status of the Palestinian and other Arab territories occupied since 1967, including Jerusalem, or any part thereof, have no legal validity and that Israel's policy and practices of settling parts of its population and new immigrants in those territories constitute a flagrant violation of the Fourth Geneva Convention relative to the Protection of Civilian Persons in Time of War and also constitute a serious obstruction to achieving a comprehensive, just and lasting peace in the Middle East?'.
Prepared by:
The Applied Research Institute – Jerusalem