Israel Blow-Up Two Palestinian Houses in Bethlehem District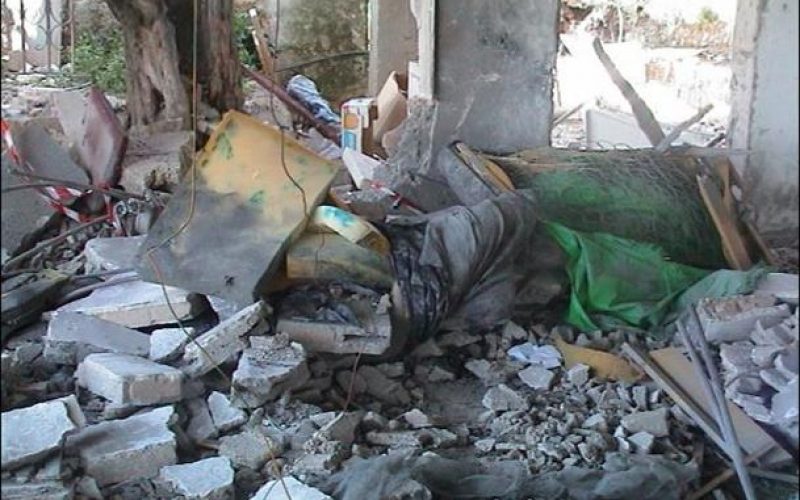 The Israeli Army carried-out early Thursday, April 15, 2004 on 1:00 Am, yet another operation against Palestinian civilians as a part of its adopted 'collective punishment' policy. The Israeli Army night raided two Palestinian houses with the intention to blow-up the houses and without presenting the residents of these houses any official documents or an explanation to why they want to blow-up the houses. The two houses, which accommodate 15 people, are located in Aida refugee camp and Bethlehem and identified as numbers 21 and 22 on the list of houses demolished in Bethlehem district as of 2004.
Houses demolished in Bethlehem District as of 2004

January

2

February

11

March

5

April

4

Total

22
The first house located in Aida refugee camp belongs to Shaker Allan Saleh Mualah; it accommodates 11 people (2 families) and has an area of 150 M2. The Israeli Army unit responsible for detonating the house allowed Mualah family less than 15 minutes to leave the house and clear their personal belongings and furniture which they were not able to do in time. The owner of the house (Shaker) has a son (Mohammad) who has been in an Israeli prison for the past two years and has not been trialed to this time. See photos below
The second house accommodates Mohammad Ishmael Ahmad Battat family (4 members). This house consists of two rooms and ''rented'' by the Battat family since 40 years. The Battat family has two sons in Israeli prisons (Ishmael & Issa) held without trials since two years. Just as Mualah family in Aida refugee camp, the Israeli Army allowed Battat family not enough time to clear the quarter they plan to blow-up (less than 5 minutes) to clear personal belonging and furniture and they too were not able to do so in time. See Photos below
The 'collective punishment' policy imposed by the State of Israel on the Palestinian civilians violates the international charter of Human rights and the Geneva Convention Accord of 1949, which calls on the occupying power (Israel) to refrain from causing any detriment to the property of the population under its occupation. Israel apathy to international laws has caused it to demolish 383 houses in occupied West Bank and Gaza as of 2004.
Houses Demolished By Israel in Occupied WB&G as of 2004

District

# of Demolished Houses

Gaza

244

Bethlehem

22

Hebron

11

Jenin

6

Jerusalem

25

Tulkarem

38

Qalqilyah

5

Ramallah

12

Nablus

12

Jericho

8

Total

383
Since the beginning of the current Intifada (September 2000), the Israeli Army demolished or severely damaged more than 4000 Palestinian houses in addition to nearly 200 Palestinian government buildings and more than 200 schools all of which carried out under no other than the Israeli adopted policy 'collective punishment' and in apathy to Article 53 of the Forth Geneva Convention of 1949 which states: 'Any destruction by the occupying power of real or personal property belonging individually or collectively to private person, or to the State, or to other public authorities, or to social or co-operative organizations, is prohibited, except where such destruction is rendered absolutely necessary by military operations.'
Prepared by:
The Applied Research Institute – Jerusalem