The snaking Wall enters area (A) in Bethlehem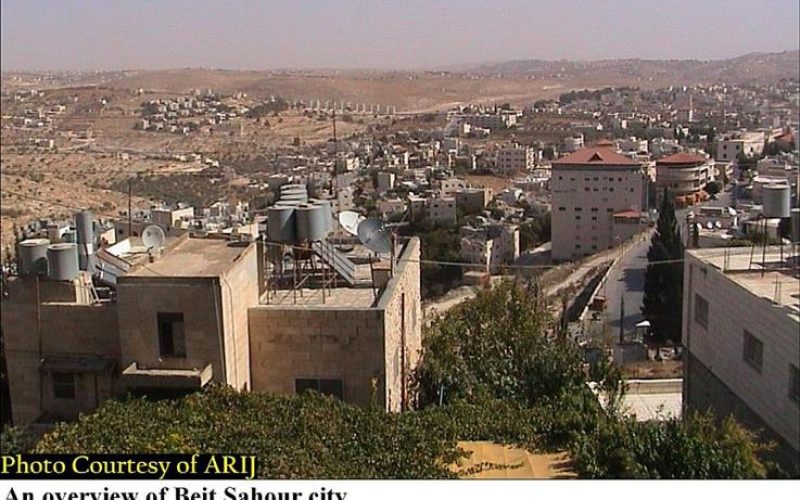 The town of Beit Sahour,''the house of vigilanc'' lies on the northern edge of Bethlehem. It has 14.465 inhabitants, Christians and Moslems all living together in peace. Its name stems from the Canaanite words 'beet' meaning place, and 'Sahour' meaning night watch. Its name reflects the importance of the area for shepherds as a grazing area during day-time as well as a shelter for the flocks at night in the existence caves. See Photo 1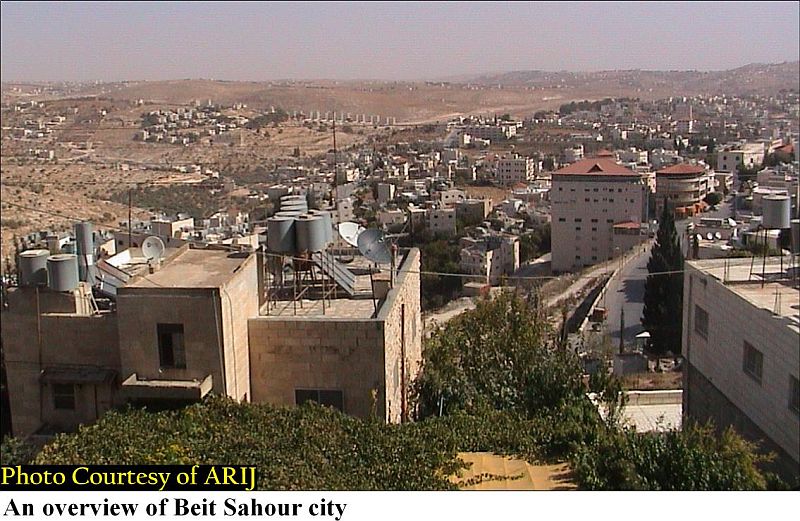 Like the other areas of most Palestinian villages and cities, Beit Sahour has been faced up with the Israeli campaign to construct the Segregation Wall. Below is a chronology of events
Chronology of events
On June 6, 1995: Israel's Minister of Finance, Mr. Isaac Moda'ee, ordered the confiscation of land on and around the forested mountain of Abu Ghnaim, located less than two kilometers north of Bethlehem city, even though these lands are privately owned by Palestinian families from Bethlehem, Beit Sahour, and the villages of Um Tuba and Sur Baher, the Settlement of Har Homa (Abu Ghneim)is planed to contain more than 6500 housing units, restaurants, schools and hotels. The confiscation order was based on''Lands Law of 194'' which authorizes the Minister to confiscate lands for public use. The term, 'public use', is used to excuse the construction of the Israeli Settlers for the use of Israeli settlersis planed to contain more than 6500 housing units, restaurants, schools and hotels. The confiscation order was based on''Lands Law of 194'' which authorizes the Minister to confiscate lands for public use. The term, 'public use', is used to excuse the construction of the Israeli Settlers for the use of Israeli settlers. See Photo 2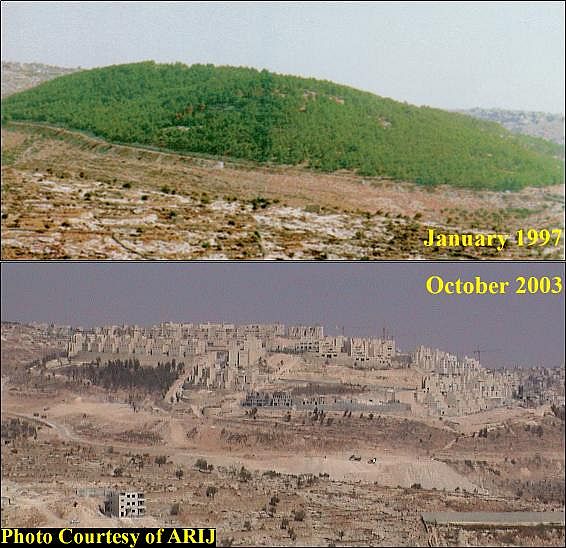 In 1995: the construction of the Orthodox Housing Complex started after the late Patriarch Theodorus accepted to lease that plot to the housing project for 99 years at favor to help the limited income households in Beit Sahour community. See Photo 3 & Photo 4
In the year 2002: the Israeli Occupation Authorities decided to erect the Segregation Wall around Bethlehem district where a major part of it is circulating Beit Sahour city.
In September 2002: the Israeli Authorities decided to demolish the Orthodox housing complex which is located in area C and is passing close the Segregation Wall conducted under the pretext of not having building permits from the Israeli administration of Beit Il in Ramallah, considering the area under their control (Area C) which means ''no construction is allowed on it''. Fortunately, the international and local pressures on the Israeli Authorities were able to freeze the demolition decision. Related articles
On August 25, 2003: the Israeli bulldozers commenced the construction of the secondary military road that enclaves the Orthodox Housing complex, which is composed of 7 apartment buildings, each contains 8 housing units each with an area of 1071 square meters and is currently inhabited by 24 families.
The Segregation Wall path constructed in Bethlehem District is 10.5km length, whereby a segment of 480m was constructed in area A. This segment is located within Bethlehem Municipality borders and has an area of 22.2 Dunums of land. See Map 1
This shows how Israel dissembled the spirit of the signed agreements through using them to authorize its further occupation of the Palestinian lands.
According to Oslo II interim agreement that was signed in September 1995 between the Palestinians and Israelis, the Palestinian governorates were divided into three areas A, B and C aiming at a phasing withdrawal of the Israeli forces from those areas until the accomplishment of a final status agreement.
Area (A): the Israeli army has pulled out fully and all responsibilities for internal security and Public order are held by Palestinians.
Area (B): Palestinians have full control over the civil administration and Israel continues to have overriding responsibility for security.
Area (C): the Palestinians have responsibility for civil life such as economics, health and education; however Israel retains full control over security and administration related to territory. See map of Oslo II agreement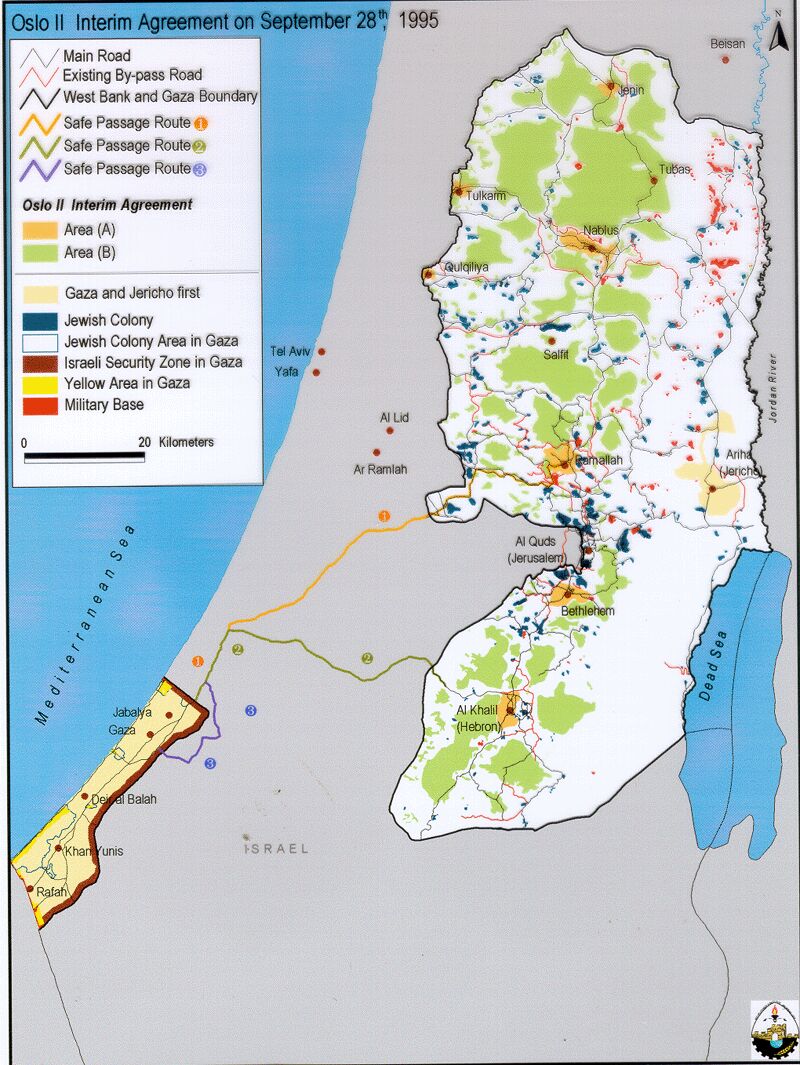 Table 1: Oslo II interim agreement
| | | | |
| --- | --- | --- | --- |
| Area | Population 2002 | Area km2 | Area in % |
| Area (A) | 92449 | 47,6 | 6 |
| Area (B) | 49378 | 33,8 | 4 |
| Area (C) | 8710 | 424 | 52 |
| Natural Reserves | —– | 102,4 | 13 |
| Total | 150573 | 807,8 | — |
The construction of the Segregation Wall has not only destroyed most of agricultural land, demolishing of houses but also leaves the surrounding Palestinian villages with little land to hold the natural population growth and to prevent the contiguity of any Palestinian state in the future.
Prepared by:
The Applied Research Institute – Jerusalem