A fall from Grace … Al Zahra building towers victims of the Israeli explosives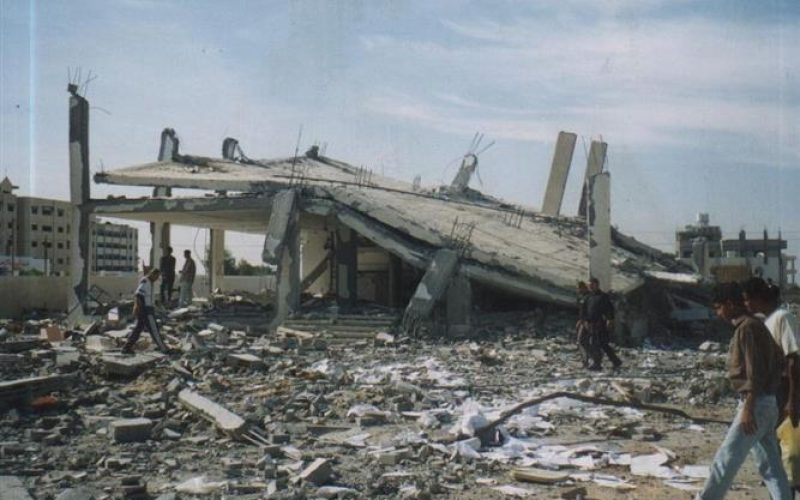 As Palestinians were preparing to begin the fasting month of Ramadan, they expressed their sadness towards the Israeli incursion into Al Zahra town, which resulted in the demolition of three large apartment buildings. See Photo 1 and Photo 2
Since the beginning of the Al-Aqsa Intifada in September 2000, the Israeli government has implemented a series of harsh measures against Palestinian civilians. Closure, roadblocks and restriction on movement between main Palestinian cities and towns have been imposed exacerbating daily suffering. In addition, the IOF committed a scale of violations including house demolition, land razing and Segregation Wall construction.
In one of its cruelest attacks against the Gaza Strip, the IOF backed by large bulldozers and vehicles staged into the town of Al Zahra, to the south of Gaza Strip, coming from Nitzarim Settlement and dynamited three large residential towers, which were in their final construction stage. See Photo 3 and Photo 4 and
The incident took place when the IOF, late at the night of October 252003, forced thousands of dwellers living in the neighborhood (2000 dwellers), including women, children and elders to evacuate their houses for the sake of the military operation. Each of the towers is composed of 13 floors high, each of which had four apartments; thus, the total number of apartments that were destroyed is 156. See Photo 5 and Photo 6
The blast caused severe damages to the neighboring homes of which the house of Ayman Abu Shammala was known. People of Al Zahara Neighborhood were left disoriented on foot and shelter. The IO soldiers also planted explosives inside a Palestinian police station in the area and destroyed it after evacuating people living in the neighborhood.
The unknown destiny of thousands of Palestinian people who lost their shelter is a huge crime against humanity and a clear evidence of the Israeli violations to international human rights and to the UN Resolutions.
Related case studies
Prepared by:
The Applied Research Institute – Jerusalem