Impact of the Segregation wall on five Palestinian villages in Qalqilya district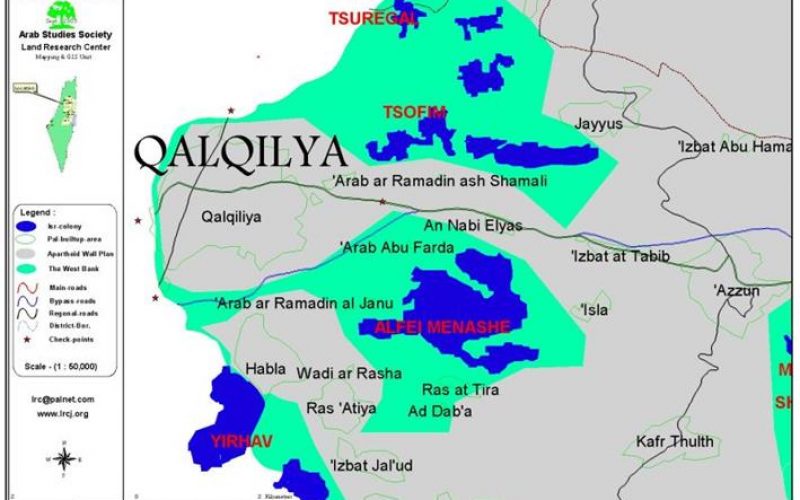 Background to the villages
The Palestinian neighboring villages of Ras at Tira (400 citizens) and Ad Dab'a (300 citizens) are located 5 km to the east of Qalqilya city. Nearby, three other small villages are located: Wadi ar Rasha (150 citizens), Arab Abu Farda (100 citizens) and Arab ar Ramadin (100 citizens). The three aforementioned residential areas are situated 4 km to the south east of Qalqiliya. The overall number of population in the villages is more than 1000 people. The land area of Ras at Tira is 2000 dunums, Ad Daba' 3000 dunums and Wadi ar Rasha 1000 dunums.
The villages and the segregation wall
The five villages are blockaded now between the newly established Segregation Wall and the post 1948 borderline. The wall travels about 2 km in the land of Ras at Tira, 1 km in the land of Ad Dab'a and 1 km in the land of Wadi ar Rasha. The total area of land destroyed by the Wall in the five villages is 400 dunums, while the total number of uprooted fruitful trees is 1600.
The Wall has divided the land of those villages into three parts:
The destroyed land where the wall was actually built – 400 dunums;
The land located to the east of the Wall – 1500 dunums;
The land segregated along with those five villages to the west of the Wall – 4100 dunums.
Problems and complexities created by the Wall construction
The Wall has led to boycotting relations between the citizens of those besieged villages and the citizens of the neighboring villages of Kufr Thuluth, Ras Atiya and Habla who descend from the same extended families. Consequently, people on both sides of the Wall are deprived form family visits and from other forms of family interaction. The five besieged villages provide only 1 % of their living needs. The rest should come from neighboring villages on the eastern side of the Wall. For drinking water, the five villages totally depend on purchasing water by transported tanks from nearby areas. With the erection of the Wall, the movement of water tanks in and out of those villages has become very difficult if not impossible. For electricity, the five villages use generators working on fuel, which needs constant provision of this material. For education, the five villages have only one basic school in Ad Dab'a, the students have to go to neighboring villages located east of the Wall to pursue studies and they should pass daily through ''security gates'' for their exit or entry. The health situation is no exception since the five villages have no health centers and they are completely dependent on the villages on the other side of the wall. See Map
Prepared by
The Land Research Center – Jerusalem
LRC