New Qiryat Arba' at the northern entrance of Bethlehem city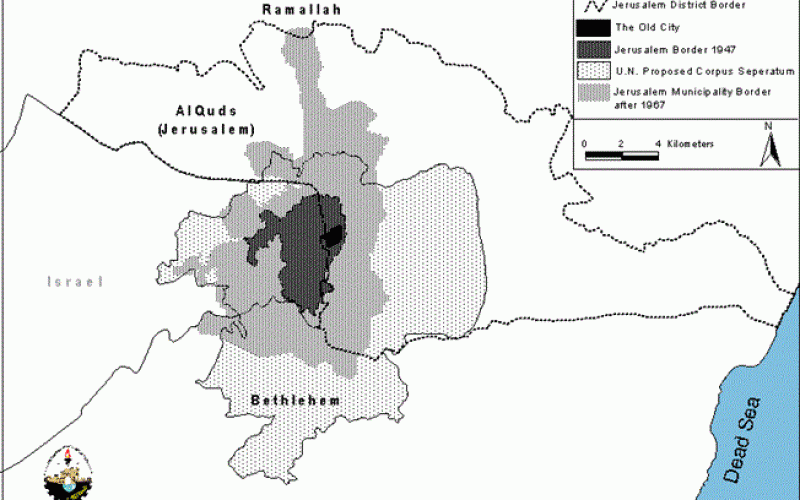 The city of Bethlehem was always targeted by Israeli colonization plans for its proximity to the city of Jerusalem. The wall that will circulate East Jerusalem from all sides known as the 'Envelope of Jerusalem' is transforming mainly the city of Bethlehem into a big 'Ghetto' as the Israelis intend to transform the northern entrance of the city into a religious settlement adjacent to Rachel's Tomb. The latest Israeli military orders issued recently to seize more lands and the crooked ways and attempts to purchase the lands and houses in Rachel's Tomb vicinity may explain the Israeli intentions.
The decision to annex Rachel's Tomb that is located in Bethlehem city, to the Israeli Jerusalem municipality was approved by the 11th of September 2002. The previously mentioned municipality is illegally defining the borders of the city of Jerusalem by annexing its eastern part and claiming its sovereignty over that part. Today this Israeli De Facto policy implies to extend and annex more lands mainly from Bethlehem and Ramallah districts. See map of Jerusalem boundaries after 1967.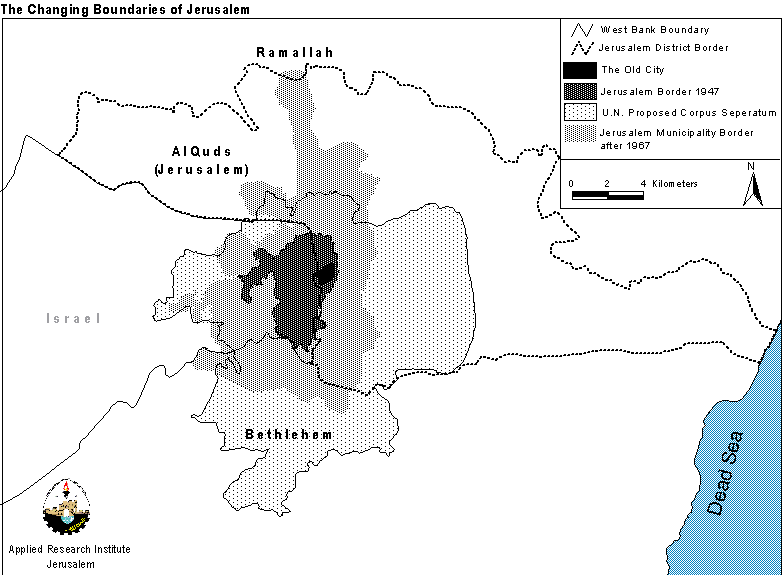 Recently, the Israeli Authorities issued a number of military orders that clearly show what would the future of Bethlehem city be. Rachel's Tomb is included within the Jerusalem Envelope- Jerusalem Segregation Wall- as given in military order No 03/14/t issued on August 7th 2003. The story does not stop at that limit only where other military orders were issued during the current month of September to show that blocks of land are seized for no clear purposes but security reasons. See map of military orders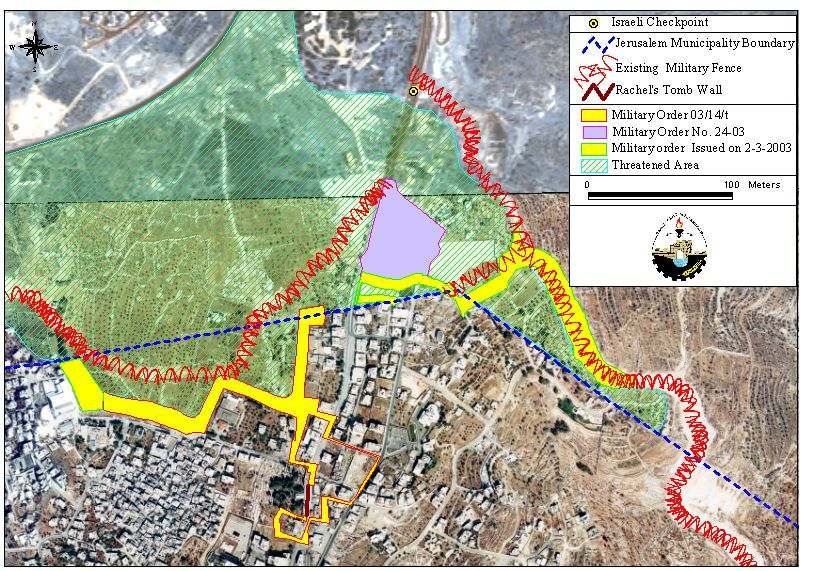 Table 1:
| | | | |
| --- | --- | --- | --- |
| Authority of order | No. of order | Date of issue | Area in Dunams |
| Military Administration | 03/14/t | 07/8/2003 | 36 |
| Ministry of internal security | 03-24 | 17/9/2003 | 28 |
| | | 00/9/2003 | |
The Israeli media mentioned that there is an intention to make a small religious settlement near the vicinity of Rachel's Tomb ( Haaretz daily newspaper, 22/9/2003). A house adjacent to Rachel's Tomb was purchased by corrupted means to a Jewish society or owner and most probably to the famous Jewish Millionaire Irving Moskowitch, who always encourages and push the colonization in East Jerusalem and the Occupied Palestinian Territories. Ras El Amoud Settlement in East Jerusalem is one of the typical examples where Dr. Moskowitch created a conflict point between Palestinians and Israelis.
The fear in the future will be if this religious compound will exist and be a hot spot in the city of Bethlehem as the issue of Qiryat Arba' in Hebron city. In addition the entrance of Bethlehem city will be surrounded by fences walls and military sites to protect this illegally annexed part of the city.
Prepared by:
The Applied Research Institute – Jerusalem