The effects of the Segregation Wall on the Palestinian village of Qaffin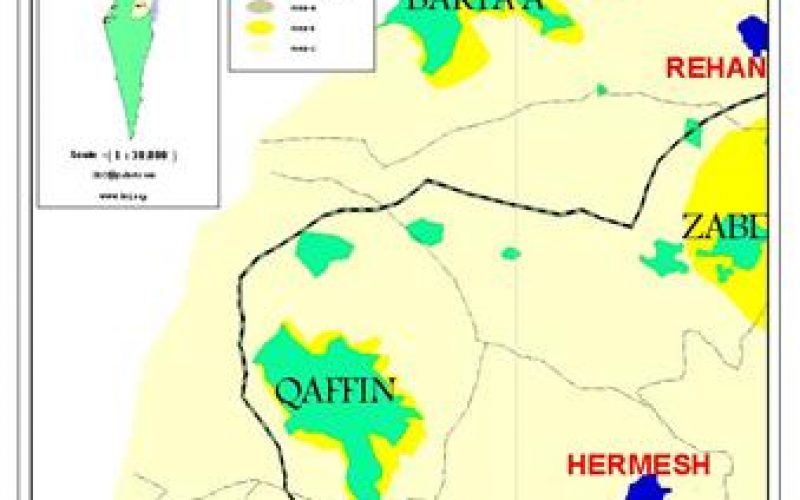 Governorate: Tulkarem
Village: Qaffin.
Location: it is located 20 km to north of the city of Tulkarem near the green line.( See Map)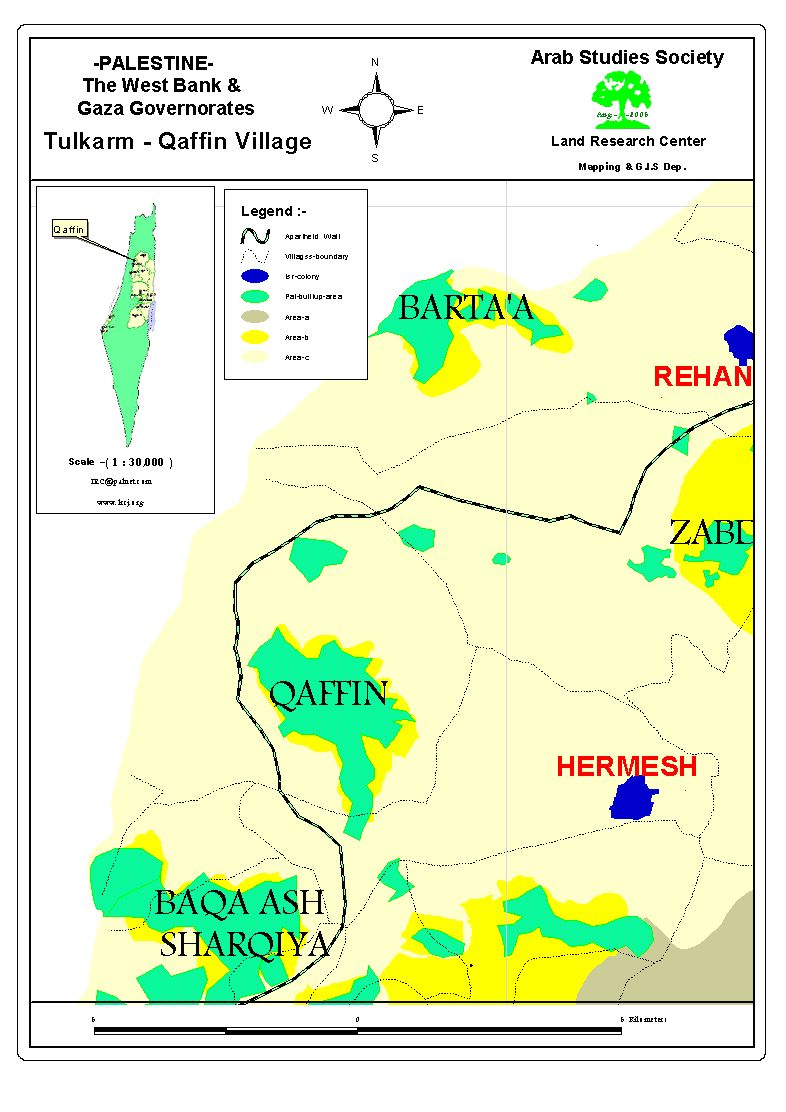 The map shows the boundaries of Qaffin village and the apartheid wall splitting its land and annexing almost half of its land to Israel proper.
Population: about 12 000 inhabitants live in the village.
Violation: the setting up of the apartheid wall in the land owned by the village inhabitants.
Date of commence of wall construction: August, 2002.
Method of informing owners: a written letter to the municipal council.
Stated reason for wall construction: security reasons.
Actual reasons from Palestinian point of view:
1. Seize Palestinian land;
2. Destroy the Palestinian agricultural infrastructure;
3. Use pressures on Palestinians to force them leave their land. (See photo1)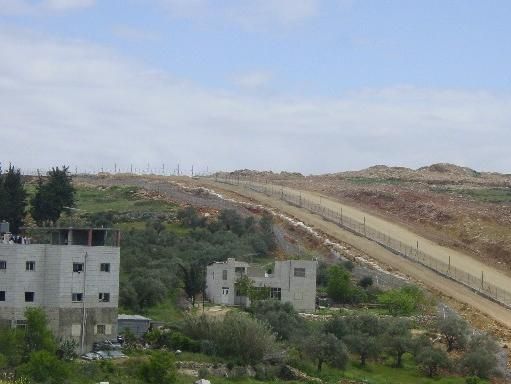 Apartheid wall passing by Palestinian houses
Photo taken by LRC field worker
The village is situated 200 meters to the east of the wall. The wall travels about 6 kilometers in the village land from north to south. The wall has besieged about 4300 dunums of the village land. The body of the wall was built over an area of 627 dunums. The width of the wall varies from 100 to 110.
Number of uprooted Olive trees: 12545.

Number of isolated Olive trees: 81705.

The total area of the land owned by Qaffin inhabitants before the wall construction: 10000 dunums, including 18000 as master plan.

Total area of land confiscated by the wall: 4027 dunums, which constitutes almost 50 % of the village land.

Previous violations against the village: In 1948, the village lost 20 000 dunums of its land during the war and as a result of the establishment of the state of Israel.

Number of farmers affected by the wall construction: 179.
A sketch of the wall composition:
The wall is comprised of the following components as seen in the picture below starting from right to left:
1. Barbed wires (three rows);
2. Anti-car canal;
3. Maintenance road;
4. Electronic wall;
5. Earth road to trace steps;
6. Patrol road;
7. Uneven surface;
8. Drainage canal;
9. Barbed wires ( three rows). (See photo2)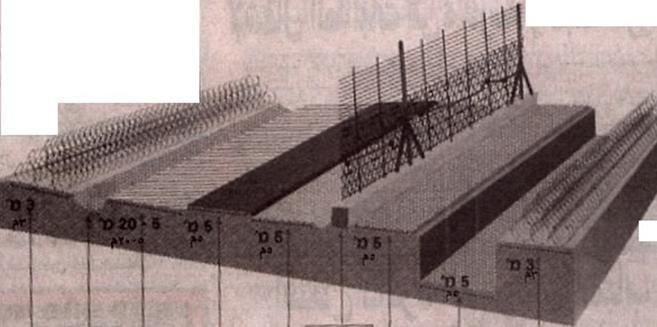 Source: Israeli Ha'artz newspaper (9.5.2003).
Prepared by
The Land Research Center
LRC