Effects of the Segregation Wall …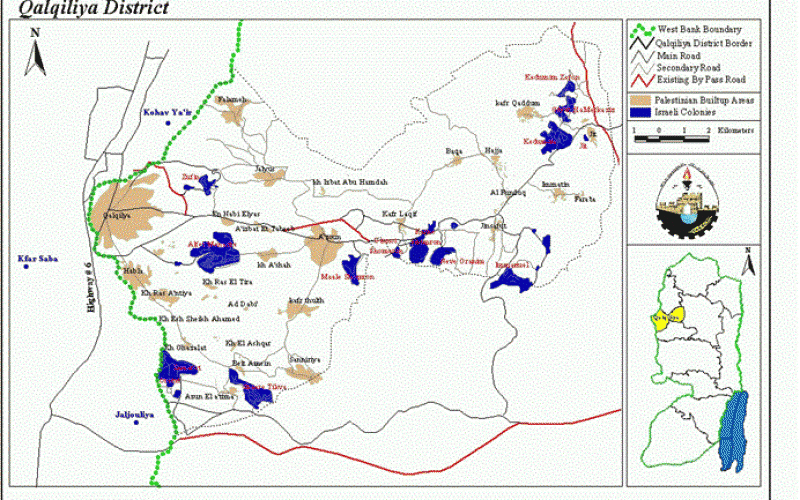 Qalqiliya district at a glance:
Qalqiliya district is located to the northwest of the West Bank, and is situated about 12 km from the Mediterranean coast, on the border between Israel and the West Bank. The city's altitude ranges from 45 to 125 m above sea level, with a total area of 174.0 Km2 and 72000 inhabitants. (ARIJ- GIS-Data Base, 2000/2001), See Map 1.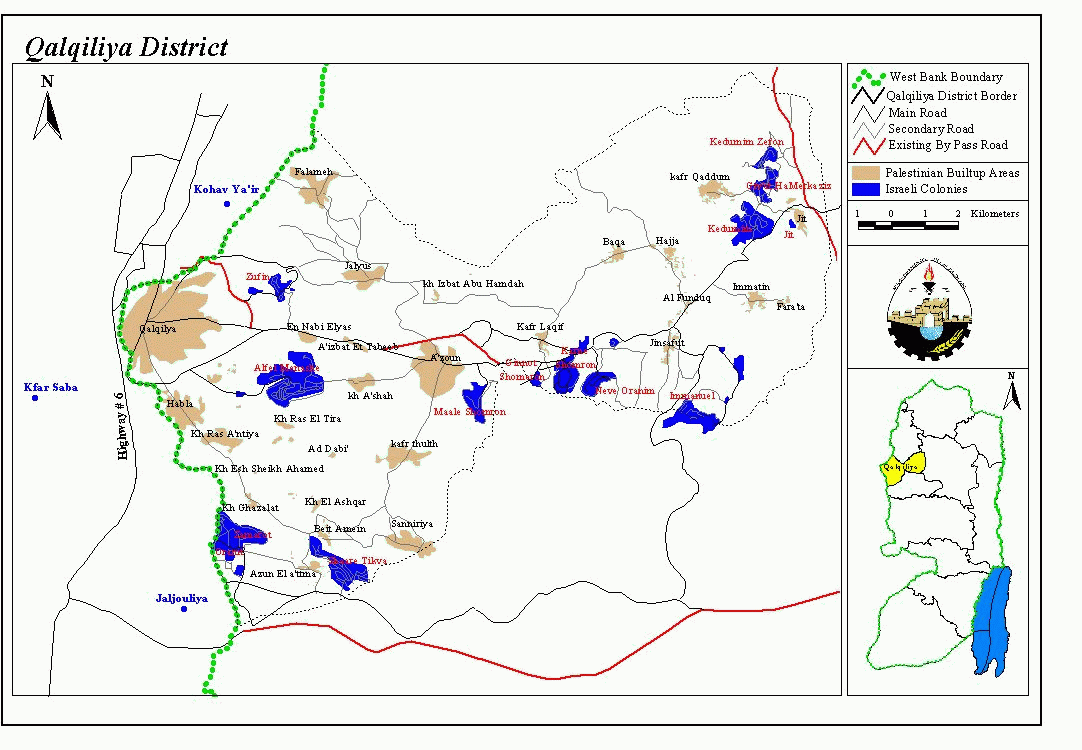 Since the year 1948 the district of Qalqiliya is facing the problem of land confiscation and colonization because of it's proximity to the 1948 Armistice line. The district today is surrounded by 15 Jewish colonies. Today Qalqiliya is facing a dangerous Israeli project as well as other districts in the West Bank, which is the ''Separation Wall''. This project will make the district a real prison and deprive it from most of it's natural resources that are mainly water and land.
Qalqiliya's water resources:
Qalqiliya is located on the top of the western groundwater basin of the West Bank, where this basin is renewable and is producing more than 250 million Cubic meters of water per year (MCM/yr). The Palestinian share is 15 MCM/yr, which accounts for 6% of consumption only, and the rest is taken by the Israelis. Also, 72 artesian wells are found in the district, 28 of them are located in Qalqiliya city and so these wells are considered as the main source of agricultural irrigation in the district, See map 2.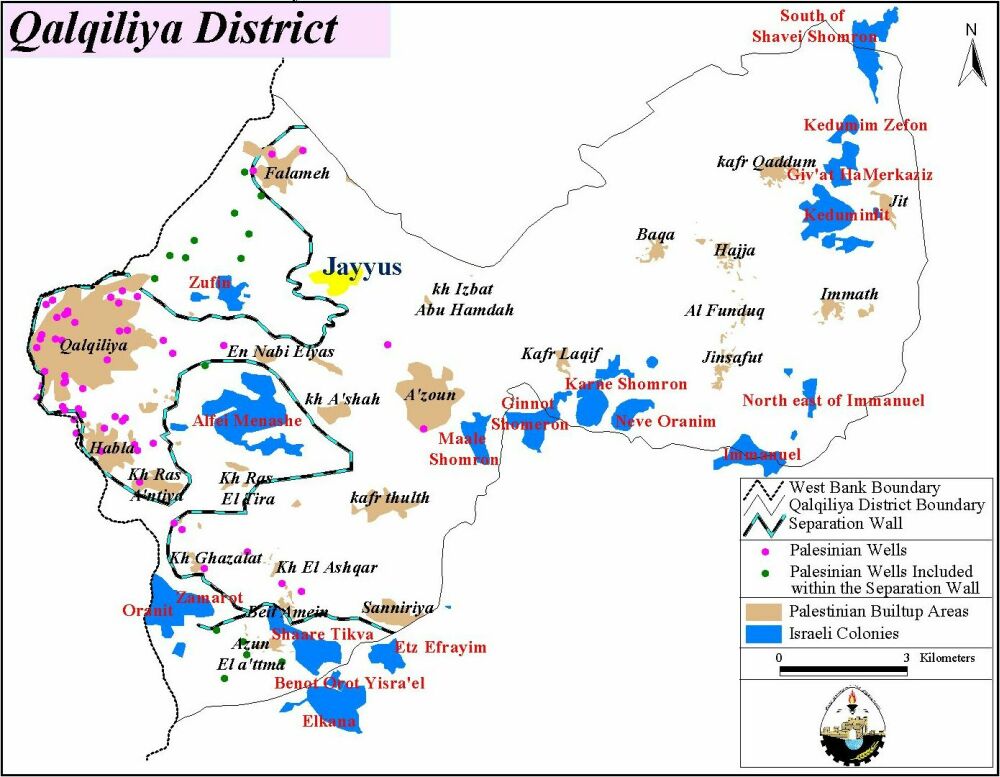 Qalqiliya and Economy:
Before Al-Aqsa Intifada, the percentage of employed persons in Israel reached 28.1% of the total employment in Qalqiliya district, while persons employed in Agriculture reached 16.5%, trade 13.3 % , and the rest for industry, education, public administration and other services. See Table-1: Distribution of Labor Force by economic activity
Type of employment

Construction

(mainly in Israel)

Agriculture

Trade & commerce

Industry & manufacturing

Education and public administration

Other services

% of employment Before Al-Aqsa Intifada

28.1%

16.5%

13.3%

14.0%

15.9%

12.2%
Source: PCBS-1999/2000
After Al-Aqsa Intifada, the number of Palestinians working in Israel declined extensively because of the Israeli closure policy, and most of the construction workers (70%) went to work in agriculture. The total number of labor force is 45,906 persons, with unemployment rate of 70%, as mentioned above, the number of employed persons is therefore 14,098. The daily Israeli violations such as uprooting of trees, shaving of lands and land confiscation, reduced the number of cultivated land to the half, because the farmers are not able to attain new debts or loans while they are loosing their capital which is the land.
The percentage of unemployment in Qalqiliya district till the year 2000 was 16.1%, (PCBS) while during the year 2002 the percentage of unemployment reached 70 % according to the workers Union in Qalqiliya.
According to estimates released on May 7th, 2002 by the United Nations Development Program (UNDP), Israeli incursions in Palestinian towns in the West Bank have caused severe economic damages. The total damage in the West Bank could range between $300 million and $400 million. The agency said that Qalqiliya suffered some $3.5 million worth of damage.
Qalqiliya and Agriculture:
Table-2 : Types of crops in Qalqiliya district
Area: Dunums
Production: metric tons

Crop

Total Production
Total Area

Olive

8330

65079

Valencia Oran.

2669

1112

Shammoty Oran

1839

681

Navel Oran.

160

64

Balady Oran.

0

0

Francawy Oran.

40

19

Others

0

0

Clement

926

463

Lemon

2262

832

Mandarin

229

109

Grape Fruit

0

0

Bomaly

0

0

Other citrus

6

3

Plum

7

5

Peach

355

164

Apricot

34

20

Others

16

8

Apple

51

26

Pears

0

0

Quince

0

0

Almond (hard)

15

245

Almond (soft)

1

20

Pecan

0

0

Others

0

0

Grape

0

0

Grape

0

0

Grape

0

0

Figs

46

126

Banana

0

0

Guava

835

319

Date

0

0

Aloe

3

8

Pomegranate

10

20

Mango

10

4

Akadenia

18

83

Avocado

120

46

Others

58

24

Total

18039

69480
Source: PCBS-1999/2000
Recent Israeli Violations in the district:
10,11/7/2002
Israeli surveying teams with Israeli soldiers are putting signs in the whole district but mainly in Jayyus town, Falameh and Asaleh covering an area of 15,000 dunums containing 9 artesian wells expected to be confiscated, See Photo 1.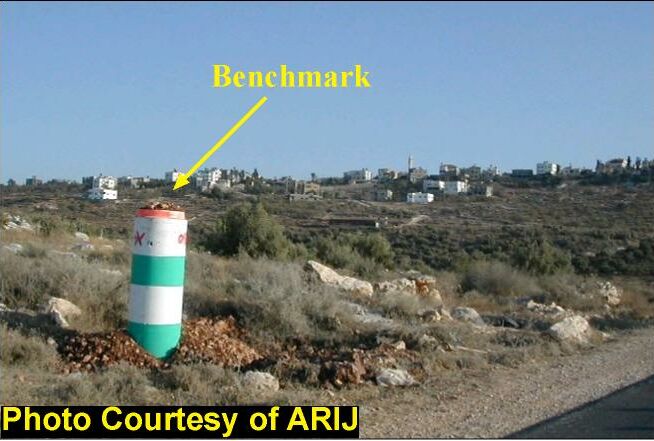 7/08/2002
The Israeli military bulldozers uprooted around 1500 bearingolive trees belonging to 10 Palestinian families in the area of Razaza located to the south eastern side of the district. The owners are not allowed to reach their lands in that area after that illegal action.
–/08/2002
Israeli occupation forces (IOF) confiscated 600 dunums of kafr Thuluth village and continued works on a bypass road of 1.5 Km in length and 15 m in width. This act prevented the villagers from reaching their lands. The IOF uprooted 300 bearing olive trees in the same area and installed 11cravans as a new colonial outpost.
18/08/2002
Tenders were handed to confiscate 2000 dunums from Qalqiliya district. The military orders will also isolate 3000 dunums and make them a military closed area.
19/08/2002
The Israeli Occupation Forces confiscated 125 dunums of agricultural lands containing 4 artesian wells south of Qalqiliya and Habla for the construction of the Separation Wall. In addition, this act isolated hundreds of dunums cultivated with vegetables and fruit trees.
3/09/2002
Orders to confiscate 15,000 dunums from the lands belonging to Jayyus, Falameh and Kafr Sur villages in Qalqiliya district. 8000 dunums of these are belonging to Jayyus and 1000 dunums to Falameh, See Photo 2.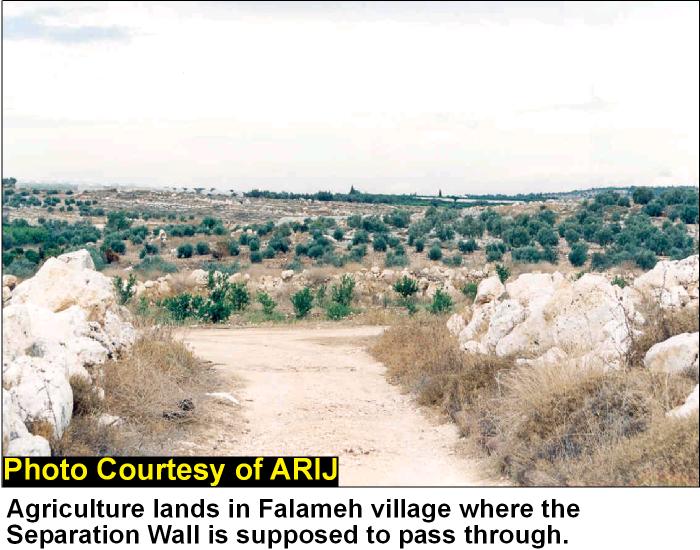 9/9/2002
The Israeli inspectors, accompanied by Israeli forces, surveyed thousands of dunums for expropriation purpose from Sanniriya, Beit Amin, 'Azzun 'Atma, and Salman's land in Qalqiliya district, in order to construct the Separation Wall. The landlord Mufid Eshiekh said that his land, which estimated at 15 dunums, has been surveyed
10/09/2002
1000 Dunums from Jayyus are declared confiscated.
24/9/2002
The Israeli forces bulldozed one hundred dunums from land that was cultivated with olive and citrus trees in the villages that lie to the south of Qalqiliya district, near Izbat Salman village where the Separation Wall will pass through. Pointing out that large parts of agricultural lands from the southern villages of Qalqiliya which represent Habla, Ras Atiya, 'Izbat Salman, Beit Amin, 'Azzun 'Atma, Ras At Tira, and 'Izbat al Ashqar will be isolated after the Separation Wall being finished..
8/10/2002
The Israeli bulldozers, accompanied by heavy vehicles, started leveling a huge area from Izbat Jaloud village to annex it to the Separation Wall. Ahmad Jaloud, the local council leader clarified that the bulldozed land area is estimated at 70 dunums, planted with olive and citrus trees. At the same time, the Israeli forces destroyed wide areas in Izbat Salman, which is near Izbat Jaloud to raise the confiscation land for the Separation Wall zone. The threatened land area is 45 dunums. While, more than 2600 dunums from Izbat Salman were expropriated for the Separation Wall. The bulldozing process is occurring in another 600 dunums.
16/10/2002
The Israeli military bulldozers uprooted more than 50 olive trees that belong to: Hussein Hamdan, Arif Salim, Taher kadumi, from Jayyus village, and leveled about eight dunums cultivated with olive and citrus trees, that belong to Nawwaf Radwan and his brother from Azoun village.
20/10/2002
According to eyewitnesses in Jayyus village, Israeli bulldozers uprooted and destroyed more than 150 olive trees that belong to Jaser Salim and Hasan Beyda. Meanwhile, the Israeli forces bulldozed tens of Dunums from an agricultural lands that extend between Izbat Salman and Izbat Jalud in Qalqiliya district for constructing the Separation Wall. Quds
23/10/2002
The Israeli forces started bulldozing tens of Dunums, that belong to Abed Elrahim Jada' and Jamal AlQasim from the southern part of Habla land for erecting the Separation Wall. The Israeli bulldozers continued uprooting and destroying hundreds of Dunums from the lands of Jayyus and Izbat Salman villages. Quds
The total violations made by the Israeli occupation forces or settlers in Qalqiliya district, since the year 2000 till October 2002 are summarized in the following table:
Table -3
| | | | |
| --- | --- | --- | --- |
| Year | Land confiscated (Dunums) | Land threatened (Dunums) | Uprooted trees |
| 2000 | 0 | 1995 | 1690 |
| 2001 | 200 | 1783 | 17204 |
| October 2002 | 3,925 | 21,125 | 3361 |
| Total | 4,125 | 24,903 | 22,255 |
Source: ARIJ GIS database, 2001/2002
Recent Israeli activities in Jayyus village:
Jayyus village is located 2 Km to the eastern side of the 1948 border, with a total area of 13,000 dunums and a population of 3000. The settlement of Zufin is located to the west of Jayyus since the beginning of 90's; also an Israeli quarry is working in the same area since 5 years. The area shared between Qalqiliya city, Falameh and Jayyus is containing 7 artesian wells, for that reason in addition to its proximity to the green line, large areas of land will be confiscated for the Separation Wall plan. See map 2.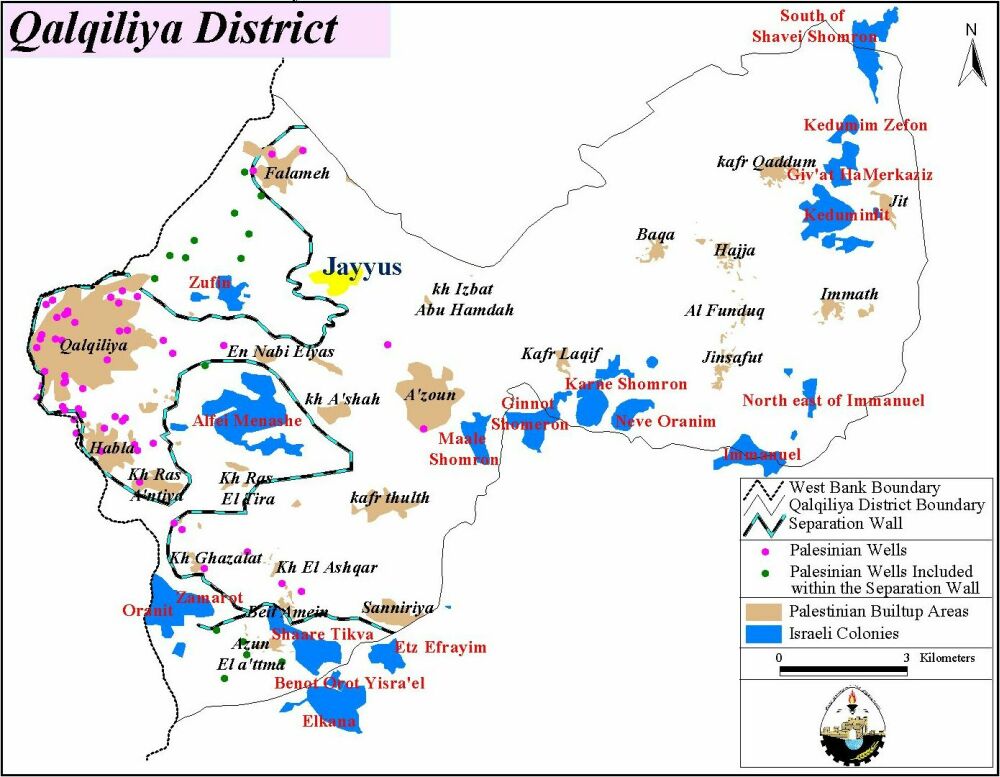 A group of Israeli surveyors, accompanied by military forces, worked on a new survey operation of lands in Jayyus and other parts of Qalqiliya by the 10th of July 2002 and put benchmarks with serial numbers. There were 6 benchmarks installed in Jayyus at the northern, southwestern and northeastern parts of the village. These marks were located at the map by the villagers and referred to the following blocks: 9, 10, 12, 13, 14, 15, 16, 17, 18, 19, 20 (Totally), and 1, 3, 4, 7, 8, 11 (partially).
The lands of Jayyus village are divided into 20 Blocks, so it can be said that the majority of lands, belonging to the village, fall under the threatened areas and even the violated areas. The people of Jayyus as well as those of other villages are always having problems with the Israeli occupation forces in order to stop these violations but the Israeli soldiers are using the force and sometimes the excessive force to keep the people away from their lands, See Photos 4 & Photo 5
Olive trees presses tears instead of oil:
When ARIJ fieldworkers were in Jayyus they passed by the olive presser, as it was the olive harvesting time, and so they observed an old man crying while sitting on olive sacks. The fieldworkers went to talk and to ask the old man for what reason is he crying, and then he answered with a low crying voice: this was the last time that I collect my olives because the Israelis had annexed my 80 dunums of olive trees behind the Separation Wall..! The Israeli occupation forces shaved for him olive trees and he tried even to collect the olives from the ground, in addition the man was so disappointed because he inherited this land from his father and grand fathers and he was asking what will his sons inherit from him? nothing but poverty he said..!!!
Recent Israeli activities in Falameh village:
Falameh village is located to the eastern side of the green line, to the west of Kafr Jammal and to the northwest of Jayyus villages. For the fact that Falameh village is too close to the green line, it is really threatened to be partially annexed to Israel. Benchmarks for constructing the Separation Wall have been surveyed on different sites within the village. ARIJ field workers succeeded to get a photo for an Israeli military map showing the route of the Separation Wall that is taking place in Falameh, See Photo 6.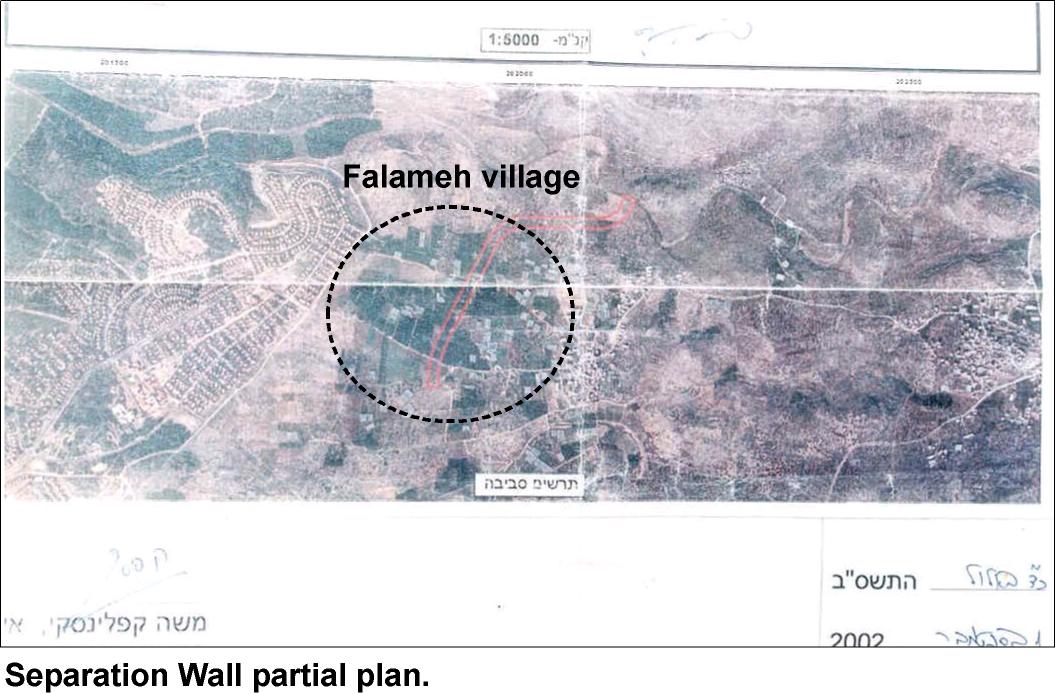 Falameh is going to loose 1,700 dunums from its lands, in addition to 840 dunums that are where the wall will pass through. See Photo 7 & Photo 8
Special facts about the Separation Wall in Qalqiliya:
The new plan that the Israeli government is applying nowadays is the construction of the Separation Wall. This wall will try to isolate Palestinian territories from Israel. Through constructing the Separation Wall, the Israeli government is annexing and confiscating areas from the West Bank including as maximum as Palestinian lands, illegal settlements and water resources to Israel. This plan, according to Israeli maps published by the Israeli occupation forces, will cost the people of Qalqiliya around 35.2 Km2of their land so this means 20.2% of the total area of Qalqiliya district. See map 2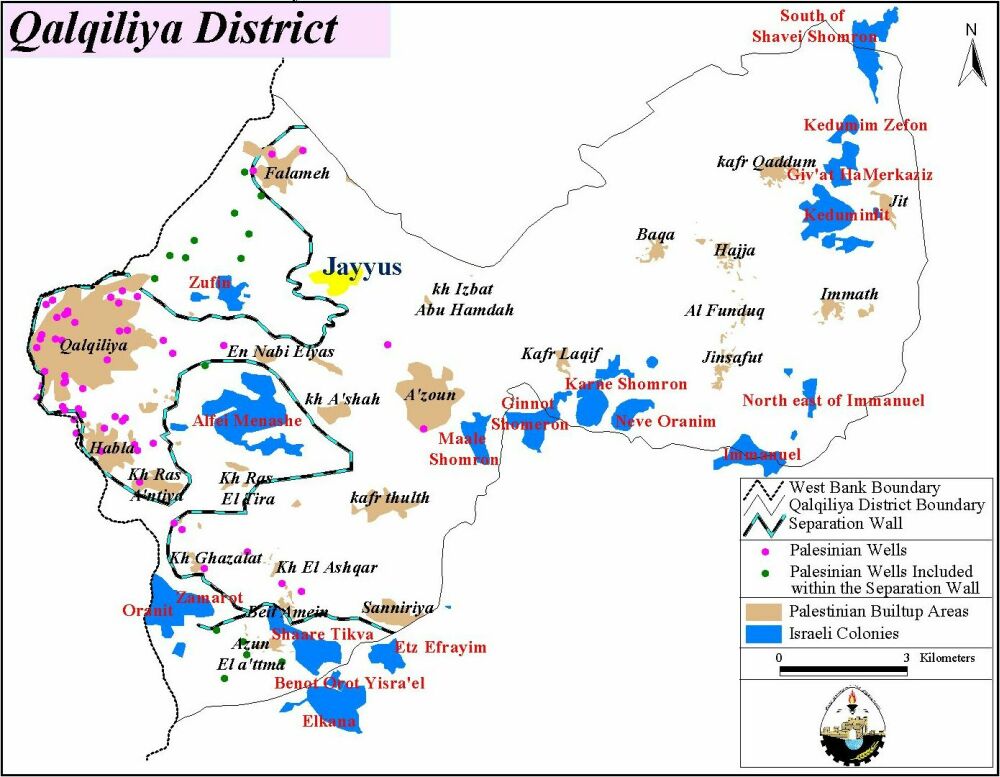 This wall will swallow many lands and isolate the district, transforming it into prison camps. Artesian wells that will be included within the wall will be 15, and this means 20.8% of the total number of wells in the district. See Photo 9, Photo 10 & Photo 11
Table -4
Original

To be annexed behind the Separation Wall

%
of annexation

Area

174.0 Km2

35.2 Km2

20.2 %

Artesian wells

72 wells

15 wells

20.8 %
Source: ARIJ- GIS-Database 2002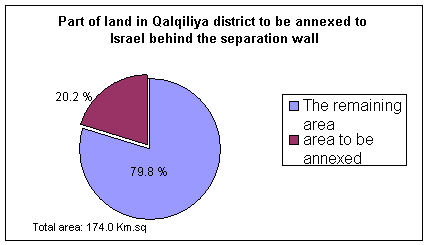 Table-5 :Total agricultural area annexed for the security zone in Qalqiliya district:
| | |
| --- | --- |
| Crop | Total agricultural area annexed in Dunums |
| Field Crops | 393 |
| Olive trees | 1533 |
| Orchard | 3261 |
| Vineyard | 252 |
| Total | 5,441 |
Source: ARIJ-GIS-Database-2002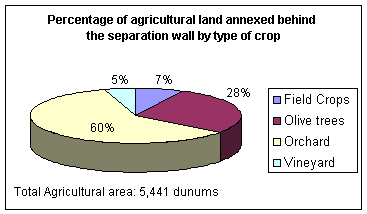 Table-6
Total agricultural area in Qalqiliya district /Dunums

Agricultural area annexed (Dunums)

%
agricultural area annexed

*69352

**5441

7.84%
* PCBS-1999/2000
** ARIJ GIS Database- 2002
Analysis:
The Israeli attack on Palestinian lands to build the so-called Separation Wall is not based on security reasons only,as the Israeli media and government are claiming; From maps published in Israeli newspapers we can see that the Separation Wall is passing through areas containing artesian wells and main water basins that provides the west bank with water. The fact that Qalqiliya is located at the West Bank western basin makes it a target by the Israeli confiscation policy, whereby 15 important artesian wells are going to be confiscated from the district. If the Israeli aim were to provide security to their people as the Israeli government claims, it would have planned the project to be at the 1948 border according to the international law, See map 1.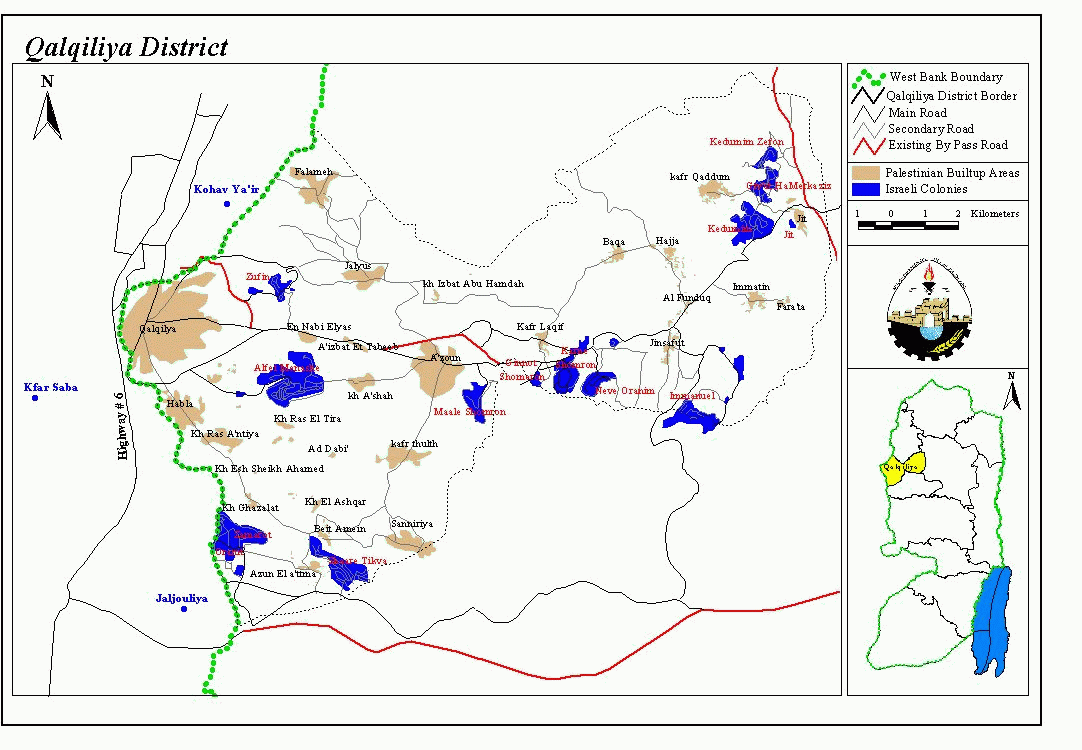 Things do not stop at that limit only, but may also cause indirect Palestinian transfer from their villages or cities located near that new border, as it is expected for Falameh and Habla in Qalqiliya district. The attack on the district will make Qalqiliya city the major district's urban center as an 'open jar' enveloped by the Separation Wall with one entrance at it's eastern gate mainly will make it a real prison with an Eastern Gate as the main entrance for Qalqiliya city. This Israeli plan represented in the Separation Wall besides the checkpoints, roadblocks and other physical barriers found in the West Bank, separates Palestinian localities from each other and results in the hampering or complete freezing of the economic, political, educational, medical, and social service activities necessary for a healthy society.
Summary:
The total area of Qalqiliya district is 174.0 Km2, and the Separation Wall will nibble 35.2 Km2, which represents 20.2% of the total area. The agricultural sector is going to loose 5,441 dunums (5.44 Km2), which means 7.84 % of the total agricultural lands in the district. Fifteen important artesian wells, mostly used for irrigation, are going to annexed from Qalqiliya according to the Israeli segregation plan, 8 of them are located between Falameh and Jayyus and are among the most threatened wells. The total number of uprooted trees till September 2002 was 22,255 trees. The percentage of unemployment in the district reached up to 70% during the year 2002, while during the Israeli military incursions, Qalqiliya district suffered some $3.5 million worth of damage according to estimates released on May 7th, 2002 by the UNDP.
Prepared by:
The Applied Research Institute – Jerusalem