The Growing Hardships of Traveling in the West Bank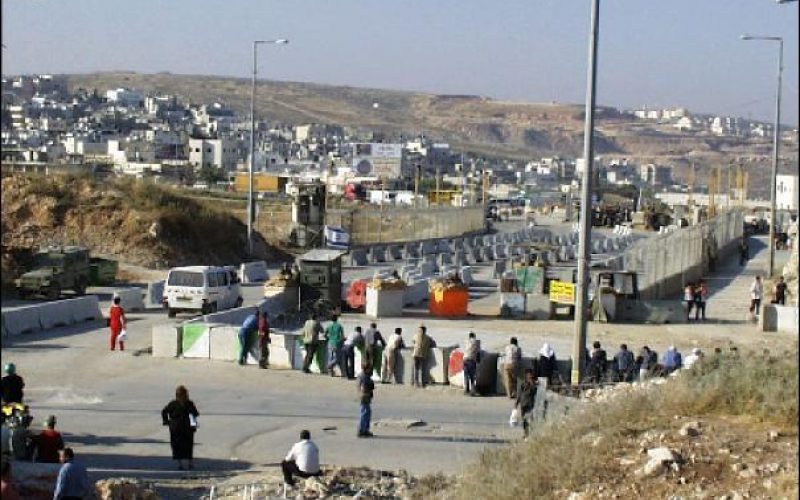 Zahi lives in Sa'ir, a town in Al Khalil (Hebron) district. He is a fieldworker for a human rights organization based in Ramallah. His job entails monitoring the human rights abuses in Al Khalil (Hebron) district and reporting them to the head office in Ramallah. Every once in a while he is required to go to Ramallah for that purpose.
However, the erection of Israeli checkpoints changed all that. The sophisticated network of checkpoints and roadblocks has resulted in Palestinians taking more time and spending more money on transportation in order to undertake their daily chores. Simple things like going to oneâ??s work or delivering a parcel has become an ordeal in itself. See Photo 1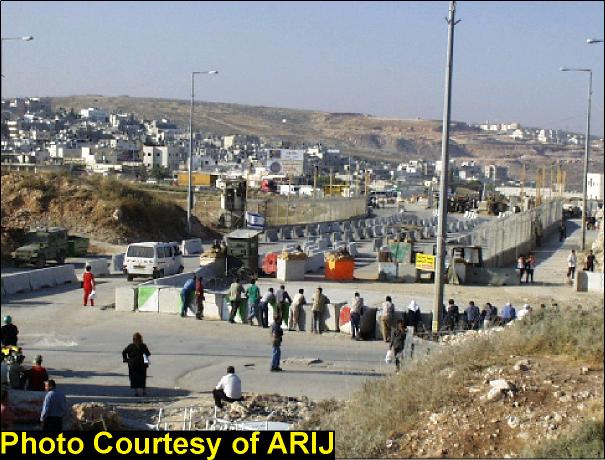 Zahi's case is a typical one. He used to come to Ramallah twice a week to his organization's headquarters. But when the Israeli army started erecting checkpoints (using the pretext of security, as usual) he had to look for alternative routes. Rather than taking two rides in public transportation, one from Sa'ir to Al Khalil and the other from Al Khalil to Ramallah, he started taking three to five rides. This new route took twice the time and also twice the cost of the older route. Moreover, there was a distance of 500 meters that had to be done on foot. So, as a result, he started coming to Ramallah twice a month. See Photo 2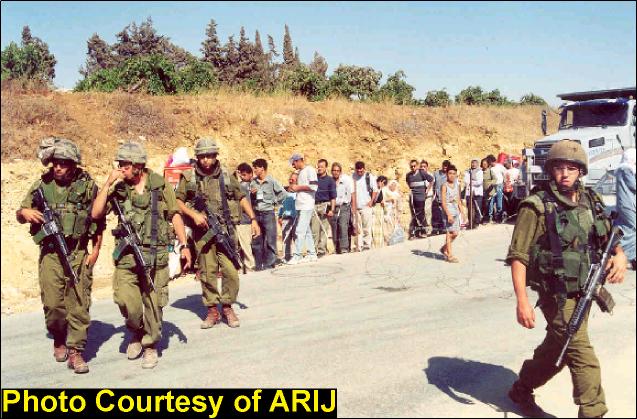 More recently, the Israeli checkpoints have become more stringent and Zahi has to take longer and even more exhausting routes. He now takes 9 rides and walks on foot for a total of 2500 meters. Starting from Sa'ir, he takes a car to El Arroub, then another one to Beit Fajjar, and from there to Teqoa where he goes on foot for about one kilometer before reaching the cars going to Za'tara and Dar Salah. From there, the cars take 4 kilometers of unpaved track roads and another 250 meters of walking to be done from Za'tara in order to get to the cars going to Wadi Al Nar (Fire Valley road). The road at Wadi Al Nar (Fire Valley road) has also 6 kilometers of unpaved roads after which the passengers reach Abu Dies to take another car to go to Qalandia checkpoint. From Qalandia Zahi goes to Dura Al Qar' where there is another kilometer of walking in order to reach the cars going to Ramallah. These cars, again, take 3 kilometers of unpaved roads before finally arriving to Ramallah city.
It is worth mentioning here that the normal road going from Sa'ir to Ramallah through Jerusalem is 45 Km ( Pink Color), while now, with the existing checkpoints, the alternative road is 106 km (Blue Color). See Map 1.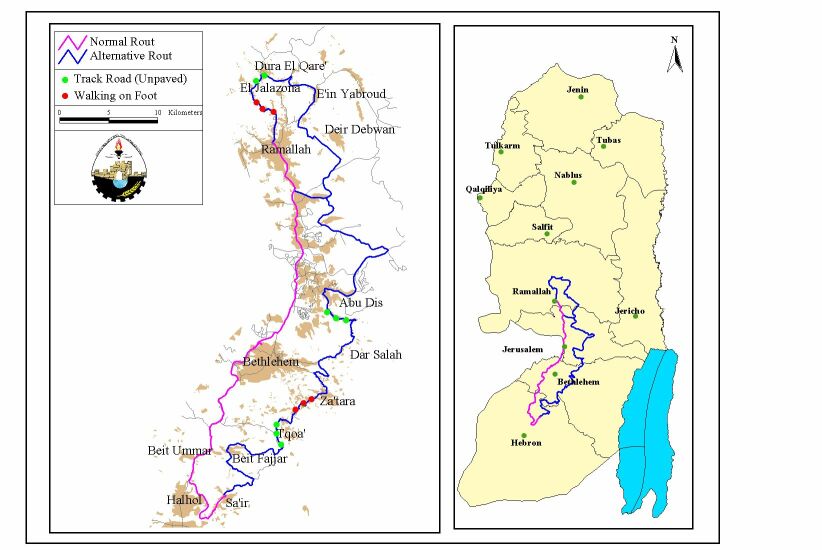 As a result, Zahi is now going to Ramallah once every three or four months. The table below compares the various routes taken from Hebron to Ramallah.
Table 1: Hebron to Ramallah
Period

Duration (HRS)

Cost

Remarks

Before having checkpoints

1:15

2 x 20 NIS

Through Wadi Al Nar

After having checkpoints

3:30

2 x 45 NIS

3 to 5 rides + 500 m walk

Currently

6:30

2 x 61 NIS

9 rides + 2500 m walk

NIS = New Israeli Shekel = 0.20 $ US.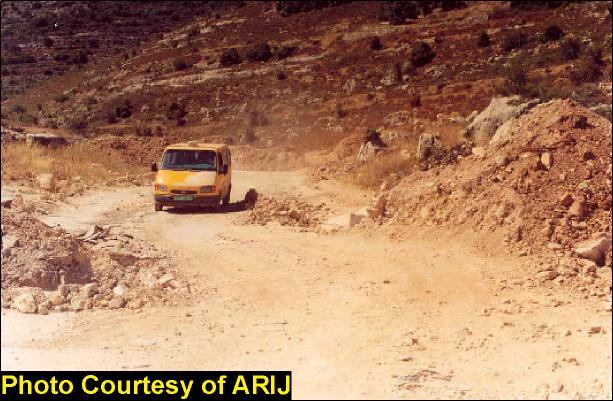 Zahi's case is just one of many. There are thousands, even hundreds of thousands, of Palestinians daily suffering from Israeli checkpoints. These checkpoints not only disrupt the daily lives of Palestinians to the point of paralysis, but also jeopardize their economy. In fact, the aim of the Israeli government from all this torment is to force the Palestinians into accepting whatever is offered on the negotiating table. It wants to extort a peace deal that is tailored to their colonialist plans. Namely, the creation of several isolated Bantustans and no viable Palestinian State. See Map 2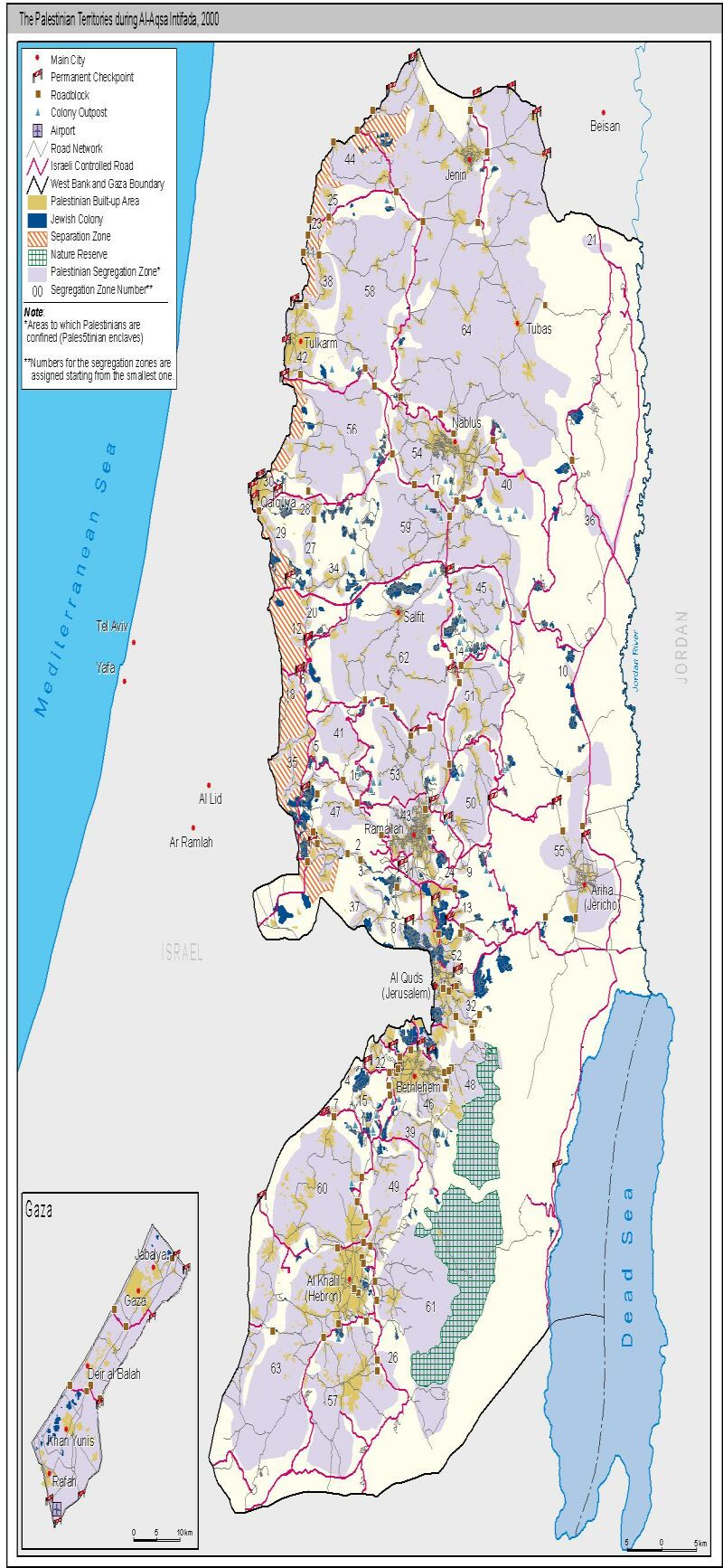 Prepared by:
The Applied Research Institute – Jerusalem