An Israeli Fenced Military Road North Of Bethlehem District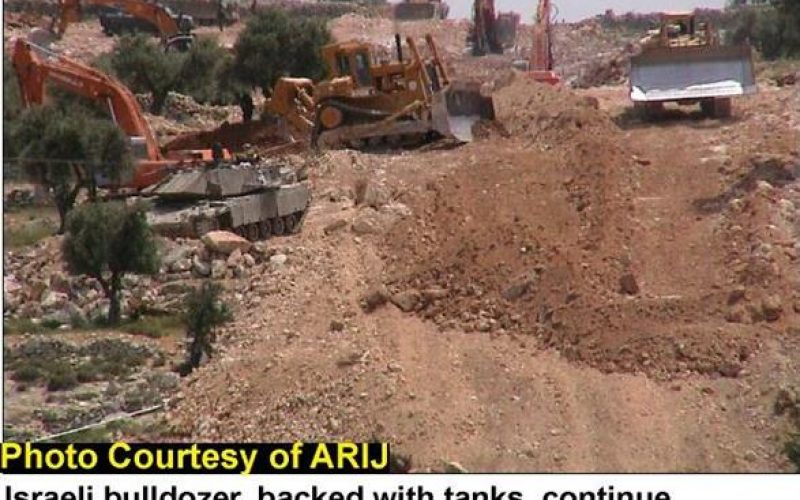 The Israeli government has continued to undermine the agreements it ratified by manipulating political power. Such is evidenced by Israel's adoption of creating facts on the ground policy that would drastically change the parameters of a permanent solution to the conflict. Israel's expansion of Jerusalem's illegal boundaries is one example of Israel's de facto policies that aim to augment the course of the negotiations over Jerusalem. Prime Minister Ariel Sharon's old new plan to separate the city of Jerusalem from its Palestinian neighborhoods is a plan in progress.
In previous case studies, ARIJ field workers undertook an intensive fieldwork in order to bring to light the Israeli plan of separating the northern boundaries of Bethlehem district from Jerusalem, click for more details. In fact, work has intensively revived in parallel with the latest Israeli invasion to Bethlehem district started on April the 1st 2002, See Photo1 .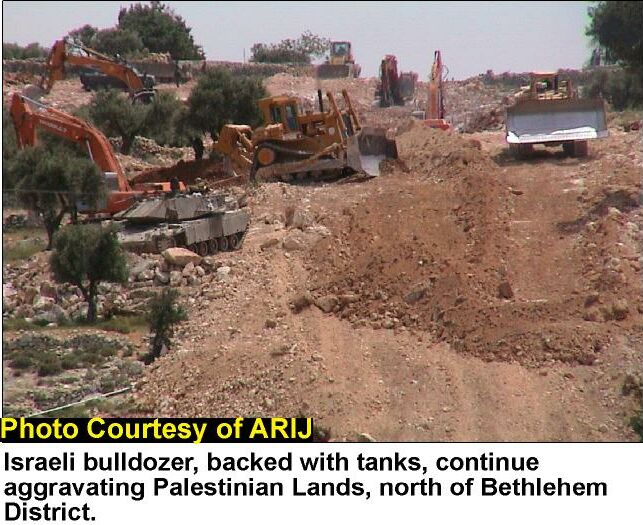 Recently, a number of Israeli confiscation orders were issued and handed out to Bethlehem, Beit Jala and Beit Sahour municipalities.
The Israeli government is continuing its establishment of a new separation zone to the north of Bethlehem district. This security zone will result in the annexation of 15 Km2 of total area of Bethlehem district. For instance, due to this security zone, a large area of the Armenian monastery lands will be confiscated. Also it will increase the strangulation around Jerusalem; making thousands of Palestinian laborers coming from Bethlehem and Hebron to work inside Israel an easy target to Israeli forces. See Photo 2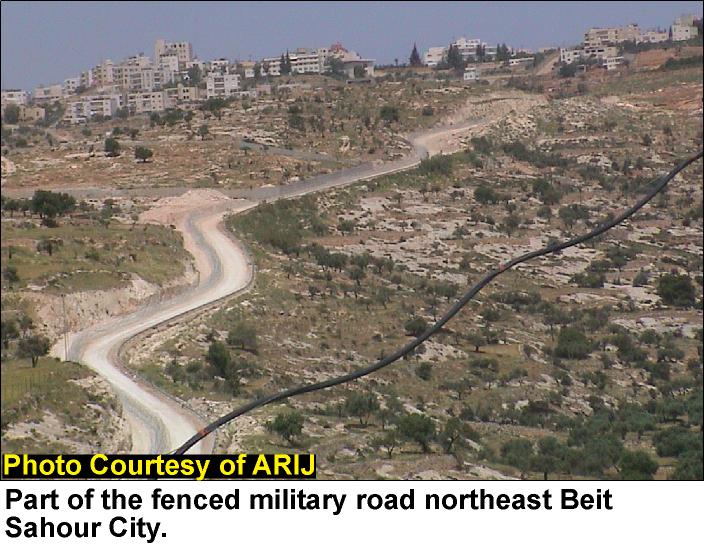 At the southern edge of the buffer zone, Israeli bulldozers have started constructing a fenced military road. See photo3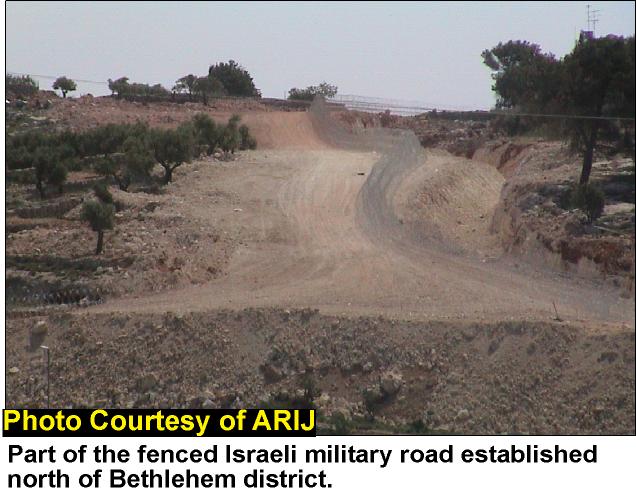 The new military road will be connected to Road 60 from the west and with Abu Ghunaim settlement from the east, see satellite map .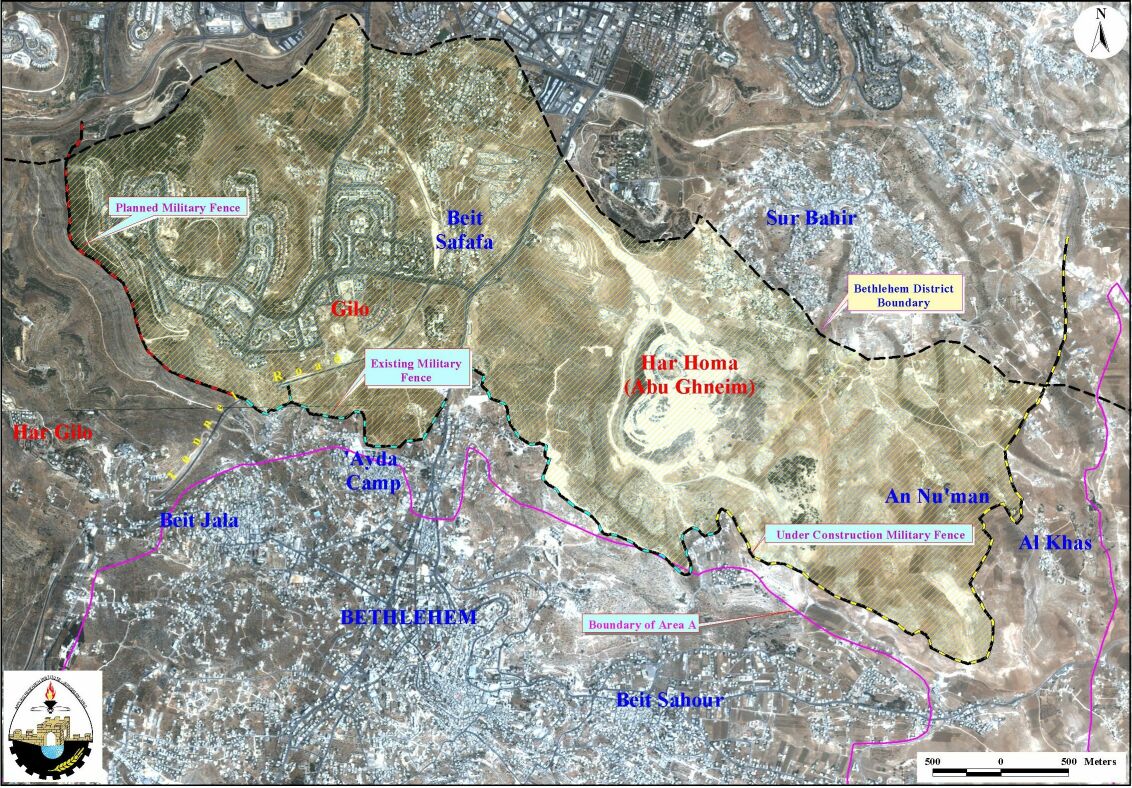 The shaded area on the satellite map which represents 2.5% of total area of Bethlehem district is inaccessible to Palestinians who will need to have a special permit from the Israeli Authorities to enter this area. The table below clarifies the data collected from both fieldwork and satellite image analysis.
Total length of the fenced military road

Total

Existing

Planned

14.5

11 Km

3.5 Km

Total aggravated area

0.29 Km2

Total area to be annexed (inaccessible to Palestinian) from Bethlehem district *

15 Km2 (i.e.2.5% of Bethlehem district area)
source: ARIJ GIS database 2002.
* According to PNA district boundaries
It is significant to note that these roads and buffer zones are solely built for political reasons ignoring the implications of such action on Palestinian geographical contiguity.
Also, confiscation of land for Israeli military purposes will have adverse ramifications on the Palestinian community affected and their economy. Bulldozing the land resulted in the uprooting of hundreds of olive and apricot trees as well as the diminution of Palestinian agricultural land, see photo 4 and photo 5 .
Many Palestinians depend on the crops and the products of the olive and apricot trees. Depriving these families from this source of income will surely have negative impacts on the economic situation of these families.
The most threatening consequences of establishing the buffer zone around Jerusalem is the annexation of Palestinian neighborhoods such as Beir 'Ona, See photo 6.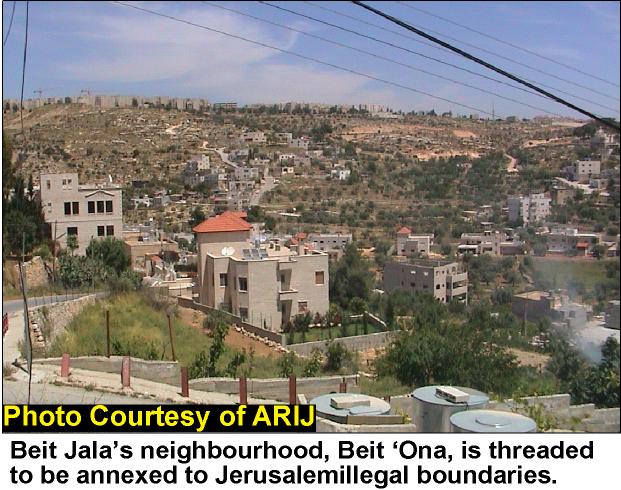 Bir 'Ona is a Palestinian neighborhood of around 1,000, located to the southwest of Beit Jala. It fell under Israeli occupation in 1967. There has always been an Israeli intention to annex Bir 'Ona which comprises 29% of Beit Jala total area to Jerusalem boundaries. Thus, in 1989, this Palestinian neighborhood encountered an unprecedented wave of house demolition. Approximately, 25% of Bir 'Ona houses received demolition orders under the pretext of building 'without permits'. A systematic scheme was planned by the Municipality of Jerusalem compelling the house owners to apply for building permits from the municipality in an attempt to annex Bir 'Ona boundaries to Jerusalem. This colonization aim was not achieved until January 22nd 1999, when the Jerusalem Municipality declared a decision to annex Bir 'Ona to its borders by putting the village under its jurisdiction and levying 'Arnona' tax on its Palestinian inhabitants.
Thus, as discussed above, Israeli attempts to change the geographical and the demographical shapes of the holy city either by changing its boundaries or separating it from its Palestinians neighborhoods will not change-in any way the status of the city as an occupied territory. However, any final talks between the Palestinians and the Israelis over Jerusalem will indeed be further complicated by the violations committed by the Israeli government in creating more facts on the ground to reinforce its diktat over the negotiations with Palestinians.
Prepared by:
The Applied Research Institute – Jerusalem