Tightening the Siege Around the Northern Districts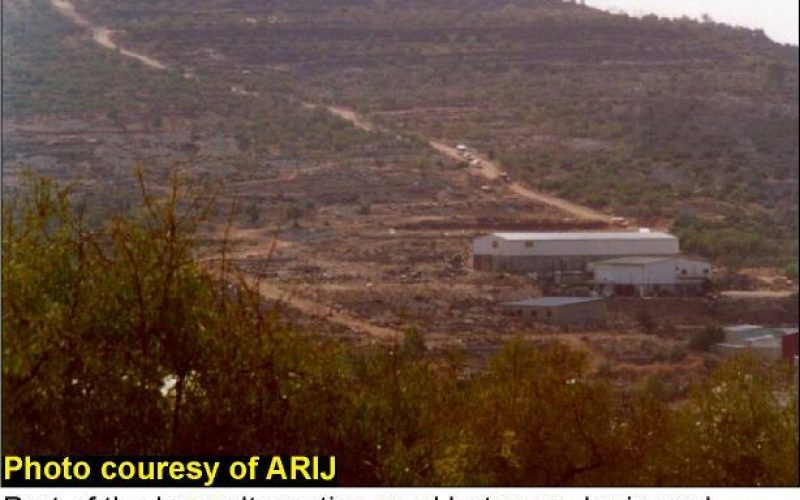 he unequivocal call to lift the closure and siege imposed on Palestinian towns and villages addressed by the U.S Secretary of State Colin Powell had no effects on the ground: Israeli tanks still hold positions in Ramallah, Jenin is still suffering from the tight siege enforced a month ago. Roadblocks and checkpoints still crosscut the West Bank and Gaza Strip turning them into a closed isolated large prison.
The Israeli tanks have entered the Palestinian city of Jenin on October 18th. Israeli troops have tightened the siege around Jenin preventing any possible movement of people, goods or even for urgent cases where sick people forced to go back home, while they were in their way from Jenin to Nablus for Kidney dialysis operations (Palestinian Red Crescent resources).
Israeli tanks surrounded the Arab American University located southeast Jenin; where the closure hindered over a thousand and a hundred students from attending their lectures. Palestinians willing to take the alternative road from the closed Jenin district to Nablus preferred to transfer their goods on donkeys since the road is long and inconvenient to travel. See photo1, photo 2 & photo 3
A large scale of destruction to agricultural land has been reported. Wide areas of agricultural land planted with crops in Marj- Ben Amer and the Almani (German) neighborhood were bulldozed by Israeli tanks. Ali Salim, a Palestinian farmer said '' Israeli tanks have entered my land and spoiled my crops on purpose; they had normal roads instead '', see photo 4& photo 5 .
It is worth mentioning here that during the first year of AL-Intifada, 12000 trees were cut down and 314 dunums were confiscated in Jenin district. (ARIJ database, 20001)
In the midst of the successive military actions, Israeli bulldozers were working quickly to reinforce the isolation of the northern and eastern borders of Jenin. Two- meters wide trenches with a total length of 21 km were dug in order to prevent any infiltration to the nearby roads; the only way to keep contact with other Palestinian towns and villages. See Map 1 & photo 6
Israeli tanks entered the Palestinian town of Tulkarem, dividing it into two parts. They invaded area A and reached the center of the city '' Jamal Abdel Naser square'', See Map 2 . Number of residential houses were taken by Israeli troops and converted to a military spots.
Qalqilya has been also subjected to such collective punishment measures. A round-belt of tanks and checkpoints surrounded the town during the Israeli invasion, See Map 3 .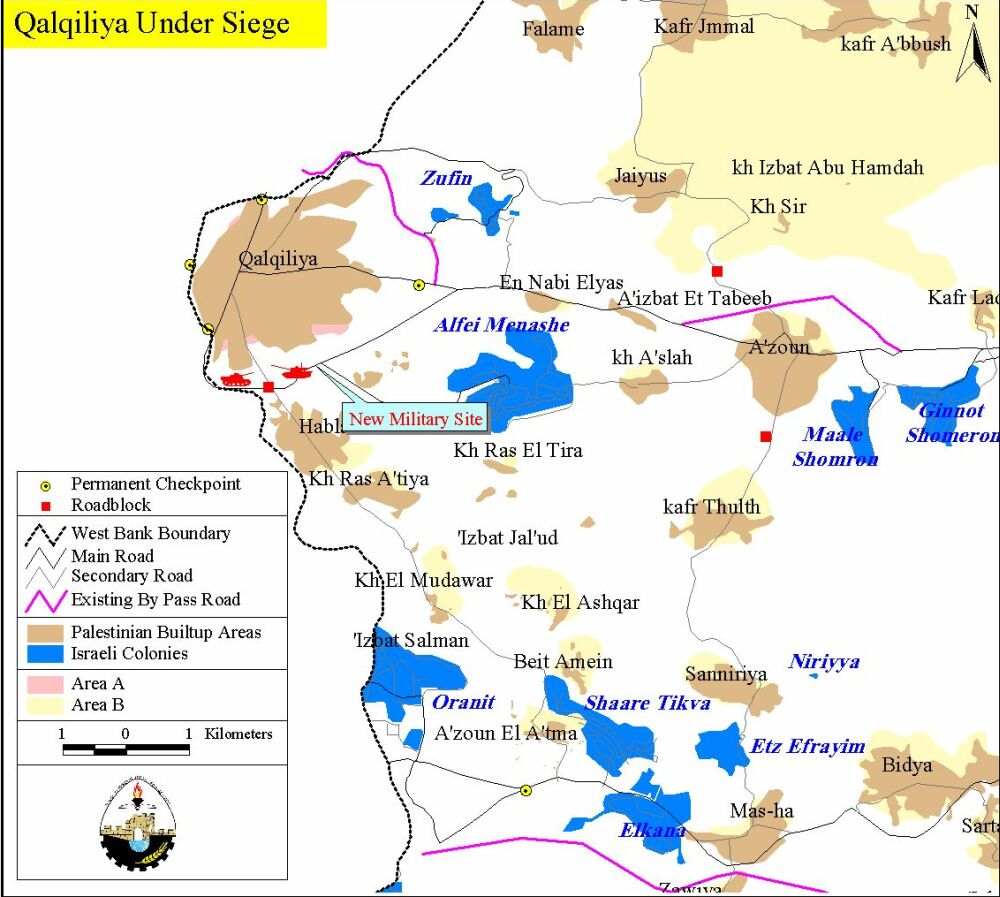 The same checkpoints and roadblocks have been remained in their places. Tens of tanks and armored vehicle pulled out from the city a week ago, but are still stationed at the main eastern entrance, which is less than 1km away from their original positions. See photo 7& & photo8 .
Prepared by:
The Applied Research Institute – Jerusalem