Israeli army and Jerusalem Jewish Municipality officials forcibly evacuate three Palestinian families and destroy their houses.
Under the protection of hundreds of Israeli soldiers, bulldozers of Jerusalem Jewish Municipality destroyed 3 Palestinian houses in Wadi Qadum and Jabel Al- Mukaber quarters in the early hours of October 23rd, 2001. The three houses, which were destroyed under the pretext of building a bypass road, are owned by the families of Al- Salaimeh and Hallasa. 30 people, including 18 children were made homeless as a result.
The demolition tactic being followed by Olmert's Municipality is based on early morning raids when most adult males are outside homes in their businesses and schools. This tactic facilitates the demolition process and spares the occupation forces any confrontations with house occupants.
Since the beginning of this year, the Land Research Center ( LRC) has documented the demolition of 48 residences, 9 barracks and 8 walls, wells and farms. It is worth mentioning that the policy of house demolition is not a new one, but under the current Israeli extremist government headed by Sharon, the demolition is being carried out without prior warning, hence, giving no chance for the evacuation of furniture and personal belongings. This brutal methodology is considered a systematic and actual act of terrorism directed against un- armed civilians. The following are the details of the three demolition processes provided by Land Research Center (LRC) Field worker:
Case Number 1: Demolition for the second time
Location: Wadi Qadum Jerusalem
Date of demolition: 23-10-â??2001
Name of owner: Maher Abdullah Munir Salaimeh, 31 years old.
House size: 120 m2
Number of family members: 17, including 5 children
Previous demolition: March 8th, 2000
On October 23rd, 2001, at 8:30 AM, a large Israeli military force stormed the house of Mr. Maher Abdullah Salaimeh using police dogs. Present at the house were the mother, Mrs. Thuria, 27 years old, her son Mohammed, 18 months old, and her daughter Ruba, 4.5 years old, as well as the grandparents. The rest of the family had left home at about 7:30 heading for their businesses and schools.
The occupants were forcibly thrown out of the house and detained by soldiers until the end of the demolition process. Mrs. Thuria gave the following statement to LRC field worker: '' I was in my pajama when our neighbor knocked at the door and told me that the Israelis wanted to destroy our house. I looked out and saw many heavily armed soldiers in uniform accompanied by dogs. At the moment I opened the door, they rushed into the house with their dogs and started to pull us out. This was the second time our house has been demolished. We have invested all our earnings to build it, and still we have to pay additional debts. My children, who had been living happily and peacefully in the house, returned from schools to find it a pile of rubble. They were severely shocked, especially my daughter, Hind, who broke into tears. My son Abdullah, whilst he was coming home from school heard the bad news of the demolition. He rushed to the house to find a completely different reality. He was so shocked that he said nothing and sat on his own, bewildered. Ever since, the children have been wet and panic''.
The grand father, Abdullah, who is disabled, was transferred to hospital after he had suffered a neurological collapse.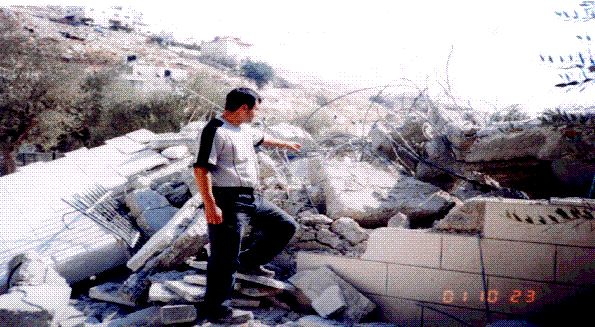 Masher Salaimeh pointing to the ruins of his house
Case Number 2: Demolition followed by ridicule and harassment
Location: Wadi Qadum, Jerusalem.
Date of demolition: October 23rd, 2001.
Ownerâ??s name: Mohammed Eid Mohammed Zahran Salaimeh.
House size: 122 m2.
No. of rooms: 6
No. of family members: 17, including 12 children.
In an interview with LRC field worker, the owner of the house Mr. Mohammed Salaimeh gave the following account:'' At 09:00 AM dozens of soldiers broke into the house with their weapons and started to dismiss us by force. They even didn't allow me to wear trousers as I was sleeping at the moment they entered. As you see I am wearing a pajama which I borrowed from a neighbor. The soldiers pushed all of the family members out of the house using police dogs amidst screams of my children and wife. Outside I saw dozens of soldiers, policemen and snipers spread all over the place and on top of adjacent houses. The scene was typical of a war front. Less than an hour, three bulldozers turned the house into a dump of rubble and my family became homeless. I work as a cleaner in Jerusalem Municipality and all I have earned is this house. I built it on the land of my own and I spent most of my life doing this job''.
The man was unable to restrain his tears when he saw the reaction of his children, Ramzi and Iyman, after they had come back from school and find no house. They Couldn't believe that the house whose they left few hours earlier have become ruins. They went hysterical trying to find their damaged belongings amid the rubble. Ramz's aunt was taken to hospital after suffering neurological collapse following the demolition.
The house owner pointed to the provocative and in human conduct of the Israeli soldiers who remained at the scene for almost two hours after the demolition trying to make ridicule of the victimized family and doing acts of harassment against people and neighbors who came to express solidarity.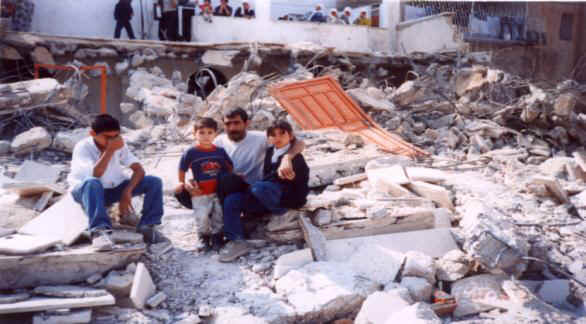 Mohammed Eid and his children sitting on the ruins of their house
Case Number 3: Demolition without resistance
Location: Jabel Al- Mukaber, Jerusalem.
Date of demolition: 23.10.2001.
Name of owner: Rania Ali Kamel Hallasa, wife of Hamed Ibrahim Hallasa.
House size: 65 m2
No. of rooms: 4
Number of family members: 3, including one child.
AT 07:00 AM, a huge Israeli military force comprised of border guards, special task units, police, snipers and dogs attacked the area of Bir Mishmish in Jabel Al- Mukaber to destroy the house of Mrs. Rania Hallasa, 21 years old. When she heard the news of the attack she panicked and hugged her one year old daughter and left the house on her own as her husband was then at work. The young women already had another bad encounter on August 28th, 2001, when a group of heavily armed Israeli soldiers and Municipality officials forced their way into her house and threatened to shoot if she didn't go out. They claimed that they wanted to ''measure'' the house prior to destruction. This incident was so frightened that the lady didn't show any resistance when they came for the second time to demolish the house. Hours after the destruction, the women was still shocked and frightened. She bitterly uttered few words: 'Where shall we go? To whom shall we complain? What shall we do?'.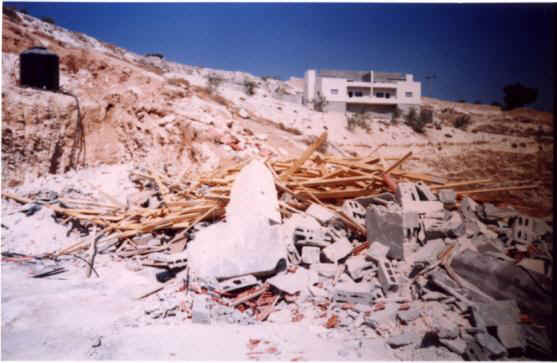 This is what has remained from Rania's house
Prepared by
The Land Research Center
LRC